The Evolution of "The Anti-Trans Hate Machine"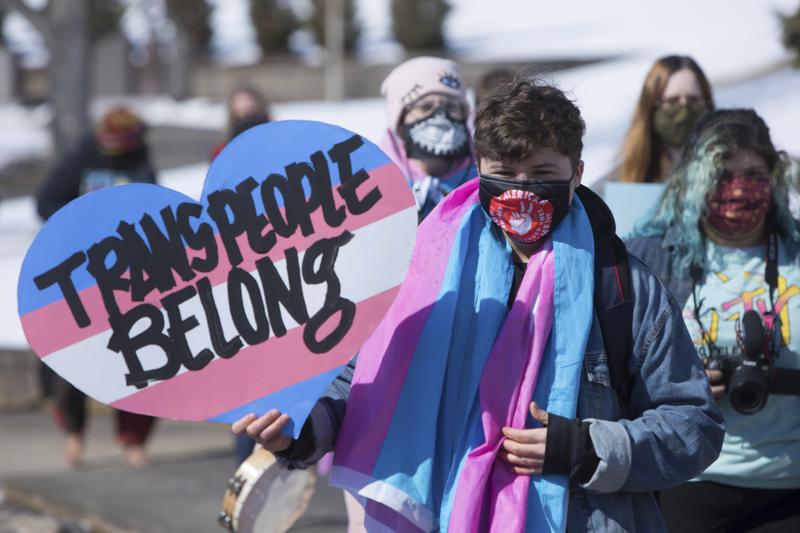 Transcript
[music]
Melissa Harris-Perry: Welcome back to the Takeaway. I'm Melissa Harris-Perry. This year, legislators across the country have introduced a record number of proposed laws to limit the rights of LGBTQ people, hundreds of bills, mostly targeting transgender Americans. Now the proposals include restricting participation for transgender youth and sports, prohibiting supportive medical care, and banning inclusive curriculum in public schools. Legislation is just one component of a much larger apparatus that our next guest calls the anti-trans hate machine.
Amara Jones: I am Amara Jones, a journalist and the founder and creator of TransLash Media
Melissa Harris-Perry: Amara's work has earned her both Emmy and Peabody awards. Her investigative podcast explores a multi-layered system, fostering and legislating anti-trans harm.
Amara Jones: The anti-trans hate machine looks at the money, the people, the religious ideology, the political organizations, the nonprofit groups, and the billionaires that are behind the anti-trans backlash that we are seeing across the states. We plot the way in which there is nothing accidental about this and we chart the more than 10 years and the hundreds of millions of dollars that the right has poured into its effort to bring us exactly to this moment.
Melissa Harris-Perry: Amara investigates a few wealthy donors who fund and fuel the machine and she says, these figures are motivated by a specific Christian Nationalist Ideology.
Amara Jones: They believe that God has not come back to America and to the world because the world is too sinful and that what they have to do is to implement secular laws that derive their power for religious laws, that we have to create a [unintelligible 00:01:55] that is rooted in the vision and that once we create that, that God will come back. According to their reading of the Bible, gender essentialism is biblical. That's why the existence of trans people is not a marginal conception for them.
It's an essential one because it defies their essential religious view and that if there's anything that's an front to that, then it is blocking God's return. Then there's an even more practical point of view, which is that they know that there are substantial number of specifically white men, rural voters, who you can animate with a few cultural touchpoints and visioning, and they have found out that trans people and the existence of trans people is one of those.
Therefore you are able to combine the ability for them to seize political power with the practical aspect and viewpoint that trans people can't exist or should exist with this religious viewpoint and those things together underscore why they care about this so much. We can't underestimate the fact that this is a major project of the right-wing, every single person last year that I spoke to for this series who had studied the right-wing since the 1970s said that they had all concluded once Trump won that they were going to win on abortion and they were already teeing up trans people as the next fight in the gender wars.
Melissa Harris-Perry: Part of what I'm wondering is if the research, the data, the pronouncements that come out of presumably scholarly institutions help to allow the more extreme anti-trans hate to have what appears to be an empirical basis for a more moderate audience.
Amara Jones: That's exactly what we're working on for Season two of the anti-trans hate machine, which is going to roll out later this year. That is to say how what they have done is to focus on trying to ground these ideas in a more secular vision of the world by using pseudoscience and using these think tanks and all the rest of it to put that forward. That's been as much a part of their work, actually since the 1980s as much as anything, it's not only about the mechanics of how you seize and control power.
It's about the ideology in which you frame that and the cultural conversation that you then use to encapsulate that even further and you have to understand that they have a coherent view of the world, that they are trying to executing, and that because they know that it's not a popular world's view, that they have to work in an integrated fashion across a number of fronts at the same time, if they have a chance to execute it.
We can see them through the abortion argument finally break through in a really substantial way. I think that one of the most things we have to do is to begin to take them seriously even more so, but this cultural conversation that's grounded in using secular language to legitimate extreme ideas has also been a multi-decade project.
Melissa Harris-Perry: As you're talking about this multi-decade strategy. You spoke about a road testing of issues that directly address and attack trans folks. Can you tell us a little bit about those road tests?
Amara Jones: Yes. I think that one of the things that we have to realize is that the right understands that experimentation is a large part of success, and they're not afraid to fail because they keep learning from failure. They've been road testing for a while what are the anti-trans approaches that are going to resonate most with Americans?
They started with the bathroom thing and that didn't work, but they learned from that and through that, and also through focus group testing and a bunch of other research that they did, they realized that the most discomfort that Americans have was around the idea of trans youth. Once they honed in on that as a strategy, as an approach around 2018, once they realized that that was the case, that's when they began to pick up a strategy to introduce this legislation that would specifically target the idea of the legitimacy and the ability of trans youth to be able to function in society.
It's the same groups and organizations that are behind the anti-abortion movement, and so they can apply the same skills to this. They then see and target not only in state legislatures, what language is working best then when that language flies in one state legislature, they then move it across all others, but they also able to see in which type of races, state house races, this is most animating then to apply that to others.
Melissa Harris-Perry: Pause with us here more with Amara Jones on the Takeaway in just a moment.
[music]
Melissa Harris-Perry: The Takeaway is back I'm Melissa Harris-Perry, and I've been talking with journalist Amara Jones. Amara is the host of the investigative podcast, The Anti-Trans Hate Machine: A Plot Against Equality. The podcast charts, a multi-decade process to make anti-trans ideas go mainstream. Before the break, Amara noted that transgender youth have become the focus of this machine's fury. Now, according to the CDC, only about 2% of high school students identify as transgender, but more than a third have attempted suicide in the last year.
Trans youth are among the most vulnerable populations in our country. More likely to experience sexual violence, poverty, and homelessness, and more likely to experience depression. When we're talking about young people who can't even vote for themselves, many who cannot drive for themselves, who cannot earn income for themselves, that is the danger. Under what circumstances could that be the greatest danger facing any group?
Amara Jones: Well one of the things that they know is that because there are so few trans people numerically that what they can do is easily demonize us because they know that most people don't have direct experience with trans people. Consequently, they can turn us into whatever they want us to be in other people's minds. I think that's a really important thing that like the small size works to their advantage because they can turn us into whatever they want to turn us into which is a part of their messaging operation.
I think that what they would say is that, "Well, we're not targeting the kids. What we are saying is that there is a social contagion." I'm going to use their words, "There's a social contagion that is spreading that is meaning that more kids are getting confused about their gender identity and are being consequently forced into procedures and into identities that if there wasn't this social contagion, they wouldn't be exposed to and therefore would be happier people." That's what they say. Now, if you listen to that construction, it hits on all the notes of concern about young people.
You hear the words it's contagion, it's protection, it's vulnerability. They take a lot of the concerns that people naturally have about the predation of young people, and they turn it on its head on these trans issues to make trans then the origin of your discomfort. That's a part of the strategy when the reality is the exact opposite.
We know that most people know that they're trans at a young age, that they come out despite hostility, and that we know that most people who come out at a very young age or reveal that they're trans at a young age, even into adulthood, do not change, that there are all sorts of studies to result-- that underscore this. What they're really great at is taking these natural concerns that people have and then weaponizing them to advance a political agenda.
Melissa Harris-Perry: How do trans communities survive and build and thrive and find joy and goodness, and laughter and a way to survive in the context of what is clearly going to be a very long ongoing struggle?
Amara Jones: That's right. I tell people all the time, we're just at the beginning of this which is a daunting thought. I think a couple of things, Melissa, for me, I think about the fact that someone like Marsha P Johnson, who was instrumental in the Stonewall rebellion who was homeless, who was disempowered, who was poor, at the same time we know was visioning and imagining a world where trans people were leading missions to Mars.
This idea that my immediate oppression does not define either the expansiveness of my humanity or my imagination, nor can it take away the fundamental bedrock of who I am as a person. I'm reminded of that a great deal. I am reminded as a Black person in America, the way in which my ancestors in this country preserved their humanity in the face of unimaginable oppression, unimaginable, most people cannot imagine what their lives were like for one day.
I think about the way in which they created community and love and nurtured children and built communities and built institutions and got people educated and got some other people free, a whole host of things. It just underscores for me that they're ultimately not going to win. They're just not. I think that that's one of the things that keeps me going, it's going to get very tough.
It is going to get very dark. It is going to be very scary, but ultimately I think that the vision of the world that they have at least to the experience of my ancestors and my trans ancestors, ultimately isn't going to win. My job is to learn from their experiences and make sure that in these terrible moments, that I am also creating joy and creating love.
Melissa Harris-Perry: As someone who self-identifies as Christian also, like they also are not allowed to just take the title of Christian, or as I like to say, they can't take my Jesus and just run off with them wherever they want to go, that my ancestors have a claim on this, that their encounter was actually an encounter that was a definitive understanding of liberation and of love.
Amara Jones: One of the things that's really important is that people who are actually Christian and people who are people of faith to actually speak out, and to not allow their claims of moral superiority and of religious [unintelligible 00:14:35] to quiet other people who have faith and who disagree with them. Because that's one of the things that they've done really well is that they have copy-written God as a part of their movement. They are like, "We have a copyright of God," and so that's flat. I think that people who don't believe that they have a copyright to God, that it's important for those people to speak out as well
Melissa Harris-Perry: Amara Jones, the creator of TransLash Media, and host of the podcast, The Anti-Trans Hate Machine: A Plot Against Equality. It is an award-winning podcast. It is great journalism. Be sure that you subscribe and take a listen. Thanks so much for being with us Amara.
Amara Jones: Thank you so much for having me.
[00:15:50] [END OF AUDIO]
Copyright © 2022 New York Public Radio. All rights reserved. Visit our website terms of use at www.wnyc.org for further information.
New York Public Radio transcripts are created on a rush deadline, often by contractors. This text may not be in its final form and may be updated or revised in the future. Accuracy and availability may vary. The authoritative record of New York Public Radio's programming is the audio record.