Ethiopia Declares a Ceasefire in the Tigray Region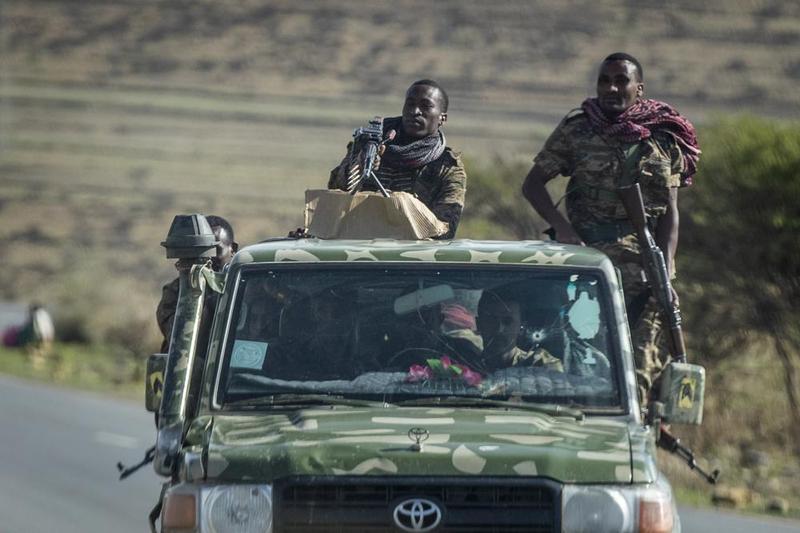 Transcript
[music]
Melissa Harris-Perry: This is The Takeaway. I'm Melissa Harris-Perry in for Tanzina Vega. Now, who's old enough to remember this?
Supergroup USA for Africa:
There comes a time when we heed a certain call
When the world must come together as one
There are people dying
Oh, and it's time to lend a hand to life
The greatest gift of all
We are the world, we are the children.
Melissa Harris-Perry: Yes, this is the 1984 supergroup USA for Africa singing their mega hit We Are The World. What is it that brought together superstars, Michael Jackson, Kenny Rogers, Tina Turner, Willie Nelson, Lionel Richie, Quincy Jones, and more? A charitable artistic endeavor to direct American resources and attention to a brutal famine which claimed a million lives and displaced millions more in Ethiopia.
For many Americans, largely unfamiliar with the histories, societies and nations of the African continent, the humanitarian crisis created by the 1980s famine, was the first time they'd heard public discussions of Ethiopia, but that means ideas of famine and charity forge lasting impressions of Ethiopia in the modern American consciousness. It's enough to make me want to whip out a 1984 grade school film strip and give all of us a 4 million year Ethiopian history in, let's call it, 40 seconds.
Male Speaker 1: Ethiopia, home to more than 100 million people. C of the African Union and a nation whose roots stretch back into ancient times. Dʿmt is the earliest known kingdom in this region and was a contemporary of ancient Egypt. This was the home of the legendary queen of Sheba. She converted to the faith of Solomon of Israel and bore his child who returned to Ethiopia to rule as king, beginning a long line of Ethiopian kings, who claimed direct descent from king Solomon.
Melissa Harris-Perry: That obviously wasn't the whole history, but you've got it, right? Ethiopian history goes way back. It's where humanity began, 4 million years ago, where Christianity took root. It's a cradle of civilizations and a beacon of independence on the African continent. It is a nation currently in the thick of civil war for more than eight months. Take a listen to this report from Sky News back at the end of 2020.
Male Speaker 2: It was difficult because we are hungry. We don't have any water, any food, we don't have any transportation.
Melissa Harris-Perry: This is the voice of one of the 1.7 million people who have been displaced by the war that destabilized the African continents second-most populous country. Thousands have died. There are reports of other atrocities from sexual violence to ethnic cleansing, all primarily perpetrated by the Ethiopian government and its allied forces, including those from Eritrea. Back in November, Ethiopian prime minister, Abiy Ahmed, formerly a winner of the Nobel prize for peace launched a sweeping military offensive against the country's northern Tigray region.
Now, the attack was in response to alleged efforts to steal weapon from a military base by a political group known as the Tigray People's Liberation Front or TPLF. The TPLF was once the most powerful rebel force in Ethiopia. Since taking office in 2018, the prime minister has sought to deprive the TPLF of its power and influence, even declaring it as a "terrorist group." Since November, the conflict has continued to escalate until this week, when the Ethiopian government declared an immediate ceasefire in Tigray as the country awaits election results from June 21st.
While all this violence has been happening, parts of the Tigray are also experiencing the worst global famine since 2011 in Somalia. How did Tigray become a flashpoint in Ethiopia, and what will all this mean for the region going forward? To answer those questions and more, we're joined now by Samuel Getachew, a freelance journalist based in Ethiopia. Samuel, it's great to have you here.
Samuel Getachew: Likewise. Thank you.
Melissa Harris-Perry: Also with us is Cameron Hudson, Senior Fellow at the Atlantic Council Africa Center. Cameron, welcome to the show.
Cameron Hudson: Thanks very much.
Melissa Harris-Perry: Samuel, you were right in the heart of this just recently, can you paint us a picture of what it's like on the ground there?
Samuel Getachew: It's really a humbling place. I visited not just the Capital Mekelle, but I was able to go to Aksum and Adigrat and Abiy Adi, and the conversation we had was very overwhelming and really, really sad for many of us who've been lucky enough to go there and have a conversation. Since we came back, we began to have a different perspective, not just taking sides, we're not taking sides obviously, but the impact on the ground does not just change your perspective and your ways, but it also touches on the core of what it means to be an Ethiopian citizen.
Melissa Harris-Perry: Can yo say just a bit more about that? Tell me one aspect of what changed in your perspective.
Samuel Getachew: I think the uniform sadness of the people. They're telling you the worse, and not just the people that you meet in the villages, that are out of touch from social media, or even access to internet, or phone lines, but I'm talking about everyday people. The lady who cleans your room, your driver, they're telling you exactly the same type of story. I know there's misgivings about what they're saying because much of it hasn't been verified, but it's just the whole population, the hundreds of people we've met, I've been there three times, are exactly saying the same kind of story. I hope someday Ethiopia and the UN would have enough resources to investigate because we need to investigate and make ourselves be accountable because Ethiopia cannot move forward unless it looks back and really looks within to move forward because there are many, many people that have been affected by this conflict.
Melissa Harris-Perry: Cameron, there's currently a ceasefire as of our conversation, did you see this coming?
Cameron Hudson: I think, in the last week, what we saw on the ground in terms of the battlefield situation was the Tigrayans really gaining the upper hand and turning the tide on the ground. They shut down an Ethiopian C-130 plane, they took some strategic ground away from the Ethiopian government. At the same time, we saw the Ethiopian government really increasing its brutality. There was a market that was bombed, over 50 civilians killed. There were some direct attacks by retreating Ethiopian troops on an international NGO, international aid workers on the ground there.
Really they upped their tactics, I think, to try to send a message prior to this, what I'm calling a tactical retreat right now. In the last week or so, we did see these battlefield games by the Tigrayans. Obviously their retaking of the regional capital Mekelle was not a shock, but certainly a measure of their potency and also a measure of the government and their air trade allies weaknesses on the ground right now. What we didn't foresee, however, was the ceasefire.
It's obviously something that the international community has been demanding, requesting for many months now, and which the Ethiopians appeared really resolute in not pursuing, but we've seen from the statements that the Ethiopian government released yesterday, that they're really trying to spin this retreat really as more of a pursuit of peace and a pursuit of stabilizing the humanitarian situation. They haven't acknowledged any of the battlefield victories achieved by the TPLF.
What they're trying to do is say, "We have come to the conclusion that this fight is having too greater cost on the humanitarian situation, and therefore we are withdrawing. We are pulling back, we are instituting this ceasefire in order to achieve the humanitarian gains and the access that we've been trying to achieve all along." It's a little bit of a spin by the Ethiopian government at this point.
Melissa Harris-Perry: Samuel, you just heard Cameron talk about this airstrike that killed and injured dozens in this busy market. Now, the Ethiopian army has been claiming that they did not aim to hit civilians, but then you also heard just there this language that it does look like there may have been this "send a message" perspective on the part of the Ethiopian military. What have you been hearing on the ground about civilians and their claims around being targeted by the army.
Samuel Getachew: I've been to those villages. While the world is becoming aware of the numbers, in Africa we have large numbers, millions of Ethiopians facing famine, for example, or millions of minorities being killed in Rwanda, and so on. It's only when you go close and you see the faces behind these numbers, that changes you a lot. There has been lots of information given by both sides, and it's really difficult to verify the information. Again, I can't help but feel sorry for them.
Melissa Harris-Perry: Cameron, take us back. I think part of the emotion, the distress that we hear from Samuel there is related to the nature of civil war. Can you help our audience to understand how this began, and what this relationship between the Ethiopian military and the rebel forces is, and that's a great region?
Cameron Hudson: It's a long and complicated history between the Tigrayans and the rest of the country. Essentially, the Tigrayans helped to lead Ethiopia's struggle against a communist dictatorship, and essentially bring about the new Ethiopian state. They were liberation heroes of the country. When that war against the communist Sturge ended, the Tigrayans became essentially the backbone of the government of Ethiopia. Even though they represent roughly 6% of the population, they installed themselves across all government ministries, across the military.
They were the lead party and ethnic group driving all decision-making in Ethiopia for more than two decades. In that time, they both brought prosperity and stability, but at the same time, they ruled with a very heavy hand, and so there were political prisoners, there were crackdowns on democracy, very poorly run on undemocratic elections, but at the same time, they gained a lot of respect and were given a lot of latitude by the international community because they were such a stabilizing force in the horn of Africa region, and so you took the good and the bad with the TPLF, but what it did is it engendered a great deal of resentment among the rest of the Ethiopian population and Ethiopia's other ethnic groups.
When they were ushered out of power after more than 20 years in 2017, and Abiy Ahmed came into office, he promised a new vision of Ethiopia that tried to look beyond ethnic division in the country, and to create a unitary Ethiopian identity and Ethiopian state. This was obviously a direct threat to the Tigrayans, who had created an Ethiopian state, a modern Ethiopian state based upon respect for ethnic differences. Now, of course, they sat on the top of that ethnic pyramid, and so they created a system that suited their interests over others.
That's really at the heart of the conflict here, is, what kind of country is Ethiopia going to be? Is it going to be one where these ethnic divisions in the country are held up and recognized and respected, and that there are bright lines between these ethnic states, or is it one where those lines are going to be blurred, and we're going to try to create a new unified vision of Ethiopia? That is the heart of the struggle here today.
Melissa Harris-Perry: Samuel, I want to go to this place where Cameron just took us, that this is a struggle in part over what kind of nation Ethiopia is going to be, and I'm reflecting on in your first response, you talked about really confronting the suffering of the Ethiopian people, the sadness. Can you talk a bit about this famine, that the people of Ethiopia, or particularly of the Tigray region are experiencing, and is it a manufactured famine?
Samuel Getachew: We visited many parts, where farmers are prevented from farming, animals, whose body parts have been chopped, so they won't be able to use them for their farming. As you know, they use the old ways, they don't have any other technology, their goats being consumed, and many of them really having animals, but not being able to farm. I've seen a glimpse. That's a great region, 1984, even before that famine, that famous famine that made Ethiopia a poster child of eight organizations has always been suffering from all kinds of stuff, including violence.
There's never been a government that has really made Tigray a priority. I'm talking about not as Tigray, I'm obviously I'm not from Tigray or from the region. We've seen the suffering, it's the poorest region within Ethiopia, even by Ethiopian standard. Much of the population, as you know, are in of need food aid, 91% of the population, according to the UN, and we've seen them. The people are facing emergency food aid need, that I don't think the international community is ready to help. I don't think Ethiopia has the potential to help, but there has to be a real understanding that many people are set to die, and we really have to do our parts.
Melissa Harris-Perry: Cameron, let's go to exactly the point that Samuel made about the rest of the international community. What is the international community currently doing, and what might it be prepared to do next?
Cameron Hudson: One has been, as Samuel mentioned, a humanitarian operation of trying to gain access to the region and trying to avert a famine, essentially, and to provide health and food aid. We know, as Samuel mentioned, that there has been widespread destruction and targeting of civilian infrastructure in the Tigray region. That means hospitals, schools, civilian infrastructure of all kinds, along with food stocks, and the ability to produce food.
The international response has been, first and foremost, about trying to save lives in the near term. Secondarily to that, there's been a very robust diplomatic effort led by, I think, the United States, backed up by the European Union, trying to engage primarily Prime Minister Abiy on his strategy in the Tigray region, and trying to get him both to agree to a ceasefire in the near term, but also to think longer term about the political trajectory of the country and his vision for the country, and so that has been less successful.
We have seen the prime minister resists those calls for a national-level dialogue that brings the Tigrayans back under a big tent and tries to chart a way forward. In the last few months, the government of Ethiopia has declared the Tigrayans a terrorist organization, and so [unintelligible 00:18:02] leadership, the political party of the Tigray region, the Tigray people's liberation front, which is the political force that is leading the military effort on the ground, which ruled Ethiopia for many, many years, they have been declared terrorists, and that has now enabled the government to say, "We can't negotiate with terrorists. There's no political engagement or negotiation that we can undertake with a terrorist group."
By branding them as such, it really prevents the political dialogue and national reconciliation that the international community has been pushing so hard for. Even in the last day or so, what we have seen from the prime minister is, yes, a ceasefire, which we have been asking for, but a ceasefire on his own terms, in his own framing, so a ceasefire because he came to the decision that he wanted to achieve better humanitarian outcomes on the ground, not because he was under pressure or duress from the international community to agree to it.
Melissa Harris-Perry: When Prime Minister Ahmed came into power, there was a sense of optimism perhaps, I'm wondering, and yet suddenly you also said that there's been no government that has put Tigray at the center, has paid enough attention. Right now, how are Ethiopians, maybe more broadly, thinking about Prime Minister Abiy Ahmed?
Samuel Getachew: The prime minister has been the head of government, the prime minister for the last three years. He's accomplished much, especially at the beginning, including winning the Nobel peace prize, in a continent that has only one, I think, four or five times. He's also engaged Eritrea to try to bring some kind of peaceful coexistence between the two countries, but in the last year, many, many things have changed. That's pushing all of us to have second thoughts, even living in Ethiopia, because while many of us focus on the Tigray region, I'm not trying to discount what's happening in the Tigray region. It's almost every part of the country that's in conflict. It's not worrisome just to me or to someone like me, but it's also foreign investors that have invested in Ethiopia, that have truly changed the face of Ethiopia from a country with famine to a country having an economy and good enough to feed itself. Now we're going back to the old ways. It's been a catch-22 in Ethiopia, living in Ethiopia, and the suffering, again, it continues, and that's really, really touching.
Again, going back to Tigray, the voices, you just have to visit them to really understand what's going on.
Melissa Harris-Perry: Samuel, I so appreciate your insistence on the humanity of people. It can be, I think, maybe particularly for the West, that we just presume that the continent is a space of suffering. Instead, you're forcing us to remember the humanity of folks who are suffering in this circumstance. Samuel Getachew is a journalist based in Ethiopia, and Cameron Hudson is a Senior Fellow at the Atlantic Council Africa Center. Thank you to both of you for joining us.
Samuel Getachew: Thank you.
Cameron Hudson: Thanks.
[00:21:36] [END OF AUDIO]
Copyright © 2021 New York Public Radio. All rights reserved. Visit our website terms of use at www.wnyc.org for further information.
New York Public Radio transcripts are created on a rush deadline, often by contractors. This text may not be in its final form and may be updated or revised in the future. Accuracy and availability may vary. The authoritative record of New York Public Radio's programming is the audio record.