Electric Literature Editor-in-Chief Denne Michele Norris Makes History and Makes Space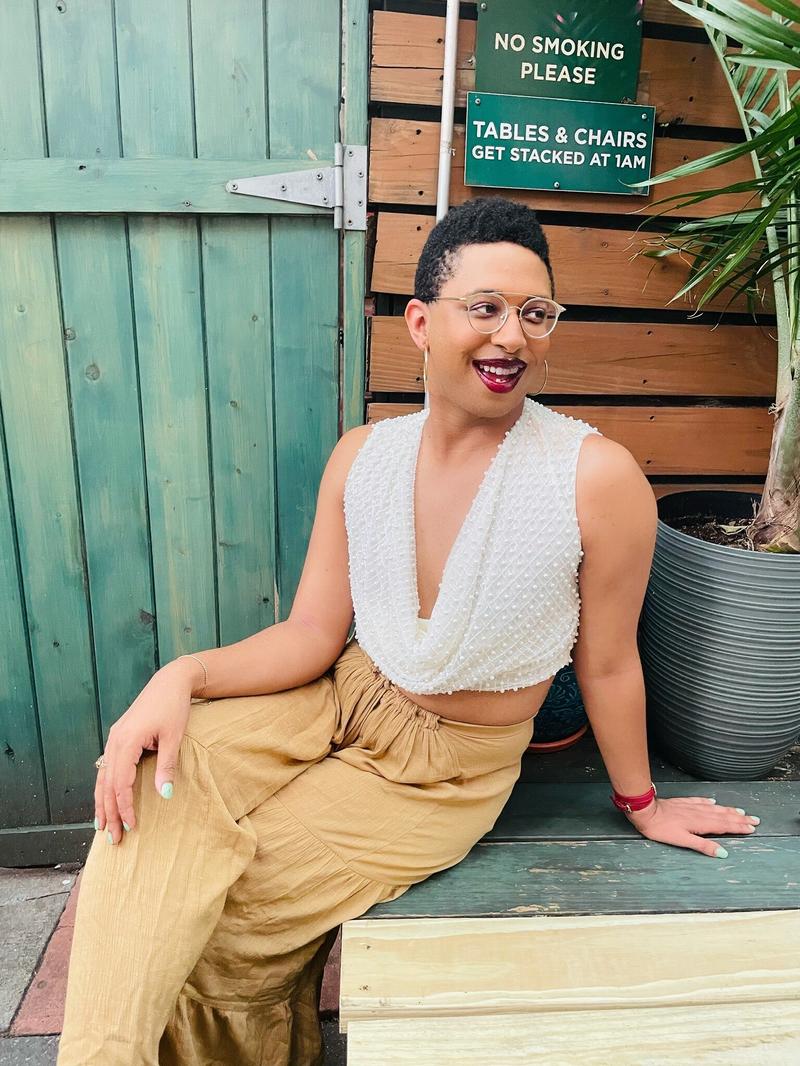 Transcript
[music]
Janae Pierre: This is The Takeaway. I'm Janae Pierre sitting in from Melissa Harris-Perry. Today we continue our series, Black.Queer.Rising. All month we're talking with Black LGBTQ+ elected officials, changemakers, artists, activists, and influencers, and exploring all the intersections of Black Queer excellence. Denne Michele Norris was born with an artist's heart and a desire to create a space for others. Storytellers who share lives that exist at the intersection of blackness, queerness, and transness. Her "artist's heart" allows her to breathe life into characters whose flaws glare up from the page.
Her words crack open the hearts of readers, pulling them into scenes, dressed in the tension of the unspoken. Denne is Black, queer, and has long since been on the rise. She's the "first Black, openly trans woman to helm a major literary publication," Electric Literature. As the guiding voice of the publication, she is actively creating space for voices shut out of the predominantly white, straight, and cisgender publishing industry. Denne is the author of the forthcoming novel When the Harvest Comes. Denne, welcome to The Takeaway.
Denne Michele Norris: Thank you so much for having me.
Janae Pierre: Absolutely. Happy to have you. You described yourself as someone with an artist's heart, but there was one point where you thought you were going to be a lawyer. What changed for you?
Denne Michele Norris: I graduated from college in 2008, and that was when the economy really fell apart, and I felt I had been raised to believe that if I worked hard, I went to college, I would just be handed some stable job. I'd be able to build a sort of independent adult life. I had worked toward this and been very excited towards it, even though I really had wanted at that time to play classical music. Professionally, I grew up playing the viola.
When it just seemed like there were no jobs to be had and there was nothing to be done, I had fallen in love with writing in college, and I just thought to myself, why not do what I want to do if the economy is bad and I'm probably never going to make any money anyway. Of course, we know how millennials are behind other generations economically speaking even now but we didn't know that then. I just thought to myself, just do what you want to do. If you want to be a writer, try being a writer. I really did. I sat down and I just started working hard at trying to write good short stories.
Janae Pierre: I like that. Do what you want to do. Every artist has their own reasoning and I'm curious about yours. Why do you create, what is it inside of you that you want to make sure comes out and is seen, heard, and read?
Denne Michele Norris: It's interesting because this is a question that I think, for many artists and at least for me as a writer, the answer is not always the same. I think a lot about having a whole career, having a body of work that I can look upon at the end of my life. At different times, there are sometimes different things, different forces, different parts of me that I want to foreground and show to the world but I think, ultimately, what's behind what I do as a writer is that desire to take the innermost parts of myself, the things that are in the world that are the most perplexing to me, the questions that keep me up at night, that I'm always pondering the big existential things.
I want to take those things and share them with the world because my feeling is that there are other folks who have many of those same questions who might be in the same position as me or the same identities as me. I think we go through so much of life thinking and feeling that we're alone in these things and these questions in these obsessions that might perplex us and we're not alone.
I think we come to art to find that companionship. I think of it a lot as I'm taking something from inside myself. I'm taking my hand and I'm extending it to the reader and the reader is extending their hand and we're going on this journey together. Once we do that we have a friend, we have a team meet, we have a compatriot by our side.
Janae Pierre: Yes. I want to play a piece of your work from your short story titled Audition.
[start of audio playback]
Denne Michele Norris: Are you warm enough, Davis? It's pretty windy, and that jacket is thin. The Reverend unzipped his coat, unwrapped his scarf from around his neck, and presented it to his son. Davis ignored him. He moved away from his father close to the edge of the platform. His feet only steps from the yellow rubber that served as a warning to stay back. "Davis," the Reverend said. He was careful not to raise his voice. Perhaps Davis still needed space. He'd barely looked at his father in the last month, mostly staying in his room.
He choreographed one to go to the kitchen or the bathroom in order to avoid an encounter when there was one, he kept his eyes on the floor and stepped aside, careful not to touch or be touched by his father. At the last minute, the Reverend had booked a flight to New York City, the idea of a cramped seat and coached more peeling than an eight-hour drive with his son seated next to him, [unintelligible 00:05:46] spitting from him at every turn. None of it was easy or went smoothly when Davis wasn't sulking head down hands in his pockets. He was a tightly wound bundle of stress. An invitation to audition at the Julliard School had put him in a full-blown frenzy.
The reverend knew he deserved his son's anger, and more than that, his disappointment. It didn't change the slow realization as the Reverend stood watching, waiting, and listening that Davis, though desperately wanting to be free of his father, simply wasn't ready. He was bruised by whose hand was of no importance.
[end of audio playback]
Janae Pierre: Wow. Denne, How did this story come about? Where do Davis and his father, the reverend, come from?
Denne Michele Norris: They come from Cleveland, Ohio, the suburbs to be exact in an area named Chagrin Falls, and they are a family unit that come from a lot of reef. Davis's mother dies early on in his life. This is a home that is father and son primarily. There's an older sister but she's much older, so she's largely out of the house. This is a home and a family that's enshrouded in grief, that's enshrouded in sadness. I think that grief is the root of their inability to really connect in the ways that they need to connect for Davis to grow up feeling happy and safe and loved.
[music]
Janae Pierre: Have more from Denne Michele Norris, Editor-in-Chief of Electric Literature. Stick Around. This is The Takeaway.
[music]
We're continuing our series, Black.Queer.Rising, with Denne Michelle Norris. She's the author of the forthcoming novel, When the Harvest Comes, and Editor-in-Chief of Electric Literature. Denne, there's a note of religiosity that comes across in some of your work. Talk to me about that.
Denne Michele Norris: That is the conflict or attention with religion and queerness is, I would say a central theme in pretty much all of my work. That comes from a very personal place. I grew up in a religious home and my father, for many years, he was a Baptist pastor in the American Baptist churches. Actually, the whole way that my family made our way to Cleveland when I was a toddler, is that my father got a job as what's called the Executive Minister of the Cleveland Baptist Association. In that role, he was over some 40 Baptist churches and he was equivalent to what Catholics would call a bishop.
Religion was the central question and theme in my childhood and in my family life and it vaulted my family into this somewhat public sphere which meant that there was an element of it not just being a personal internal family conversation, but a thing that was a lens through which other folks looked at us and looked at our family. It was this huge, huge presence in my life, and a lot of my work, I think, for that reason deals with questions of faith and its intersections with other aspects of our lives.
Janae Pierre: There's a debut novel on the horizon for you as well, it's called When The Harvest Comes. What can you tell us about your forthcoming novel?
Denne Michele Norris: I can tell you that the novel deals with many of the same themes that are actually in audition. It also deals with the same characters. That story is actually pulled from the novel. It's an excerpt of the novel which was published independently as short story in 2020, and it's something that I've been working on for 10 years, and it deals with a very tense relationship between a queer son and his Black father who's a minister.
It deals with a marriage that is impacted by the ramifications of that relationship as this person moves into their adulthood. It deals with questions of sex and identity and intimacy and grief as well. Ultimately, I'm always working towards something hopeful and I'm always working towards characters, finding their way back to themselves, sorting through who they are and finding a way to live the life that they're meant to live.
Janae Pierre: You're not only writing your own stories, but you're the first Black openly trans woman to sit at the head of a major literary publication. What does being in your position as Editor-in-Chief of Electric Literature Magazine mean to you?
Denne Michele Norris: It means several things for me. The biggest and most personal and most intimate thing is that, for my entire adult life, I've wanted to be a writer. I've pursued being a writer. I've pursued writing a book and publishing a book. I've worked on this book for 10 years, as I mentioned. That was the central thing in my life professionally and in some ways personally. Sometimes that dogged pursuit that an artist has can get in the way of their personal lives in certain ways. That was really just my number one goal, my number one ambition. Every decision that I made was oriented around would it support my writing. Would it enhance my writing in any way or move me forward in some way? That was fine with me.
What happened was, along the way, I started editing as well, editing for independent literary journals, unpaid work, a labor of love, that sort of thing. That is often the case with many literary journals. I realized that I loved editing, but it wasn't until I got the job at Electric Literature, which is a full-time position, that I began to realize exactly how much I love editing and how much I wanted that to be an ambition of mine and the goal of mine and pursuit of mine.
That I just don't want to stop editing. The first thing it's given me is that I have something outside of my own writing that I care just as deeply about and that I'm just as ambitious in. I would say that the bigger thing, the more collective thing is that it's simply given me the power and influence to find writers who have yet to have been given a voice or a platform and publish them.
I'm really lucky to be at the helm of electric literature because we have 3.5 million readers worldwide. We're really well known in the literary world, and so powerful, important people read our work every day, and it's an opportunity to help writers find agents, help writers find book editors just by publishing their work. I get to, as a trans woman, really make sure that I'm finding and elevating trans writers of color to this position so that we can publish them. It's really exciting for me.
Janae Pierre: Yes, absolutely. Lastly, before we let you go, I wonder when you hear the phrase, Black.Queer.Rising, what comes to mind?
Denne Michele Norris: Honestly, I just think of the future. There's so much more to be done. There's so much more work to be done, and I think of all of the stories that aren't told, the ways in which Black queer people are erased the way that blackness is often erased from queer narratives, and the way that queerness is often erased from narratives around Black folk. I think about all of those stories rising to the surface because it's time that everyone hear about our lives.
[music]
Janae Pierre: Denne Michele Norris, writer, upcoming author of When the Harvest Comes, and Editor-in-Chief of Electric Literature. Thanks so much for your time.
Denne Michele Norris: Thank you.
[music]
Copyright © 2023 New York Public Radio. All rights reserved. Visit our website terms of use at www.wnyc.org for further information.
New York Public Radio transcripts are created on a rush deadline, often by contractors. This text may not be in its final form and may be updated or revised in the future. Accuracy and availability may vary. The authoritative record of New York Public Radio's programming is the audio record.