Election Day 2020: Dispatches from Battleground States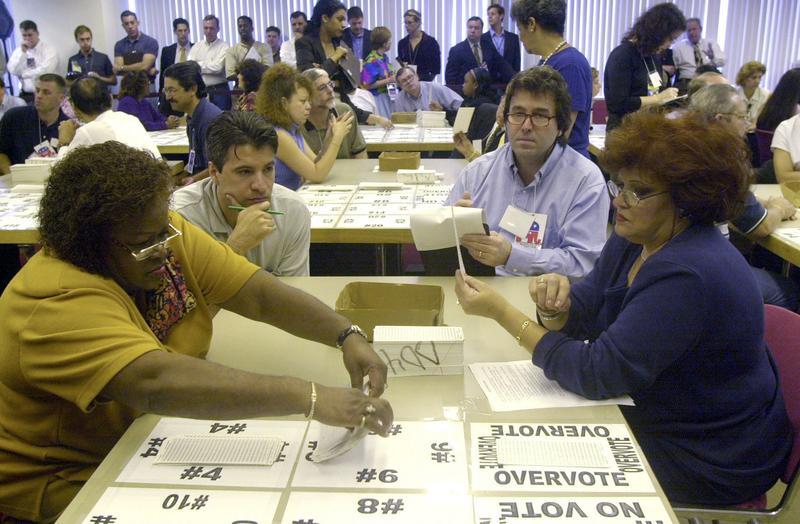 Transcript
[music]
Tanzina Vega: I'm Tanzina Vega and this is The Takeaway and it's Election Day in the United States. Nearly 100 million people have already submitted their ballots in early voting. That's more than 71% of the total number of votes that were cast in 2016. Across the country, voters are taken to the polls today in their last opportunity to cast a ballot. We're checking in with public radio reporters around the country in key states to see how the voting process there is playing out. We start in the state of Wisconsin.
Rob Mentzer: My name is Rob Mentzer. I am the rural communities reporter for Wisconsin Public Radio. I'm based in Central Wisconsin. In Wisconsin, as in a lot of places, there was a huge wave of absentee voting. We have had something on the order of 1.5 million absentee ballots that were returned ahead of Election Day. Wisconsin is also a state that does not permit tabulating of ballots before Election Day. Clerks across the state are sitting on these large caches of absentee ballots that won't be tabulated and counted until after voting closes tonight, which is why we expect that in Wisconsin, the results might take until well into Wednesday morning for us to know what the election looks like.
Wisconsin right now is one of the top hotspots for COVID-19 in the nation. In some parts of the states, infection rates have been climbing and hospitalization rates, and so on. This is one reason why so many people have chose to vote early, but it's not distributed evenly across the state. The urban areas and sub-urban areas are much more likely to have requested and returned absentee ballots than in rural areas. Still, less than half of expected voter turnout has been absentee in rural areas. There's an expectation that there will be a lot more people voting in person, and so as a result, there's more risk of exposure to the disease.
Wisconsin has same-day voter registration. As far as barriers to voting, Wisconsin has a voter ID requirement, which was very controversial and fought over in courts, but ultimately upheld since it was passed, and some people see that as a barrier to voting. However, there is same-day voter registration so people who have an ID can prove their residency and so on, have the option to show up at the polls and register and still cast a vote that's going to count in this election.
Tanzina Vega: Next, we move south to North Carolina.
Rusty Jacobs: I'm Rusty Jacobs. I cover politics for North Carolina Public Radio WUNC. It's not an overstatement to say that the turnout during 17 days of early voting, that's in-person voting as well as absentee by mail voting, has been unprecedented. North Carolina heading into Election Day saw more than 61% of registered voters turnout with early in-person voting and absentee by mail. North Carolina put itself in a really good position to deal with the flood of absentee ballots this year.
North Carolina legislators passed a bill in June, a bipartisan bill which is rare in these parts, that eased a lot of rules around absentee voting, including giving county boards the authority to start tabulating, processing absentee ballots as much as five weeks away from Election Day. That will ease the counting in the homestretch or at the end of Election Day. That being said, that doesn't mean there hasn't been a lot of partisan rancor and strife around especially the issue of absentee ballot rules. After the legislation was passed in June that did ease some absentee ballot rules.
Advocacy groups started filing lawsuits against state agencies including the elections board. The elections board tried to settle a lot of these lawsuits with a comprehensive agreement. What they proposed was extending the deadline for counting absentee ballots postmarked by but received after election day. The state law had already said that ballots postmarked by Election Day but received up to three days afterwards could be counted. They, that is the elections board, extended that to nine days, November 12. Nine days after Election Day.
Republicans in the legislature immediately sought to block that in courts. As you may know, the US Supreme Court, a majority, a 5-3 majority, decided not to intervene and not to grant the Republican request for an emergency stay. That extended deadline exists.
Tanzina Vega: Pennsylvania could be a huge tipping point this year. Let's head there now.
Kate Meyer: My name is Katie Meyer, I'm the political reporter for WHYY public radio in Philadelphia. We've seen our counties become overloaded and had to learn new systems and new procedures on the fly in a way that they didn't expect to before. One of the biggest things that's come out of that is it's just going to take us a really long time to count votes. Pennsylvania is allowing some votes to be counted between 8:00 PM on November 3rd, where the count is supposed to be cut off and 5:00 PM on November 6th. That was because the state Supreme Court allowed that extension because of mail delays.
The Trump administration has been calling into question and Republicans in the state and Republicans elsewhere in Pennsylvania have been saying that they don't believe that those votes should be counted because they think it's not legal. There have been lawsuits moving up and down through the state and into the Supreme Court. The extension has been upheld for now, but we could see more lawsuits afterward. That's part of this.
The other issue is, Trump administration has also been saying, "Oh, well, if we don't have the count on election night, then there might be questions about if how legitimate the count is." The answer here is just that we would never go into have results in Pennsylvania on election night. It's just it's too many ballots to count. It's just going to take a long time, you won't see results from Pennsylvania on election night, you're going to see some results, but they won't be complete. All of this logistical stuff has been tough for voters. I think it makes it even tougher because we are the consensus swing state.
Tanzina Vega: One of the big questions this year is will the Lone Star State of Texas turn blue?
Joey Palacios: My name is Joey Palacios. I'm the local government reporter in San Antonio for Texas Public Radio. We're seeing a surge of voting in Texas right now. At the end of early voting on Friday, about 9.7 million people have already voted. That surpasses the entire 2016 election, including Election Day back then. About 9 million people have voted then. We are already ahead of Election Day. It's worth noting that we have had actually six extra days of voting because of the pandemic. The governor issued an executive order that extended the early voting time period. As you can see, we've already surpassed the number of voters that participated in 2016.
There's been some back, and forth. One of the biggest challenges that happened was who can vote by mail. Texas has rules in place that you can really only vote by mail if you're disabled, or if you are above 65 years of age, if you're in jail, or if you're going to be outside of the county during early voting and Election Day, but because of the pandemic, there were people who wanted to vote by mail. There were court challenges, but ultimately it was decided that vote by mail could only be done by folks that fit that prescription, that fear of contracting COVID-19 didn't count as a disability.
Even then, we have seen record usage of mail ballots. Here in Bexar County in San Antonio, where I am right now, we have well more than double the record of previous mail ballots that have been counted in prior elections. There's still ballots that have to come in by Election Day.
Tanzina Vega: Up here in New York City, something we're not used to, long voting lines.
Brigit Bergin: My name is Brigit Bergin. I'm the City Hall and Politics Reporter at WNYC New York Public Radio. It's the first presidential election in New York with early voting and voters took advantage of those nine extra days to cast their ballots. More than a million voters turned out for early voting here in New York City. That's about 20% of the eligible registered voters. Altogether across New York State, about 18% of the eligible registered voters turned out for early voting. If you compare that to the number of voters who participated in the 2016 general election, we've already seen about 40% of the eligible voters cast their ballots so far in 2020.
Now, among the issues facing people who cast those early votes was long lines at the polls, the city Board of Elections had to extend early voting hours and add an additional early voting site for the final weekend of early voting. We also saw the issue affect voters in other parts of the state of New York. In Ulster and Rockland Counties, the Boards of Elections there were sued by lawyers because of the long lines, and they were forced to extend early voting hours in both of those localities.
There are concerns about intimidation at the polls. We will have observers from Election Protection, as we always do at the poll sites, offering bipartisan assistance to voters who have questions. New York City Mayor, Bill de Blasio, also has organized a volunteer [unintelligible 00:10:08] corps of more than 500 volunteers who are going to be going out to poll sites. They'll be wearing stickers that say, election observer corps, and they will be another set of eyes and ears on the ground. In general, we're really looking to see how much that early voting turnout takes away the pressure on Election Day poll sites.
Tanzina Vega: Finally, we go down to Florida, another state that could tip the election in the Electoral College.
Danny Rivero: My name is Danny Rivero. I'm a reporter and producer for WLRN Public Radio, the NPR station here in Miami. Honestly, I think the Latino vote here could be a decisive factor, also just the number of African Americans and Black Arabians. We have a ton of West Indians here. A lot of them are extremely motivated to vote, especially because Kamala Harris is on the ticket and she's Jamaican and of Indian descent. That's really motivated some people to get out there and vote.
There's also a really big Haitian American voting bloc, a big chunk of them went for Trump last time around. When I talked to a couple of people that voted for Trump last time in that community and they said, "We're not doing it again." There's a lot of open questions about whether Haitians and West Indians and African Americans are really going to show up to vote for a Democrat. It's a very big population. If they do do that in numbers, then that could also be a decisive factor.
The election system here in Florida or this cycle is actually well-established. We can start counting early ballots 22 days out. We have a really robust early voting system. There's dropboxes, multiple in every county. The first couple days of early voting, there were some pretty long lines, but that's more or less smoothed out over the days. State by state, we're in really good shape. The thing that always screws us over is just the margins.
The margins of victory here are so small and so narrow, that things often get thrown into a recount situation. That doesn't mean the system is bad, it just means they're close elections. We had a situation here in South Miami-Dade County, just over the weekend, where there was reports that there was a huge backlog of mail at one of the main processing centers. Our prosecutor here actually called on the federal officials to go investigate it.
They did come up with dozens of ballots that were supposed to be delivered to people but they never made it. Now, there's ongoing investigations into other post offices around here to see how many of those ballots just never got delivered. That could end up being a big walkaway narrative from this election. A lot of people change the way that they vote. When you change the way that you vote and it's brand new, it's more subject to errors.
Tanzina Vega: Big thanks to our friends at Wisconsin Public Radio, WUNC in Chapel Hill, North Carolina, WHYY in Philadelphia, Texas Public Radio, WRLN in Miami, and of course our own local WNYC newsroom here in New York City. We'll have more coming up on this Election Day. It's The Takeaway.
[music]
Copyright © 2020 New York Public Radio. All rights reserved. Visit our website terms of use at www.wnyc.org for further information.
New York Public Radio transcripts are created on a rush deadline, often by contractors. This text may not be in its final form and may be updated or revised in the future. Accuracy and availability may vary. The authoritative record of New York Public Radio's programming is the audio record.