An Economic and Political Analysis of Trump's Unilateral Stimulus Measures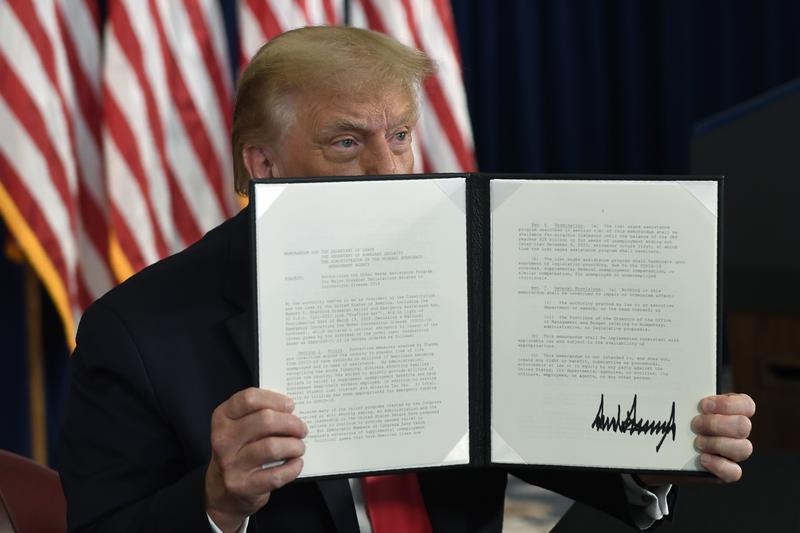 Transcript
[music]
Tanzina Vega: Welcome to Monday, everybody. It's The Takeaway and I'm Tanzina Vega. Over the weekend, President Trump signed four executive actions in an attempt to provide economic relief to Americans without the approval of Congress. At first glance, the measures seem to offer some bright spots for Americans who were struggling. They include a payroll tax reduction, an extension of unemployment benefits, eviction moratoriums, and the waiver of student debt payments through the end of the year.
Some Democrats and Republicans were critical of the President's move. Republican Senator Ben Sasse from Nebraska notably called the actions "Unconstitutional slop." House Speaker Nancy Pelosi sided legal concerns over the move. Jim Tankersley is a tax and economics reporter for The New York Times and the author of the forthcoming book, The Riches of This Land, the untold True Story of America's middle class. Jim, thanks for joining us.
Jim Tankersley: Thanks for having me.
Tanzina: Also with us as Anita Kumar, White House correspondent for Politico. Anita, thanks for being with us.
Anita Kumar: Sure. Thanks for having me back.
Tanzina: Jim, let's start with you. The President took action on his own this weekend. I want to go through if we could quickly each proposal that he signed one by one with the likelihood as to whether or not this will actually happen. President asked for a payroll tax reduction, what's in the fine print there? Is that realistic right now?
Jim: The fine print there is that it's he's trying to defer the amount of payroll taxes collected by the government this year. Essentially, workers would not have a liability due this year, but you'd still have to pay it next year. Under his order, he's just promising that at some point in the future, he'll sign a law that forgives that and turns what is a deferral into a tax cut.
Tanzina: He then asked for an extension of unemployment benefits, which would not be the $600 a week, which would instead be $400 a week. What's the fine print there?
Jim: The fine print there is that that's, just like the payroll tax cut [unintelligible 00:02:16] very likely to be or the payroll tax deferral, it's very likely to be challenged in court. That's repurposing some federal disaster funds and some other funds to create what the White House is calling a $400 benefit but $100 of that has to come from states who don't really have a lot of money to kick in. It could be a $300 benefit. The more we read the fine print, the more it seems very likely that if it stands up in court, no one's going to see more money for quite a while as they figure out actually how to implement this.
Tanzina: To other proposals that the President made or we should say executive orders and we'll get into the fine print on what the difference is there. Jim, he also mentioned eviction moratoriums, a lot of states around the country, including here in New York are trying to do this independently. What's the fine print there with these eviction moratoriums?
Jim: Well, the White House build that as he was going to extend the eviction moratorium, but actually, he just asked some cabinet secretaries to look into doing that and whether they could do it that seems relatively toothless unless it is followed by immediate action from the agencies, and there's no indication yet of what that might be.
Tanzina: Finally, the President also suggested a waiver of student debt payments through the end of the year, lots of students probably excited hearing that but again, the fine print, Jim?
Jim: The fine print is probably that's the one that is most likely to stand up and to be in place through the end of the year, it's a freeze on paying payments due and it seems very likely that he has the authority to do that, or at least that no one has the standing to sue him to stop him.
Tanzina: Anita, are these executive actions even legal? Jim said some of them are going to be challenged in court. If so, by whom?
Anita: Well, I think there's no shortage of groups, watchdog groups that watch this president that are willing to take him to court. We've seen that for three and a half years on a variety of subjects. I think it's less likely to be members of Congress and more likely to be some of these outside groups. I do think that you're probably going to see some lawsuits. You ask a great question that judges will look into but basically, the President is relying on power he says he has that Congress has given him to do through in times of disaster. If there's an emergency or disaster, he says that over time, Congress has given the executive branch power to do many of these things. That's what he's relying on.
I will add that President Trump lately in the last few weeks, really seems to be using executive action more and seems to think that he has more power because of a Supreme Court case that's really unrelated to the coronavirus. That happened earlier this summer, he's talked a lot about this. He basically says President Obama went and used executive action for something that he was sure was not constitutional. The Supreme Court didn't strike it down and he feels, this gives him greater power.
Tanzina: Anita, I want to ask you one thing though, because the president started his term three and a half years ago with a slew of executive orders. He signed the first two weeks. As reporters, we were trying to catch up with what he was signing. Why did he feel the need to go this route? Congress was already working on a package before President Trump signed these orders. What happened politically there that forced the President's hand, if you will?
Anita: Well, Republicans and Democrats have been working for two weeks and they couldn't come to a solution and they're not anywhere close to a deal. They are opposed to each other philosophically. What should belong in this recovery bill? They don't even agree on that, but they also disagree on the amount of money in huge amounts, billions of dollars. They are not even close. They need to go back to the drawing board. They're going to start again.
Tanzina: Jim, what are economists saying about these measures? Are these executive actions actually going to help the economy?
Jim: No. I think there's very little in here that is going to provide an immediate boost to the economy. That is, the White House acknowledged some of that Mark Meadows in an interview this weekend acknowledged all the things that Trump didn't do in these. He doesn't have any help for cash strapped, state, and local governments. He doesn't have any help for small businesses who have run through their first round of government aid. We're hoping for a second round and haven't seen it.
The big thing that we are dealing with now in the economy is that since the $600 a week supplemental unemployment benefits expired at the end of July, we've had a dramatic reduction in spending power for millions of Americans who are out of work for no fault of their own. Those benefits have been propping up consumer spending, which had allowed companies to create more jobs, rehired some people back. Now, we're in that limbo where we may not see any additional benefits for a month or more, depending on how the details and the legal challenges work out here. It's a big drop in the consumer punch to the economy at a time when the economy can't afford that.
Tanzina: Anita, to that point, we were going to go through these one-by-one here, the supplemental unemployment benefits were $600 a week. Those expired at the end of July, Americans have been struggling since then, those who are out of work. This measure would hypothetically drop that number to $400 a week or as Jim said, even less than that if the States can't [unintelligible 00:07:43] part of this. When, Anita, will people start to receive these unemployment benefits straight up? How long do they have to wait or is this going to continue to be a fight?
Anita: We don't know and that's a great question. Even members of the administration disagree. They would have to actually create a new program to do this because it's not exactly the one that had expired as you mentioned. We don't know how long that's going to take and we don't know, as you indicated, if the states could put that money there either. We don't know, it could take some time.
Tanzina: In the meantime, what are jobless Americans expected to do, Anita? Is there any relief for them as they wait for this proposal to come through?
Anita: Well, they're the regular unemployment benefits and there are other programs that are available, but as you know, this has been something we haven't seen in years and years. There's just not a lot for people. There are people clamoring for more and not understanding why it's taken this long to continue this.
Tanzina: Jim, I remember back in March, feels like a forever ago, a lot of people got $1,200 checks from a relief bill that was passed then. Lawmakers were pushing for a second round of those checks. Are those checks separate? Do Trump's measures included another stimulus check like that?
Jim: They do not. I think the president would have loved to have been able to do another round of checks with his name on them to send to low and middle-income Americans, but it's not in his authority to do that. He didn't, but it was something that Democrats wanted to do as part of a consensus package and Republicans actually included in their proposal as well. I think if a deal ends up being struck, that is very likely to be in there, but until one is, there's nothing like that
Tanzina: On that point and one of Trump's measures would hypothetically, we talked a little bit about the payroll tax delay here. Jim, does that actually mean that workers are going to get more money? Who exactly would gain from that? You mentioned people are going to have to pay that back after that. Who is that going to affect?
Jim: Well, I think I have yet to find a tax expert who really thinks that this is going to translate into a big change or benefit for workers. The big reason is there's just massive uncertainty over it. The president's advisors clearly convinced him that what could happen here is he could say, "I'm cutting your payroll taxes and I'll make it permanent if you reelect me". They thought that would be a very powerful pitch to take to voters.
What tax experts say is companies are really worried about being left on the hook if he doesn't win or if he isn't able to sign a law. If they have to pay back on behalf of their employees a bunch of payroll taxes that they didn't collect, they could have penalties, it could be just a mess. What is likely to happen is companies will just keep withholding the money anyway even if the government says it's not due. Workers won't notice anything at all.
Tanzina: Anita, the executive order on housing is supposed to prevent people from being evicted. How likely is that to happen?
Anita: Well, as Jim mentioned, there's a study being done. He's basically asking his administration to look at it. The ban itself also only deals with buildings that have federally guaranteed mortgages not private ones. That's about a quarter of the rental units in the United States who it does not deal with everyone.
Tanzina: Finally Anita, just wondering the president is doing this a couple of months less than a 100 days before the presidential election. What's really behind this? Jim, if you want to weigh into, do either of you expect this as a political ploy so that he can say, "Look, I helped you all out. After the coronavirus vote for me."
Anita: I absolutely do. The president has been very, very focused for months now on his reelection. A lot of what the recovery for coronavirus he has put in the lens of how does this look for my reelection? I do think that he is putting it out there to say, "Look, Americans, I'm doing this. Congress couldn't do this. It's the same swampy Washington I've talked to you about but I'm going to step in there and try to help you." I think he does hope that this will help his chances.
Tanzina: Jim, your thoughts. How political are these moves?
Jim: I think the president is trying to regain some leverage with Democrats in Congress. They have acted on Nancy Pelosi and Chuck Schumer. They hold all the cards in this negotiation. He's trying to gain some back but he's making a potentially very risky bet here with real people's lives at stake. That is, that people would rather see him trying to help the economy than cut a deal that actually does help the economy. We'll see how that plays out if it scuttles negotiations or ends up with a deal being forced through these actions.
Tanzina: Jim Tankersley is tax and economics reporter for the New York Times. Anita Kumar is White House correspondent for Politico. Jim, Anita, thank you so much.
Anita: Thank you.
Copyright © 2020 New York Public Radio. All rights reserved. Visit our website terms of use at www.wnyc.org for further information.

New York Public Radio transcripts are created on a rush deadline, often by contractors. This text may not be in its final form and may be updated or revised in the future. Accuracy and availability may vary. The authoritative record of New York Public Radio's programming is the audio record.