During the 1970s, Social Workers Began Placing LGBTQ Youth with Queer Foster Families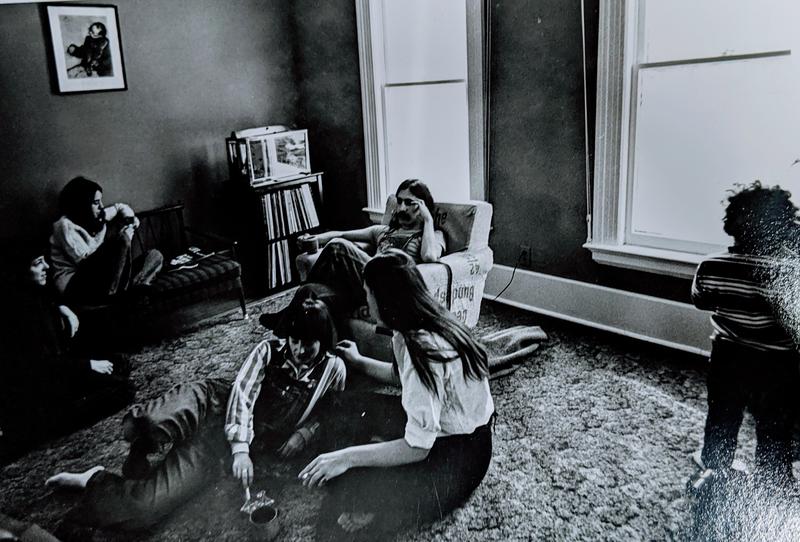 Transcript
Matt Katz: Welcome back to The Takeaway. I'm Matt Katz in for Tanzina Vega. The 1970s were a turbulent time in the United States. The anti-war movement was in full swing, second-wave feminism had taken hold, and the Black Power movement had gained recognition. It was around this time that members of the gay and lesbian community, who faced discrimination in everything from housing to employment, became more visible as they advocated for equal rights under the law.
Recent reporting from The New Yorker found that it was during this cultural revolution that social workers quietly began placing LGBTQ teenagers with queer foster parents after placements in more traditional homes fell through. Karen Hagberg is 77 years old, and she was an activist in the gay movement in Upstate New York in the late '60s and early '70s.
Karen Hagberg: We were approached by the Social Services Department of Monroe County in New York, requesting that we find foster parents for a young teenager who was described to us at that time as a cross-dressing boy, and we would call her now a transgender woman.
Matt Katz: Karen could hardly believe that during a time and homosexuality was criminalized, that the state was reaching out to the gay and lesbian community in an official capacity.
Karen Hagberg: This seemed so radical and so subversive and so amazing on the part of the Department of Social Services, that we felt compelled to answer their request in the affirmative.
Matt Katz: Karen and her partner applied and became foster parents to a transgender African American teenager named Veera, who had previously been moved in and out of several failed foster placements.
Karen Hagberg: She was able to be herself in our home, and she hadn't been with gay people before and here we were lesbians, and we had lots of gay male friends and other lesbians coming and going, and it was very different from other foster families she had been exposed to. She had discovered a community of trans women and she hung out with them and felt good when she was around them.
Matt Katz: To learn more about the history of the seemingly radical act of placing queer youth with gay and lesbian foster families in the '70s, I spoke to Marie-Amélie George, an Assistant Professor of Law at Wake Forest University specializing in LGBTQ rights, and Michael Waters, a freelance writer who wrote about this recently for The New Yorker.
Michael Waters: The main thrust of this piece is talking about these series of foster care placements that happened loosely and without a connection in the early 1970s. Essentially, what happened is, individual social workers and social work agencies started reaching out to the queer community in different ways, essentially, in order to register queer people as foster parents, one of the first times that you see this mainstream recognition of queer people as potentially, parents, and this took all sorts of forms.
A lot of times what happened is social workers had these queer kids who were in and out of the foster care system, so they'd go through multiple homes, and a lot of times, they would be failed placements and a lot of these families rejected them because the kids were queer, and especially trans or gender non conforming. Some individual social workers just out of desperation, seemingly, would place ads in gay newspapers, for instance, basically saying, "Hey, we have this kid, will you take care of them for us?"
For this piece, I spoke to a couple of people who responded to those ads or responded to requests from social workers, and actually got registered as parents officially with the county or state for the first time.
Matt Katz: We're going to talk about some of those specific examples. That's extraordinary reporting. Marie-Amélie George, this is a pretty remarkable set of circumstances given the time period, right? Advocating for gay and lesbian rights was certainly part of the cultural shift taking place during the '70s, but can you give us some context for what was going on in society at the time?
Marie-Amélie George: Let me give you two separate strands of background that are really useful for understanding what's happening now, or during this period. The first is just an incredible cultural revolution that is happening in the late '60s and early '70s. There was the rise of a new left with student protests against Vietnam. There's growing militancy in the civil rights movement, also in large part coming from students, there was a rise of second-wave feminism. There's just a spirit of radicalism and advocacy for social change that is really palpable around this time and it gives rise to a new wave of gay and lesbian rights advocacy.
Before the Stonewall riots in 1969, most gay and lesbian rights advocates were emphasizing, middle class for conformity and having mainstream society tolerate gays and lesbians. After Stonewall, there's the rise of a new gay liberation movement, which is really talking about how being gay is just as good as being straight. It takes on a new tone, it becomes much more militant and as part of that, they are pressing for advocacy in all parts of their lives, an end to employment discrimination.
Until the early '70s, being gay or lesbian was an automatic basis for being fired from jobs with the federal government, you couldn't get a security clearance. Until 1961 every state criminalized consensual same-sex sexual activity and that started to change in the early '70s. Gays and lesbians who socialized at bars could be arrested just for being gay there under [unintelligible 00:06:04] Lunas vagrancy and disorderly conduct charges. There was really a strong movement to expand gay rights in this period.
Matt Katz: Michael, let's get into one of these examples. Don Ward is one of the children you wrote about in your story and his biological parents signed him over to Washington State when he was 15 years old after they found out that he was gay and that's why they did so. What was life like for dawn before and then after he was placed with a gay foster parent?
Michael Waters: The first few homes that Don was placed in were quite bad for a number of different reasons, but a lot of them did center around his sexuality. Also, Don, although he identified as-- he was a cic-man, he did like try on makeup, he was playing with gender in a way that I think especially drew notice to him in this system that was not friendly to queer people in the slightest. He told me that after every placement, he talked with a social worker named Marion, and at some point, after a few of these failed foster placements, Marion decided that they had to try something new.
She had the wild idea to reach out to a gay person, and Don Ward around this time for context, was involved in the gay scene in Seattle, so he was going to this place called the Gay Counseling Center, for instance, mostly on a social basis, and a lot of queer adults and other queer kids around his age started to hang out there and so he had some of these early connections to the queer community. At the same time, there were a series of protests in Seattle around police brutality against queer people, and he actually participated in some of those as well.
His social worker, hearing that and seeing all the wrong that was happening in these straight cisgender families that didn't accept him, she decided to reach out to an activist in the community, who was a gay reverend at the time, and who was also one of the protest leaders. She basically took him to a cafeteria and said, "Hey, are you willing to be a foster parent for this child?" He said yes.
Matt Katz: Marie-Amélie, in the '70s, social workers were quietly placing queer youth with gay and lesbian foster parents at a time when homosexuality was criminalized in the US. How do you square the state sanction placement of these children with gay and lesbian families with the fact that states themselves were simultaneously anti LGBTQ?
Marie-Amélie George: It seems incredibly radical, but it's less so when you think about why it is that people were afraid of gay and lesbian parents. No one was sure how it is that people became gay. There was this theory that dated back decades, that people learned to be gay. It wasn't an innate trait, but rather that people learned from role models and were indoctrinated into the so-called gay lifestyle.
One of the big fears in the lesbian mother and gay father custody cases was that by allowing these parents to have custody of their children, the state was basically going to allow these children to grow up to be gay. What made the adoption and foster care context different is that these were self-identified gay and lesbian teens, so this harmful outcome that the state had already befallen them. It's not like gay and lesbian parents could make the situation bad, it was already there.
Matt Katz: Right.
Marie-Amélie George: The real shift and radical move was when gay and lesbian parents started fostering young children who didn't self-identify in any particular way. At that point, a lot of social science research had come out showing that parental sexual orientation had no impact on children's future sexual orientation, so social workers were much more comfortable with that.
Matt Katz: Michael, what was it like for the foster parents themselves? You spoke to some of them to hear from a social worker to get a call and for them to become parents unexpectedly?
Michael Waters: I think the foster parent I spoke to who best exemplifies this is Karen Hagberg, who fostered a child in Rochester, New York around 1972. The way she described it to me is that it was such a surprising thing to be asked that she just couldn't turn it down just because it felt so revolutionary, she almost felt compelled to do it.
The way it happened for her, a newspaper article, a newspaper ad from 1972 in which the County social services department had advertised in the gay newspaper for Rochester, essentially saying, we have this girl who's been in and out of the system, this trans girl, and their exact wording was something along the lines of, we feel that a gay family would be the best placement.
Karen had doesn't remember exactly how she responded to that ad, but at some point she did. She was at the time living with a girlfriend named Kate and the two of them responded. They were interested and the County sent them over paperwork. I mention that also because the paperwork wasn't even really ready to have parents as foster parents. For instance, the papers that they were assigned to fill out in order to register with the County assumed that the couple would be a man and a woman. Karen and Kate literally just crossed out man and woman and instead wrote lovers.
The system, although the County had reached out, it wasn't necessarily equipped to deal with foster parents. I also think an important thing to note too, is that Karen and Kate were in their early twenties at the time and she did tell me that she almost felt compelled to say yes because it was such a radical proposition in the first place, but herself was quick to admit that she didn't know that she was the most equipped to be a foster parent in the end. I think that was true of the foster parents that I did speak to. It just felt like, how could you say no to this? They did their best, but I don't think any of them necessarily thought that they were as ready as they could have been.
Matt Katz: Then in terms of finding foster homes for these queer foster youth, what role did activism play at this time, Marie-Amélie, in terms of just making sure that these kids were taken care of and highlighting these issues?
Marie-Amélie George: Social workers were turning to gay and lesbian rights groups, and they were self-identified as gay and lesbian rights groups at the time as opposed to LGBTQ and were asking them to find foster parents for them. Some of these organizations, like the Mattachine Society, the National Gay and Lesbian Task Force, they were setting up formal programs to put social workers in touch with potential foster parents. These ads in gay and lesbian newspapers that Michael described are ones that gay and lesbian rights organizations are producing and they're circulating.
There's also a sharp increase in just the number of organizations addressing gay and lesbian issues. There are specific lesbian mothers groups, gay fathers groups, and they provide networks of support for people who want to become parents.
Matt Katz: Marie-Amélie, let's talk about today. Michael reported that only 25 states prohibit agencies from discriminating against prospective parents on the basis of sexuality and gender identity. Some agencies today continue to reject gay parents for foster placements because they're gay. President Obama barred such agencies from receiving federal funds, President Trump reversed that.
Meanwhile, the Supreme Court is expected to rule this year on whether the city of Philadelphia was within its rights to not renew a contract with Catholic Social Services because that agency won't allow same-sex couples to foster children. Could that Supreme Court case be a breaking point in this story that we've been talking about that's been ongoing over the last four decades?
Marie-Amélie George: It's possible that the court will rule that these agencies can't discriminate based on sexual orientation. It might also be the case that the court rules they can, but there's also some possibilities in the middle. They could really narrowly tailor this and say, look, these agencies are private agencies, but they're performing a quintessential public service, right? Foster care has been a state program. They're working as agents of the state and so because of that, we're going to treat them differently than say, a private business. We're going to say you're basically acting with the state's authority, which means you have to follow the rules that the state imposes.
Matt Katz: Marie-Amélie, Michael, thank you very much for taking the time.
Marie-Amélie George: Thanks so for having us.
Michael Waters: Thanks so much.
Matt Katz: Marie-Amélie George is an Assistant Professor of Law at Wake Forest University, and Michael Waters is a freelance writer who focuses on queer history. Special thanks to Michael for his excellent reporting in The New Yorker and for introducing us to Karen Hagberg, one of the queer foster parents who cared for LGBTQ youth.
Copyright © 2021 New York Public Radio. All rights reserved. Visit our website terms of use at www.wnyc.org for further information.
New York Public Radio transcripts are created on a rush deadline, often by contractors. This text may not be in its final form and may be updated or revised in the future. Accuracy and availability may vary. The authoritative record of New York Public Radio's programming is the audio record.