Dr. Anthony Fauci on the State of the Pandemic, As Holiday Season Gets Underway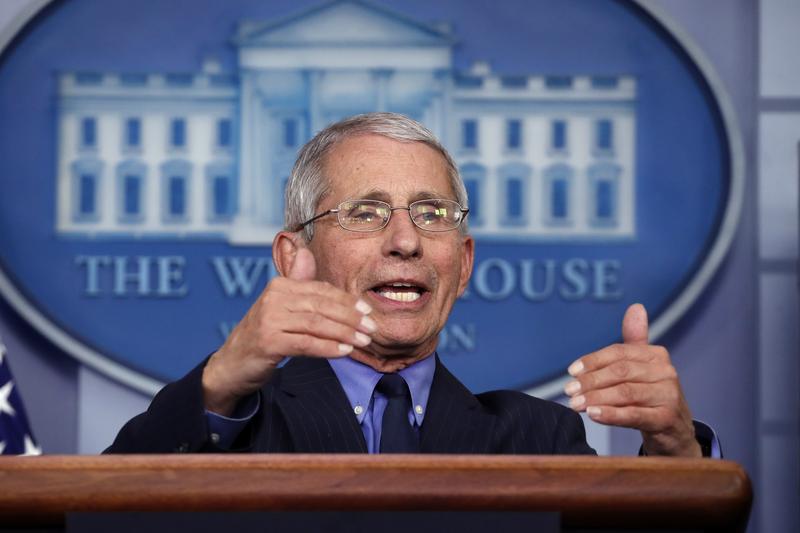 Transcript
Tanzina Vega: It's The Takeaway. I'm Tanzania Vega and thanks for being with us on this Wednesday before Thanksgiving. There've been record numbers of coronavirus cases leading up to this holiday. With an increase in travel and family gatherings, we'll likely see an even more dire situation in the weeks to come than we faced last spring.
Here to update us on where we stand in the fight against the coronavirus pandemic is Dr. Anthony Fauci. He's been working as the Director of the National Institute of Allergy and Infectious Diseases since 1984. It was only this year that he acquired a rockstar status as the voice of reason in science on COVID-19. Dr. Fauci is, of course, a member of the White House task force on the coronavirus. Dr. Fauci, it's a pleasure to have you on the show.
Dr. Anthony Fauci: Thank you very much. It's good to be with you.
Tanzina: Before we talk about the latest on the coronavirus, Dr. Fauci, how are you doing?
Dr. Fauci: Well, I'm hanging in there. We're really being challenged with an extraordinary situation here in our country and actually throughout the world. We're experiencing, historically, the worst pandemic respiratory outbreak literally in 102 years. There's been an awful lot of suffering and considerable amount of death already. We are in the middle of what looks like a persistent surge as we enter into the deep fall and early winter.
There are a lot of things that we can do to help prevent the surge that we hope we don't get. We're already in the middle of a considerable surging of cases and hospitalizations. We're trying to get the message out to people of the simple things that they can do without shutting down the country, without locking down, simple things like mask-wearing, keeping a physical distance, and avoiding crowds in congregate spaces that you can actually go a long way to blunting the trajectory of the curve. I try my best to get that message across. It's exhausting but this is too important a problem and has too much important implications to really be worrying about how tired I am, which I really am, to be honest with you.
Tanzina: You've been at the center of so many of our national public health crisis for so many decades. I can only imagine how tired you must be. Particularly, Dr. Fauci, you laid out some of the basics that we've all been hearing about for the past couple of months, wearing a mask, keeping a 6-foot physical distance from others, not going indoors into non-ventilated spaces, et cetera, and yet, we are experiencing a surge, and it's a very serious surge.
When you watch this happening, why do you think some Americans just haven't gotten the message? The CDC said, "Please, don't travel for Thanksgiving which is this week," and yet, while there aren't the same numbers of Americans traveling as they normally would be, there are still folks doing it. When you see this happening, how does it make you feel, and why is this happening?
Dr. Fauci: Well, it is really quite frustrating because the data is staring us right in the face when we look at the hospitalizations, the number of cases. We've now 21 days in a row over 100,000 cases, and in some respects, approaching and sometimes reaching 200,000, anywhere between 1000 and 1500 or more deaths and hospitalizations, some of which are now hospitals are being challenged with regard to the number of staff that they would need and yet-- People, I believe, are really beset with what we refer to as COVID fatigue. They're really tired of any kind of restriction, particularly, when you're entering into such a traditionally enjoyable part of the year, the holiday season.
Another thing that I think contributes to this lack of hearing or paying attention to the message is the extraordinary political divisiveness that we've experienced now in the middle of a pandemic, that there are people in different parts of the country and even people differing in a given region of really associating a certain type of behavior with the certain political stance or political ideology, which just complicates things. We really need to get the message across to people that this is a public health issue, that the enemy is the virus. The enemy is not the people that are telling you the things you can do to avoid infection, and the enemy is not the people who don't seem to be hearing that or don't want to adhere to it.
We're all in this together. The only way we're going to get out of, it in a way, that minimizes the negative impact is if we work together as a country because we're really being challenged with something that's unprecedented. The messaging that we're trying to get across, understandable, people sometimes hear mixed messages and wind up saying they don't believe anything. Well, that's really unfortunate and that may be, in part, due to some of the mixed messaging, but right now, the message is clear. We can do something about this.
I think it's important to point out that help is really on the way. We are going to have vaccine available in different priority orders starting in the middle to the end of December. As we get into the first quarter of 2021, more and more people, at a various prioritization, will be getting vaccines. That's going to be a huge difference. Rather than saying, "Well, we're going to have a vaccine, let's not worry about anything," I think it should prompt us to double down even more and say, "Yes."
This is difficult to do these kinds of things. It definitely interferes and upends our life, but help is on the way and if we can hang on a bit longer and adhere to these public health measures, then we have a long future ahead of being without this pandemic because we can actually not only blunt it, we can actually crush it with the combination of public health measures and wide utilization of the vaccine, and that's not too far off. The message that we keep almost pleading with the American public is please hang in there. Hang in there with us because help is on the way, and we will end this. This is not something that's going to go on indefinitely. We have the capability of ending it.
Tanzina: You said help is on the way, and with that, will come some hope in the form of a vaccine. There've been a couple of companies, Pfizer and others, who have said that they are very close to a vaccine. Let's talk about what that really looks like. How effective are some of these vaccines, Dr. Fauci, because someone will hear, "Oh, it's 94.5% effective and they'll think that's a miracle?" are they really? What is the effectiveness look like of these vaccines right now?
Dr. Fauci: It really is pretty solid. We have two vaccines now that one, two and a half weeks ago, and one, just about a week and a half ago have been shown in a rather large clinical trial to be safe, but also, to be highly efficacious to the tune of both of them about 95%. That's real data. An unprecedented effort was put into developing these vaccines and getting them mobilized as quickly as possible, in fact, in record time without compromising safety and without compromising scientific integrity.
It's a reflection of the extraordinary and spectacular advances in technologies that have allowed various types of vaccines to be mobilized quickly upon identification of the virus in question. In this case, that would be this novel SARS coronavirus 2, where we just knew what it was in the first week of January. In less than a year, we have vaccine that is ready to go into people by the middle and end of December.
The federal government under Operation Warp Speed has invested an extraordinary amount of money, billions of dollars to get the process going safely and quickly, and to pre-purchase doses of the vaccine so that when the efficacy and safety is proven, you can jump right in and start administering the vaccine, which is the reason why we can start doing that to certain high priority groups as we get into the middle and end of December. Then, as we go into the first quarter of 2021, more and more people would get vaccinated until as we get to the end of the first quarter and into the second quarter.
Hopefully, if people accept the vaccine and take the vaccine, we can provide, as we get into the first half and going into the second half of the year, a rather substantial blanket of protection over the country. The question people ask is, "Do you believe this 95% efficacy and safety?" The answer is that determination was made by an independent body who is beholden not to the government, not to the pharmaceutical company but is independent of highly skilled and experienced clinicians, vaccinologist, statisticians, infectious disease individuals.
People who have a lot of experience have looked at the data on both of those candidates, both the Pfizer and the Moderna candidate, and said, "Yes, this looks really good. This is a substantial advance. It's an efficacious and safe vaccine." What they do then is that that information is then given to the company, which then presents it to the FDA as a request for either an Emergency Use Authorization or for full approval as a biological license application.
Now, within the FDA, you have career scientists who do this for a living. These are not political people, these are people who are highly experienced in that. They will confer with their advisory committee, which again is a independent body, it's called the Vaccines and Related Biological Products Advisory Committee or VRBPAC. They get involved in the approval of vaccines all the time. They will look at the data and they will advise the FDA as to whether or not it would be appropriate to issue an Emergency Use Authorization.
Then, finally, the data becomes public. It gets published in a journal, and everyone in the scientific community and anybody else who wants can get a look at it. The people who have a concern that there may be cutting corners or undue political influence or companies trying to sidestep certain things, that's just can't happen both because of the independent nature of the evaluation as well as for the transparency of the process.
That's the reason why we want to get as many people as you possibly can to take the vaccine, not only for their own personal protection but also as a contribution to ending this pandemic so that we can put it behind us and not be gripped by the fear and the economic disruption and the suffering of the death that it is caused not only us here in the United States but throughout the world.
Tanzina: Some Americans, at least, in most polls we've seen last week, 58% of adults said they would get vaccinated, but that leaves an additional, almost half of the country, saying they might not take this vaccine. Dr. Fauci, similar to what we were just talking about, if not everybody is involved, how do we move forward? What would the consequences be of a country where 58% of adults take the vaccine and the remaining percentages don't?
Dr. Fauci: Well, it would be really unfortunate, at best, and really, really tragic at worst, if we have, which we do, highly efficacious vaccine but we don't put it to its maximum use because people do not want to get vaccinated. We really need to reach out to the community of people who have skepticism about the vaccine and be very open and transparent about what I just told you of the process involved in this, and how in the long run it's totally important and necessary for as many people to be vaccinated as possible because if you only have half of the country, you don't get that veil of protection for everyone.
If you really want to crush an outbreak, you have to have a very, very high percentage of people get vaccinated. We did that with smallpox. We did that with polio. We did that with measles. We absolutely can do that with COVID-19 and the virus that's caused by it. It's going to require people to step up and say, "I want to protect myself, but I also want to be part of the process to protect the rest of the country by creating that umbrella or that veil as it were, that blanket of herd immunity by getting everyone protected," because once you do that, the virus really has no place to go, because if the overwhelming majority of the people are protected, the virus is just going to be eliminated, essentially. We can do that. It is within our power to do that.
Tanzina: Dr. Fauci, last week, Sweden banned gatherings of more than eight people and implemented other restrictions. This is significant because some people believe the government in Sweden had been implementing lax policies in an attempt to reach something that's called herd immunity. What's your take on herd immunity as it relates to this pandemic and the situation in Sweden?
Dr. Fauci: I think we need to put that to rest. Herd immunity, you want to get to by a vaccine. If you waited to get enough people to be infected in order to get herd immunity, which would require estimates anywhere from 67%-80% the population would have need to have been infected, there would have been in an extraordinarily unacceptable level of deaths in this country if we did that. Herd immunity is something that we need to get by vaccines. The Swedes tried to do that. Their numbers, under certain circumstances, looked good, but when you compare the Swedes to other comparable Scandinavian countries, their death rates was significantly higher than virtually all of the other Scandinavian countries.
Tanzina: Dr. Fauci, what do we know so far about the potential for vaccine side effects? There're some reports that say it might require two injections. Not everybody is a fan of injections, but that's one inconvenience of it. Are there side effects, potentially, for example, autoimmune issues that some folks could come up against if they take the vaccine?
Dr. Fauci: Well, first of all, I think it's important what you're saying about side effects because you have to think in terms of immediate, intermediate, and long-range side effects. We have extensive experience with vaccines, and overall, they are very, very safe. There is not anything you could do that has absolutely no potential side effects, but the risk is extremely low. What we've learned so far is that the vaccines that have been used have some local effects that last maybe 24 hours, namely, pain in the arm, some fever, a little aches that you have. Those have not been prohibited in the sense of being a real significant problem.
There have been no indications of severe adverse events that occur. One of the reasons why the FDA has made it clear that they will not go for an Emergency Use Authorization until they were at least two months, 60 days, beyond the time when half of the people have gotten their last dose. The reason for that is when you look at the overall history of vaccines, the overwhelming percentage, I believe it's more than 90%, of the adverse events that occur generally occurs somewhere between around 30 to 45 days, and that's the reason why they add that extra little safety net and say, "We're not going to do anything until we're at least 60 days or two months out from that last dose."
The chances of there being long-range effects are really minimal. In that regard, we will be looking well out into one and two years to see if there were really very long-term effects, which it is unlikely that that would happen. Getting to the number of doses, almost all, except for one, I believe, of the vaccines will require a prime and a boost. Some require just a single vaccination, but others would require a prime followed by a boost anywhere from three to four weeks later.
Tanzina: Dr. Fauci, you know these numbers very well. So far, the United States has had around 12 million cases of coronavirus. More than 250,000 Americans have died from the virus. At the same time, as we experience this current surge, we're seeing hospitals across the country, ICU units to capacity, and a real strain on our medical professionals, nurses, doctors, EMT workers who have been essentially burned out for months already as they battle the virus. One thing I think that's curious is that we would normally, if we were watching something like this unfolded another country, I think the United States would try to send medical personnel out. Why haven't we asked for international medical personnel help on our end this time around?
Dr. Fauci: We have enough capacity to send personnel that could be with the help from military, physicians, and nurses, and others. We do not need to ask for personnel help from the outside. It isn't that we needed and we haven't asked for it for one reason or other. We have what it takes right now with our own capability. It is true that there are some facilities in different parts of the country that are being strained. They will likely get help pretty quickly from some of the reserves that we have. I don't believe we're going to need help from the outside.
Tanzina: How do we explain the high number of deaths in this pandemic, Dr. Fauci? As of Tuesday, data from the World Health Organization is showing that the United States reported 867 COVID deaths in the past 24 hours, while India, reported 480. What is driving the high rates of morbidity here in the United States?
Dr. Fauci: It's a very complicated situation that can't be explained by a single uni-dimensional answer. I think you have to be careful. We accurately report our deaths and medical statistics. I think you have to be careful that some countries could, and I believe it's likely the case, I'm not pointing the finger at any given country, some of the developing countries, you may get a little bit of a different perspective from them about deaths and hospitalizations because of the lack of accurate reporting in some of those countries.
Again, I'm not pointing out any particular country, but be careful when you compare one to one from another country, particularly, if it's a developing country with a poor health care system, that there may be deaths that occur that don't get counted, but that's not the issue. Let's just concentrate on what we have. The idea of so many deaths is really a complicated issue and it could relate to many of the comorbidities that we have in our country, a bit of an aging population in some, a lot of obesity, which is one of the really high-risk issues that is a comorbidity that accounts for some of the deaths. The lack of uniformity of access to health care in a timely manner.
All of these things that are some of the weaknesses in our population and in our society that seem to be contributing to this. It's a very, very large country with a lot of people, and we have a situation where we're being stressed with this. Again, as I said, we have a lot of complicating issues including the high percentage, by some estimates anywhere from 30% to 40% of people who have a condition that would essentially make them be more likely to have a serious consequence of getting ill. By a serious consequence, I mean hospitalization, intensive care, and even death.
Tanzina: Dr. Fauci, what's bringing you joy in this moment?
Dr. Fauci: Well, I wouldn't say it's joy, what's bringing me hope, I would say, that hopefully what lead to joy is the fact that the things that we have, namely, the vaccines that are now going to be coming rapidly online, more than one, that we will be able to put an end to this terrible ordeal that we've been going through, and that hopefully, the little things in life that we had to put aside because of this outbreak will return. With that, will be that feeling of joy that is often characteristic of our country. My own self, if you want to call it joy is-- I'm thankful, actually, that my family is safe and that we have been spared illness. I also feel a great deal of empathy for those who have suffered by either the loss of a loved one or a severe illness in themselves or in their loved ones.
Tanzina: Dr. Fauci, thank you so much, and have a happy Thanksgiving.
Dr. Fauci: Thank you. Bye. Bye-bye.
Tanzina: Dr. Anthony Fauci is the director of the National Institute of Allergy and Infectious Diseases and a member of the White House task force on the coronavirus.
Copyright © 2020 New York Public Radio. All rights reserved. Visit our website terms of use at www.wnyc.org for further information.
New York Public Radio transcripts are created on a rush deadline, often by contractors. This text may not be in its final form and may be updated or revised in the future. Accuracy and availability may vary. The authoritative record of New York Public Radio's programming is the audio record.