What Dobbs v. Jackson Women's Health Organization Could Signal For Civil Rights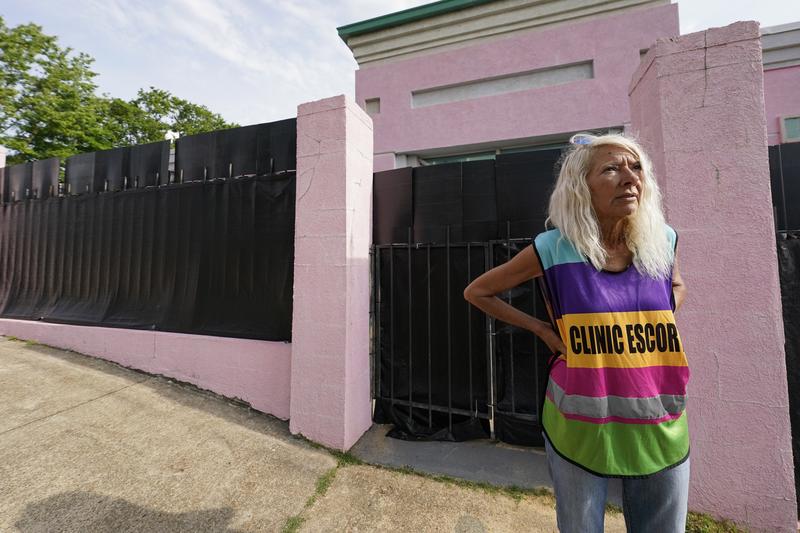 Transcript
music]
Melissa Harris-Perry: I'm Melissa Harris-Perry. Thanks for starting your week with The Takeaway.
[music]
Melissa Harris-Perry: Just over a month ago, POLITICO published a leaked draft opinion penned by Justice Samuel Alito, a nearly unprecedented breach of the High Court's norms of non-disclosure until the moment an opinion is officially released. We could call it a breach of privacy. Now, reporting from multiple news outlets indicates that the court is aggressively investigating the leaks. CNN reports investigators are "requiring law clerks to provide cell phone records and sign affidavits," another largely unprecedented breach of privacy.
Now that it's June, the Court is likely to release its official decision and opinion in the Mississippi case of Dobbs v. Jackson Women's Health Organization. That decision could overturn the 1973 Roe v. Wade precedent, which established that abortion rights were an extension of an implied right to privacy found in the Fourteenth Amendment. If Roe is overturned, it's most likely that each individual state would be left to decide legality and access to termination services within its own boundaries.
According to the Guttmacher Institute, 26 states are certain or likely to ban or restrict the procedure. Planned Parenthood estimates that 36 million women, more than half of all women of reproductive age in the US, live in one of those states.
Now, this notion of a loss of rights, it's not consistent with the American narrative of ourselves, American exceptionalism, the shining city on the hill. Here, on this soil, where the arc of history is meant to bend towards justice, offering evermore access to liberty, equality, justice, a sentiment captured by then-Senator Barack Obama back in 2008 following his defeat in the New Hampshire primary.
Senator Barack Obama: Yes we can. It was the call of workers who organized, women who reached for the ballot, a president who chose the moon as our new frontier, and a king who took us to the mountaintop and pointed the way to the promised land. Yes we can to justice and equality.
Melissa Harris-Perry: It's still one of the most enduring campaign speeches in US history, one that helped transform a primary defeat into, ultimately, a historic general election win, but is it accurate? Is the arc of American history always bending towards justice?
[music]
Melissa Harris-Perry: I'm joined now by Blair Kelley, Professor of History at North Carolina State University. She is the author of Right to Ride: Streetcar Boycotts and African American Citizenship. Thanks for joining us, Professor Kelley.
Blair Kelley: Hi, Melissa. Great to be here.
Melissa Harris-Perry: I want to go to a period of history where you have made important scholarly contributions, the period that I, growing up in the South, learned as Redemption. Can you tell us a little bit about what happens with African Americans' newish constitutional rights right at that moment?
Blair Kelley: Well, it's a mixed bag and an interesting one. I was reading a book last night, and it was talking about the South as a particular challenge to the African American experience and one that changes the American experience. We have to remember that Redemption period was mirrored by an earlier period in the North with gradual emancipation, a much smaller-scale freedom moment, but that freedom moment was met with segregation.
When it happened again in the American South after the general emancipation in the Civil War, you have this moment of Reconstruction, you have this moment of reimagining what citizenship could be, but, again, you have this moment of implementing segregation as federal troops move out, as Southern states are emboldened to make their own laws. I thought an interesting mirror to this moment in the ways in which your rights would be left up to the state in which you live, and you could be facing segregation, eventually, disfranchisement, terrible tides of racial violence, lynching. It's the high of lynching in that next decade.
So much of what had been earned and fought for and imagined in that Reconstruction moment, in that first mass freedom moment, was completely obliterated within a 20-year period.
Melissa Harris-Perry: Yet it's also your work that taught me, for the first time, to even think about what it would've meant to actually be alive as that's happening. I think sometimes the way we're taught history in school is as though everything is a foregone conclusion. There's slavery, there's Reconstruction, there's Jim Crow, there's Civil Rights Movement in these neat patterns as though each person living in those moments fully expects that that's what's coming next.
Tell us about what people who were living in that freedom moment who'd just experienced having the right to vote, to run for office, how were they experiencing the descent of Jim Crow?
Blair Kelley: They're incredulous, they're confused, they're clear and understanding that they knew the people who were enslaving them and oppressing them on unprecedented scales just a few decades ago hadn't gone away. They are hurt by the moment, they're struck that the nation has turned its back on their rights, but at the same time, they keep fighting.
One of the most interesting things that I found in Plessy versus Ferguson-- It's the case that we're taught that, after that case, it's over in that march of history that you talk about, that, after that case, there were no more rights that would be progressive for them, there was no more progress for decades. When you read the newspapers, the Black newspapers in particular during this time period, they sort of cover it, they sort of talk about it, but they didn't have a sense that it was the end.
The movement that I studied happens after Plessy. After Plessy, thousands of African Americans boycott segregated streetcars. It happens in 25 different Southern cities across the landscape where they have streetcar systems. They're the brand new technology of this phase, they're used pretty heavily in most places. They start walking, much like the Montgomery bus boycott movement of the 1950s. In 1905, you can see those same kinds of boycotts happening all across the South.
As much as we are told that this was a foregone conclusion, they kept fighting. That fight is part of what I hear in what Barack Obama is saying in the "Yes we can" moment. He's not saying, "Yes we can," and everything will pour out with joy greeting us when we claim our rights, but he's saying, "When we push, we can. When we fight, we can." That is the history that we have to remember in this moment.
Melissa Harris-Perry: What difference did it make to resist, to be fighting? You're talking about, okay, so post-Plessy, there's still enough hope, enough energy, enough experience with freedom that people fight, but whoo, it's a long period from the 1890s until the 1960s, if we want to count '65 around voting rights or '64 around civil rights. If they just kept losing, why fight?
Blair Kelley: Well, they didn't just keep losing. They lost pretty badly in the time period that I discussed. It's one of the grand failures of the large-scale movement and probably why it hadn't been studied very deeply before, but those generations plant seeds in the community, in their children, seeds of resistance, seeds of knowledge about who they are. They also make strategic choices during that time period. They decide to really protect their children as best they can from the insults and degradations of segregation.
They begin to build a society in resistance to that white supremist world. They built up schools and businesses and institutions of uplift and phenomenal independent churches, and they used that community to buffer and to raise children in ways that let them feel empowered in spite of that outside world. It is from that base that the movement begins to grow, that you begin to have a generation of people who continue that fight, and they continue it right away. The founding of the NACP, we can see, in the 19teens begins a lighting of that fire of resistance, legal cases, organizing on the ground, giving birth to some of the most amazing people who become our civil rights icons in the next generation.
Melissa Harris-Perry: Do you think that perhaps there are these spirals? I hear what you're saying about then-Senator Obama's speech, not saying that it simply bends toward justice, but that it is maybe a rolling back and then coming forward maybe in these historical spirals or turns, but are we always moving towards justices? Is there a reason to hope?
Blair Kelley: I think there's always reason to hope while we still have the ability to strategize, to fight, to organize, we have new tools that we did not have in previous fights. I'm still a big fan of the ways in which social media has its own ability to make good information be shared as much as it has the ability to make bad information be shared. I think we have to remember that those systems of backlash, of response are always going to happen.
There are never going to be times when people simply give up power without thinking that they're owed something. That's the rhythm of our history. The ugliness, the underbelly that we fail to teach our children about, but if we could teach it, if we could teach about the failures, if we could teach about the setbacks, if we could teach about those periods where it's not that arc of progress, we'll be better prepared when we face them.
Melissa Harris-Perry: I think you're an extraordinary storyteller. Is there a story you can offer in this moment, someone from a time period that you study, which is not maybe mapped directly on but can help us in moments, perhaps, when we see a rollback of rights? Who do you hold onto? Who from your scholarship do you go back and say, "All right, in this moment she would have, or he would have, or what I can learn from him or her or them is this?"
Blair Kelley: I was just writing about a man named Wallace Battle who founded a school in Okolona, Mississippi in the 1900s. A school that was not that welcomed for Black students. There was no regional place for students to get any kind of education. He wanted to found a Tuskegee in Mississippi and they kept burning it down. They kept defeating the things that he built. They kept threatening. They kept lynching in the town where the school was founded, and he kept working and he kept fundraising and he kept on the road, talking and putting the story before different audiences and organizing and organizing.
Eventually, they lynched some of his faculty and he finally leaves, but he leaves an institutional legacy of a school that survives into the 1960s and '70s and provided education for thousands in spite of the weight and the silences that he had to endure at the time period. It was dangerous for him to do any of this work, to speak honestly, or speak the truth about what he thought.
Even as we build, even as we may have to put our heads down and think differently about what we face to get people to the justice they deserve, if we can make those pathways, if we can leave those legacies, if we can build those institutions, even those quiet ones that don't say all of the things that they're thinking but just do the work, that might be a wonderful example for us right now in such a hard time.
Melissa Harris-Perry: Blair Kelley is a Professor of History at North Carolina State University. She's also the author of Right to Ride: Streetcar Boycotts and African American Citizenship. Professor Kelley, thank you for joining The Takeaway.
Blair Kelley: Thanks for having me
[music]
Melissa Harris-Perry: Pausing for a moment. We'll be right back here on The Takeaway.
With the Supreme Court set to issue its decision in Dobbs v. Jackson Women's Health Organization, a decision that could overturn Roe v. Wade, we've looked back in history and now let's look forward to what may happen next. We're joined now by Akhil Amar, Professor of law and Political Science at Yale University. Welcome to The Takeaway.
Akhil Amar: Melissa, it's so great to be back with you.
Melissa Harris-Perry: How likely is it that the opinion we are most likely to see this month in June will track with what we saw in the leak?
Akhil Amar: I have no inside information on that, and I can tell the audience that there's at least a theoretical possibility that a very different coalition could emerge. It would reach most likely the same result, upholding the Mississippi Law, but on a much narrower basis, I sketched out the contours of what I called a different Dobbs' deal from Justice Sotomayor on the left, through Justices Kagan, Briar, Chief justice Robertson maybe, Justice Kavanaugh, a different kind of a coalition of the right and the center-left that would, again, uphold the Mississippi law, but on a much narrower ground than the leaked Dobb's draft which is far more sweeping than any alternative that might be imagined.
Melissa Harris-Perry: By a similar or perhaps it's a different logic, but it is-- One of the joys of talking with you is that you always bring me legal insights that are different than just what you can get reading the paper kind of thing. Help me to understand if there is a distinction between talking about overturning the basis on which Roe v. Wade was decided and whether or not there's some other potential legal basis for access to abortion rights. In other words, is Roe equivalent to abortion rights?
Akhil Amar: No. You could, for example, think that Roe got all sorts of things wrong, and yet there still is a core of a woman's right to choose and in various respects. Here's some mind-blowing facts. I say all of this as someone who is pro-choice, as someone whose kid brother actually clerked for Justice Harry Blackmun, the author of Roe. I'm a critic of Roe and, in part, because Roe wasn't that well reasoned. Here's a mind-blowing fact, Roe doesn't really even talk about women's equality rights at all. It talks more about the doctor and the doctor is always a he.
It generated a very elaborate trimester framework of constitutional analysis and actually half of that was already discarded long ago in a case called Planned Parenthood versus Casey, another election year, a presidential election year back then, 1992. The court back then, it said, "Oh, precedent, precedent, precedent, Roe, Roe, Roe," but it actually gutted half of Roe, the trimester framework, and overruled some other cases in the Roe line, and yet still affirmed the core of a woman's right to choose. Now, what's at issue now is, in part, the viability part of Roe.
We've already gotten rid of legal distinctions between the first and the second trimester in abortion. Now we're talking about the third trimester and it begins with a thing called viability when the fetus is able to live outside the womb, about 21, 22 weeks post conception. Even if that were abandoned because the Mississippi Law allows prohibition of abortion at week 15. Even if Roe were gutted to some extent, and we move from 21 to 15, it's possible to imagine a narrower opinion saying, oh, 15 weeks is still okay because a woman has enough time to choose because if she changes her mind even after that she can travel to a different state, Mississippi, doesn't try to lock women up and prevent them from going to New York or Illinois or California or whatever because indigent women can still be funded by charities and other services.
Mississippi is not like what Oklahoma is proposing, bans from conception on, or like what Missouri has proposed, which is that you can't travel, you can't walk out of state. It's possible to imagine that Roe is abandoned, but the core of a woman's right to choose and women's equality could be actually affirmed and the women's equality point could be even more ringingly affirmed than in Roe.
That's at least still possible to imagine, it would still uphold the Mississippi Law. It might finally say, "Hey, as long as we're cleaning up the precedent books, if Roe wasn't very well reasoned," and my own view is actually it's not. I say that as a pro-choice person. All their other cases aren't very well reasoned either. Here's one, it's a conservative case, it's called Geduldig, and Geduldig says, oh, when the government discriminates against people because they're pregnant, that's not sex discrimination because, oh, non-pregnant people include men, of course, but also some women. That doesn't make a lot of sense, and so a court could say, "Okay, we're rethinking Roe, but we're also rethinking Geduldig," abortion laws discriminate on the basis of pregnancy, that is discrimination on the basis of sex. It doesn't mean it's unconstitutional, but it means it needs to have very strong justification, and we're going to take that more seriously now.
Melissa Harris-Perry: I feel like what just happened is a bit of a law seminar that sometimes isn't often well heard for folks who don't have-- let me say that differently. I'm hearing you say that you could end up with an affirmation of the fundamental right to choose, even with discarding Roe, and yet there's real concern that discarding Roe based in this, at least one aspect of the Roe decision. You've talked about the trimester, but there's also this implied right to privacy, and that everything from the ability to access contraceptive services from the birth control pill, to IVF services, to potentially even the right to marry someone of the same sex, which also have this privacy aspect associated with it, that they could also fall. Is that an overreach for what is most likely to happen here?
Akhil Amar: I am not so despairing as some of my colleagues have been publicly about that, let's say, but I just sketched out candidly, is unlikely to happen. I said it could theoretically happen. I have no inside information, I tried to sketch out the contours of a broader arrangement in which Republicans and Democrats on the court actually vote together. Just like it's possible to imagine a gun control measure in which Republicans and Democrats actually, in Congress, actually get together on something. Don't hold your breath, it's theoretically possible.
Now let's imagine, though instead, it's the Dobbs draft or something very close to it that emerges as the opinion of the court, a more conservative draft that actually is very skeptical about certain kinds of-- about Roe in particular, but why, well, it says Roe isn't in the constitution, abortion isn't in the constitution, and you might say, "Oh, my goodness, well, the word privacy doesn't appear in the constitution. It doesn't say in so many words same-sex marriage or interracial marriage, and what about contraception and IUDs and IVF."
Here's what the Dobbs draft does say that there are unenumerated rights in the constitution, but the way we find them is by looking to American custom and tradition, sort of mainstream American practice. If that is the test, my own view is that most of the other landmark cases that people might be worried about other than Roe versus Wade, survive.
Same-sex marriage, the best basis for same-sex marriage actually is equality. That if a man can marry a woman, why can't a woman marry a woman? It's sexy equality, it's also if straights can marry, why can't gays marry? It's just a basic equality idea, and equality is in the constitution. Birth equality is a key thing in the 14th Amendment of the Constitution.
Well, what about privacy? It's not in the Constitution, but if we look at unenumerated rights and mainstream practices, let's take contraception. The Griswold versus Connecticut case said Connecticut can't prohibit contraception, but here's the key reason why, because it's the only state that does so. No other state has ever tried to prevent married couples in their homes from using contraception, it was an outlier, it was out of the mainstream.
So too, actually, laws that discriminated against gay folk in sodomy laws and the rest, they were actually out of the mainstream laws. Most states actually didn't say anything like that. Let's take interracial marriage, that's actually an equality idea if let's take-- there's case called Loving versus Virginia interracial marriage.
Well, first, that's a violation of equality. If there's a woman in Virginia, let's call her Virginia, and she is white, if a white person can marry Virginia, why can't a Black person, and so that was just a violation of racial equality. It's kind of Brown versus Board of Education-like stuff and the Constitution does say equality, but even apart from that, at the time of that decision in 1967, two-thirds of the states actually permitted interracial marriage. Even the ones that didn't, most of them let you walk across the state line, get married, and then come back.
At the founding, people of different races and ethnicities could get married. A lot of the things that Americans take for granted today are protected, in part, because most states actually respect them. When a few outlier states go off out of the mainstream, the court slaps them down and the Dobbs draft says that's okay. That's a permissible framework to strike down outlier laws, but the Mississippi law, and again, I'm pro-choice, is not an outlier law. Lots of other states are trying to restrict abortion pre-viability, Florida, Texas, Missouri, Kansas, and on and on and on.
Melissa Harris-Perry: Suddenly, I think I understand why so many states moved even before the decision was made. Akhil Reed Amar is Professor of Law and Political Science at Yale University. As always, thank you for joining us.
Akhil Amar: Thank you, Melissa.
Copyright © 2022 New York Public Radio. All rights reserved. Visit our website terms of use at www.wnyc.org for further information.
New York Public Radio transcripts are created on a rush deadline, often by contractors. This text may not be in its final form and may be updated or revised in the future. Accuracy and availability may vary. The authoritative record of New York Public Radio's programming is the audio record.