Division over Critical Race Theory's Meaning Has Spurred A Rise in Book Bans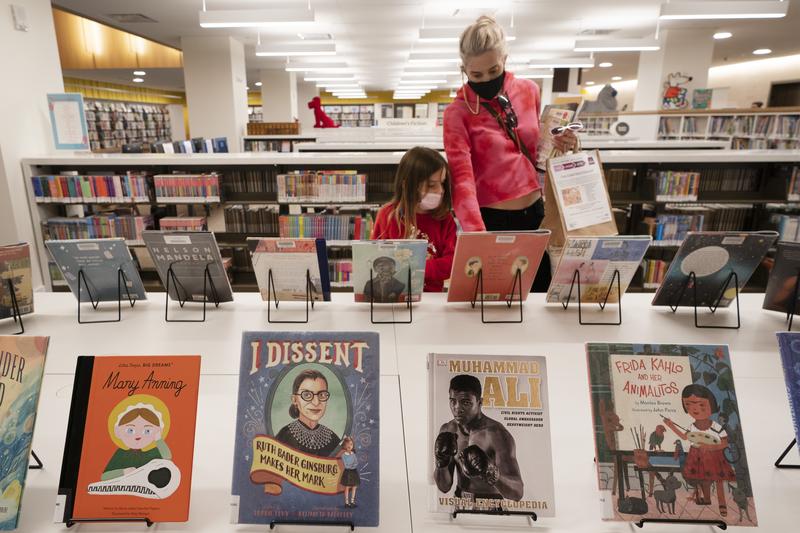 Transcript
[music]
Melissa: It's The Takeaway, I'm Melissa Harris Perry.
Julie Page: We do not believe that they should be made readily available in our public school system. They are obscene. They're sexually explicit. They are R-rated, if not X-rated.
Melissa Harris Perry: This is Julie Page speaking to ABC 11 News in Raleigh, North Carolina. Ms. Page is part of a small group of nine parents who filed a criminal complaint against the Wake County public school system last month. The alleged crime? That books these parents deem inappropriate are on the shelves of their public school library. Now this effort in North Carolina is just one of a growing number of book banning initiatives across the country. Wyoming, Washington, Oklahoma, Tennessee, Texas. There are at least 30 school districts facing serious attempts to restrict access to books.
According to the New York Times, this current effort to curb books available in K through 12 classrooms and school libraries is startling in its scope and unique in the depth of state legislative involvement in the efforts, which has me asking, why do we believe books are valuable for children's learning? Now, of course literacy matters. The ability to decode symbols and navigate a world of print is a basic skill necessary in adult life, but while literacy is a skill, reading is something more. It's a deeper engagement with stories and narrative. With facts and arguments, with ideas that sooth us and those that make us squirm with discomfort. Rudine Sims Bishop, professor emerita at the Ohio State University described the value of children's literature as a series of metaphors. Mirrors, windows and sliding doors.
Rudine Sims Bishop: I wrote a piece which I called Mirrors, Windows and Sliding Glass Doors. Children need to see themselves reflected, but books can also be windows and so you can look through and see other worlds. The sliding glass door allows you to enter that world as well.
Melissa Harris Perry: Now, take a look at the titles most frequently targeted for restriction and you'll find books that offer mirrors to the marginalized, windows to see across difference and sliding doors to help us engage experiences different from our own. Many of these targeted books are centered on the experiences of queer youth like Alex Gino's George, the story of a fourth grader assigned male at birth and called George by parents and teachers. In their own heart soul and mind this fourth grader is Melissa and she wants to play Charlotte in the school's performance of Charlotte's Web. For transgender young people, George is a rare mirror.
While discomfort with issues of sex, sexuality and gender identity are the usual reasons given for challenging the book, this discomfort is likely imposed by adults onto young learners because recent survey data showed that a much larger proportion of tweens and teens self-identify as queer or gender fluid far more than in older generations. Maybe it's time to open a window. Another common target? The book, Something happened in our Town, a child's story about racial injustice. Now activists seeking to restrict this book tend to cite the need to protect children from its divisive language.
This concern about protecting children from divisive words seems misplaced in a country where Black, Native American and Latino children as young as 10 report experiencing discrimination and unfair treatment and where Black students are twice as likely as white students to be suspended from school altogether. Come on y'all, slide open that door and step inside. Which is not to deny that children need the protection of responsible adults, they most certainly do. Sometimes they also need protection from adults. In a country where one in four Black girls is sexually assaulted before the age of 18, children might be better protected if the adults in their communities were outraged about the lived vulnerability of Black school girls and less about whether these girls had the opportunity to read Tony Morrison's The Bluest Eye, a book which just might be the first literary mirror some young survivors encounter
Shauntee Burns-Simpson: I'm Shauntee Burns-Simpson, Associate Director of School Support and Outreach at the New York Public Library.
Melissa Harris Perry: I sat down with Shauntee Burns-Simpson to talk about the efforts to challenge books on the shelves of school libraries.
Shauntee Burns-Simpson: If you take out one single page out of some of the books that they're challenging it will alarm you. You cannot pick one page out of a book and say, "This book is horrible." You have to take the whole context of the story because, again, the book itself is a teachable tool. These stories that many school librarians, when they pick these titles to engage with our kids, it is, again, to support the teaching and learning that's happen in the classroom.
Melissa Harris Perry: Books are meant to be read and understood as a whole. When they're read in school, teachers and parents have opportunities to guide students through the difficult and even distressing aspects of a text.
Shauntee Burns-Simpson: If you're reading it with a class being able to have those questions with your teacher, being able to have those questions with your parent is very, very important for us as adults to see how our kids are interpreting this information and being able to help them form a dialogue they're thinking around it. It's not for us to attack these books or ban these authors or the subject matter. Again, we'll be removing those conversations, those very, very important conversations that we need to be having with our kids.
Melissa Harris Perry: Now, of course not every book is appropriate for every reader.
Shauntee Burns-Simpson: You do have to be able to look at the book and see if it's appropriate for the age range. Many of these books are young adult titles and so this would not be in your elementary school, your K through five. This would be in your middle grade or high school. Now, if you do know if your child or the reader is not at that maturity level, that is fine. Then that book should not be read at that time. To ban it and have it pulled off the shelf for all readers not to be able to read it, that is the big issue
Melissa Harris Perry: In 2017 The Takeaway spoke with Jillian and Mariko Tamaki cousins and co-authors of the award-winning graphic novel This One Summer. Their book topped the American Libraries Association's list of most challenged books of 2016, receiving complaints for drug use and profanity, discussions of sex and for featuring LGBTQ characters. Jillian Tamaki told us they weren't really excited to end up on the top of that list.
Jillian Tamaki: It's the weird juxtaposition where you will say, "This is the most banned book of last year," and people will automatically say, "Congratulations," or they'll cheer. I get that, but in reality it is quite depressing when you think about it. The reality is, under most challenges, the ALA is not notified. They are just taken off the shelf. I read a thing where for everyone challenge that's reported there are three, four, five instances where the book is just pulled.
Melissa Harris Perry: Mariko Tamaki emphasized that while some books may need to wait until high school, once you get there it's a great environment for more complex material.
Mariko Tamaki: The perfect place for a kid to read something that they find uncomfortable or that they find challenging is a high school, because they're surrounded by people who are there to talk to you about the things that you don't understand. The idea that instead what you do is remove a book so that you just avoid the conversation altogether is really frustrating.
Jillian Tamaki: As we're talking about challenges and banning, I think it's important to make that distinction. A challenge is an opening up a conversation. Most of the time that conversation is opened and you discuss the merits and most times it does stay on the shelf. Maybe it gets recategorized. That can be seen as every very healthy process, as opposed to banning, which is removal.
Melissa Harris Perry: Shauntee Burns-Simpson of the New York Public Library echoed this sentiment and suggested that librarians are precisely the necessary professional personnel who can help schools navigate these literary waters.
Shauntee Burns-Simpson: Unfortunately, we have many any schools that do not have certified school librarians that can engage and foster these conversations. If we could have certified school librarians in the school buildings that can show how these books, the materials, are supporting classroom learning, that would really, really help parents see why this title is important to have in the library.
Melissa Harris Perry: According to the US National Center for Education Statistics, more than a third of students in the fourth grade are below basic reading level and more than a quarter of eighth grade students are below that basic reading level as well. The share of American kids age 9 to 13 who say they read for fun each day is at the lowest point since the question was first asked in 1984. Given these numbers, banning any book is downright maddening. That's a sentiment shared by some of our young callers.
[music]
Stephanie Roberts: My name's Stephanie Roberts. I'm a college freshman and I think banning books is ridiculous. I think they shouldn't limit what children or students should be reading.
Adriana: Hi, I'm Adriana and I'm from Palm Coast. I'm in seventh grade. In my opinion on the recent book bans that have been happening, I think that schools are stepping in too much. If a child wants to read the book or listen to it online they're going to figure out a way to find it anyways. Banning it from all schools is pointless to me, and that their parents should ultimately be the ones to decide whether or not that book is appropriate for their child.
Ellie White: My name is Ellie White and I'm in the ninth grade from Denver, Colorado. I strongly oppose the recent book bans across the country. Being exposed to characters and stories that are so different from your own life experience helps to build empathy and understanding. Reading books that deal with the difficult subjects actually make it easier to deal with the difficult subjects. Reading about the 1619 project doesn't make me sad about being white, it makes me more curious and eager to make this country a better place. What are these legislators so afraid of?
Speaker 1: I'm [unintelligible 00:11:50] and I'm in fourth grade. I think if you ban a book about hard truths like racism in Tom Sawyer or scary ideas like Voldemort in Harry Potter or different kinds of people like Augie in Wonder or Justin and Jessy in Drama, you're not erasing those things from life. Allowing them in books might make people more understanding and accepting in real life.
Leo: I'm Leo, I'm in third grade. I disagree with adults banning books because what are they afraid of us learning?
Aurelia: My name's Aurelia and I'm first grade. I think banning books in school is silly and I should be allowed to read any book I want.
Melissa Harris Perry: Of course it's important to remember that books are not training manuals. Not every student who reads To Kill a Mockingbird is going to support reforms in the system of criminal punishment. Assign a book to two dozen students so you'll find that each sees the mirror reflecting a slightly different angle, each perceives a somewhat different slant of light through that window. Some will walk through the sliding doors and others will lock it tight. That's a lesson I learned from Marley Dias, she's a teen phenom who's written her own book, Marley Dias gets it Done and so can You. She's also the host and executive producer of Netflix's Bookmarks, celebrating Black voices.
Marley Dias: When you present kids with words they can take every single last word and find an alternate way to perceive that information, to process it and that each of us read very differently. Although there may be other options I'm speaking a little bit hyperbolically, I really believe that reading presents every kid with the opportunity to learn for themselves, to use their own curiosity, perspective and imagination to grow. That we need to make sure that all sorts of topics are covered in books because it's the one place where you'll be able to really see what a kid understands, learns and feels about a topic or issue.
Melissa Harris Perry: Let's continue the conversation with Jason Reynolds, he's the co-author of the books Stamped: Racism Anti-racism and You and All American Boys, which were among the most challenged books of 2020. He's also the national ambassador for young people's literature. Jason so great to have you with us.
Jason Reynolds: So great to be here.
Melissa Harris Perry: When you set out to write are you thinking to yourself, "How can I get myself a band book out of this?"
Jason Reynolds: [laughs] Absolutely not, that's actually the farthest thing from my mind. It's interesting, I'm actually thinking about how can I make sure that I'm being as honest as possible in this moment with the most human of the humans amongst us, which to me are young people.
Melissa Harris Perry: Tell me what you mean by that notion that young people are the most human among us.
Jason Reynolds: I think that young people still believe that the world is a changeable place, they still believe that our existence in a way that we do things is malleable and so because they believe that they tend to move with a different hope and possibility. If we continue to feed it then that possibility and that hope continues to grow, and as long as that possibility and hope grows and that potential becomes more fruitful and the more fruitful that potential becomes, then the more likely it is that it crystallizes into something that just might actually change the world. They actually believe it's possible and they actually have the possibility to do it if we do our jobs.
Melissa Harris Perry: On the one hand I love that and I find it to be true. It's why I'm still so excited 25 years later to still be teaching in colleges, is I do find that young people believe the world is changeable. Then I listen to parents and I try to listen with my most open mind, as I would want people to listen to me, and I hear their fear in that context of malleability and a fear that if their young people read something that doesn't align with whatever their own values or perspectives are that, as young people, they are malleable. They are changeable in ways that are distressing for parents and sometimes for communities. How do we address that concern because I got to say, again, if you give 24 kids a book, you're going to get 24 different responses to it. It's not like everybody turns into whatever that book is about.
Jason Reynolds: Absolutely. When you really think about that concept in and of itself, I mean if that were the case then every single young person in the classroom would grow up to become teachers.
[laughter]
Melissa Harris Perry: Oh, would it be.
Jason Reynolds: The truth of the matter is that what that statement actually does is that it spotlight the dismissive attitudes that many adults have, the reductive attitude that many adults have as it pertains to our young people. Dare I say they're a lot more nuanced and complex than just sheep? Actually, perhaps the books aren't meant to teach them what to think, but instead teach them how to think and engage in some discourse to give them the ability to be critical thinkers. What's most fascinating is that these are also the thoughts you say like, "This generation, they're just a bunch of softies, a bunch of cupcakes. All they do is moan and groan. They're so sensitive."
Yet I find the thoughts to be unbearably sensitive and afraid and snowflakey as they strip these books from schools every day, afraid that their kids might actually grow up to be different than they are.
Melissa Harris Perry: I love that point. The fear and the angst is really rooted in the grownups and the adults. In fact, one of the big concerns about Stamped, about All American Boys is that there's profanity, alcohol and drug use. How do you respond to that?
Jason Reynolds: There's profanity, alcohol and drug use in our lives. At the end of the day, I think to assume that young people don't know what's going on in the world when they walk around with computers in their pockets is a bit naive. I often question are these the same parents who allow kids to put headsets on and simulate war for hours and hours on end in video games? Are they monitoring everything? Are they monitoring their YouTube usage and TikTok? Is everything a part of the conversation or is it just the books that might actually be meant to edify, the books that might actually create an intellectual playground for them to wrestle with these ideas?
I'm not telling them to be who they see in these books. I'm telling them to contend with the fact that this all exists and that I love them enough to bear witness to their lives in a way that actually honors them by telling the truth.
Melissa Harris Perry: Do you remember reading a book that challenged or distressed you as a young person, maybe in middle school or high school, where you were like, "Whoa, what is this?" Maybe tell me about it and if it stuck with you.
Jason Reynolds: I be honest with you, part of my story is that I wasn't a big reader because I didn't have enough of the things that engaged me but. What I will say is when I was 21 I read The Fire Next Time. That book, it broke me open in lots of ways and it made me feel lots of things, things that were uncomfortable not because they were against what I believed, but were uncomfortable because I felt that I should have been believing them far before I read this book. Now I had to deal with the fact that I felt like I had been kept in the dark and that the conversation around race I think, and that collection, I guess it should be called, Baldwin, the way that he complicates the discussion, the way that he creates nuance there, the way that he speaks about his race's oppressors and the people who have been harmful to him with an interesting love that I never even thought about.
I think that book challenged me in ways that it still challenges me today.
Melissa Harris Perry: Baldwin, you never get over the relationship with Baldwin. You have to keep going back over and over again and repositioning yourself relative to that text and trying to understand what you do believe and whether or not you're living that.
Jason Reynolds: I think isn't that the gift of literature in and of itself? I think the same thing about Toni Morrison, you grow into some of this work. I think the same thing, hopefully, about my own books. That young people will read them in the seventh grade or in the eighth grade and read them again in the 11th grade and feel completely different. That's the beauty, but if we take that, then we rob them of that experience.
Melissa Harris Perry: Mirrors, windows and sliding glass doors. Jason Reynolds is an author and the national ambassador for young people's literature. Jason, thanks so much for joining us.
Jason Reynolds: Thank you.
[music]
Copyright © 2022 New York Public Radio. All rights reserved. Visit our website terms of use at www.wnyc.org for further information.
New York Public Radio transcripts are created on a rush deadline, often by contractors. This text may not be in its final form and may be updated or revised in the future. Accuracy and availability may vary. The authoritative record of New York Public Radio's programming is the audio record.