Diane Feinstein and Senatorial Power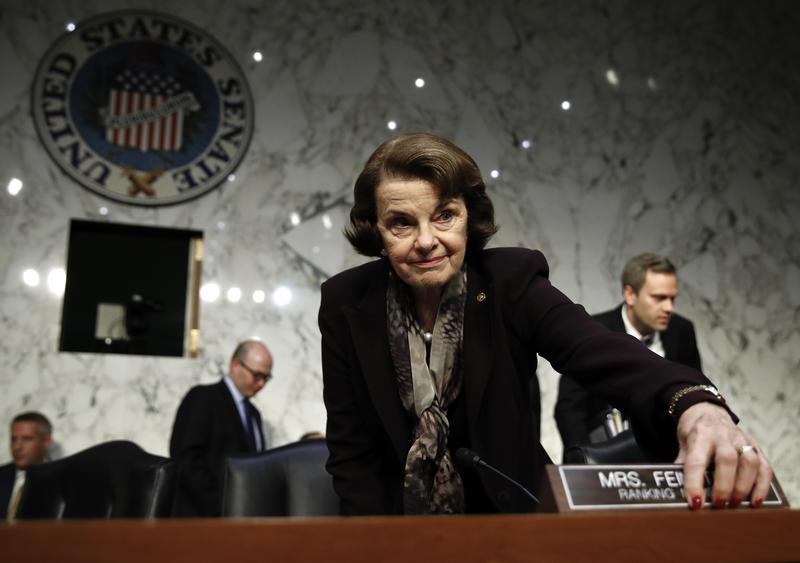 Transcript
[music]
Dr. Melissa Harris-Perry: This is The Takeaway. I'm Melissa Harris-Perry, and we're happy to spend some time with you today.
As we let you know yesterday, The Takeaway is ending on June 2nd, but until we get to the end, we're going to keep doing our very best to serve you. Serving right up to the end is the subject of much conversation these days in Washington, D.C. Democratic Senator from California, Dianne Feinstein, has spent more than three decades in the US Senate.
In recent weeks, she's been absent from the Senate while managing a case of shingles, and reporting from multiple news outlets suggest that the senator's mental acuity and capacity are compromised. Still, some political allies continue to praise her tenure and defend her right to continue serving until her planned retirement next year. Here's former San Francisco Mayor Willie Brown and former Speaker of the House Nancy Pelosi.
Mayor Willie Brown: Senator Feinstein has been elected. She is entitled to the job and believe me, when you are elected to something, you are expected to serve.
Nancy Pelosi: It's interesting to me, I don't know what political agendas are at work that are going after Senator Feinstein in that way. I've never seen them go after a man who was sick in the Senate in that way.
Dr. Melissa Harris-Perry: Despite the backing of some defenders, Senator Feinstein is facing calls to step down and they're coming from within her own party. Minnesota Representative Dean Phillips and California Representative Ro Khanna have called openly for Feinstein's resignation.
Dean Phillips: This is about competency, and I know those who serve most closely with her are aware of exactly what I'm speaking about. It has consequences. She's remarkable, but this is not a culture or a Congress that should be protecting our own at the expense of our country.
Ro Khanna: It has become painfully obvious to many of us in California that she is no longer able to fulfill her duties. We haven't been able to confirm judges at a time where women's rights and voting rights are under assault. As someone from California, I felt an obligation to say what so many colleagues are saying in private that the time has come for her to gracefully step down and have a dignified end to a very distinguished political career.
Dr. Melissa Harris-Perry: With us now is Jerry Goldfeder, Professor of Election Law and Director of the Voting Rights and Democracy Project at the Fordham Law School. Professor Goldfeder, welcome to The Takeaway.
Jerry Goldfeder: Thank you. It's good to be with you.
Dr. Melissa Harris-Perry: All right. Let's just start with the senator herself, give me a bit of an assessment of her importance in the Senate at this particular moment.
Jerry Goldfeder: She plays a very critical role as a member of the Judiciary Committee, which is controlled by the Democrats, which is so important in terms of getting judges confirmed in the United States Senate. No easy task, to begin with, but we have a razor-thin edge by the Democrats, and so she plays a very important role. Look, Dianne Feinstein is an icon. She's played a very important role in the United States Senate. She's brought a lot of grace and wisdom and intelligence to the Senate, but the problem here is not about Dianne Feinstein, the problem is what happens when there is a United States senator, or, for that matter, a member of the House who's incapacitated. That's really the issue.
Dr. Melissa Harris-Perry: Senator Feinstein herself has apparently made efforts to ask Senate Majority Leader Chuck Schumer for a temporary replacement in her role, particularly on the Senate Judiciary Committee. I'm wondering if that is a responsible way to address this key concern.
Jerry Goldfeder: It is a responsible way, but the Republicans are balking and not permitting this to occur. It's not really clear why the Democrats are allowing the Republicans to veto their efforts to replace her but that's what's happening. I suppose the norms in the Senate are getting in the way. It is a responsible way of dealing with this problem by the senator, but apparently, it's not working.
Dr. Melissa Harris-Perry: All right. You just mentioned the norms in the Senate, and I guess, I think, it would be valuable for folks to understand a little bit about how Senate power and processes actually work. I guess I'm always telling my college students, I'm like, "Don't worry, all of you all actually run the US government." Because when you're in the House of Representatives, somewhat in the Senate, you really see a crew of 20-somethings and 30-somethings who are congressional staffers, Senate staffers who are doing so much of the work.
Doesn't mean that elected leaders don't do it, but my goodness, it does seem like just the complexity, all of that, that perhaps a lot of elder statespersons actually can continue to do their job because they are so supported.
Jerry Goldfeder: They are supported. United States senators and members of the House, they have great staffs, and there's a lot of research that needs to be done. There's legal advice that needs to be provided. There's constituent service, but look, a United States senator represents the people of a state, so take California. In effect, California has one senator. She's not able to go to hearings. She's not able to participate in committee meetings. She's not able to vote. We don't have any proxy voting or virtual meetings in the United States Senate, so she's not able to do a very important part of the job.
Again, it's not just Dianne Feinstein. John Fetterman, when he was first elected, he went into the hospital because of depression. He was out of commission for a month or two and he was not able to participate in any hearings or vote or anything like that. Pennsylvania was out of a second senator during that time. Sure, their staff filled the gap. They did their job. They made sure constituents were served. I'm sure Senator Feinstein's staff is working 24/7, but the role of the senator, him or herself, is to be there and to participate and make decisions. When a senator is not able to do that, we don't have a solution at this point as to how to substitute somebody, replace somebody if necessary.
Dr. Melissa Harris-Perry: All right. We're going to take a quick break right here. We'll be back with more on Dianne Feinstein right after this. We're back with Jerry Goldfeder, Professor of Election Law at Fordham University, talking about Senator Dianne Feinstein. We heard a bit from former Speaker of the House, Nancy Pelosi, making a less than veiled claim that this was a kind of ageism intersecting with sexism. The idea that an older woman, or even in this case an old woman, is unable to do this job in the way that, for example, it looks like we have an 80-year-old male president who's going to run for re-election.
I'm wondering about ageism, about ableism. That if we're talking about being there, if it keeps a whole group of people who might have physical, mental, or emotional disabilities from being able to serve because of the need for downtime.
Jerry Goldfeder: There's no question there's rampant ageism and rampant sexism in this country. Nancy Pelosi is right to point that out, but it's not just a question of that. It's not just elderly members of the United States Senate. John Fetterman is relatively young and there have been other senators who've been incapacitated because they've had strokes and have been away from Washington for months on end. I don't want to say it's common, but it's happened repeatedly, and we've not done anything about it.
If the president of the United States were incapacitated, we have the 25th Amendment to the Constitution. The president can step aside temporarily and give the reins of power to the vice president as acting president, or if the president of the United States doesn't know that they're incapable of doing the job or they refuse to do it, we have a procedure for that as well. The vice president and a majority of cabinet can temporarily replace the president of United States.
We've really never been in that situation, but we have a constitutional provision that has a solution to when a president is really not able to do their job on a temporary basis. We don't have that kind of thing for a United States senator and we should.
Dr. Melissa Harris-Perry: Unless, of course, we count when Edith Wilson was president and not really telling Woodrow that he wasn't capable, but that's part of why this procedure emerged, right?
Jerry Goldfeder: That's the reason we got the 25th Amendment years later. President Wilson had a stroke in, I believe, 1918, the 25th Amendment dealing with president's incapacity was ratified in 1967. I don't mean to get into the weeds, but it takes a long time to set up procedures, and we are way past time in trying to noodle through how to figure out what to do when a United States senator is not able to do the job. Maybe we need a constitutional amendment. Maybe all we need is a statute to have a senator temporarily resign, and have a governor replace the senator with an interim of the same party I would think, and then switch back to the original senator.
We'd need legal guardrails to do it. We'd need a statute that would enable that process to go forward. I just, as a matter of fact, brought up this issue with the American Bar Association. We have a bipartisan committee, the Election Law Committee, and we're going to study that very issue, and that's how the 25th Amendment passed. It started with the United States Senator Birch Bayh leading the charge, and the American Bar Association really went to work.
It took them quite a while. It took them a number of years. Maybe we really need to focus in on that procedure rather than start thinking about, "Well, Diane Feinstein, she's being attacked unfairly, or we should have some feelings about her because she's been around for a long time and she's an icon and so on. It's not about the person, it's not about where they come from. It's not about the party. It's about a procedure when there's a senator who's really not able, for whatever reason, whether it's emotional or physical, really not able to do the job, and that state suffers and the United States Senate suffers.
Look what's happening now. California is without a second senator, and the United States Senate is stymied with regard to pushing through judicial nominees, so it's not good for anybody.
Dr. Melissa Harris-Perry: Can I add a proposal to your study?
Jerry Goldfeder: Yes, absolutely.
Dr. Melissa Harris-Perry: This one wouldn't address the question of short-term disability for physical emotional reasons, but what about term limits? Because wouldn't term limits at least begin to address some of the questions of the aging? We do know that wealthy Americans who make it to a certain age are likely to live much longer, so overall life expectancy is dropped, but once we're talking about being a senator, we expect our senators to become much older than they once did in our history. Is it time to say that in both the House and the Senate 12, maybe 18 years is sufficient and then it would provide more opportunities for more people to serve?
Jerry Goldfeder: I think that that's an appropriate proposal. It's been tried, and United States Supreme Court has said that states cannot impose term limits on members of the House and members of the United States Senate, because the Constitution has certain requirements to serve in those positions, and they're very limited requirements, and only a constitutional amendment can change that. To be a United States Senator, you have to be 30 years old, a resident of the state, and United States citizen for a certain period of time, and neither Congress nor a state can change that by imposing term limits. We would need a constitutional amendment, and good luck with that.
Dr. Melissa Harris-Perry: Jerry Jerry Goldfeder is Professor of Election Law and Director of the Voting Rights and Democracy Project at the Fordham Law School. Jerry, thanks so much for taking time for The Takeaway today.
Jerry Goldfeder: My pleasure.
[music]
Copyright © 2023 New York Public Radio. All rights reserved. Visit our website terms of use at www.wnyc.org for further information.
New York Public Radio transcripts are created on a rush deadline, often by contractors. This text may not be in its final form and may be updated or revised in the future. Accuracy and availability may vary. The authoritative record of New York Public Radio's programming is the audio record.