Democratic Strategy Ahead of 2022 Midterm Elections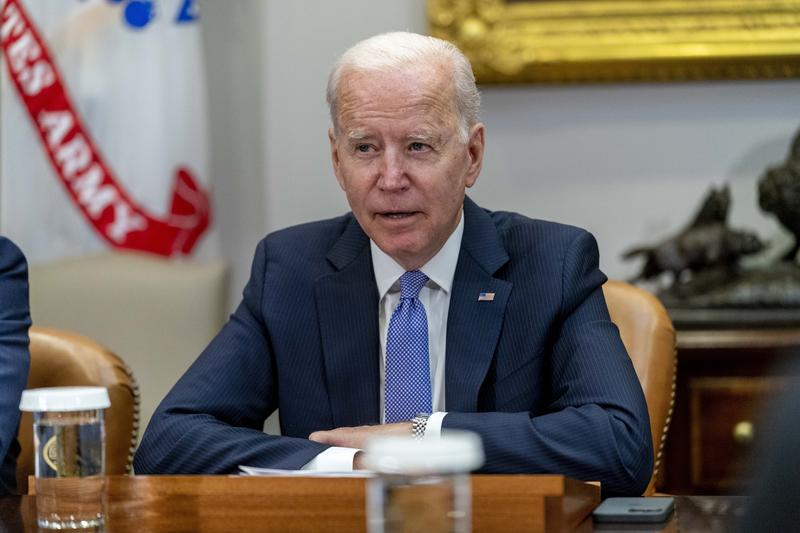 Transcript
[music]
Melissa Harris-Perry: It's The Takeaway. I'm Melissa Harris-Perry in for Tanzina Vega. Today we begin with American politics. Joe Biden has been president and the 117th Congress has been at work for six months. Even with COVID-19 vaccinations flowing in recent weeks, the country is still averaging around a half-million shots in arms daily. Even with the rocky reality of higher than average inflation, the economy has added jobs and unemployment has leveled, and real American families can point to real dollars in their bank accounts. Thanks to the American Rescue Plan.
It hasn't all been one long Juneteenth cookout for the Democrats, Senate Republicans successfully blocked Federal Action on voting rights and have stalled any action on Democrats' big infrastructure plan, and Republicans in statehouses across the country have successfully charted a culturally conservative course for public policy that has dominated the national agenda.
With just over 470 days until the midterm elections, Democrats and Republicans from dark edge of the Senate are starting to ramp up their re-election apparatus. The question on everyone's mind, so how's this strategy working for us? It's a question we'll be asking both parties over the next two weeks. This week, we start with the Democrats.
Joining me now is Joel Payne, Democratic strategist, a former aide to Hillary Clinton's 2016 campaign, and a host of the podcast, Here Comes The Payne. Welcome back to The Takeaway, Joel.
Joel Payne: Thank you so much, Melissa.
Melissa Harris-Perry: Also here, Maya King, politics reporter at Politico. Welcome back, Maya.
Maya King: Hi, Melissa. Thanks for having me.
Melissa Harris-Perry: I feel like we need to get you a podcast with a snappy title like that. Joel, let me start with you. Where did the Biden administration hope to be at this point six months in and how close have they managed to get to that goal?
Joel Payne: Melissa, it's a good question. I think the President and his team have to feel pretty good about where they are, as you alluded to, in your open. They've passed the rescue plan. There's dollars in the pockets of millions of Americans. There are shots in arm. That was the thing that was on fire when they first took over in January, and they had to address that and they did.
Now comes the hard part. Now comes the part where really governing becomes a challenge. This infrastructure package is really challenging the President, it looks like they are rebooting their efforts to sell it publicly, really positioning it as a tax fairness measure.
I think something that was interesting to me was this week, Mitch McConnell hinted that Republicans really aren't planning on helping the president in any way whatsoever. Mitch McConnell talked about how if Democrats wanted to pass the debt limit increase, they're going to have to do it on their own. That essentially tells me if Republicans are unwilling to step in and help out there, there's probably nothing Republicans are really going to work with Democrats and the President on. I think that's the state of play as I look at it, 30,000 feet up.
Melissa Harris-Perry: Okay, so that's helpful. Maya, let me come to you on that final point that Joel just made about Republican strategy here. Senate Republicans were quite explicit during President Obama's first term that their goal was to ensure he did not win re-election, and it must be said that congressional Democrats who were pretty explicit about that same goal voted to President Trump. I mean, after all, they did impeach him not once, but twice.
I'm wondering, hasn't quite sounded to me just in terms of public rhetoric as though Republicans in the Senate or in the House are currently seeing their main goal as massive resistance to President Biden. Now I'm hearing from Joel that maybe that's precisely what it is.
Maya King: Well, I think Republicans' endgame and everything that they do right now is to win elections, and they're looking ahead to 2022, and making this calculus of what's going to play well with the base and what's going to give us something to talk about? I think that really, their strategy here is not only to hobble the White House's agenda but also to radicalize it in many ways.
With all of this talk on the Hill about spending, and how much is going to be spent on things like infrastructure, I mean, it's really given Republicans a perfect opening to say this is either too much money or it's not going towards the things that will actually help.
Then on the other side of that, of course, you have this heavy lean into culture war issues, wedge issues that, again, do play very well with the base and give Republicans really salient talking points to distract from the fact that on the Hill there's a lot of gridlock and not too much is getting done on the right in the way of concrete policy, which, of course, also owes to the fact that they don't have majorities in the house.
All of these things play into the fact that they have all-- Republicans have been very clear about what they'd like to see happen in 2022, and they've repeatedly said especially Kevin McCarthy, they've expressed a lot of optimism about their chances of taking back the House and also the Senate. I think a lot of this just plays into that final end game here of taking back control of Washington.
Melissa Harris-Perry: Maya, I want to be sure I understand one of the points you made. You talked about radicalizing the President's agenda, do you mean discursively? In other words, taking the policies as they already are and presenting them in a way that seems more radical, or do you mean actually sort of pushing the president to take a more progressive, more leftist position, which might feel radical to particularly maybe to mid-term voters?
Maya King: Well, I think it's more the former really. Like I think about the stimulus bill that we saw passed almost immediately after Joe Biden took office. A lot of what you heard from Republicans there was that this is way too expensive. This is spending on things that don't actually matter in the end, and that it's just sort of a radical left agenda.
I think further down the ticket, though, you start to see more of what you mentioned, especially on the state level, with conversations that many State House Democrats are trying to have around policies that they want to pass a bit closer to home. It's really easy there, I think, for Republicans to say that this is a much more radical agenda. I think that scares voters, or at least plays better with base voters on both sides.
Melissa Harris-Perry: Joel, it's interesting to think of an administration who right now has described its top two priorities as infrastructure and voting rights as having a radical agenda. I mean, although it may not be sort of where I stand ideologically, I get how one could think of, for example, expansion of affordable health care as more progressive or more radical, but like building bridges and making people vote. How does that get strategically crafted for the Biden administration in a way that can feel sufficiently exciting to push back against the language of radicalization coming out of the right?
Joel Payne: Well, Melissa, I think what we're hearing is kind of the yin and yang of messaging. Whereas Republicans might call it radical, I mean, the public opinion numbers just do not measure that out. They've called President Biden either somewhat derisively or somewhat Ironically, the 60% President, because it seems like all the issues that he is pushing and that he's gotten behind have wide support in the country, at least three in five. You talked about voting rights, infrastructure, even pieces that failed earlier, like the minimum wage increase that Democrats have tried to push for.
These items on the President's agenda are said to be progressive, but they're really just popular. Actually, I think that's an interesting subplot of these first six months is that President Biden has had the attitude of a deal-making moderate. He has presented himself as someone who can reach across the aisle, and that's great, but he's really governed pretty progressively. I think that has vexed and frustrated a lot of Republicans that the President has been able to package this pretty progressive agenda in a way that's palatable to the American people.
Melissa Harris-Perry: That's interesting because precisely what I was about to push you on here a little bit, Joel, is should he be pushing further towards progressivism or towards left? I mean, this is not from should he good, bad, but from a strategic sense. Is there a strategic benefit, particularly for house members going into the re-election to be able to point to things that are perhaps even more progressive than what the administration has already been able to accomplish?
Joel Payne: To your point, the piece that the President has gotten pushed on regarding strategy most recently is voting rights. While he certainly is on the right side of that issue, I think a lot of activists and a lot of--
Melissa Harris-Perry: With the left side of that issue as the case may be.
Joel Payne: On the correct side of that issue is what I'm making. That's right, good correction there. A lot of activist and a lot of base Democrats do not feel like the president and his administration have the appropriate strategy to get it passed. They want him to get rid of the filibuster, they want him to get Joe Biden and Kyrsten Sinema on board with blowing it up in order to get voting rights passed, to pass the John Lewis Voting Rights Act and the Florida People Act, and the President has been yet to do that. There's a thought that maybe the President can accomplish it through reconciliation.
I think they're working with the parliamentarian to see if that could pass if that's possible because it has to relate to the budget. The President right now is being challenged by his base in a way that he has not been so far in his administration. I think he's been able to keep progressives and Democrats at bay and keep the infighting down. Yes, at the six-month mark, where now that honeymoon is officially over, so I think it'll be interesting to see how the President's team pivots.
Melissa Harris-Perry: Maya, when Joel talks there about using a process of reconciliation, that's a term of art, quite specifically about how a set of Congressional actions can happen, how bills become laws. I'm wondering if that language of reconciliation might also be descriptive of a strategic approach within the White House and within the broader administration.
Merrick Garland, our attorney general this week made a little bit of news mostly by declining to make a little bit of news by saying that he didn't want to pursue some of the ways that the Department of Justice had been politicized under President Trump, and saying, "I don't want the department's career people to think that a new group comes in and immediately applies a political lens."
I'm wondering if that sort of, "We don't look back, we go forward, we're trying to reach across, we're doing the work of reconciliation." Is that both a winning strategy and is it simply, from the health of democracy perspective, the right strategy?
Maya King: I think that the White House has really tried and it's in many ways to employ some kind of an inside government strategy to try to push this through. One thing that I'll point out even to Joel's point is that President Biden when he was running, had really used voting rights as one of his key issues, something that he said would be a priority of his administration.
He also said that he is a Senate guy, that he understands the inner workings of the Senate, and that he would use those connections that he's made as a former Senator to try to push through some of this legislation. I think that that's really what is complicating some of this because that's not quite crystallizing on voting rights in particular. Whether or not Democrats are able to use reconciliation to push it through, I'm not particularly optimistic that that will be what does it and I think we've seen reporting even this week to suggest that Democrats are starting to say, "Well, we can organize around this. We can actually try to fight and use the strategy on the ground with grassroots activists to try to circumvent some of these laws."
Even activists are saying that that's not enough either. I think that really more than anything else, this is going to-- it's going to be incumbent on this White House to really have these tough conversations with members of the base and try to figure out what the solutions are here beyond just talking points and fiery speeches around the filibusters in particular.
Melissa Harris-Perry: Joel, do you want to weigh in on either filibuster or that reconciliation approach?
Joel Payne: Really quickly. I think Maya's point about the president talking about registering voters and things of that nature, I've heard from a lot of activists I've talked to, "Hey, we did the hard work. We showed up in November. We risked our lives in the middle of a pandemic." I don't think a lot of the folks that are part of that president's volunteer base, I don't think they want to hear that. I think they're saying, "You've got the Senate, you've got the House, you've got the White House, it's time to act." That's the tension that we're looking at Washington right now.
Melissa Harris-Perry: Maya, as we're looking down the card of the congressional Democrats, where are the places where folks are really asking for help on their strategy? I'm thinking here, for example, Lauren Underwood in Illinois, but other folks who are like, "Hey, we need some particular things to happen in Washington to ensure that we can get reelected back home."
Maya King: I think to your earlier point, our earlier conversation, the place that I'll really be looking at in the next 18 months is Georgia. I think you see there the coming together of several different issues and many different top line items that have dominated conversation, especially in Democratic circles. Of course, you have activists on the ground there who absolutely have been doing the work for the last several years now to register voters and turn out voters and that, of course, proved successful in flipping the state blue, and now they're saying, "We need that help again from Washington and from the White House, to be able to hold our blue status and send, one, Raphael Warnock back to the Senate and perhaps put Stacey Abrams in the governor's mansion if it is indeed a rematch between her and Brian Kemp."
I think the south, honestly, as a region is going to be a place just really to keep our eyes on because you're seeing several movements that are very similar to what we saw in Georgia take place in states like North Carolina, where a number of folks including some progressives are aiming to, if not get on the ballot, register more voters and turn out more rural voters.
I think Texas is another place where we see this, especially in the conversation around voting rights. That's really where a lot of my focus will be on and where I think we'll see some new storylines as they relate to 2022 and perhaps some trends that haven't really been noticed by us, beltway talkers around politics in the past.
Melissa Harris-Perry: Maya, you can't see me, but right now I am doing a whole dance in my office as I'm on the radio with you here because, yes, the South, the South, the South, the South, and you said, of course, my state where I'm living right now in North Carolina, which is having some feelings about the fact that we were the great purple swing state, and then Georgia took all the thunder and came forward.
Joel, the only way you can talk about the South, the South, the South, and turning these purple states blue in midterms or in a general election is Black voters, Latino voters, and other voters who it's not completely clear to me that this Biden administration is strategically connecting with right now. What are your thoughts?
Joel Payne: Yes, I think that's a good point to bring up, Melissa, and particularly pursuant to the discussion we had a little bit earlier about voting rights. One thing that I've been looking at and I nerd out, so Melissa, you might appreciate this. If you really kind of compared this midterm cycle, most midterm cycles, you expect the end party, the party in power to lose power. The last time that didn't happen was 2002, president George W. Bush, it was right after 9/11, so you had a national crisis of unprecedented measure and you really didn't see that kind of sea change in politics.
I actually think, while, of course, we don't want to repeat the scenario that led to that moment, I think that is the scenario that the Biden White House is looking at. Do you have a president that is not polarizing, that does not stratify people and go into their corners? Will President Biden strive to lead across the aisle, and be somebody that Democrats up and down the ballot, coast to coast, across the country can campaign with?
That's something that I'm going to be looking for. Is Joe Biden going to remain the most popular Democrat in America? Right now he is. We'll see if in 12 months, 15 months, 18 months, that's still the case. Look at that comparison between 2002 and 2022, and I think that might be instructive as to what to expect in the next midterm cycle.
Melissa Harris-Perry: It's a great point, this idea that part of what you have to do is not only turn out your own base, but hopefully not overly activate the other base. Don't be a symbol to be run against, because you're not actually on the ticket. You don't want to create the good enemy that also creates a circumstance for the other party to really show up and vote against you.
I'm wondering the ways, Maya, that at the state level, Republicans have done an extremely good job at setting an agenda that doesn't really have anything at all to do with the DC beltway. These kind of cultural discourse around critical race theory, around trans young people, things that just really are not being taken up in Congress, but they're using it to set state agendas.
Maya King: Yes, absolutely. I think one place we see that in particular is in Virginia, which actually is having, it is an election year in Virginia. They will elect their governor in November. You see Republicans they're really, really playing up these topics that you mentioned, like critical race theory, like trans students and in sports and using bathrooms.
These are the things that they believe will be able to swing an election particularly in the very vote-rich Northern Virginia counties where public schools and public educations are some of the best in the country. Virginia May be in some ways an outlier in that way, but I think at the same time, what you are seeing there is a test run, especially for the right and figuring out how to leverage these wedge issues.
If they are successful, even if that means they've been able to take back their majority in the State House or even send a Republican to the governor's mansion, which looking at polling does not, it's really a toss up right now, but I think if they're able to make any inroads in any way, they'll be able to take the lessons learned there and apply them to similar states across the country where you see a lot of this rhetoric starting to play especially in suburban counties.
Melissa Harris-Perry: That language of suburbs. Let me come to you on that, Joel, because right now, again, if you're nerding out on data, everybody is talking about the suburbs, any expectations there?
Joel Payne: I think both Democrats and Republicans understand that the suburbs are where it's at. I actually think something we won't have a chance to talk about here is, we talk a lot about Joe Biden and Democrats, but really it's Republicans. Do they have a unified message against the president and can they get all of their candidates to speak with one voice and be disciplined in the era where Donald Trump is on one end of the Republican party and you have a lot of establishment Republicans who want to move on on the other end, can they untangle those wires again? That'll be something we'll have to keep an eye on over the next few weeks and months.
Melissa Harris-Perry: Yes. It's the great question of are all politics local, or do you need a national strategy for local elections? All the good stuff. Joel Payne is a Democratic strategist, former Aide to Hillary Clinton's 2016 campaign and host of the podcast Here Comes the Payne. Maya King is politics reporter at Politico. Thank you both.
Joel Payne: Thank you.
Maya King: Thank you, Melissa.
Copyright © 2021 New York Public Radio. All rights reserved. Visit our website terms of use at www.wnyc.org for further information.
New York Public Radio transcripts are created on a rush deadline, often by contractors. This text may not be in its final form and may be updated or revised in the future. Accuracy and availability may vary. The authoritative record of New York Public Radio's programming is the audio record.