The Deep History of White Supremacy Within the U.S. Military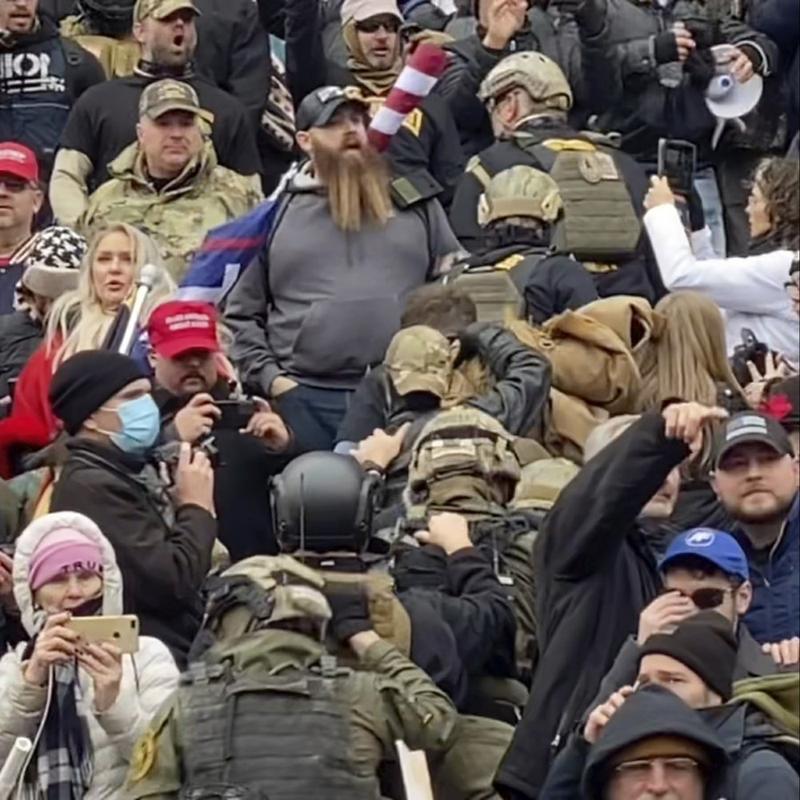 Transcript
[music]
Tanzina: It's The Takeaway, I'm Tanzina Vega. Nearly one in five people who've been charged in the attack on the Capitol this month are current or former military members. That's according to an NPR analysis. One in five, a staggering percentage, but one that's in line with the deep history of white supremacy and racism in the US Armed Forces which stretches to the present and has only grown in recent years. For example, in early 2020, more than a third of active-duty respondents to a Military Times poll said they'd witnessed examples of white supremacy and racist ideologies in the military. That's up 22% from 2019. Now, the Defense Department says it's reviewing its policies around domestic extremists, and for Lloyd J. Austin, who was confirmed last week by the Senate as the nation's first Black Pentagon Chief, it's a top priority.
Austin: The job of the Department of Defense is to keep America safe from our enemies, but we can't do that if some of those enemies lie within our own ranks. This is not something that we can be passive on. This is something I think we have to be active on and we have to lean into it and make sure that we're doing the right things to create the right climates.
Tanzina: As the Biden administration hopes Austin will usher in an era of change for the US military, we're going to take a look back at the history that got us to this point, and what our government and military leaders really need to do to root out violent racist hate groups from our armed forces. Dr. George Reed is a retired army colonel and the Dean of the School of Public Affairs at the University of Colorado, Colorado Springs, and Lecia Brooks is the Chief of Staff for the Southern Poverty Law Center. George, Lecia, thanks for being with me.
George: Thank you, Tanzina. It's a pleasure to be here.
Lecia: Thank you so much for having us.
Tanzina: Lecia, we're going to start with you. Where does the history of white supremacy in the US Military start, in your view?
Lecia: It's a great question. It really starts at the beginning. We have to remember that we started with a segregated armed forces, right? It wasn't until President Truman, in 1948, desegregated our armed forces. A segregated army certainly is indicative of white supremacy, and white supremacy culture. I think it's important to note too that the armed forces desegregated prior to the Supreme Court ruling in Brown v Board. The military has really a tradition and they could be proud of in terms of leading the country away from our white supremacist history.
Tanzina: The organization that you are with, the Southern Poverty Law Center, Lecia, did try to get the Department of Defense to address white supremacy within its rank as far back as the 1980s. What was the response from the department back then?
Lecia: Yes, the Southern Poverty Law Center, this has long been an issue for us. Back in 1986, we sent a letter to Secretary Weinberger, and he was very receptive and issued a directive that called to reject service members that actively participated in white supremacy groups or Neo-Nazi groups. The issue there, though, was that he tried to frame it that white supremacist views were inconsistent with military values, which they are. However, it still allowed for active-duty personnel to behave in passive and active ways that connected them to white supremacy.
It was more about their active participation, not so much about their leanings or their ideology. Not that we want to keep people from exercising their first amendment rights, but the military needed to go a little bit further. But that directive was very important. Again, we contacted DOD in 1994 and in 2006, and by the time we got to 2006, the Secretary of Defense Chu was in that position at the time and he really dismissed our report as inaccurate, misleading, alarmist, despite the fact that we had documentation of extremists actively participating across the armed forces. It hasn't stopped the Southern Poverty Law Center from ringing the bell. As recent as last year, we spoke to an armed services committee at the house, at Capitol Hill, about the infiltration, the continued infiltration of white supremacists in the military.
Tanzina: George, we're going to turn to you. You are a retired member of the armed forces as well as someone who's investigating white supremacy within the military. What patterns have you found so far?
George: Well, the policy pattern is episodic. As Lecia mentioned, typically the pattern is that when there is a very large public, embarrassing event, and scandal, there is a flurry of activity around policy and policy change. Then, in between, there is a long period of silence and relative inactivity. Much of the pressure to make change, whether it's policy change, comes from the outside, from organizations like the SPLC, the Anti-Defamation League, and others. My interest in this started in 1995 when there was a classic hate crime that took place when three white soldiers assigned to the 82nd Airborne Division murdered an African American couple in the nearby town of Fayetteville, North Carolina. It was a tragedy. It was shocking and as Secretary Austin mentioned in his confirmation hearings, we woke up one morning to find racists in our midst. It was that incident that was the wake-up call.
Tanzina: Did you yourself witness that hate during your own time in the military, George?
George: You know, what's interesting about this is there is a phenomenon that the people that are going to see this and experience it, are likely to be minority members of the armed services in the junior enlisted ranks. I was an officer, and at the time of the 1995 murders, I was a lieutenant colonel so I was the least likely group of people to actually see and experience it. Through my activities in command of criminal investigation command unit, we did see it because we look for it. We investigated a murder. We didn't investigate extremism. In the course of investigating that murder, we found 22 soldiers that were part of a racist subculture, most of them Neo-Nazi in ideology, and most of them were dealt with through administrative measures by their commanders.
Tanzina: When I asked both of you a similar question about where this is coming from, George, I'm curious here because we've been at war as a country for two decades in the Middle East. Many of our soldiers have done multiple tours of duty. I'm wondering if that has factored into what makes white supremacist ideology so appealing to folks. Are they coming back and feeling unmoored? Are they coming back to the country and feeling unsupported? Are there other reasons that are leading to this uptick in white supremacist ideology?
George: Yes, I wouldn't necessarily draw a connection to the operational tempo that the armed forces has been. This problem has been around for a long time. Just think about it. The Ku Klux Klan was essentially a veterans organization, a Confederate veterans organization, led by Nathan Bedford Forrest, a Confederate General, who later disavowed the organization. Nonetheless, the history goes back independent of any particular deployments or soldier reactions to deployments.
Tanzina: Lecia, what about you, what are you seeing that's causing this uptick in white supremacist ideology?
Lecia: I agree with George. I don't know that I would mark it as an uptick. It's always been present. I would say though, that there is a transnational movement that is accelerating the white nationalist movement so that's true. As we experience globally, a push back to multiculturalism and immigration and migration we're finding those connections globally. Some of those things may be picked up as service members are stationed in other areas of the world, but it is a phenomenon that has existed, at least in the US Armed Forces since the beginning.
Tanzina: It should be clear that when I'm talking about an uptick, I'm referring back to the Military Times poll where a third of active-duty respondents said they'd witnessed examples of white supremacy in the military and that's a 22% increase from 2019. I was just curious about why we're seeing that. Is it more awareness to your point, Lecia?
Lecia: Yes, I do think it's a greater sensitivity to what is, what are symbols of white supremacy or white nationalism. I think that, as a country, we're becoming better versed in discussing these things. It's safer to discuss these things. I would also note that, under the former president's administration, there was an emboldening amongst the white nationalist movement that made it okay to be more out with who you were in what you believed. I think it's something that's happening on both sides. Folks who lean towards that ideology felt a new freedom in expressing themselves and that might be expressed through flying the Confederate flag or sharing and showing their tattoos that affiliate them with white supremacy in some kind of way. Then, as I say, a greater sensitivity on the part of people acknowledging that it exists.
Tanzina: George, you mentioned that the majority of the people who are going to witness or experience this are lower-ranking military members, particularly those of color. What about the role that leadership can play in either facilitating or preventing this?
George: The United States Military is a microcosm of the larger society. Whatever ideologies exist in society, whatever belief systems are there, they are going to be represented, to some degree, in the force at large. What the military counts on and puts a great deal of emphasis on is command and leadership to militate against those ideologies and belief systems. The military is very good at bringing people in from every walk of life, every socio-economic stratas, every racial and ethnic group, and bringing them together and putting them around this thing called the mission, that becomes a focal point. It's hoped that that mission focus, combined with good leadership, will minimize these sorts of issues. But the leadership has to recognize when there are indicators, and they have to act on those indicators, and that's not always done.
Tanzina: George, we just talked about the history of white supremacy, but why did it take an insurrection for people to notice the fact that one in five people in that insurrection had military ties?
George: That's actually the nature of this issue. It's a hard issue, it's a distressing issue, and there's not a lot of attention on it outside of these very public events that are embarrassing that mobilize Congress to ask questions, that mobilize organizations like the Southern Poverty Law Center in the Anti-Defamation League to get involved in and exert pressure that those types of groups are very capable of exerting.
Tanzina: Lecia, you testified about white supremacy in the military in Congress last year. What were your thoughts? Did you get a sense that this was an issue that lawmakers were going to take seriously, and do you expect that that is going to change?
Lecia: I do. I was very encouraged by the responses of the Subcommittee on military personnel that we spoke with last year. They were very concerned about the research that the Southern Poverty Law Center shared with them. I agree with George, that there needs to be a sense of urgency that is maintained at all times and it requires a vigilance, a real commitment on the part of command leadership. I'm glad that you mentioned the role and responsibility of Congress. It's their role to push military leadership to make it an issue that that is front and center. I would say that the Subcommittee members were very concerned and seemed not to know at all this existed as a problem.
I do want to mention something that we discussed during the testimony that the part of the National Defense Authorization Act last year included a provision that asked military leadership to actively seek out and investigate white nationalist extremism. I will point out that the Senate struck that phrase white nationalism from the NDA. I raised this because I think that that's part of the issue. When military leaders spoke after community folks like the Southern Poverty Law Center in the ADL presented about our position on the issue, military leadership followed and really seemed to want to reject calling out white nationalism as a particular form of domestic terrorism that they would seek to root out. I believe that what our country has gone through over the last year, especially in the aftermath of the murder of Mr. Floyd, that we began to see and recognize. It's as George says, these horrific events happen and it piques our attention. I was very encouraged--
Tanzina: I'm sorry, Lecia. I just want to get one thing and because I want to make sure that we don't lose the focus on something George said earlier, which is the fact that it's servicemen and women of color, and particularly those who are lower ranking, who are more likely to witness this. George, how or how do you recommend service members of color who are witnessing this, who are maybe perhaps being intimidated by this respond? What should they do?
George: Well, one of the good things about the United States Military, all branches of the service is, there are multiple avenues for soldiers to address such things. Of course, we put an inordinate amount of emphasis on the chain of command. Going to their superiors, beginning at the noncommissioned officer level is always the first step, but you have the Inspector General, you have access to chaplains, you have the opportunity to write congressional inquiries, and even White House inquiries. There are so many avenues that are attuned to this. Even if it's suspected extremism, the Military Criminal Investigative office, NCIS, or OSI, or CID are avenues of reporting. There's plenty of places to address this issue. There are lots of avenues for soldiers to address.
Tanzina: George, as you well know, that addressing those issues would require institutional support, a change in institutional thinking coming from the very top-down so that lower-ranking servicemen and women feel safe reporting these incidents. Do you see that that is happening? I know we've talked about Lloyd Austin taking over the top command post here, but has the Pentagon done enough about this and has it created an environment where soldiers, particularly those of color, will feel safe rooting out or reporting, I should say rather, these incidents?
George: Well, it's always an issue, especially if you fall into the whistleblower category. The military highly values chain of command. That's why that is the crucial link in all of this, the company commander, the noncommissioned officer. When soldiers go around that chain of command, it's not viewed necessarily favorably. There is a stigma associated with being a whistleblower and going to these outside groups. It's perceived by some as being disloyal, and there can be ramifications. Nonetheless, it is the right thing to do. I think it's important that those young soldiers are couched in that perspective, that if you care about the organization, you care about your fellow soldiers, you step up, and you make these reports when they're appropriate.
Tanzina: Dr. George Reed is a retired army colonel and the Dean of the School of Public Affairs at the University of Colorado, Colorado Springs, and Lecia Brooks is Chief of Staff for the Southern Poverty Law Center. Thanks so much to you both.
Lecia: Thanks too.
George: Pleasure to be here.
[00:18:05] [END OF AUDIO]
Copyright © 2021 New York Public Radio. All rights reserved. Visit our website terms of use at www.wnyc.org for further information.
New York Public Radio transcripts are created on a rush deadline, often by contractors. This text may not be in its final form and may be updated or revised in the future. Accuracy and availability may vary. The authoritative record of New York Public Radio's programming is the audio record.