Deep Dive: The First National Black Political Convention in Gary, Indiana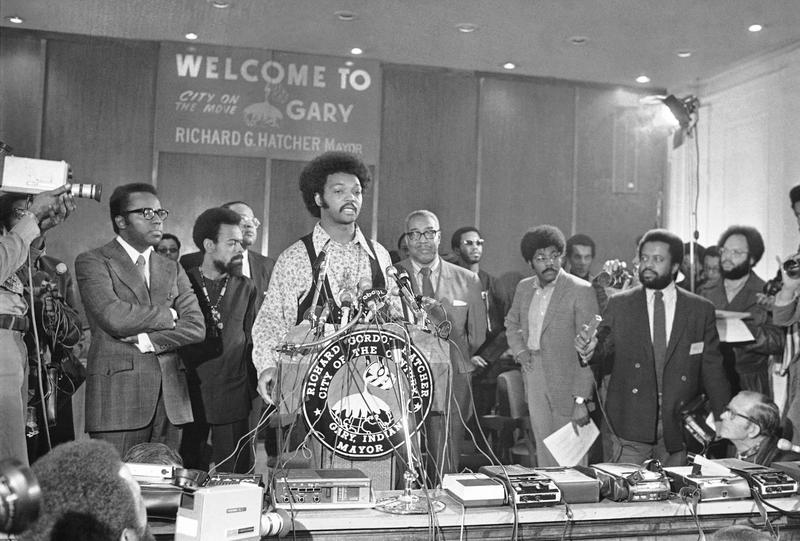 Transcript
[music]
Melissa Harris-Perry: Welcome to The Takeaway. Glad to have you with us. I'm Melissa Harris-Perry. Today, I'm joined by Dorian Warren, Co-President of Community Change, Co-Chair of the Economic Security Project, and he is my co-host for The Takeaway Deep Dive. Dorian, it's always so good to have you here.
Dorian Warren: Thank you, Melissa. You know I love our conversations, and this one is a special one, because March, of course, is Women's History Month. All this month, The Takeaway has been featuring conversations with and about women leading locally, and I have to say, Melissa, I have been loving your guests.
Melissa Harris-Perry: Listen, you are not alone. I have loved these conversations. We've already talked with Florida Representative Anna Eskamani, Ohio State Representative Emilia Sykes, and, of course, there was this incredible exchange with Philadelphia City Councilmembers Helen Gym and Kendra Brooks. It was just everything.
Kendra Brooks-on file: "This is more like a sisterhood. Before I even decided that I would even pick up the mantle and decide to run, I reached out to Helen. I was like, "What do you think?" Her support meant a lot. When you can identify with someone who has challenged the status quo and has to stand alone in places and still be a champion. To have someone like that come out and support you, it means a lot.
Helen Gym-on file: "You can meet somebody like her, just a mom like me, and together, we can prove to be a pretty formidable force. One of the things I love so much about this city and our community movements is that we believe in each other. Sometimes, unfortunately, we don't have anything else."
Dorian Warren: Okay, so we've established that this month is a great time to highlight women holding elected office at the local level. Now let me add another March highlight.
Melissa Harris-Perry: Is it March Madness?
Dorian Warren: [chuckles] It is that, too, for sure, but this month also, Melissa, marks the 50th anniversary of a crucial moment in American political history. Melissa, let's go to Gary, Indiana.
Actor 1: "Gary, Indiana."
Actor 2: "What a wonderful name."
Actor 1: [music] "Gary, Indiana, Gary, Indiana, Gary, Indiana. That's the town that 'knew me when.'"
Dorian Warren: Well, I was thinking less of the 1957 Meredith Wilson's The Music Man version of Gary, Indiana, and a little something more like this.
Jackson 5: "Well, I said, [music] I'm goin' back to Indiana. Indiana, here I come, yeah, yeah, yeah."
Melissa Harris-Perry: Yes, I can take a little Jackson 5 Gary, Indiana, that's what I'm talking about.
Dorian Warren: Good, so picture this. It's March 1972, nearly two decades since the Supreme Court declared segregated schooling inherently unequal in Brown v. Board of Education. Eight years since the Civil Rights Act desegregated the Jim Crow south, seven since President Johnson signed the Voting Rights Act into law, and four since the 1968 Fair Housing Act, which prohibited discrimination in housing.
Melissa Harris-Perry: Let's just be clear. Those are some of the most definitive legislative accomplishments of the 20th century. I'm assuming all's good, like President Johnson was certainly feeling very proud of what he and his administration, along with the movement for civil rights, had accomplished in what was genuinely a pretty short period of time.
President Lyndon B. Johnson: "In the Civil Rights Act of 1964, we affirmed through law that men equal under God are also equal when they seek a job, when they go to get a meal in a restaurant, or when they seek lodging for the night in any State in the Union. Now, with this bill, the voice of justice speaks again. It proclaims that fair housing for all--all human beings who live in this country--is now a part of the American way of life."
Dorian Warren: These were very real accomplishments, but it would be a mistake to think that all was well, because after all these years of social movement, advancing racial justice through progressive action, and the sharp rise in Black elected officials, America was very much in the throes of a political backlash.
Melissa Harris-Perry: Because, of course, all these hard-fought victories for racial equality, they'd actually barely shifted the live reality of so many African Americans living outside the South. Of course, that movement for Black Power, that second wave coming behind the civil rights movement, and it was consolidated and organized and missed the riots of 1968, but it was met with calls for law and order rather than economic justice, so that sounds familiar.
Dorian Warren: That sounds a bit too familiar, Melissa.
Melissa Harris-Perry: Yes, so LBJ, that unlikely civil rights champion from Texas, he was really driven from office by the bloody spiral of the Vietnam War. In his inauguration speech, Republican Richard Nixon, who succeeded him, well, he characterized that greatest decade of racial justice since the Civil War as a long night.
President Richard M. Nixon: "We have endured a long night of the American spirit. But as our eyes catch the dimness of the first rays of dawn, let us not curse the remaining dark. Let us gather the light."
[music]
Dorian Warren: Everybody still with us here. It's March 1972, Richard Nixon is President. It's a couple of months before the events of Watergate would unfold. The southern movement for civil rights is largely quiet. Cities across the Northeast and Midwest are rapidly changing as white folks flee to the suburbs and manufacturing moves offshore. That's the moment in Gary, Indiana, when thousands of Black people come together for the National Black Political Convention.
Participant 1: "We demand that any party which asks our support acknowledge the inhumanity every Black man, woman, and child faces in a hundred different ways, each and every day of his existence, up and down the width and breadth of this land."
Melissa Harris-Perry: Man, everybody was in Gary, like everybody. They were all up in West Side High school. You had Black Panther co-founder Bobby Seale chilling right next to a young Jesse Jackson, Barbara Jordan who would win elections at the House of Representatives later in the year. She was in the House, as was the undisputed greatest of all time, Muhammad Ali. You had Harry Belafonte. You had movement widows, Coretta Scott King and Betty Shabazz. This was not just like a gathering. It wasn't just a conference.
Gary was all about very serious and strategic business. In fact, March 1972, Dorian, it's kind of the fulcrum, the turn, the transformation when the primary collective action of Black people shifts decidedly in the words of movement organizer, Bayard Rustin, from protest to politics.
Dorian Warren: Yes, Melissa, and it was an unapologetically Black politics. Just listen to this passage from the Gary Declaration which adjourned the event.
Participant 2: "If we have never faced it before let us face it at Gary. The profound crisis of Black people and the disaster of America are not simply caused by men nor will they be solved by men alone. These crises are the crises of basically flawed economics and politics, and of cultural degradation. None of the Democratic candidates and none of the Republican candidates, regardless of their vague promises to us or to their white constituencies, can solve our problems or the problems of this country without radically changing the systems by which it operates."
Melissa Harris-Perry: Indeed, the Gary delegates did not come to play, and they departed with more than a declaration. They continued to meet, negotiate, and wrangle for another week after the initial convention, and they produced this kind of truly comprehensive document called the National Black Political Agenda. The agenda called for Black representation in Congress proportionate to the US Black population, it called for, and you'll love this Dorian, a guaranteed minimum income, right in '72. It addressed pollution and environmental justice, so it was the first green new deal, and it addressed Pan-African global development, and it really set out clear strategies for electing Black local officials.
Participant 3: "It was the California delegation that was responsible for the formation of a 50-man body to work in future months for the election of Black candidates to local and federal posts all over the country. They will furnish campaign expertise and raise money."
Dorian Warren: Electing local officials. Now remember this is where we began this conversation, and electing local officials is exactly why this convention took place in Gary, Indiana.
Melissa Harris-Perry: Oh, of course. Thanks for reminding me. It's Richard Hatcher, who's mayor, right? He's elected in '67, and that's the same year that Carl Stokes was elected in Cleveland. They were the first Black people elected to serve as mayors of major cities. In other words, cities with more than 100,000 residents.
Dorian Warren: Exactly, and Richard Hatcher was Gary's mayor. In some ways, he was Black America's mayor. It made sense that Gary would be the site of this historic gathering in March 1972.
Melissa Harris-Perry: Okay. We've made it back around to local officials, but Dorian, we promised the people at the start that this Deep Dive was all about March, about Women's History Month, about women leading locally. I think we're going to have to bring together all these pieces and introduce our guest.
[music]
Karen Freeman-Wilson: I am Karen Freeman-Wilson, President, and CEO of the Chicago Urban League and the former mayor of Gary, Indiana.
Melissa Harris-Perry: Karen Freeman-Wilson, welcome to The Takeaway.
Karen Freeman-Wilson: Thank you so much.
Melissa Harris-Perry: Now, you were born and raised in Gary, Indiana, but you were still very young when the 1972 National Black Convention happened. Do you remember anything about it?
Karen Freeman-Wilson: I absolutely remember the Black Political Convention. I was 12. I wasn't that young, but I was certainly too young to participate, but my mother took me to West Side High School, where the convention was held for one of the sessions. I remember seeing people seated on the gym floor, and the fact that you had a sign from every state. The other thing that was noteworthy to me was that people were staying in our home. There was at least one or two people who stayed in our home, who were strangers. We didn't know these people, but citizens throughout the community volunteered to host attendees at the convention.
Dorian Warren: Karen, we were just talking about Mayor Richard Hatcher, can you tell us about meeting him and what role he played in your life?
Karen Freeman-Wilson: Mayor Hatcher was just a larger-than-life figure, not just in the country, but certainly in our community. I first met him on the campaign trail. He was campaigning, and my parents had a house party in our basement for him. Now, we weren't big political folk, or they weren't big political folks. This was just a party of their friends. I remember the generosity of his spirit. The fact that he wanted to elevate the status of Black people in Gary and wanted to create opportunities, because, at that time, Gary was very much a segregated community still.
[music]
Melissa Harris-Perry: Karen Freeman-Wilson. In 2012, she became the first Black woman elected mayor of any city in the State of Indiana. Today, she serves as CEO of the Chicago Urban League.
Dorian Warren: Back in 2016, she was a very different kind of CEO. While serving as mayor of Gary, Indiana, Karen appeared as a guest star in Undercover Boss.
Karen Freeman-Wilson: I became the valedictorian of my high school graduating class. I went to Harvard in Cambridge, Massachusetts, and continued on to Harvard Law School there. During the summers, I would work in law firms in the City of Chicago. There was always this sense, "Yes, the money is good, but this isn't really what you're supposed to do." It was always, "You need to go back home."
Dorian Warren: Oh, goodness, you've found that. [chuckles]
Karen Freeman-Wilson: Should know [crosstalk]
Dorian Warren: Yes, we're very thorough, rigorous. You go off to Cambridge, you stay for law school, you come back and worked in law firms in Chicago, making good money, and then you decide to go back home. Tell us about when that decision to go back home.
Karen Freeman-Wilson: I always knew that I wanted to go back home. In fact, when I wrote my essay for law school admission, my focus was always on returning to Gary, but a Harvard Law education at that time-- They've gotten a little better now, but at that time, didn't really prepare you to return home. The focus was really going to large law firms. I was conflicted for two summers, certainly conflicted by the dollars, but also conflicted by the messaging, and the fact that I wasn't sure what my options were.
I wasn't sure whether or not there would be other things for me to do, or that I would necessarily fit into my own small practice or could fit into my own small practice, because I didn't hear or encounter a lot of small practitioners during the time that I was in law school. It wasn't until I got to the prosecutor's office because I ended up working in the Lake County Prosecutor's Office after law school, that I encountered defense attorneys who were engaged in private practice.
Even though my friends were making much more money, I think they were making twice as much money as I was making at that time, I had a sense of fulfillment. I had a sense of joy about the things that I was doing that really compensated for the money that I wasn't making because I was living at home for a while. Even when I moved out, I moved out into a dollar house. It didn't cost me a lot. I trade it. I would gladly make that trade-off today.
Melissa Harris-Perry: Okay, so now we're going to have to back up even just a little bit more [chuckles] because I want to go back to first of all, how a kid from Gary, Indiana, a little Black girl from Gary, Indiana, one, how did you even think to apply to Harvard? Then, why in the world that the mayor have to talk you in to go in?
Karen Freeman-Wilson: It was my friend, Kelly Shaw, at the time, Kelly Squires now, and she said, "We were in high school, not the last semester, but certainly our senior year." You get to see others, and we weren't cut in class, because we weren't those types of students, but we would take every opportunity to find our way to something useful out of class. It came over the intercom, "Hey, the Harvard rep is going to be here. Come and hear what they have to say." She's like, "Let's go." I was like, "Okay, let's go."
We're listening to the Guthrie brothers, Rick and Carlton. They're talking about having grown up in the Tarrytown area of Gary and going to West Side and going to Harvard. We were like, "Okay." Kelly was like, "I'm not applying, but I think you should apply." Of course, good friend, influential, I applied, but I applied to Harvard, just as, "Yes, I'll apply to Harvard because Kelly said apply." My focus was really on Purdue, on Notre Dame, and on General Motors Institute, because at that time, Black girls who did well, in math and science, were involved. Now, I was an excellent math student. I was just an okay science student, but they didn't know that because I still got the grades.
I was convinced that I should go to General Motors Institute because it was focused on engineering. It did not cost anything because you were able to pay your tuition through work-study. The most important thing for me was that I would have been able to get a discount on a black-and-gold Pontiac Trans Am. Black-and-gold being my school colors, Trans Am being the car that I really, really needed in my life at that time, because I was 18.
Melissa Harris-Perry: Oh, Lord. Listen, are you mad at that reasoning. I think there's a lot of good reasons actually to not choose a Harvard and to instead choose a different path, but I got to say, thank goodness, the mayor talked you into Harvard rather. Actually, did you ever get the Trans Am?
Karen Freeman-Wilson: Melissa, he really didn't talk me into Harvard initially, because I talked to him, and I still enrolled in GMI. It was not until I got to the Bedford Foundry. It was 110 degrees inside in July. I was doing a time study, and the first thing I found out was, I couldn't read and do this time study. Then, there was a die-cast machine. I think I got three drops of molten metal on the side of my face. I had to go to the industrial clinic immediately, but the second call I made was to my mother to say, "This is not going to work. I need to find another school." Then I said to her, "Call Notre Dame," and they said they didn't have any housing. Then I said, "Call Harvard." Harvard was actually the third choice after General Motors Institute.
Melissa Harris-Perry: It turns out that you end up at Harvard with some other pretty incredible folks, including the woman who goes on to become the first Black woman attorney general in the United States. Talk to me about what you learned as a Black girl, and then ultimately, a Black woman at Harvard.
Karen Freeman-Wilson: Loretta Lynch and I actually chartered the Harvard Delta chapter. That's right. Wow, back at you. We were obviously raised in a tradition of excellence by our parents, but we were able to pursue that at Harvard. We pursued it in the Kuumba Singers because we were both members of Kuumba, but we also pursued it academically, and as members of Delta Sigma Theta Sorority.
Sharon Malone was one of our line sisters, who is this amazing Ob/Gyn, but also happens to be married to Eric Holder. Lisa Ross was one of our line sisters, who's this incredible ER doctor in Harlem, who was on the frontlines at Harlem Hospital during COVID. Tracy Carroll was one of our line sisters.
We had a group of folks and we pushed each other, and all of us had enough of a connection to our communities that it kept us grounded. While I was always intrigued by corporate law firms, I always knew that my calling was to come back to Gary and help.
Melissa Harris-Perry: There's this theory in political science called the hollow prize, and it zeroes in on this moment we've been talking about around '72 that says that Black people were finally able to gain access to municipal office, just as those cities were losing population, losing vital tax revenue. Even though Black folks won a prize as mayors, they found themselves unable to enact the change they hope to, because the prize was hollow. When you became mayor in 2012, was Gary, Indiana hollow prize?
Karen Freeman-Wilson: In many respects, it was. I didn't look at it that way. I looked at it as the ultimate challenge. For me, professionally, it did, in fact, turn out to be one of the greatest professionals challenges that I ever faced. The thing that makes being mayor during the tough times in cities so important for Black mayors is that the commitment helps us to see past what many would consider a hollow prize. The pride that we have, the desire to see our people win is so great, that it makes us work even harder.
Dorian Warren: Karen, I want to ask you about your current role as president and CEO of the Chicago Urban League, and ask you to say a bit about the work you do now is similar to or different from the work you did as an elected official. What are also some of the unanticipated things you've had to take on in this job that you weren't expecting to when you started?
Karen Freeman-Wilson: I always tell people, I work at the Urban League because we do programming and housing, entrepreneurship and economic development, and workforce development and leadership development. In Youth and Family Services is the exact work that I was doing in City Hall without the garbage, potholes, and the snow, and without all of the trolling. There is some trolling of the Urban League director because we are considered kind of the Black establishment in Chicago, but I don't experience nearly the animus that I did as mayor of the city because it's almost the more you do, the more people expect you to do.
We came in saying, we were going to run City Hall differently. We were going to raise the expectations. If you call City Hall, you should have your call answer, your request met. You should expect us to deliver government to you. Early on, we were able to do that, and throughout our tenure, we were able to do it, but it's one of those things where if you accomplish one major feat, then the next feat doesn't seem as major, because people expect you to accomplish the feat.
It's also important to tell people what you're doing when you're doing it, otherwise, they don't really see it themselves. Now people are saying to me, "Now I see what you were trying to do. Now I see what you're doing. All of the things that you were planning are happening now." I say, "Yes, I told you guys that, but that's okay because I'm in a much better place." I was spending six days a week, 12 to 15 hours every day as the mayor. Now the Urban League, many of my Saturdays are to myself. Even if I spent six hours on a Saturday, and gauged in something involved with the league, I think I'm winning.
Melissa Harris-Perry: This conversation is part of our series, Women Leading Locally. When I say women leading locally, what does that mean to you?
Karen Freeman-Wilson: I immediately think about the Black mothers who lead in the PTA, who lead in the church, who lead as a band parent, as my mother did. She taught me fundraising because she raised more money for band uniforms than anybody I knew, but I also think about my sister mayors and those who sit on the council who have literally caught hail. I think you said it during dinner recently when you said but for the Black women leading in cities like Atlanta, DC, New Orleans, and so many other places where Black women led during the onset of the pandemic, there would be a lot more deaths because we stood our ground.
I was so proud of these sisters as they literally had to fight with largely Republican governors to say, "No, I'm not opening up my city." In Chicago, the mayor and the governor were on the same page, but the mayor was very early saying, "We've got to shut down the city." Of course, the business community was in arms, but for those decisions, there would have been a lot more tragedies.
[music]
Melissa Harris-Perry: Karen Freeman-Wilson, President and CEO of the Chicago Urban League, and former mayor of Gary, Indiana. Thank you for joining us today.
Karen Freeman-Wilson: Thank you both for having me.
Dorian Warren: Melissa, thanks again for allowing me to go on this Deep Dive with you.
Melissa Harris-Perry: Dorian, as always, thanks for being here to Deep Dive with me. Pausing for a moment, we'll be right back, here on The Takeaway.
[pause 00:28:07]
[music]
Melissa Harris-Perry: I'm Melissa Harris-Perry, and we're back with The Takeaway. Throughout the month of March for Women's History Month, The Takeaway is joining forces with the Center for American Women in Politics at Rutgers University, to bring you the stories of women leading locally.
Wendy Smooth: My name is Wendy Smooth. I'm an Associate Professor of Women's Gender and Sexuality Studies at The Ohio State University.
Dorian Warren: Professor Smooth is a scholar researching race, gender, and state legislative power. She also has a fabulous name. I've said it a million times but I will say it again. Is there really any better name in the world than Professor Smooth?
Wendy Smooth: Not a chance. [chuckles] Hands down, not a chance.
Melissa Harris-Perry: If I could find me a man named Smooth and marry him so I could be Professor Smooth, I too would be Professor Smooth. It's so good. As soon as we made this decision to have a series of conversations in March for Women's History Month about women leading locally, I said, "Okay, you guys have got to be sure that I have an opportunity to talk with Professor Wendy Smooth," because I feel like when so many of us in the academic field of political science, we're still focused exclusively on the federal level or thinking about women in Congress. You already had told us, "Oh, yes, now you got to focus here at the state legislative level."
Wendy Smooth: Sure. It remains one of the most exciting areas of government to study, because it's really so close to home, and so close to the issues that so many care about, and so many people are attached to, whether we're thinking about school boards, and that is all the rage in the news today, whether we're talking about state legislatures that are now educators, in the sense of dictating what our students should and should not learn in the classroom, to even thinking about the questions of voting rights. All of those questions at the surface often appear as national debates. When we get to the level of actual decision-making, those are all issues that are controlled at the state and local levels, exciting area.
Melissa Harris-Perry: It is. Again, I appreciate your point that if we're talking about gerrymandering or redistricting that again that can seem like a national story but those are state lawmakers making those decisions in each of those states, in their committees with all of the various issues, and even what it means to be, for example, a Democrat or a Republican can look really different state by state.
Wendy Smooth: Most definitely what it means to be a Democrat in a Southern state legislature can be radically different than what we think of as a Democrat in a Midwestern state or even in a Western state. Really, when we think about that old adage, that all politics is local, we really are seeing that play out in state houses across the country and even again on school boards across the country.
Melissa Harris-Perry: Now once we come down to the more local level, whether it is city councils, whether it's mayors, particularly of smaller cities, and, of course, at the state legislative level, then we also come to a place where there are more women relative, for example, than the federal level who are in position of leadership, who are being elected, and holding these seats for a long time. Tell us a little bit about the the shape of women in these local offices.
Wendy Smooth: We definitely because by sheer nature of the vast number of offices, we have greater representation for women and for women of color. Though I will say there's, of course, great work that needs to be done to increase the numbers of women we have in representative positions at the state and local levels, but based on the sheer, vast number of positions, there are far more women who are representatives. As you just pointed out, there's also the opportunity oftentimes for women to lead in those positions for extensive periods of time, because term limits are often not as much of an issue if we go beyond the state legislative level.
Melissa Harris-Perry: You've brought up school boards a couple of times, and they've been obviously an important pathway often for women and particularly women of color to hold office. Talk to us about how it is that women end up getting started so frequently at the school board level.
Wendy Smooth: Women are really great at stair-stepping through politics. What I mean by that is that we often think that we must do the office that I can best imagine myself making a difference. Then I might later do a slightly higher office and then maybe later a slightly higher office. That stair-step often leads women to start at the school board level. There's another dimension as well when we think about the offices that we know best and we think about the spaces that we'd like to make an impact.
Women are often drawn to school boards because they see challenges that their own children have experienced in the local school district, or they see the experiences of their friends, classmates, and they're driven to make change. Women tend to be problem solvers in politics. The school board seems like a natural space to solve that first problem. It's there when we're really lucky we get women who are hooked on the ability to make change, and they see from the school board position that it's really the school board is controlled by this other entity. Then they'll run for a higher office.
Of course, my ambition for women is to not think about the stair-step that we've got to cover every wrong on the a ladder but that women will feel the ambition and confidence to actually step out in some bolder office choices not to diminish the school board at all but to say that there are many pathways into politics, and I'd like women to have full access to all of those pathways.
Melissa Harris-Perry: When you talk about that being your ambition, talk to me a little bit. You often straddle your work. You are an academic, but you're also engaged in the world of policy and in the world of advocacy for women as elected officials. Talk to me a little about your work.
Wendy Smooth: Oh great. Thank you. I've been so watching the wonderful energy from one election cycle to the next when we can make the claim of the large numbers of women who are voting, and in particular, the ways in which women of color have been driving many election cycles. It's a beautiful untold or undertold story. My educated guess, my hypothesis has always been if there are women who are motivated to get other people out to vote, then they also have the power to become decision-makers in their own right and take seats at important tables for decision-making, so running for political office.
One of the great things I'm excited about that we're doing this year here at The Ohio State University, and in conjunction with a community partner called the Ohio Unity Coalition, we're getting together to offer a campaign training and advocacy skills program for Black women across the State of Ohio to become involved in running for positions of leadership across our state and becoming stronger advocates in their own right.
This is something we're starting this year. We're connecting it to the Center for the American Women in Politics who is ready to run program. We'll do this as a pre-conference, virtual day for Black women across the State of Ohio to come together and have some discussions about how do we engage in Ohio politics. It's a very exciting moment.
Melissa Harris-Perry: It is. Now as much as you talk about the stair-stepping, and as important as you've been for understanding women leading locally, you are part of a project that is watching and documenting as a scholar and an academic, somebody who's not exactly local. That is your part of the Kamala Harris Project. Tell us about what the Kamala Harris Project is.
Wendy Smooth: Sure. This is a project that is led by a colleague, Dr. Ange-Marie Hancock Alfaro, out of USC. We are coming together as academics to really document this moment in history with the first African American and South Asian woman President- Vice President. I'm getting ahead of myself.
Melissa Harris-Perry: I was like, "Okay, well you done said it, Dr. Smooth."
[laughter]
Wendy Smooth: There's so much for us to learn in this political moment, because we know from our scholarship across both national and state level and local level politics is that women and women of color experience leadership differently. We want to make sure that we are documenting and understanding the role that identity plays in the leadership style, the leadership delivery, leadership opportunities, and the leadership barriers that women of color face.
I think that the work that we're doing is not only informative for women in formal electoral politics, but it's also quite instructive to help us to understand women of color in leadership more broadly, whether we're talking about education, medicine, or corporate America.
Melissa Harris-Perry: You and I have daughters of similar age, if I remember right. My little one is eight, so don't you have one person around that age. Do you all talk about politics? Here you are as an advocate and as an academic thinking about these questions. I'm wondering, are you all reading Grace for President? What's happening in the Smooth's household there?
Wendy Smooth: Oh, we are reading Grace for President. We're reading Stacy's Extraordinary Words.
Melissa Harris-Perry: For those who don't know, Stacy's Extraordinary Words, that is a children's book written by Stacey Abrams, that many of us gifted to our children in recent weeks.
[laughter]
Wendy Smooth: Absolutely. We watch and we talk politics at our dinner table every night. Just this morning, it's funny you should say this. Just this morning, she talked about doing a research project for Women's History Month. She said, "You know, I could help the class so much," and I said, "How can you help the class so much?" She says, "Well, I'll go through my home library and just bring lots of books so that people can really see that women are leaders," and she said it so effortlessly.
It was just a flow off of her tongue, that she wasn't making a bold statement. It's just her reality. That's what we want, Melissa, for all of our girls, both those who live with us and those who were at home were at ease, far and wide. We want them to naturalize this idea that women are leaders, and they lead in various sectors of society, and it's natural that we should expect women to lead. My daughter's certainly, and I'm sure your daughter is the same way, she expects to be regarded as a leader.
Melissa Harris-Perry: Yes, I am reminded constantly that if you rear a child to question authority, it will be your authority that is first and foremost questioned regularly.
Wendy Smooth: Right, we're the practice field. [chuckles]
Melissa Harris-Perry: That's right. The protest practice is happening in the kitchen.
Wendy Smooth: Yes.
Melissa Harris-Perry: Professor Smooth, when I say women leading locally, what does that mean to you?
Wendy Smooth: Oh, wow, women leading locally, for me means women having an opportunity to transform the course of their own lives, and the lives of people that they care about. It's around the issues that our home plate issues. What I mean by that? Drinking water, crosswalks, the cost of utilities. Those are all of the kinds of local issues that women leading locally can add their voice to in our society, and it makes an incredible difference, because women lead different types of lives, and those issues touch them very differently, so we have to have them at the table.
Melissa Harris-Perry: Wendy Smooth is Associate Professor and Associate Dean at The Ohio State University. Thank you for joining us today.
Wendy Smooth: Thank you for having me. It's been a pleasure.
[music]
Melissa Harris-Perry: Our senior producer is Ethan Oberman. Shanta Covington is our planning editor. Our producers are Meg Dalton, Katerina Barton, and Deborah Goldstein. Michelle Liu is our intern. Zachary Bynum is our digital editor. Jay Cowit is our director. Vince Fairchild is our broadcast engineer, and he and Jay both sound designed the show. Jacklyn Martin is our line producer. David Gebel is our administrative assistant.
Thank you so much for listening. I'm Melissa Harris-Perry, and this is The Takeaway.
[music]
Copyright © 2022 New York Public Radio. All rights reserved. Visit our website terms of use at www.wnyc.org for further information.
New York Public Radio transcripts are created on a rush deadline, often by contractors. This text may not be in its final form and may be updated or revised in the future. Accuracy and availability may vary. The authoritative record of New York Public Radio's programming is the audio record.