Decisive Georgia Senate Runoffs Enter Final Stage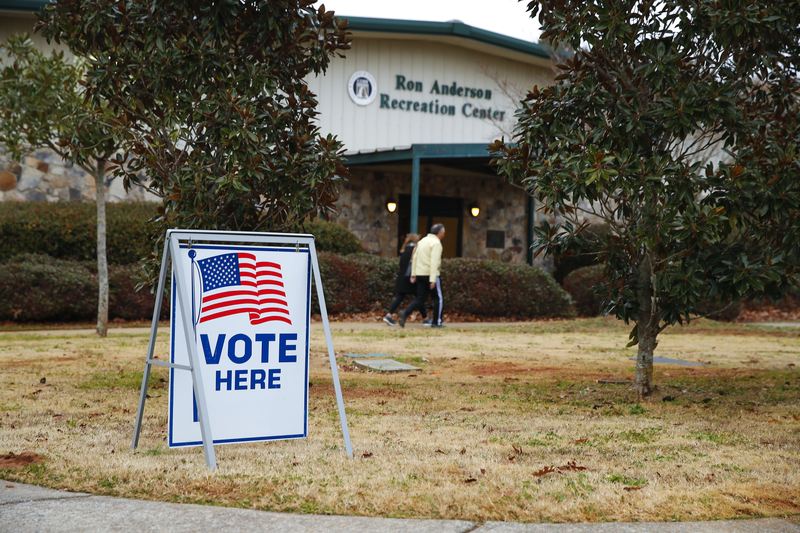 Transcript
[music]
Callie Crossley: Hi, everyone. I'm Callie Crossley, radio and TV host and commentator at GBH in Boston. I'm in for Tanzina Vega this week on The Takeaway. It's good to have you with us. We start today in Georgia, where in just about a week, the state will hold two senate runoffs that will determine which party will control the US Senate. In one race, Republican incumbent, David Perdue will face Democrat, Jon Ossoff. In the other, Republican incumbent Kelly Loeffler, faces Democrat, Raphael Warnock. Democrats need to win both seats to take control of the Senate, while Republicans need to hold on to just one.
Georgia has not elected a Democratic Senator in 20 years, demographic changes put the state and the Democrats column at the presidential level this year, for the first time in almost 30 years. As the state has become the center of the political universe, almost half a $1 billion worth of ads have flooded Georgia's airwaves. The results of this race will also determine, in part, the Biden administration's ability to forge ahead with its agenda.
Joining me from Atlanta to discuss the latest, is Tia Mitchell, Washington correspondent, with The Atlanta Journal-Constitution, and Stephen Fowler, politics reporter with Georgia Public Broadcasting, and host of the podcast, Battleground: Ballot Box, Tia, Stephen, good to have you with us.
Tia Mitchel: Hey, thanks.
Stephen Fowler: Thanks for having us.
Callie: Stephen. I want to start with you. What we know about what the turnouts looks like at this stage in the race, and how that tracks with the general election and past run-off elections, I'm hearing there's a huge turnout.
Stephen: That's right. What we're seeing is not typical of a runoff. Usually, people vote in the main election, and if there is a run-off, not that many people come out. The ones that do are typically older and whiter and in Georgia, favor Republicans. We are getting very, very close to the general election turnout so far. We've got about 2 million people that have already cast a ballot through the mail or through in-person early voting. That's almost at the same level as we had in the general election.
What this means, looking at the data, is you are seeing more Black voters in George's southwest corner of the state, that are the backbone of the Democratic Party. You're seeing more suburban and urban voters in Metro Atlanta, voting at the same rates as they did in the general election. What you're not seeing is people in George's Republican base in the northwest and northeast corners of the state showing up to vote early, but they typically vote on Election Day. It still remains to be seen. You can't necessarily read the tea leaves into who's going to be favored, come polls closing.
Callie: Is it true, more than 70,000 people have registered to vote?
Stephen: That's right. Since George's November election cutoff, which is about mid-October, there have been tens of thousands of new people that have registered to vote in this runoff. Many of those have already cast a ballot. Additionally, some of the people that have voted early in the selection didn't vote in November, didn't vote in our presidential primary. That adds another big question mark as to who benefits from that, of new people coming into the fold, seeing those hundreds of millions in advertisement and getting out the vote.
Callie: Tia, in several house races that culminated in November, Republicans painted their opponents as socialists, who would support an uber progressive agenda in Washington. For many of them, that strategy worked. Senators Loeffler and Perdue, are using the same strategy. Do you think it will work?
Tia: It's interesting because Georgia was a little bit off of that trend in the house races. In Georgia, we had one toss-up house race in suburban Atlanta that was won by Democrat, Carolyn Bourdeaux. She's the only Democrat in the nation that flipped a seat from red to blue this cycle. We know Democrats had a lot of losses and didn't pick up seats they thought they could, and she was their one bright spot. She faced those allegations of being too liberal and too radical and she still managed to win.
Lucy McBath managed to defend her seat, even though her opponent made those same attacks. In Georgia, that trend didn't hold as true. That being said, you're right, Loeffler and Perdue are waging those same attacks against Jon Ossoff, against Reverend Warnock, and more pronounced, even more so against Reverend Warnock. I think that is a play again, to their base to get conservative voters to turn out, and to hopefully help them defend those seats. The question is, in Georgia, I'm not sure if the pattern in Georgia shows that that really pays off in energizing voters to the degree that's needed, at least in suburban Atlanta. That's really where Republicans need that turnout, need those moderate, suburban, college-educated voters to vote with Republicans.
Callie: Nevertheless, since the November general, around a half $1 billion has been spent on ads across Georgia. Now, what about the content of these ads, and the impact they're having on these voters?
Tia: Republicans are describing Warnock and Ossoff as radical liberals with ties to communism and ties to China. They're taking Reverend Warnock's old sermons, including snippets out of context that make him sound anti-American and anti-Israel. They've accused him of things like supporting Fidel Castro. On the other side, you have Democrats with attack ads that are repainting the Republicans as ultra-rich and greedy, accusing them of profiting off the pandemic, and not doing enough to help average Americans during the pandemic. It's been a lot of really scary doom and gloom stuff from the attack ads.
Then of course, the candidates themselves have ads that are trying to introduce themselves to voters in a way that is much more benevolent. We have Reverend Warnock with his puppy and things like that. Joe Biden, Cotton ad that says he needs Warnock and Ossoff. The ads are, at this point, overwhelming. I was watching football last night, and even every ad break, there were attack ads, and then there were these nice ads with David Perdue smiling at you and saying, "Please, vote for me." Again, it's about turnout, but at this point, it's very saturated. The ads have saturated everything, radio, TV, digital, and people's mailboxes.
Callie: Stephen, Loeffler's ads, in particular, seem to have struck a nerve recently. Recently, a group of African-American pastors calling Loeffler's ads a "broader attack against the Black church and faith traditions for which we stand," Have left Loeffler's ads backfired?
Stephen: I think it's really hard to say, because Kelly Loeffler is saying, "No, I'm just pointing out Raphael Warnock, and calling him a radical liberal and doing things." You can't separate the sermons of a Black pastor from Black theology in the Black church. Especially in the South, it fails to gain traction because a Baptist preacher in the South tends to speak for a lot more people than say many other States because we are in the middle of the Bible Belt.
You contrast these ads calling him a radical liberal with what Raphael Warnock has put out, him struggling with Christmas tree lights, him walking a dog and throwing out dog poop, and comparing Loeffler's ads to a bunch of dog poop, and it just doesn't really land in the same way that you would expect, maybe in some other races, with some other candidates and some other issues.
Callie: Tia, President Trump and his surrogates in Georgia have continued to hold events and claim that the election was stolen from him, and that they should continue to fight to overturn the results. Does this strategy of standing by these unfounded conspiracy theories hurt Loeffler and Perdue with white moderate voters, the ones that were turned off by Trumpism during the general?
Tia: I think that definitely hurts with moderate voters who are becoming more and more turned off to Trump. However, the message that Loeffler and Perdue and their supporters are trying to send, is that, "Trump is going to be gone. Do you want Democrats to control the House, the Senate and the White House? Because if you do, they're going to do things that you don't like that have nothing to do with President Trump. Your taxes, your health care, the military, and policing and law enforcement."
In a way, there's this messaging about Loeffler and Perdue, that without directly contradicting President Trump or downing him in any way, they say, "What do we want post-Trump?" That being said, Loeffler and Perdue are still working very hard to carry favor with President Trump. Sometimes that messaging creates conflict, and that conflict doesn't necessarily speak to the moderates as much as that conflict speaks to those conservatives, those Trump MAGA conservatives that followed Trump to a tee. That's why Loeffler and Perdue want to keep Trump on their side because there's a portion of the party that is going to follow what Trump tells them to do. Right now, he's telling them to vote for Perdue and Loeffler, but we know that can turn on a dime. They're working really hard to make sure that doesn't happen, but that's two different segments of the Republican Party.
Stephen: Two things there. One, when you're talking about the Atlanta suburbs and who those suburban voters are, increasingly it's not white moderates. Georgia's suburban population has exploded by well over 1 million voters in the last several years. It's increasingly younger, increasingly diverse, and increasingly democratic. That said, Perdue and Loeffler are caught between Scylla and Charybdis here, a rock and a hard place, because they have to curry favor with the president, they have to acknowledge that he is fighting and he's trying to overturn the election results, while also having to not turn off those voters.
You've seen plenty of uncomfortable situations, like a rally that the president had down in South Georgia, where David Perdue was shouted down by people at the rally saying, "Fight for Trump," while he was trying to tell the president that he was his number one supporter and fighting for him.
Come January 20th, when Joe Biden is inaugurated president, it's going to be a really, really awkward conversation if Perdue and Loeffler win because they had to convince enough people that Trump was maybe still going to be president, that they should still vote for them to still be in the Senate. It just is an impossible threading of the needle that these senators are trying to do, and it remains to be seen whether enough people believe them.
Callie: The national political analysts seem to think that it's really the make-or-break areas are the rural voters. What do you say? Is this why President Trump is making a trip to Georgia next week?
Stephen: For the first time voters in urban counties in Georgia voted at a higher rate than the rural rest of the state. That's a trend that worries Republicans. If you look at Georgia's early voting data so far, 2.1 million people have already cast their ballot, most of those are in metropolitan areas of the state that tend to vote more Democratic. The two congressional districts that lag far behind are rural Northeast Georgia, which is represented by Doug Collins, and Northwest Georgia, who is soon to be represented by Marjorie Taylor Greene, a polarizing, conspiracy touting member who is leading the charge to challenge the election results. President Trump is going to Northwest Georgia the day before the election. It's where Marjorie Taylor Greene represents. It's where the lowest turnout is so far, and none of those are coincidences.
Callie: Tia, what about those rural voters? Do you think they can give President Trump the advantage he needs?
Tia: They can if they turn out. The question is will they? Especially because it's been almost two months now that they've been told, "Your vote wasn't counted accurately. The system is rigged." For many rural voters who are Trump supporters, that's who they're listening to and they're getting misinformation. If that keeps them home because either they don't believe in the integrity of the election or they don't believe that Perdue and Loeffler have done enough to earn their vote, if they don't think Perdue and Loeffler are doing enough to defend President Trump, then they're saying, "Well, why should we vote for them?"
We've seen people like Attorney Lin Wood say, "Don't vote for Perdue and Loeffler. They haven't done enough to help President Trump, and so we don't want to reward them with sending them to Washington." That being said, again, Perdue and Loeffler supporters, and by and large, the Republican establishment, including President Trump, have said, "Listen, yes, we think the system's rigged. Yes, we think the election was stolen from President Trump, but we still need you to vote anyways." It's that mixed messaging, that dual messaging, threading the needle that Stephen referred to, but that's what they're trying to do. The question is, will that work?
We won't know, like Stephen said, until Election Day, because, again, part of that messaging is absentee balloting is no longer the preferred method of voting for the Republican Party, which is a very recent change, but as a result, you are seeing rural conservative voters waiting until Election Day. It's hard to read the tea leaves this early, knowing that some of those voters may wait until January 5th if they're going to vote at all.
Callie: When do you think we can expect to have the final result?
Tia: It might take a while especially if it's close. Georgia does not allow absentee ballots to be counted early. They can be processed early, but they cannot be counted early. Those ballots can come in as late as the day of the election, and then overseas ballots even get extra time. If it's close and those absentee ballots need to be counted, it could take several days for a winner to emerge, just like in the general election. Again, that doesn't mean anything is wrong. That doesn't mean that the election is being rigged or stolen from any candidate, it just means it may take time to determine a winner if it's close.
Callie: Stephen, the recent stimulus package back and forth, President Trump finally signed it, but he complained about it. He said he wanted changes. What impact is that going to have on the race, particularly since candidate David Perdue has made a point of saying, "We passed the stimulus," or, "Republicans and me and President Trump passed the stimulus."?
Stephen: Perdue put out an ad touting the coronavirus relief package, 900 billion in relief that started airing before President Trump signed the bill. Jon Ossoff's campaign demanded TV stations take down that ad because Trump didn't sign it. Now that Trump did sign it, the Perdue campaign says, "Just like we said, here's this relief. We delivered for you in Georgia."
If there is such a thing as an undecided voter or maybe a voter who needs more motivation to vote versus not vote, I think that is going to be one topic that is going to hit Georgians and make them make their choice. Unemployment benefits are something that is important to Georgia as they recover economically from the coronavirus pandemic. The $600 checks or maybe $2,000 checks, who knows? we'll see, is going to be a big issue that sticks in people's minds maybe as we head into this last week of early voting.
It really just boils down to Democrats believe that Republicans are corrupt and working for themselves and not doing things for the American people and the people of Georgia. Republicans say, "Look, this is the type of leadership and relief that you'll get if you send us back to the Senate." When it boils down to it, it really is going to be not the one difference-maker in this election, but I think you can take the trends of how the discussions go this week as a sign of how Georgia reacts.
Callie: It's fair to say that President Trump's polarizing persona galvanized both Republicans and Democrats to the polls for different reasons. Without him being at the top of the ticket motivating Democrats to remove him from office, do Democrats in Georgia have a chance? Stephen, first you.
Stephen: I think Trump still is on the ballot. Even though his name is not there, his presence looms large. He's holding this big rally the night before the election. He's dictated policy positions for Perdue and Loeffler and other things. He and his legacy is still very much a motivating factor for president or for Democratic voters, especially because electing Ossoff and Warnock would give Joe Biden the bandwidth to do more of his legislative policies he wants in his first couple of years. The stakes are incredibly, incredibly high. Though voters will not be voting for or against President Trump on the ballot, per se, he's the only game in town.
Tia: President Trump's the leader of the Republican Party, both Senator Perdue and Senator Loeffler support President Trump and say they want to serve as a firewall to help protect his legacy in the US Senate. Yes, this election in many ways is about President Trump and how empowered President-Elect Biden will be to steer a new course or if the Senate remains in Republican control and can help protect a lot of the things that President Trump put in motion.
Callie: Stephen, Tia, thank you for taking the time to join us. Tia Mitchell is a Washington correspondent with The Atlanta Journal-Constitution and Stephen Fowler is a politics reporter with Georgia Public Broadcasting.
Tia: Thank you.
Stephen: Thank you.
[00:19:26] [END OF AUDIO]
Copyright © 2020 New York Public Radio. All rights reserved. Visit our website terms of use at www.wnyc.org for further information.
New York Public Radio transcripts are created on a rush deadline, often by contractors. This text may not be in its final form and may be updated or revised in the future. Accuracy and availability may vary. The authoritative record of New York Public Radio's programming is the audio record.