Halt of In-Person Visitations Takes a Toll on Long-Term Care Residents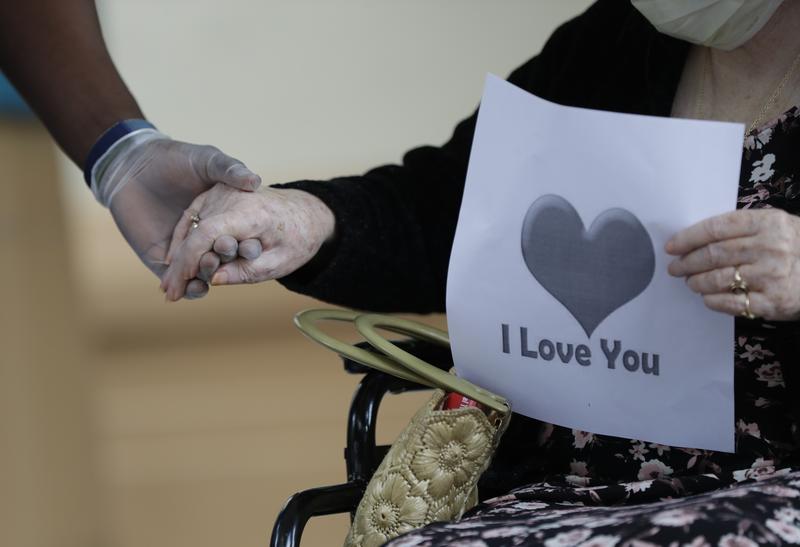 Transcript
Tanzina Vega: Workers and residents of long-term care facilities have been among those hardest hit by the coronavirus pandemic. According to the New York Times, roughly 62,000 long-term care residents and workers have died because of COVID-19. That's 41%of all Coronavirus deaths in the United States. For people in these facilities, social isolation is also a concern. Many of the senior citizens who live in long-term care have gone months without being able to see family members or friends in person. Last week, Florida Governor, Ron DeSantis, addressed some of the mental health concerns that come with this extended isolation.
Ron DeSantis: "They have not had the ability to have family members visiting them. They've not had the type of human contact which really, really makes a difference to people who are in those conditions and obviously, it makes a major difference for the caregivers, and for the family members. That human cost, the emotional cost, of having these measures in place to limit the spread of COVID, those costs are profound."
Tanzina: Finding a path back towards in-person visitation for long-term care residents is challenging, especially in states like Florida, which had been recent hot spots for COVID-19. Joining me now is Paula Span, who writes the New Old Age column for the New York Times. Paula, thanks for joining us.
Paula Span: Happy to be with you, Tanzina.
Tanzina: What is social isolation look like for seniors before the pandemic?
Paula: It's been a problem for a very long time. In fact, more than two years ago, the National Academy of Sciences Engineering and Medicine, convened a panel to look at social isolation in older adults who is understood to be not just a mental health problem, but in many ways, a physical health problem. Its report came out in February just as we were all learning about this thing called the coronavirus, and found that people who are socially isolated, which is different from loneliness, let's just say.
Loneliness is a subjective feeling. You can be in fact, lonely in a crowd. Social isolation means that you're just not having a lot of contacts, a lot of connection with other people and it affects, as you might expect, your mental health. People who are socially isolated have much higher rates of depression and anxiety. It also affects your physical health. It's associated with much higher rates of heart disease and stroke and an increased risk of dementia.
This has been a long time concern and then, of course, along comes the coronavirus and older people who are at higher risk are told, "Stay inside, don't see anybody. Don't see your family, don't see your grandchildren." The senior center is closed. The gym is closed, so it makes everything much worse.
Tanzina: I wonder because a lot of people are feeling isolated right now. A lot of us, we were asked to shelter in place for a couple of weeks to months, and those of us myself included are continuing to practice social distancing, which you're not allowing people to come into your home, et cetera. This is particularly pronounced for this group, senior citizens. How is the isolation some of us are experiencing different than what senior citizens who are in these homes experiencing?
Paula: By definition, if you are living in an assisted living facility or a nursing home, you have considerable problems with just everyday activities, and you need help and that's why you're there. If you're on assisted living you may already have trouble getting dressed, using a toilet, just dealing with the activities of daily living. If you're in a nursing home, you have significant health problems. You're sick, that's why you're there. You need round-the-clock help.
You may be living alone because you're in your room. You can't even, in some cases, go around the facility. You may have mobility problems so that you can't move easily around the facility. If you are in a facility like this, you may have hearing problems or vision problems that make it difficult to use some of these devices that we're all using instead like Zoom, or other video chat, or phone calls. It's Much more severe and your health is already compromised in a significant way that's why you're there. I've talked to a prominent geriatrician this week who said, it's not just the virus that's killing these people.
Tanzina: Paula, I'm wondering what protocols have States implemented to allow in-person visitations at facilities recently because I know that for a while I live a block away from a facility that has been closed to any visitors, continues to be close to visitors, but they have put chairs outside so that people can see their loved ones on the other side of window, for example. Is that where we are right now, generally speaking?
Paula: It's very hard to say because Medicare, which regulates most nursing homes, has put out guidelines but they are not enforceable regulations, they are leaving this to the states and the states are leaving it largely to the providers, to the individual homes to decide. There's no clear data about how much visiting is permitted and under what conditions and assisted living is not regulated federally at all so it's even harder to tell what's going on nationally. What we're hearing anecdotally is that a number of places are now allowing what you just described outdoor visits for maybe half an hour with family members in a courtyard or on a lawn, but it's not going to really solve the problem.
Let me also just point out that family visitors, yes, they're important for stimulation and connection, but these are not just social calls, the sad truth is that many of these facilities you could say most are chronically understaffed. Advocates have been screaming about this for decades and the family members who come into assisted living and into nursing homes are not just there to reminisce and chat, they are part of the care team.
They help with feeding, they help with dressing, they make sure that people are getting the care that they need, are getting their medications. They are the early warning system because family are the ones who know the residents the best so when there's a change in condition, they can alert the medical staff and have it taken care of. They are often the only ones who are taking them to doctor's visits if they're going out. They are part of the care team and losing them is not just creating more isolation, there are just fewer eyes and hands helping to take care of the residents.
Tanzina: Paula, you mentioned that a lot of the family visits are not just social chats, they are actually the family members who are visiting or there to help with care. Many of these homes are also places where abuse can happen or neglect and the family members are often the people who can point that out. How has that affected the state of seniors in these homes without having family members who can go in and notice if there has been neglect or abuse?
Paula: There's really no way to tell. In some of these facilities, people were in their rooms alone for months, no eyes on them. Someone dropped off meals at the door, it wasn't even clear if people could eat meals. We don't know what kind of neglect or abuse might have happened, it is a problem but the bigger problem I think is just family members are monitors, yes, abuse but also just are you getting your clothes back from the laundry and not someone else's clothes? Is someone changing the batteries in your hearing aid?
The little day-by-day things that directly impact people's health when you shut down that's gone.
Experts said to me, yes, it made sense in the early days of the pandemic to shut down, we didn't know much, but now, months later, we know more and people think that yes, it is possible to slowly and cautiously reintroduce family members into these facilities, not just through a window, but into people's rooms, but you do need to be in a community where the spread is low in a nursing home or assisted living where an outbreak is not happening.
Tanzina: What should family members do if they are want to-- Is there any advice that you have given that you've been writing about this? Is there something that family members, people who want to visit their loved ones in these facilities, is there something they should do or consider doing, should they petition the facility, should they talk to lawmakers? What should they do?
Paula: That's a hard one. These decisions are being made largely at the state level. Every state has a long-term care ombudsman and I would think that would be the place to start, is to let the long-term care ombudsman, there are many local ones too in counties, to let those folks know that you are perhaps willing to sign a waiver, that you're willing to be trained in the proper use of protective equipment.
The facilities themselves, through their trade associations, are pushing hard on states and on Medicare to make more testing available, rapid testing and Medicare is shipping rapid testing equipment to every nursing home, but it looks like it will take weeks for it to get there and there are costs for these tests too.
It's a complex situation and it's not just that nursing homes are being stubborn although we do think they're probably afraid of liability. I think at the state level, at the ombudsman level, and at the facility level for a family to say, "We're ready to come in, we understand it's not 100% safe, we'll take the risk. If you'll get us the testing and the protective equipment, we need to be there to help take care of our family members."
Tanzina: Paula Span is the author of the New Old Age column for the New York Times and she also teaches at Columbia Journalism School. Paula, thanks so much.
Paula: Thank you, Tanzina.
Tanzina: We've been asking you if you or someone you know, our senior citizen in a long-term care facility, what is visitation like, and how do you stay connected to loved ones?
Daisy: Hi. My name is Daisy and I'm calling from Hartsville, South Carolina. My mom is in a long-term care facility and they closed down their visitation completely in early March right before her birthday. I was close to a week before her birthday and I haven't seen her since before that. While she was in the facility, she contracted COVID-19, was isolated and the only contact I've been able to have with her since they've closed down is the occasional phone call.
Tom: My name is Tom Veltri. I'm calling from New York City. My mother, who was 90 miles away from me, survived about with COVID-19 back in April. This week was the first time I've been able to visit her since February. I was so impressed with the rigor of the assisted living facilities protocol for visits. One hour only, outdoors, visitors had to be screened with their temperatures taken and masks on at all times. I can't express enough my gratitude for the work that they've been doing.
Sam: This is Sam La Dova calling from Detroit Michigan. My 97-year-old grandmother was in rehab for two months. There was no visitation. We were able to see her only once and that was from outside for a patio door nor did we get much in the way of assisting her. It was as though she disappeared for she can't really hear the phone to answer calls. It just wasn't a good situation. She's home now but at her age, you could easily be back in rehab or the hospital. We're desperately trying to keep her in her home with daily home care assistance.
Steve: This is Steve, I'm calling from Queens, New York. I have a cousin who was in my age group, which is mid to late-60s. He's currently living in an assisted living facility. I used to visit him every day. However, due to the corona pandemic, I haven't been able to visit him since March. Luckily, his room is only on the second floor and his window faces a side street. Our visits are now no longer daily. It can only happen when I call him by phone and ask him to come to the window to wave.
Sunny: This is Sunny in Bon Air, Virginia. I occasionally visit this retirement community in Henrico County. There was COVID there and one of them actually caught it from a bridge player who died. They've been in isolation so much. One of the things that we've got my friend and I is the elders will come out on the balcony and we'll play music for them. We'll sing a few songs and stand down on the lawn. Please wear a mask. Please keep the social distance. If not for yourself, then for your friends and for your friend's elders.
Karen: Hi. This is Karen from South Salem, New York. My mother is in senior low-income apartments in Connecticut. We visited outside about a week ago with masks. It was the first time seeing her since Christmas. We didn't go inside just to protect them, but also, there's a fair amount of workers and aides coming and going. There were nine cases there during the spring, most were hospitalized and all survived as far as I know.
During the COVID lockdown, they did a deep, clean, and checked temperatures, but had no access to testing unless you were symptomatic. She doesn't have an iPad or a computer to video chat. The maintenance team there discourages it a bit because the folks that live there get so many calls for help when they just need a simple restart or they're trying to do something. Again, using technology would just do. They get very frustrated that their age.
Iris: This is Iris. I work for Flake, New Jersey. One of my dearest friends has Parkinson's disease and can no longer be at home. She's well cared for, but lonely. Because of COVID-19, she's allowed two visitors for one-half hour, twice a week. I mostly leave that for her family. She doesn't always answer her phone or the one in her room. When she does, it's hard to have a conversation as her speech is impaired. So hard and sad, she's eight hours younger than I am, and it makes me afraid.
[music]
Copyright © 2020 New York Public Radio. All rights reserved. Visit our website terms of use at www.wnyc.org for further information.

New York Public Radio transcripts are created on a rush deadline, often by contractors. This text may not be in its final form and may be updated or revised in the future. Accuracy and availability may vary. The authoritative record of New York Public Radio's programming is the audio record.