A New Variant of COVID-19 Variant is Spreading Rapidly Worldwide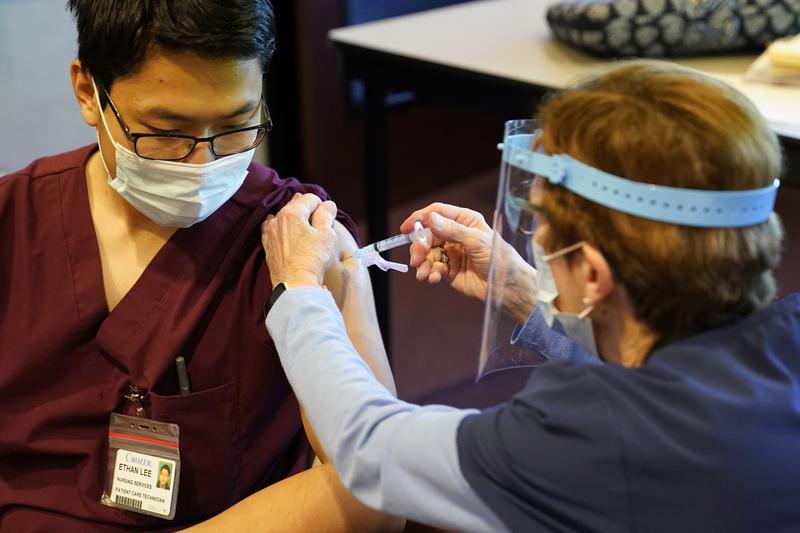 Transcript
[music]
Callie Crossley: It's The Takeaway. I'm Callie Crossley, commentator and host for GBH radio and TV in Boston in for Tanzina Vega this week. The world is still very much in the grips of coronavirus despite the introductions of vaccines across the globe. Last night we learned that Louisiana congressman-elect Luke Letlow had died from the virus. Letlow was 41 years old and left behind a wife and two children. He was due to be sworn into Congress on Sunday.
Meanwhile, a new variant of the coronavirus has been spreading rapidly in parts of the world, including the UK, where it's driving a spike in cases that's stretching healthcare resources and pushing huge portions of England into lockdown. Now that variant apparently more contagious than its predecessor has been detected here in the US. Reports came yesterday afternoon that Colorado officials had identified one case in a man with no exposure through travel, meaning this variant is likely to be more widespread than we know, but scientists and other experts are urging calm, including Dr. Bill Schaffner, professor of Infectious Diseases and Preventive Medicine at Vanderbilt University. Bill, glad to have you back on the show to talk us through this.
Bill Schaffner: My pleasure, Callie. Good to be with you.
Callie: Also with us to talk about what this variant tells us about the future of the virus is Apoorva Mandavilli, science reporter at the New York Times. Apoorva, welcome back to The Takeaway.
Apoorva Mandavilli: Thank you for having me.
Callie: Bill, first things first, what exactly is a variant of a virus and how does it come about?
Bill: A variant is a virus that's mutated slightly, not very much, but somewhat and the mutation makes it distinctive in some way so that it can be tracked. In this instance, the variant virus has become, if you can imagine it, even more contagious. It's easier to spread and that, of course, makes it very distinctive and very important from a public health point of view. I would hasten to add right away, although it spreads even more readily, that spread can be inhibited by the standard things we've been urging everyone to do, wearing masks, social distancing, avoiding groups, staying at home. We still have those important weapons against all of these strains of the COVID virus.
Callie: Just so we understand, what's the difference between variant, strain and mutation?
Bill: The mutation is what happens in the genes of the virus. Those genes change enough and then we say it's a variant. For example. I'm Bill Schaffner, but I can put on different sport coats. If my genes change enough so that I'm always wearing the grey sport coat instead of the brown one, then that's the brown sport coat variant of Bill.
Callie: Okay. How many strains are there of COVID-19 and why is this one getting so much attention?
Bill: Viruses mutate all the time. They undergo changes. Most of those mutations are minor, don't mean very much. Sometimes they're enough so that the microbiologists can detect that the origin of the strain was in Europe as opposed to the one that came from China, but there's no functional difference. This change had a functional difference. It allowed this virus to be transmitted even more readily. It became even more contagious. That's so distinctive that we label it a different strain.
Now, importantly, although it's more contagious, it's not more likely to make you seriously ill. That's a good thing, but think about it, the more contagious it is, the more people it will affect and in time, it will create more illness simply because it spread more widely in the population.
Callie: Apoorva, let's bring you in here. It seems like this is maybe-- The dangerousness of this new variant is not maybe as much as we thought.
Apoorva: It's not more deadly as Dr. Schaffner just said, but it is more transmissible and as he mentioned, the more people who get sick and get infected, the more the hospitals will fill up and people will die not just from COVID but from other illnesses that they're not getting care for. Even though this variant is not deadly on its own in a particular person, it is definitely a matter of concern.
Callie: Bill, did experts expect this to develop? Were they prepared?
Bill: We were prepared, but the Brits were prepared even more than we do. They do much more genomic sequencing. They look for the strain variants more intensely than do we. They picked it up back in September and saw that it was coming. Of course, they began to assess immediately to see whether it had any functional difference and discovered very quickly that it was indeed more contagious.
Callie: Bill, here's the big question, will the existing vaccines protect against this variant?
Bill: Let me say two things about that. First is we don't know exactly yet. Those laboratory studies are underway. That said, the virologists have looked at this virus and the protection provided by the vaccine and do not think that the vaccine will be impaired, at least not in a major way. That's their anticipation, but the final information is still a few weeks away.
Apoorva: I just want to add something quickly to what Dr. Schaffner said, which is, he's absolutely right that we don't know for sure and that so far, it looks like the vaccines that we have will be effective. I just want to offer a little bit more detail about why that's the case.
All of the vaccines that we have now are against the spike protein, which is one part of the virus, the outermost part of it, that the virus needs to infect our cells. The mutations of the 23 or so mutations in this new variant, eight are on the spike protein, which is part of the concern, but I think one very important point is that the vaccines that we take produce just a really, really complex and diverse immune response to-- We produce thousands of kinds of antibodies to this protein. Having the virus be mutated in eight spots on this protein is not as much of a concern as it sounds like at first.
Callie: How are officials handling this in countries where it is a big factor in the spread of the virus?
Apoorva: We saw that some governments decided to block all travel from the UK and I'm not really sure how effective that is. It's a little bit like closing the barn door after the horse has escaped. I think it's likely that wherever people are looking, they're finding it. It's likely that it's actually spread quite far. In the United States, we don't really know how far it's spread. There's not really a way to handle it yet. The US sequence has very few genomes, unlike the United Kingdom.
The fact that we found it in Colorado is simply because they were looking in Colorado and they're also looking in New York City and a few other places, but there has not been this concerted effort to look for the virus and how it's mutating here in the United States. We don't really have a good plan for how to deal with that. Scientists across the globe, though, are tracking these mutations and trying to figure out how the virus is changing. As Dr. Schaffner said, it's natural for viruses to collect mutations and they are looking at how the virus is changing as it travels across the globe, which new variants are coming up, which new variants are becoming more common and trying to keep an eye on the situation.
If they were to spot, for example, that the virus has changed really dramatically and in a way that might affect vaccines, they would need to start to tweak the vaccines to still be effective.
Callie: Bill, it seems to me that testing is at the heart of this. Can the current coronavirus test pick up this new variant and or are they just too different?
Bill: No, the current tests will be able to detect this virus. The issue with testing is that we would like to expand its capacity even more so that we can even further define where the virus is and inform our public health responses both from a national perspective and down at a local perspective in each individual community. I would hope that going forward, although we have expanded testing quite a bit, we can use testing as an even more assertive public health means to deal with this virus.
Callie: But since we are behind and doing the kind of expansive testing that you suggest we need, isn't it likely that this is going to spread faster than we can identify where it's spread and how far it's spread?
Bill: [unintelligible 00:09:53] We'd sure like to test more, but [chuckles] the reason this virus is going to spread is that the old strains are spreading. Remember the conventional, if you will, COVID strain already was a very, very highly contagious virus. The reason it's spreading is that people are not wearing masks. They're not social distancing. We haven't been able to marshal people all across the country to do the same thing, to be conservative now, investing our current inconvenience, I might say, to the benefit of our futures.
If we want a much more normal holiday season next year, we're going to have to be very conservative this year and continue to mask, social distancing, hunker down at home for a period of time while our vaccination program begins to gin up.
Callie: Now we have the news that it has arrived in the US. How much do you see it affecting the trajectory of the virus here?
Bill: Yes. Well, if anything, I think it will increase the trajectory of the virus. Of course, we're awaiting yet another surge post-holiday. That will put, as Apoorva was saying before, a terrific strain on our healthcare system, which is already very, very stretched. Those of us in both public health and healthcare have tightened our belts. It's going to be a tough beginning of the year.
Callie: Dr. Bill Schaffner, is professor of Infectious Diseases and Preventive Medicine at Vanderbilt University. Bill, a pleasure to have you back on the show. Thanks for helping us understand all this.
Bill: My pleasure to be with you and all best wishes for a good year.
Callie: Now let's turn to some more questions about the COVID vaccine and how it's being distributed internationally. So far, Apoorva, what countries are getting the vaccine, and which countries are at the back of the line?
Apoorva: It's exactly sadly, as you would expect the United States and the United Kingdom, and some other European countries are at the front of the line and have made deals with the companies that have produced the vaccines to get the vaccine for their citizens. Countries that have fewer resources and much less money, those in Africa and in Asia are at the back of the line, and it's not clear when exactly they might be able to get the vaccine.
Callie: How are vaccine manufacturers prioritizing which countries get the vaccine?
Apoorva: Well, these are for-profit companies, so I'm not sure we could really blame them for their priorities, but they are going by where the money is. They are making deals with countries that are putting in orders for a hundred million doses at a time. They are manufacturing doses as quickly as they can, but there is a limited manufacturing capacity overall. We've also seen as you know, that it's not even just a question of making the vaccines. Once you make them, you'll have to get them to all the places they need to go. They're dealing with all of those logistical hurdles and, so far, it's the richer countries that are winning.
Callie: What would prioritization look like in an ideal world? Could that be achieved?
Apoorva: I think it could, but it requires discipline on the part of some of these richer countries and it requires coordination across a global scale, which could be done by organizations like the Gates Foundation and the World Health Organization, which are heavily involved in our trying to negotiate a lot of these deals, but ultimately, it's all going to come down to price.
These countries that are more resource-poor are not going to be able to afford to vaccinate their millions and perhaps hundreds of millions. In the case of India, more than a billion citizens if the vaccines are not affordable enough. It may be that it will come down to a situation as happened with antiretroviral therapy for HIV in which case it wasn't until companies in India and South Africa started to produce the drug drugs at low enough prices that the drugs could be rolled out to some of the poorer countries.
Callie: A lot of wealthy countries are focusing on vaccinating their own populations, but what issues does that present in terms of beating the pandemic globally? I've heard that some countries aren't going to even get the vaccine until 2024.
Apoorva: Yes, it's really, I think we've seen already with the way that this virus has spread, that we live in a very interconnected world. The idea that somehow, we could all be vaccinated in the United States, but if nobody's vaccinated in Morocco or some other place where Americans like to travel, that we would still be fine is a fallacy. I mean, the UK, finding this new variant shows us that the virus is mutating. It's actually mutating faster than scientists had expected it to.
At the beginning of this pandemic, we thought that Coronaviruses don't mutate that much, but it's looking like actually, they do. This one, in particular, has been collecting mutations pretty quickly, and that's because of the sheer number of people who are infected. Every time the virus infects a person, it has chances to mutate. The more people infected, the more mutations it's going to pick up, the more likely that it's going to pick up mutations that make it deadlier or make it more transmissible as has happened with this new one.
At some point, it is going to change enough that we'll need new vaccines, or maybe some particular countries will have a variant of the vaccine that, I mean, a variant of the virus that our vaccines don't respond to. It's in our interests globally to make sure that all of us across the world are vaccinated
Callie: Well, given that, how long will it take for there to be enough supply to meet global demand?
Apoorva: That's an excellent question. I'm not sure that we know the answer to that. Part of the problem is that vaccine manufacturing can be very tricky. You could have one big batch go wrong and you might lose hundreds of thousands of doses or even millions of doses. So far, we've already seen huge problems with how the vaccine is being rolled out with carefully, all of the steps have to be coordinated. There's the problem of that last mile of getting it from where it's stored to actually the people who need it.
The idea is that if everything goes well, if everything gets produced on time and rolled out on time, we might all be vaccinated in the United States by the fall, but that's already not the case. It's extremely hard to predict globally. I will say that there are some companies in India that are looking to manufacturer in huge batches. There's one company called Bio E that has said it plans to produce 1.2 billion doses. I think if companies like that step up and start to produce at mass scales and at low enough prices, we might be looking at the next two to three years, in terms of vaccine rollout across the globe. Then again, we might need to start all over with vaccines for a new variant or a new strain, which is when there are enough mutations that it has changed completely.
Callie: Do you expect things to change under the Biden administration when it comes to distribution?
Apoorva: Hopefully, yes. They have said that they've asked for the plans for distribution and, Mr. Biden has said that he did not see a very good plan for distribution and rollout. It looks like he might've been right. Hopefully, they have a better plan, but let's not forget that they are inheriting huge numbers of cases and a surge that will take quite a while to slow down. For a while, at least it's going to be an uphill struggle, and we're not going to see the positive effects right away, nor should we expect to
Callie: Apoorva Mandavilli, science reporter at the New York Times. Thank you so much for joining us again, Apoorva.
Apoorva: Thank you for having me.
Copyright © 2020 New York Public Radio. All rights reserved. Visit our website terms of use at www.wnyc.org for further information.
New York Public Radio transcripts are created on a rush deadline, often by contractors. This text may not be in its final form and may be updated or revised in the future. Accuracy and availability may vary. The authoritative record of New York Public Radio's programming is the audio record.