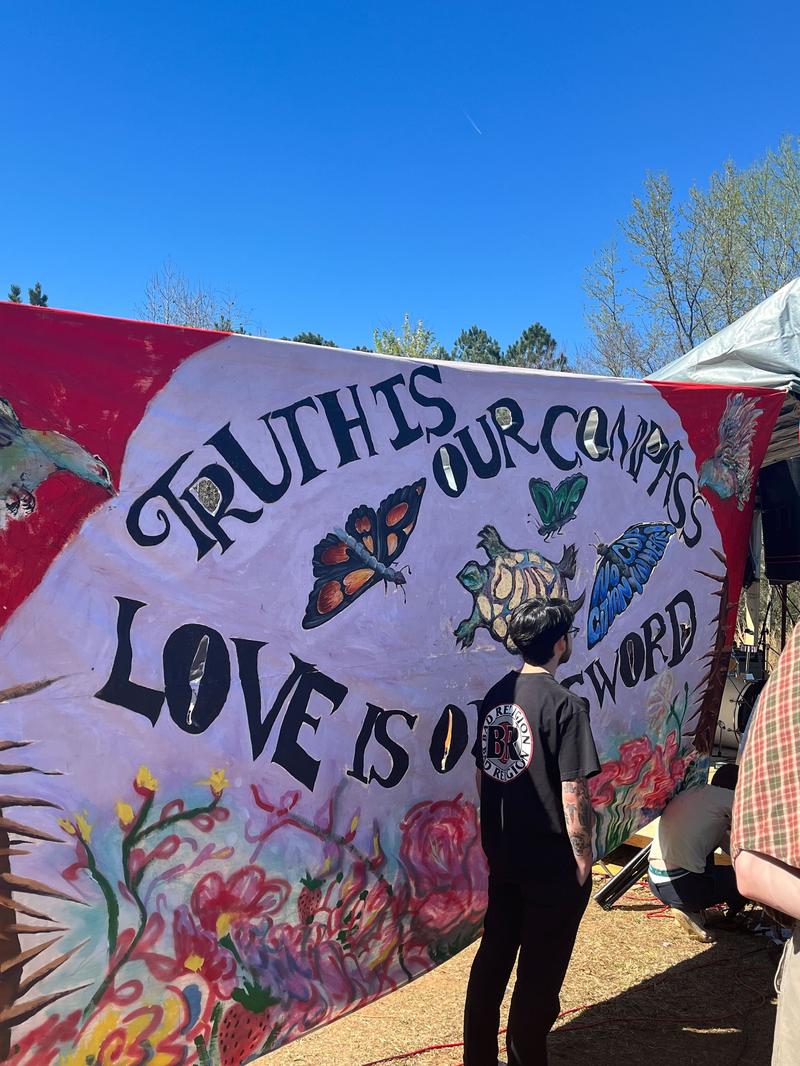 Transcript
[music]
Melissa Harris-Perry: This is The Takeaway. I'm Melissa Harris-Perry.
Attorney General Merrick Garland: The department has concluded that there is reasonable cause to believe that Louisville Metro and LMPD engaged in a pattern or practice of conduct that violates the first and fourth amendments of the constitution.
Melissa Harris-Perry: That's Attorney General Merrick Garland on Wednesday. He was in Louisville, Kentucky to announce findings of a Department of Justice Investigation into the Louisville Police Department. The civil rights probe was prompted by the March, 2020 police slaying of 26-year-old Breonna Taylor. As the Louisville police enter into a federal consent decree whose purpose is to curb a demonstrated pattern of abuses, the question of policing and abuses of police power are front and center this week in Atlanta, Georgia. [background noise]. Cop City is how locals refer to the 85-acre, $90 million police training facility slated for construction in unincorporated DeKalb County, right outside of Atlanta.
This week, activists and community members who oppose the construction of Cop City have engaged in what they're describing as a Week of Action. Announced in late February, the planned actions included a kickoff parade, where participants were encouraged to bring drums and noisemakers. There were several art exhibitions, a series of Know Your Rights trainings, even a comedy show. Last weekend, the highlight was a music festival in Weelaunee People's Park. Zach Bynum, digital producer for The Takeaway, is based in Atlanta, and he's been reporting this story for us. He talked with some community members who come out to the festival.
Zach Bynum: What brings you all out here today?
Speaker 4: Really, number one, I want to oppose Cop City without risking my life. I thought that this would be a good way to do so. I just don't believe in the current policing system that we have. I think there's no saving it, because the institution in and of itself, no matter how much training we give the people, if we don't change the actual institution and what it was built upon, it will never be fixed. I also don't believe in deforestation, especially for something as frivolous as this.
Speaker 5: Well, I'm out here because there's a lovely music festival being hosted. It's really nice. I feel like an event like this is at the intersection of all the things that I really care about. Music as a radical act, dancing as a radical act, being in community with people, and participating in something that is of value, of actual value.
Melissa Harris-Perry: Now, the music festival included a drive for supplies like toilet paper, hand sanitizer, and AAA batteries. These are basic items needed by Forest Defenders, a group of environmental activists who were living in the forest to draw attention to the potentially disastrous environmental effects of building Cop City on this land, land which is ancestral to the Muscogee Creek people, and land which is the site of the old Atlanta Prison farm. The festival was a symbolic reclamation of this land for a peaceful, public purpose meant to be a stark contrast to the proposed Cop City. Here's what two residents of Atlanta told The Takeaway.
Speaker 6: To be clear, there's plenty of indigenous people still living and still on these land, but that's what it's founded on, on slavery. There's just no way around it. When we talk about land, race, and power, this is a continuation of all of that, of that dark history and legacy of slavery, of colonialism [unintelligible 00:03:59] colonialism.
Speaker 7: I'm 27. I'm from Marietta, Georgia. I'm an artist. We feel like that's a form of slavery. They overused their power and that's not what's going on.
Melissa Harris-Perry: Stay right there. More on the Atlanta Week of Action against Cop City right after this.
You're back with The Takeaway where we're continuing our reporting on the Week of Action in Atlanta against the construction of Cop City. Police power is at the heart of this clash over Cop City. In January, police shot and killed 26-year-old Manuel Terán, a forest defender known as Tortuguita by their friends and community. No officers have been charged for killing this young person, but after police killed Tortuguita, Kamau Franklin of Community Movement Builders returned to The Takeaway to discuss what he described as escalating police aggression.
Kamal Franklin: As the Cop City idea passed, and the brave Forest Defenders, the people who decided to do acts of civil disobedience and direct action by taking up space in a forest, the police, and again, the various agencies, have only stepped up their tactics to the point where, as was stated, they're using not only rubber bullets and pepper balls, but now live ammunition. They're using the tactics of overcharging, in fact, arresting at all and putting out scary press releases to the media about terrorists.
Melissa Harris-Perry: Kamau's analysis was echoed by an Atlanta resident who talked with The Takeaway during Sunday's festival for the Week of Action.
Speaker 9: I think Cop City is just showing how everything's accelerating. There's nothing new under the sun. This is a factor of-- it's a domino effect ever since, I would say, since the war on drugs when the militarization of the police began officially in the US with the Omnibus Act. Since then, this was bound to happen. These things are going to continue to happen and it just shows it's on the right track for the US.
This has always been the path that it was going to take and we have to stand up as a community and say, "No, this is not what our future is going to look like. We have to come together because if we don't, I really think that things are going to amp up even faster than this. It's going to be harder to stop it once it's on its collision course for disaster.
Melissa Harris-Perry: This week, police have arrested and charged 23 people with domestic terrorism. One of those charged is a legal observer with the National Lawyer's Guild. This is in addition to the 18 people similarly charged earlier this year. In response to these charges, 66 environmental human rights and civil liberties organizations sent an open letter to prosecutors in Georgia, urging them to drop charges of domestic terrorism.
Their letter reads in part, "In all cases, application of the domestic terrorism statute is an escalatory intimidation tactic and a draconian step that seems intended to chill First Amendment-protected activity." Now, authorities have repeatedly sought to characterize protestors as outside agitators without a meaningful personal stake in the Cop City proposal. That's pretty different from what The Takeaway heard from those in attendance at the festival.
Speaker 10: I live in a neighborhood that was cut out of the forest and I have been aware of the police shooting range for many years that currently exists in the forest, and was really disturbed by it, especially under COVID lockdown. I began to realize that the police were practicing at their range at all hours, and that the kids in my neighborhood who were home from school, the schools were closed, were being constantly exposed to those gunshots. Then the facility was announced. The Cop City proposal was announced to the public quietly.
I got involved right from the start, right when it was announced, myself and others started knocking on neighbors' doors and the neighborhoods around the forest and talking to people just about Cop City. Then once I realized that there had been a years-long campaign to try to protect the forest, I started to put the pieces together about, for instance, in my neighborhood, I can smell the waste treatment plant that's been polluting Intrenchment Creek for many, many years. I knew about that.
I didn't realize the detrimental harm that was having on the creek and on the South River and on the forest, and that it was posing health risks for me and my neighbors because the river has really high levels of E. coli. Just people have this living memory in the neighborhoods of the violence of that facility and are constantly exposed to ongoing environmental pollution, whether that's police violence pollution or from the waste treatment plant or the lead runoff.
Melissa Harris-Perry: The Week of Action also brought out a former elected official.
Mariah Parker: I'm Mariah Parker. I'm from Athens, Georgia and I'm 31 years old.
Melissa Harris-Perry: Mariah is now an organizer for Raise Up the South, which is part of the Union for Southern Service workers, but previously served as a commissioner in Athens, Georgia. Mariah spoke with The Takeaway about their support for the movement to stop Cop City.
Mariah Parker: I'm not an environmentalist in background, but definitely being here in the forest to fight Cop City and seeing the diversity of the ecology and just feeling the way that the forest renews your spirit. I'm learning so much through this struggle and so I'm also here as a student of the struggle for how do our movements intersect? Why is it important to defend the environment?
I feel like this struggle is unique in that people are fully welcome to bring what they have to the struggle. If what you have is music, you bring that to the struggle. If what you have is a classroom, you can teach the kids about the Weelaunee Forest. If you have a tent and you got time off work, you got people out here camped and reoccupying the forest to reclaim it for the people. The way that the clergy have come out to shine a moral light on the situation, the way people march in the streets, but also call city council who have canvased their neighborhoods.
The way that this movement has genuinely embraced a diversity of tactics without trying to police anybody, "Oh, no, you can't do it this way. You can't do it that way," but just, "If you are down to protect the forest and stop Cop City, do your thing." That liberatory ethic to how community is built, it's just something else. I don't know. It feels like something in the water. I can't even describe.
Melissa Harris-Perry: Now, those who have talked with The Takeaway during our months of reporting don't fit the model of outside agitators. The experiences of our producer who was on the ground during the week of action, run counter to many media depictions of Cop City resistance. Much attention has focused on a group of protestors who vandalized construction property around a security outpost in an area adjacent to the music festival in Weelaunee People's Park. We've seen startling images of police retreating after some protestors launch fireworks and set fire to construction infrastructure. We've repeatedly heard that the protestors are not local.
Speaker 12: Police call it a coordinated attack by violent agitators. Of the 23 arrested, only 2 are from Georgia.
Melissa Harris-Perry: Now, this claim that public protests are the result of outside agitators has a long history in the US extending back more than 50 years. In fact, Dr. Martin Luther King Jr. was regularly defined as an outside agitator. His response--
Dr. Martin Luther King Jr.: Injustice anywhere is a threat to justice everywhere.
Melissa Harris-Perry: Thus far, construction of Cop City has not been deterred despite the continuing acts of resistance. Still, residents told The Takeaway, they feel hopeful.
Speaker 14: Oh, yes, there's hope there. I feel really hopeful coming out here and seeing so many both local residents and people from all around Turtle Island or even probably people from other countries, I don't even know, who are here, and seeing everyone come out. You're out here and it just looks like any old music festival unless you start to look a little more closely.
When you look more closely, you see there's free stores set up, there's free books around that people can sort through, there's people just who are showing up every day and asking, "How can I help? Can I take a kitchen shift? Can I clean some things? Can I move some boxes? What needs to be done?"
Yes, it's a music festival. It's so much more than that. I don't know, it feels like a snapshot into how we could be living our lives.
Melissa Harris-Perry: We reached out to the Atlanta Police Foundation for comment, and if we hear back from them, we're going to be sure to post their comments on our website.
Thanks to our guy Zach B for reporting for us from the Week of Action, and to all the people who contributed their stories to our reporting on Cop City.
[music]
Copyright © 2023 New York Public Radio. All rights reserved. Visit our website terms of use at www.wnyc.org for further information.
New York Public Radio transcripts are created on a rush deadline, often by contractors. This text may not be in its final form and may be updated or revised in the future. Accuracy and availability may vary. The authoritative record of New York Public Radio's programming is the audio record.