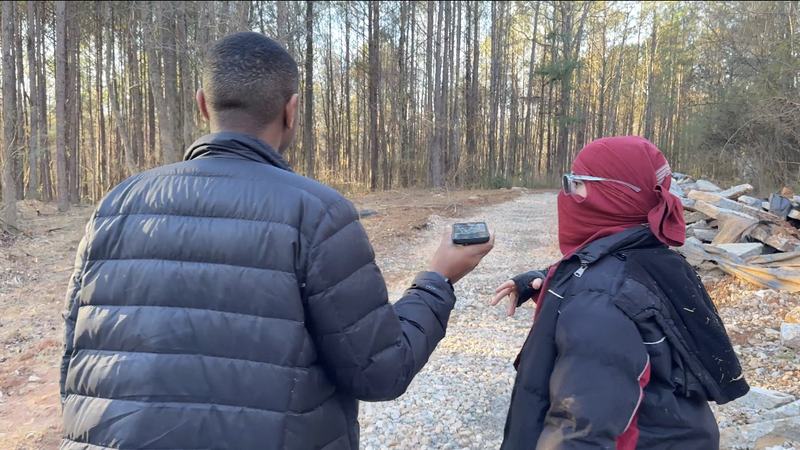 Transcript
[music]
Melissa Harris-Perry: Welcome to The Takeaway. I'm Melissa Harris-Perry. We begin today in Atlanta, Georgia, where community activists remain locked in a nearly two-year struggle against the development of a massive police training center in a forest just outside the city.
[background noise]
To understand this story, let's go back to September 2021 to a press conference with former Atlanta Mayor Keisha Lance Bottoms.
Keisha Lance Bottoms: Last night, the Atlanta city council took a very important vote of that vote was regarding taking the next step in creating our public safety training facility. I thank those members of the council who were courageous in placing this vote and continuing to put public safety and the morale retention of the men and women who serve us each and every day putting this forward.
[music]
Melissa Harris-Perry: The vote she's referring to here was a decision by the Atlanta City Council to approve a lease agreement for what is officially designated as a public safety training center. Atlanta residents call it "Cop City'.
Speaker: Cop City.
Speaker: Cop City.
Speaker: Cop City.
Speaker: Cop City.
Speaker: Cop City.
Kamau Franklin: Cop City is a $90 million facility that's being built in southeast Atlanta, Georgia. Kamau Franklin founder of Community Movement Builders. The purpose of Cop City in our estimation is to build a facility where the police can train and crowd control tactics and stopping movements and basically further militarizing the police against the larger community. We say that because Cop City is going to be the largest training facility of its kind in the country.
Melissa Harris-Perry: As founder of Community Movement Builders, Kamau is helping lead the fight against Cop City, which is slated to be built on 85 acres of land there southeast Atlanta in unincorporated DeKalb County. The city owns the land but approved a plan to lease it to the Atlanta Police Foundation for a symbolic rate of just $10 a year. Kamau describes the facility as militarizing the police against the larger community. The Atlanta Police Foundation paints a very different picture. If you head on over to their website, you'll find an animated video with 3D renderings of the new facility.
[music]
Over a swelling music, the video shows aerial shots of lush green trees, quiet roadways, and various state-of-the-art facilities across a sprawling campus. The plans show the Atlanta police Leadership Institute, a military vet Training Center, an amphitheater for events or stalls for Mounted Police, and acres of green space and running trails. Just like our friendly 21st-century SimCity version of policing. No mention is made of the acres of forest that must be cleared, or of the routine gunfire, explosions, and smoke expected to accompany the training.
According to the Atlanta Police Foundation, this is all for the purpose of making Atlanta, "the safest big city in the country." Kamau Franklin challenges this assertion.
Kamau Franklin: There have been no studies whatsoever that have ever suggested that the amount of police, that the type of policing of the streets or in the community does anything to impact or decrease the amount of crime that happens. In fact, the safest cities in this country are the cities that are policed the least those of middle class and upper middle class and obviously rich communities, mainly rich White communities, which have access to capital and control over what happens in their community.
Melissa Harris-Perry: Which raises questions about the current state of public safety in Atlanta. 2021 was difficult for Atlanta as it was for many cities across the country. The city's 14% increase in homicides was accompanied by several tragic high-profile murders, just as voters were facing a choice of who would serve as the next mayor. The mayoral race and runoff was dominated by these public perceptions of crime and questions about how candidates would respond. Listen to this report from last year as Atlanta First News summarizes a mayoral candidate forum.
Speaker: The top candidates vying for mayor of Atlanta share different ideas on how to approach Atlanta's crime problem. Former Mayor Kasim Reed said the city needs more officers. Atlanta city council president Felicia Moore wants to focus on officer morale, and attorney Sharon Gay said the department needs to regain community trust. Two other candidates defended their votes last summer to withhold $73 million of the APD's budget amid the George Floyd protests, both saying they do not want to defund the police.
Melissa Harris-Perry: The unspoken implications are apparent when city residents feel unsafe, the safest solution for political leaders is to propose investment in the police. Here again, is Kamau Franklin.
Kamau Franklin: Anytime you have these local elected officials who claim to be in support of the community, or reforming or changing some aspect of the police, particularly when they're running for office, once they're elected, they do everything they can to cuddle up to the police to suggest that the police are the only solution to public safety or the solution to public safety and them keeping the police happy is a primary responsibility and job of theirs.
[music]
Melissa Harris-Perry: Across the country and in Atlanta, police foundations have been an important tool for encouraging elected officials, business leaders, and the general public to look first to police as the solution to public safety concerns. With a population of about a half million residents, Atlanta is not among the nation's largest cities. In 2019, the revenue of its Police Foundation was second only to New York City's topping out above $10.8 million. Then less than three weeks after Minneapolis Police Officer Derek Chauvin murdered George Floyd, an Atlanta officer shot and killed 27-year-old Rayshard Brooks in the parking lot of Wendy's restaurant.
Captured on video, the killing helped fuel the massive global mobilization against police violence in the summer of 2020. That year, the revenue of the Atlanta Police Foundation fell to just over three million and the ATF increased its efforts to convince the public that an investment in police training is critical to public safety. For many Atlanta residents, reimagining public safety does not include committing tens of millions of dollars to more advanced weapons, training, and facilities for police.
Kamau Franklin: This is part of an attempt to rehabilitate the police in the public's eye and to make them feel good about themselves. There's a lot of angst that's happening. First of all, when this was first proposed, there was no town hall scheduled, the ways activist organizers found this out and it was us who publicize the idea that this Cop City was being built because the city council and the mayor did nothing to alert the public. Any survey that's been taken from people both in the community in Atlanta proper about the building of this facility, well over 70% have come back and said that they are opposed to the building of Cop City.
[music]
Melissa Harris-Perry: When she announced the city council's decision to move forward with cops city, then-Mayor Keisha Lance Bottoms also expressed her displeasure with tactics used by opposition activists, characterizing them as, "terrorizing her and members of the council."
Keisha Lance Bottoms: When you bully me and you try and terrorize me, it's the end of a conversation, not the beginning. Let us be civil with one another. We can disagree all day long. We had 17 hours of public comment, that is how you express your concerns, you email. You call on the public comment line, but you don't show up at people's houses.
Melissa Harris-Perry: In January 2022 Lance Bottoms' successor Andre Dickens assumed the mantle of Atlanta Mayor. As a member of the Council, Dickens was among the 10 who voted in support of Cop City. While elected officials were on board, residents across the area were registering their disapproval. The proposed site for Cop City is in unincorporated DeKalb County, located in a lower-income predominantly Black area and not represented on Atlanta City Council.
A local firm conducted a survey of residents near the proposed site and found 98% opposed to the project. Activists have not been content to simply send an email or call a public comment line. Resistance to Cop City has been organized and enduring and part of that resistance is focused on the land itself.
Speaker: Developing now fighting back battle over unused land is causing a rift between Atlanta police and activists and neither side seems to be backing down at least anytime soon.
Speaker: We're coming to document what's happening in this public park. This public park is still accessible to the public. The police have warned us what they would do to clean up.
Speaker: Back up, back up. Back up, back up ma'am, back up. [crosstalk]
[music]
Sean: My name is Sean and I'm a participant in the movement to defend the Atlanta forest.
[music]
Melissa Harris-Perry: Defend the Atlanta forest, is a direct action advocacy organization, which has taken a leading role in resisting the police training facility. Throughout much of last year, they physically occupied trees in the forest on the proposed site of cops city.
Sean: They identified the South Forest sub-River Forest as one of the four lungs of the city, one of the four areas with the most crucial tree canopy that was going to be necessary for dealing with rainwater to prevent flooding, with filtering out pollutants, and also having a tree canopy that helps protect from the urban heat island effect. When a city gets hotter than the areas surrounding it, because there's all this concrete absorbing the sun and then releasing it back out, so as climate change worsens, and our days are hotter and filled with more smog, we need tree canopy to protect our city from these impacts to make it more livable on a day to day basis.
Melissa Harris-Perry: Don't just imagine resting in a peaceful tree house. Defend the Atlanta forests encampments have been repeatedly raided by police using some of the very tactics and tools Cop City seeks to enhance. During raids, last month, more than a dozen force defenders were arrested. Five were charged with domestic terrorism. Public officials in Georgia have described these activists as "a criminal network."
The ACLU of Georgia says these charges are an overreach because the crimes the forest defenders are accused of include, throwing rocks at police, and starting dumpster fires.
Sean: The risks are necessary because we want to have a future that we can live in. The ends justify themselves really, I personally have a child on the way I want them to see this forest that is a part of our neighborhood, and where some of the best days of my life had been. I'm willing to take risks.
Melissa Harris-Perry: The forest defenders aren't the only one facing risks. Building Cops City carries risk for the residents living near South River Forest, here again is Kamau Franklin of Community Movement Builders.
Kamau Franklin: 12 firing ranges are going to be built in this area, explosives are going to be detonated in this area. The noise pollution coupled with the fact that this area is being deforested in an era of climate disaster, it's just unfathomable for that community to have to go through that and what should happen to that area that was promised to them as a recreational area for that community.
[music]
Melissa Harris-Perry: All right, don't go anywhere stay with us, because we have more on the resistance through Lance's Cop City. When we return. We're going to talk about the history of the land where it is slated to be constructed.
[music]
We're continuing our coverage out of Atlanta, Georgia, where there's organized community resistance to a $90 million police training center known as Cop City. Opposition to Cop City is not only about addressing police capacity for violence, and harm. It's also about environmental concerns and uneasiness connected to the history of the land itself. The proposed site of the new police training facility was the former Atlanta Prison Farm.
Audrey: The Atlanta City Prison Farm was first stolen indigenous land. Then it was a plantation owned by the Key family. My name is Audrey and I am a member of the Atlanta community press collective. The city purchased it in 1911. Even in that we've had the actual like, I guess you'd call it a bill of sale the property deed. It's referred to as the WB key plantation. There's a wastewater treatment plant and formerly a trash disposal area. By the 1930s, the City Prison Farm, as it was known for much of the 20th century was up and running.
[music]
Melissa Harris-Perry: The old Atlanta Prison Farm is an abandoned prison complex that operated from about 1920 to 1990. Much of the reality of conditions at the prison remain shrouded and poorly understood. In 2021, the Atlanta community press collective released a report on the history of the old Atlanta Prison Farm and it challenged public discourse that describe the site as a Federal Honor Farm.
Audrey: Honor farm is basically a term for this type of prison farm where prisoners were given a little more leeway and freedom and it was a happy and wonderful place. Because the prisoners got to go outside. It's great. This unfortunately incorrect yet popularly retold history of the City Honor Farm was perpetuated through these initial discussions about Cop City.
Melissa Harris-Perry: Audrey told us about some of the sources of this misinformation.
Audrey: It seems that there was some discussion among city leaders as to what to do with the prison farm. A report was published by, it appears a grad student working at the Bureau of City Planning as was known at the time, that kind of both charted current discussions of what to do with the land, but also attempted to tell the history of what to do with the land. unfortunately, and I believe the author was probably doing the best she could given the lack of original records that we found in the modern day, the author managed to conflict the existence of the Atlanta city Prison Farm, which we can prove the city bought this land in 1911 and was operating the prison farm by the '30s.
Unfortunately, even to this day, if you Google, the Atlanta City Prison Farm, or the old Atlanta Prison Farm, this piece is one of the first Google results you'll find. Much so to the point that when the initial discussions were held on the proposed Cop City, if you will, even the Atalanta Police Foundation, who was supposed to have done their research, and the Atlanta City Council and the Atlanta Police Department in DeKalb County, everyone was referring to this land as the Honor Farm, which is the exact phrase that the person that wrote this report for the Bureau of City Planning used.
[music]
Melissa Harris-Perry: The distinction matters, because as Audrey told us, the conditions of the old Atlanta Prison Farm are troubling.
Audrey: In the '40s, they began the use of solitary confinement at the City Prison Farm to replace physical punishment, particularly tying people to a chair and whipping them. In the '60s, solitary confinement comes up again, and it is again promised that they will start using solitary confinement instead of physically punishing prisoners for "misbehavior". Same claim that was made about 15 years earlier. They also promised to improve conditions in solitary confinement meaning, bunks, windows, and time outside of a four-by-four room with no windows. In the '70s same-story, newspaper articles report.
At this time, the third warden in a row of the prison who was heralded as a great reformer, "We're going to improve the conditions, we're going to give the prisoners beds, and we're going to get the guards to stop hitting prisoners." Finally, in 1982, the city is actually sued by the ACLU on behalf of four prisoners, due to these conditions in solitary confinement.
[music]
Melissa Harris-Perry: In solitary confinement is not the only form of abuse the prisoners faced at the facility.
Audrey: There is a number of reports in a Black newspaper called The Atlanta Daily World that is very explicit, has several very explicit stories of prisoners just being found dead by guards after shouting matches or people's families getting called up and being like, "Hey, your son, your husband, your daughter, your wife died at the prison farm. Gosh, we sure don't know what happened." Pretty obvious that when you combine this with the reports of, "Oh, we're going to get the guards to stop beating and abusing the prisoners over the decades." It's pretty obvious what happened there.
Melissa Harris-Perry: There are lessons as well, in those who are most frequently targets of this abuse.
Audrey: While the prison farm abused everyone, it is also very clear that Black people, particularly Black women, suffered the worst abuse of all. We found reports of anything from White women being given inside work like clothes mending, while Black women were forced to go outside and work in extreme heat or extreme cold or during rainstorms, so on and so forth. Some of the worst accounts we found are Black women being instructed by White guards to go work in a remote area. They were then raped by the prison guards after being told to go work in those remote areas.
Melissa Harris-Perry: The community's concerns about the environmental effects and the complicated history of the land has been sustained but ultimately, it has not been decisive in the choice to move forward with Cop City.
Aubrey: For example, even though they are a neighboring local government building on this land, the people that actually live in this jurisdiction of DeKalb County at no point in time were able to vote on the issue.
Melissa Harris-Perry: On September 7th, 2021, the Atlanta City Council hosted 14 hours of public comment about the plan. It's commonly known as Cop City.
Public Commenter 1: I feel strongly that this is coming out of the blue, there's a little bit of a siege mentality taking over the green space and putting a particular type of facility in this particular neighborhood.
Public Commenter 2: I'm calling the Atlanta city council to ask you to please vote no on the Cop City on Key Roads, we do not need to turn any forest into Cop City.
Melissa Harris-Perry: Analysis of the thousands of comments that flooded the city's call line show that about 70% of those calling in were opposed to Cop City, but when the council voted that evening, the measure passed 10 to 4.
Michael Julian Bond: My name is Michael Julian Bond, Atlanta city council member post-one at large.
Melissa Harris-Perry: Born and raised in Atlanta Bond is the son of the late civil rights leader Julian Bond. Michael Julian Bond began serving on the council in 2009. As an at large member, he doesn't represent a specific neighborhood but is voted on by the entire city. Bond most recently won re-election in November of 2021 just two months after voting yes, on the Cop City development.
Michael Julian Bond: Yes, I voted yes on the facility for a few reasons. One, we desperately need a facility for our law enforcement officers to train and to be housed. More so we need a facility for our firefighters. Currently, there is no place within the corporate limits of the city of Atlanta that we have dedicated for our firefighters. They're training all around the Metropolitan area.
Melissa Harris-Perry: For Bond who formerly served as a corrections officer, investment in policing and firefighter training does not stand in opposition to the interests of the community.
Michael Julian Bond: As a member of the city council we swear an oath to uphold the fiduciary of the city and to maintain public safety. If you have better facilities, if you are able to attract the best and brightest, ideally, you should get a better service out of those individuals rather than going to the bottom of the barrel. It is an investment in the future of our communities. It's an investment in the individuals that we will hire. The city of Atlanta is decades behind other municipalities, other counties, other governments in the type of facilities and equipment that they're offering. This is a decade's long conversation in Atlanta that we've got to have better and improved facilities.
Melissa Harris-Perry: Now Councilman Bond has a point here about the age of the facilities used by the police and fire departments. There have been reports of mold, power outages and other issues for some time, and city leadership certainly has responsibility to maintain public goods. It might be worth noting that the Georgia Public Schools ranked 36th in the nation and Atlanta public schools, which are also under the purview of Atlanta city leadership, have averaged math and reading proficiency scores that fall well below the statewide average. It's a reminder that city leadership has to make tough decisions about how to invest its limited resources.
[music]
Natalyn Archibong: My name is Natalyn Archibong and I served on the Atlanta city council for 20 years, retired in 2021.
Melissa Harris-Perry: A lifelong Atlanta resident Battlin Natalyn Archibong represented district five on the Atlanta City Council. It's in the heart of southeast Atlanta and Archibong voted no on Cop City.
Natalyn Archibong: The reason that I voted no, the proposed site for the public safety training facility is less than three miles from my home and near the border of where the site was proposed and so the constituents had spent a number of years planning a lot of visioning around what they would like to see the suddenness with which the proposal was provided to the public or announced to the public left them unsettled. I was concerned about the public engagement process, I thought it was woefully deficient and there was not enough public engagement for me to feel comfortable that the will of the people was in fact, reflected in this being the best site for the proposed facility.
Melissa Harris-Perry: In 2021, just two months after her no-vote, Councilwoman Archibong lost her bid to be elected president of the Atlanta City Council.
Natalyn Archibong: There was a crime wave or a spike in crime that was occurring around the same time that the council was deliberating whether or not to approve this proposal. The narrative was if this is built, crime will go down. That was an irresponsible statement to make in that the facility would not be built for several years and the connection between the fear and concern of citizens at that moment was confusing. It was inaccurate and it calls for a lot of consternation. For me to vote in opposition to this could have been construed by some as I didn't care about their fear and concern about safety.
The narrative was just a false narrative. It was an opportunistic approach to getting support for an initiative that I thought needed more time to be vetted, and that there needed to be more consideration of other possible locations.
Melissa Harris-Perry: She went on to explain that for her the decision to vote no, was also connected to the democratic process and concerns that too many people were being left behind.
Natalyn Archibong: The nearby neighbors, primarily African-American people were left out of the equation. I think that because of environmental justice consideration, that calls again, to question why we were not more careful as the capital of the state in making sure that we left no one behind, that we did the due diligence that brought everybody to the table. People got a seat at the table after all of the decision-making around this is the location was done.
To the people who were in those immediately impacted communities I did apologize, we did not handle this well and we need to make sure that those communities and those neighbors and citizens be the Atlanta citizens or unincorporated Dekalb that they continue to have a seat at the table. I will say that the plans have been refined and improved because of that input. The issues around hearing bombs being deployed in that area and other concerns around what this will mean for their communities has been clarified. These points of clarification should have been on the front end.
This whole project was so mishandled in terms of how we could keep people connected to what their government is doing. Frankly, I just couldn't support it and I hope that this is a lesson learned for what not to do when we're making big decisions that will have big implications for our city and our communities.
Melissa Harris-Perry: The Takeaway wants to express our thanks to Councilmember Michael Julian Bond and former councilmember Natalyn Archibong and, of course, to all the guests who contributed to this story. Just to note that we did reach out to the Atlanta Police Foundation for comment, but we've not yet received a response. If we do, we'll post it on our website at thetakeaway.org. A really special thanks to our producer, Zachary Bynum, who's a resident of Atlanta and did the reporting for this story.
I'm going to encourage you to definitely take some time to visit our social media pages, and to check out a video from Zach as he visited the South River Forest with forest defenders.
[music]
Copyright © 2023 New York Public Radio. All rights reserved. Visit our website terms of use at www.wnyc.org for further information.
New York Public Radio transcripts are created on a rush deadline, often by contractors. This text may not be in its final form and may be updated or revised in the future. Accuracy and availability may vary. The authoritative record of New York Public Radio's programming is the audio record.