'Economic Viruses Were Already at Work Before Coronavirus': A Conversation with Dr. Cornel West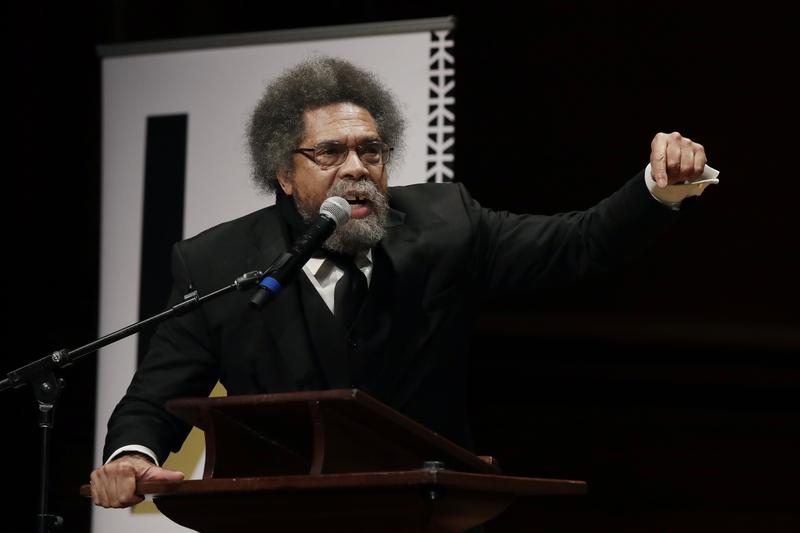 Transcript
Shumita Basu:
I'm Shumita Basu and you're listening to The Takeaway. In the month of April alone more than 20 million people in the United States lost their jobs. And the latest data shows that women, people of color and low wage workers were most effected by this crisis. But it's not solely because of COVID-19.
Cornell West:
Those crisis', those economic viruses were already at work before the Coronavirus hit.
Shumita Basu:
That's Cornell West, an American philosopher and longtime racial justice activist. He says this crisis exposes longstanding problems in this country, especially around race and wealth. In this unprecedented moment, we got Cornell West on the line to hear his thoughts on everything from the economic situation, to the upcoming presidential elections, and the shooting of a Ahmaud Arbery in Georgia. And he shows us where those all connect.
Cornell West:
Well, it brings tears to my eyes. We are witnessing the sad, decay, decline, and deterioration of the American empire. It's very clear that our commitment to public goods, our commitment to our common life is so weak we've got individual citizens who are marvelous, in fact magnificent, but our institutions and our structures are so money driven and so profit maximizing in its aim, that we lose sight of the needs of our citizens. And we see it in health care. We see it in government. We see it in business. We see it in education. It's a very sad, sad moment to be alive in this country. And yet we hope we have bounce back. I think that we still have some bounce back left. This is not the decline and fall of the American empire, but certainly it's the decay of the American empire, and we'll see how much a democratic bounce back we really have. We're going to find out who we are, as the people.
Shumita Basu:
I want to talk about a Ahmaud Arbery, the unarmed black man who was gunned down in a suburban neighborhood in Brunswick, Georgia. A grand jury was called to investigate, but that was only after very recently when a video was leaked. And the incident happened in February. Is any part of you still shocked that these stories are happening? That we're still here?
Cornell West:
Well, I mean, anytime an innocent person is gunned down, in this case of course it seems to be a white supremacist crime, so it's an innocent black brother gunned down, I'm affected. I'm not surprised. I mean, the vicious legacy of white supremacy shot through every institution and structure, every nook and cranny of this country, so I'm not surprised in that sense. But I refuse to be numbed. I refuse to view this as routine. This is a crime against humanity. We've seen this for 400 years in this nation. But the major problem, as you know my dear sister, is that it's so easy to talk about it, and feel bad for a day or two, go through catharsis and still not be able to intervene and do something about it. And this is what makes me sad, that we see the cycle over and over again, of talking about so many manifestations of white supremacists attacks, assaults, crimes against people of color, in this case, the black brother.
Cornell West:
And that's just part and parcel of what it means to be in America. America is not a mature society that's concerned about the weak and vulnerable. It's a society that worships money and status and celebrity, and when it has time, through philanthropy and charity, it might make some symbolic gestures in regard to this suffering and this misery among poor and working people. But it seems as if we just don't have what it takes. We don't have the cultivated capability to be a full fledged democratic society concerned about all of our citizens, especially the least of these, especially the weak and the vulnerable.
Shumita Basu:
Well, Dr. West, let me ask you about that. That repetition that you're talking about. Because I feel like when a video like this surfaces, there's a very visceral reaction. It gets shared widely on social media, but I feel like something different seems to be happening this time around, where I feel like I've been seeing more and more people saying this time, please just stop sharing that video. And I wonder how much that has to do with the moment that we're in right now, with the pandemic, with isolation, with trauma. Are we all being retraumatized and maybe over traumatized in the sharing of these videos? Or do you believe that there is power in sharing them?
Cornell West:
No. I think that you can't live in a state of denial. You can't undergo evasion or avoidance of the criminality in our midst. And so it's easy to say, well, let's not look at it. Let's not show it. In the end, maybe let's not talk about it too much, I've got enough on my plate. And yet the only way you engage an injustice is to confront the injustice, and then try to individually and collectively intervene and do something about it, such that it doesn't happen again. Or it happens much, much, much less so than it ordinarily does. And this is true in terms of... Just look at all the bodies around the hospitals. Most of those bodies, disproportionately black, and red, and brown. But the press really doesn't focus on those bodies and those coffins. They're under the hospitals, on the side of the hospital. In the same way the press doesn't really keep track of all the bodies coming back from our wars.
Cornell West:
No. We're not going to highlight that. That's just too much trauma. We can only take so much. And you say, well, wait a minute now. I just think that we can't be a country that has grown wealthy and grown powerful, and yet we have not grown up, and when you grow up and become a mature nation, just like a mature person, you do not live in a condition of denial and evasion and avoidance. You have to learn how to confront the suffering. You have to learn how to wrestle with the misery, and try to come out on the other side. And if we cannot come out on the other side, then we do go down. We do go down as a democratic experiment, as an empire. And sadly, so it looks as if that's where we're headed. We're denying ecological catastrophe that's impending. We're denying nuclear catastrophe that's possible. And of course, with brother, Bernie, thank God that he's trying to raise the issues of the denial of the economic catastrophes, the wealth inequality. Not just the crisis, but the chronic systemic wealth inequality that creates a crisis every day.
Shumita Basu:
Well, I'm glad that you brought up Bernie Sanders, because I'd like us to turn to talk about the presidential race. You were once a Bernie Sanders surrogate for campaign rallies, but when Sanders dropped out, you decided to endorse Joe Biden. I am curious to hear you talk about Sanders lasting legacy on the democratic party, on their platform for this year, and really without a push from Sanders, will Joe Biden meet the expectations of the most progressive voters in the party?
Cornell West:
Well, I'm glad you asked that question though, because I think endorse might be too strong a word, my dear sister.
Shumita Basu:
Do correct me. How do you feel about Joe Biden?
Cornell West:
But I'm part of, I consider myself part, of an anti-fascist coalition against a gangster in the White House. And the question becomes, how do we get him out before the democratic experiment completely runs out? I consider my dear brother, Joe Biden, a mediocre milk toast neo-liberal, responsible for in many ways, along with Strom Thurmond and others, the largest, most vicious prison system in the modern world. That's what those crime bills going from the eighties and nineties did, and he bragged about it up until a few years ago. I consider his support at the invasion and occupation of Iraq, a crime against humanity. You don't just go in and end up killing half a million precious human beings in Iraq, and not have some kind of reflection and deep apology. It was based on lies as we know. I consider him supporting Wall Street, greed. Going all the way back to Glass-Steagall. So that you can see it's hard for me to say I'm endorsing a mediocre milk toast neo-liberal like brother Biden.
Cornell West:
No. I'm calling for us to hold our noses and vote because he seems to be, at this point, even though he's no friend of working people, he's no friend of poor people, he, at this point, he seems to be the only thing we can do to get out the neo-fascist gangs in the White House. That's what it is to be part of an anti fascist coalition where many in your coalition are not really your friends, but they're your allies. In the same way almost, like United States had to join hands with Soviet Union to push out a gangster named Hitler, right? In World War II. The Soviet Union didn't become our close friends. They became our allies because we had to work together.
Cornell West:
Neo-liberals, who are of brother Bidens ilk... I mean, I love them as human beings because I'm a Christian. But politically they're not my friends. I have my back up against the wall, that's why I called for a vote for him as opposed to endorsement. We've got to tell the truth about him even as we recognize that he's better than a than brother Trump's. Brother Trump is just dead up bad news, dangerous, narcissistic, xenophobic, got the big money, big military, will do anything to project himself and will do irreparable damage to this democratic experiment.
Shumita Basu:
Cornell West, Joe Biden has been accused of sexual assault by a former Senate staffer, Tara Reid. Biden has denied the allegation. What will you Cornell West, be watching for in Biden's ongoing response to this, and in voters ongoing responses to this?
Cornell West:
Well, we've got to give our sister space so that her voice is heard, and we've got to make him accountable based on the evidence. Now of course he is innocent before proven guilty, but then we've got to follow through and based on the evidence, see where it goes. I don't believe in shutting her down in any way. And I think that the Me Too movement is part and parcel of the progressive movement. And he has to be accountable and answerable and responsible.
Shumita Basu:
I hear you when you say that your plan is to hold your nose and vote for him, but what do you say to voters, perhaps Bernie Sanders supporters, who are feeling disillusioned by Biden as the democratic option, and are maybe just trying to think of what their other options are?
Cornell West:
Well, one, I think that despair and disillusionment ought be our intimate companions, given our situation right now. All of us ought to feel a certain kind of disillusionment and a certain kind of despair, but just not allow it either one to have the last word. The great Gerda used to say, he or she who has never despaired has never lived. And as a black man in America 400 years of slavery and Jim Crow one, and now Jim Crow two, I've been disparaged for the last 50 years, but I don't allow that despair to have the last word. I'm a blues man. So the blues man takes the despair and transfigured it into song, into life, deed, practice, actions. So, especially the young folk, I tell them all the time, I'm feeling disillusioned brother West. Good. That means you're not numb. Now, what are you going to do with that disillusionment?
Cornell West:
Are you going to be debilitated and no longer fight? Are you going to fall out of the political process in such a way that you don't vote in any way? Someone would go with the green folk. I've got a lot of comrades in the Green Party. I disagree with them this time. I've agreed with them before. They're still comrades. We just have a disagreement in terms of how we deal with this particular election. And keep in mind, voting is just one small part of the larger sense of what it means to be a citizen. And you try to create counter voices, countervailing institutions, countervailing cultures against the culture of big money, big military, xenophobia, losing sight of the humanity of Jews and Muslims, and Palestinians and Arabs, and Mexicans and women, and gays and lesbians, and precious trans and so forth. So that the creation of a progressive countervailing culture, the larger project, is not just who you vote for.
Cornell West:
And so we remain part of that counter culture even if some of us, like Noam Chomsky and others say, we hold our noses and vote for the milk toast neo-liberal. Recognizing that we have to be not just rendering him accountable, but putting tremendous pressure on him because he's still tied to Wall Street. He still is part of the neo-liberal wing of the ruling class in the way that Trump is the neo-fascist wing of the ruling class. We want to keep the ruling classes accountable, and in the end, we want to fundamentally transform [inaudible 00:14:11] America in such a way that the almond has berries. And poor whites and the Appalachians are addressed. You see what I mean? That's part of the larger, larger project. These are the kinds of issues that Martin Luther King Jr was concerned about. Militarism, racism in all of its form, poverty in all of its form.
Cornell West:
And then materialism, and that's a spiritual issue. Right now, America has a spiritual crisis, it's tied too much to greed and contempt of weak and vulnerable and indifference to the others who are degraded. And corruption, and when you get greed and corruption and contempt all together, you've got a lethal combination that leads toward the collapse of your social experiment, and the collapse of your empire, and the collapse of your democratic experiments. And we're all at the same time, we are an empire. We're a precious democratic experiment within the bowels of that empire. And at the same time, like any social experiment, we can come and we can go.
Shumita Basu:
Dr. Cornell West, let me ask you one last question. With so much inequality and unemployment and hurting and pain right now in the world, what's giving you hope?
Cornell West:
Oh, good. I see. Hope for me is as much a verb as a virtue, which is to say I'm in motion. Nothing is going to stop me from being in motion until the worms get my body. And nobody can steal my joy. I've got precious memories of mom and dad, and loved ones, and Mark King and Malcolm X and Fannie Lou Hamer, and Curtis Mayfield, Aretha Franklin, John Coltrane and Dizzy Gillespie. Those joys can never be taken away. They can send you to jail. They can lie about you. And those joys are the fruits of the loves you pray that you have for truth and beauty and goodness. And for other people. Love of neighbor.
Cornell West:
That's what it is to be a revolutionary Christian in my own humble opinion, you see? And so in that sense, whatever the circumstances are, the fight, the spirit of engagement can never be snuffed out. It can never be suffocated. It can never be eliminated. It's a kind of defeatless despair, wrestling with despair, but refuse to ever be defeated. See that's what it is to be a blues woman and a blues man too. And so in that sense I'm going down with a smile. I'm going down swinging like Ella Fitzgerald and Muhammad Ali. With style and a smile and pass it on to your generation, my dear sister.
Shumita Basu:
Dr. Cornell West, I really appreciate you being here to speak with me. He is an American philosopher and racial justice activist. Thank you so much, Dr. West.
Cornell West:
Thank you. You stay strong now.
Shumita Basu:
You as well.
Copyright © 2020 New York Public Radio. All rights reserved. Visit our website terms of use at www.wnyc.org for further information.

New York Public Radio transcripts are created on a rush deadline, often by contractors. This text may not be in its final form and may be updated or revised in the future. Accuracy and availability may vary. The authoritative record of New York Public Radio's programming is the audio record.