Following Derek Chauvin's Conviction, Renewed Calls for Police Reform in Congress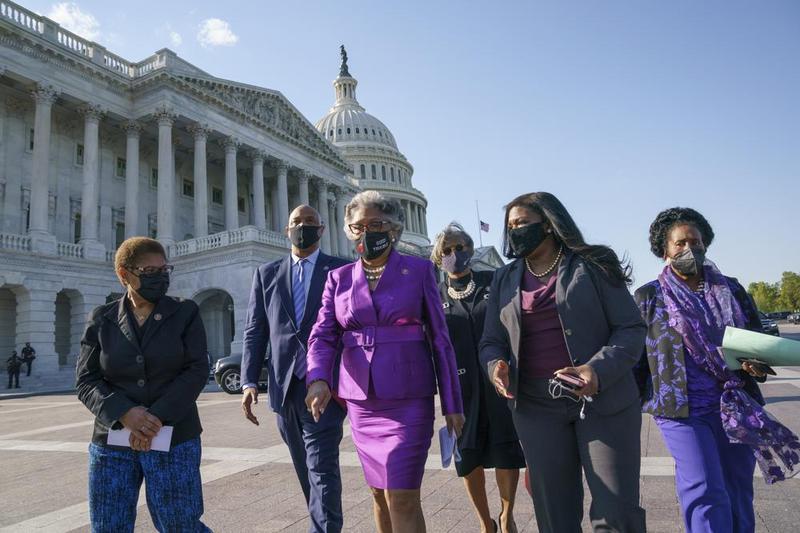 Transcript
[music]
Rebecca Ibarra: I'm Rebecca Ibarra, host of WNYC and NPR's Consider This in for Tanzina Vega. This is The Takeaway. This week's conviction of former police officer Derrick Chauvin for the murder of George Floyd has reignited calls for sweeping police reform across the US.
Kamala Harris: Today we feel a sigh of relief. Still, it cannot take away the pain. A measure of justice isn't the same as equal justice. This verdict brings us a step closer and the fact is, we still have work to do. We still must reform the system.
Rebecca Ibarra: While many did breathe--
Kamala Harris: : A sigh of relief.
Rebecca Ibarra: Over the past week we've also been reminded of just how rampant police violence against Black people is in the country. 16-year-olds Ma'khia Bryant in Columbus, Ohio and Andrew Brown Jr. in Elizabeth City, North Carolina are among the Black Americans most recently killed by police officers. Here's Philonise Floyd, brother of George Floyd speaking after the guilty verdict was announced for Derrick Chauvin.
Philonise Floyd: Times, they're getting harder every day. 10 miles away from here Mr. Wright, Daunte Wright, he should still be here. We have to always understand that we have to march. We will have to do this for life.
Rebecca Ibarra: Many lawmakers pledged to dramatically overhaul policing at the federal level in the aftermath of Floyd's murder last May. Yet close to a year later, progress has been slow. Last month, the House passed the George Floyd Justice and Policing Act in a close vote with zero support from Republicans. It heads to the Senate next, and even with Democrats in control it's expected to be an uphill battle.
President Joe Biden: My conversations with the Floyd family, I spoke with them again today. I assure them we're going to continue to fight for the passage of the George Floyd Justice and Policing Act so I can sign that law as quickly as possible.
Rebecca Ibarra: For more on federal police reform legislation in Washington, we're joined now by Representative Barbara Lee of California's 13th District. Congresswoman, great to have you with us.
Congresswoman Barbara Lee: Nice being with you, Rebecca. Thank you very much.
Rebecca Ibarra: How comprehensive is the George Floyd Justice and Policing Act?
Congresswoman Barbara Lee: Thank you. It's very comprehensive. Let me tell you, first of all, the verdict with regard to Mr. Floyd, it's really cracked open the door to accountability. True justice is a world in which this never would have happened to Mr. Floyd or to countless others. The George Floyd Justice and Policing Act is a major step forward. Of course, it does not address all of the structural and systemic issues as it relates to structural racism. I just have to tell you, I believe that if that bill had been made law, had been signed into effect, we would have saved many lives. It's a very sad thought and moments to think that Republicans in the House did not vote for it. Not one.
I have a lot of hope Because I know Congresswoman Karen Bass, she's a good friend, Senator Booker, Senator Scott, and they are working day and night trying to reach some form of bipartisan agreement so that this can move forward and be on the President's desk very soon.
Rebecca Ibarra: Congresswoman, let's break down a few of the things this legislation would do. The bill would ban chokeholds and qualified immunity, which often shields police from some lawsuits. Are these sweeping reforms or more incremental?
Congresswoman Barbara Lee: I think in many ways they are sweeping reforms. Of course, again, as I said, we have a lot of work to do to address the structural and underlying issues. When you look at the fact that if a police officer hurts or kills someone, they should not have immunity from lawsuits. They currently do. That's a sweeping reform, banning the use of chokeholds. Can you imagine anyone, especially Republicans, saying we should allow chokeholds? That's sweeping reform. When you look at the fact that we're asking that we not allow the transfer of weapons of war to police departments, that's a sweeping reform.
Also, it's really important to understand and a lot of people don't even know that we don't have a national database so that the public and police department can really see who these officers are and whether or not they're corrupt, dangerous or abusive. Again, that's a sweeping reform. These sound like measures that should have been in place in law already, but they're not. This is an important bill. It's a bill that we must pass, it's a must-pass bill. I have to just say, I'm very cautiously optimistic that it's going to get done because we have some really strategic, committed individuals who are formed the negotiation team. Right now it's informal, but I believe that these are going to become more formalized as the days go by.
Rebecca Ibarra: You mentioned the database. That's the National Police Misconduct Registry that's being proposed. Can you tell us a little bit more about the aim of that?
Congresswoman Barbara Lee: Sure. First of all, we need to be able to know about an officer's history of disciplinary action. That needs to be recorded in an accessible database. That would allow, and we know that some offices move from one department to another, from one city to another, to avoid accountability. It's important to have this database to include the use of force in traffic stops. Again, the database requires collection, analysis, and release of data to track individuals such as this. That's the way to prevent abusive police officers, corrupt and dangerous police officers, from, quite frankly, killing people, especially African Americans.
Rebecca Ibarra: Congresswoman, as you may know, many progressive activists actually oppose this bill, because they say anything short of overhauling the entire system isn't enough. I'll use New York as an example, the NYPD banned the use of chokeholds in the 1990s. That didn't stop an officer from killing Eric Garner with a chokehold 20 years later. What's your response to that?
Congresswoman Barbara Lee: My response to that is, it may not go far enough, I voted for it. I'm a progressive and I understand the realities we see right now with this very good bill that establishes the National Standard, mandates data collection, reprograms existing funds for community-based policing, streamlining the federal law to prosecute excessive force. We know that these are good measures and that this would begin to help address the systemic issues. I want to see systemic racism, the structural racism, dismantled within our criminal justice system and every other system in our country.
The political realities are, we've got to get this passed. It may not go far enough. Many agree it doesn't but we have to start somewhere to save lives. This will save Black and Brown lives.
Rebecca Ibarra: People like Gina Clayton Johnson, an attorney and activist, say Black and Brown folks have organized and help elect Democrats to office in the hope that lawmakers will deliver on a commitment to race, justice, and equality. Congresswoman, when Democrats like you are up for reelection will you be able to look voters like Clayton Johnson in the eye and say, "This bill is the best we could do?"
Congresswoman Barbara Lee: Absolutely. Let me tell you, first, I just have to say she's right. Black and Brown people elected Democrats to Congress, the House, and the Senate, as well as the White House. There's accountability there that's required. Again, young people, people who are protesting peacefully in the streets in many respects, they are pushing the envelope to make sure that police reform becomes a reality in this country, as well as dismantling systemic racism. When you look at the composition of the Senate, I get very frustrated myself.
Democrats have the House, the Senate, and the White House, but members of the Senate, members of the House come from different districts and the political dynamics around this is such that we have to, again, I have to salute Congresswoman Bass, Senator Booker and Senator Scott because they're trying very hard, but if it's this difficult to bring Republicans around so we can get a bill, imagine what if we didn't have those individuals, especially the margin and the Senate being so fragile but we do have two additional senators.
It's so tight, it's so close until we have to push the envelope as far as we can push it or do nothing. I don't especially like incremental change, because enough is enough, and the time is now. At this point with the political composition of the Senate and in the House, and it was a difficult bill to get through the House also. It's either we act on something or nothing. I have to say, we have to keep our movement going, though, our political movement,, and hold members of Congress accountable at the ballot box. I'm certainly willing, and I come from a very enlightened and progressive district.
I'm willing to stand before my constituents and say I did everything I could do to save Black and brown lives from police murders and police misconduct. I did everything I can do to hold police accountable and to increase transparency. I did everything I could do to make sure that police officers don't consider themselves above the law. I'll tell them I did everything I could do to ban the use of chokeholds, and I will hope that they would vote for me because they know I'm fighting for them, and I'm going to keep fighting until true justice is done.
Again, as a progressive, incremental change for me, and I've been in this battle all my life for justice. I would just say I'm still standing to fight for another day, but I hope and I recognize that I salute our young people especially, who really did help bring us a Democratic majority by their unbelievable voter registration, voter engagement, and get-out-to-vote efforts. That's a fact.
Rebeca Ibarra: We have time for one last question here. There have been recent discussions between Democrats and Republican Senator Tim Scott of South Carolina, to see if there's a compromise, if a compromise can be reached on this legislation between the two parties. Are there specific areas that you see room for compromise with the GOP on this then?
Congresswoman Barbara Lee: I would leave that up to our negotiators. They know where they are in the talks, but I have to tell you, this is a very good, moderate first step. I know that whatever agreements are reached, it will be that so that justice is done, and so that we will begin to send a signal and set a new standard for policing and saying that Black lives do matter.
Rebeca Ibarra: Congresswoman Barbara Lee represents California's 13th District. Representative Lee, thank you so much for joining us.
Congresswoman Barbara Lee: My pleasure.
Rebeca Ibarra: We're joined now by a reporter who's been following all this very closely. Nicholas Wu is a congressional reporter for Politico. Nick, great to have you with us.
Nicholas Wu: Thanks so much for having me.
Rebeca Ibarra: We just heard from representative Barbara Lee about the George Floyd Justice in Policing Act. Is there anything she said that stood out to you?
Nicholas Wu: What really stood out to me was quite how much Democrats are still pushing for the George Floyd Justice in Policing Act, even though, as she noted, the political reality of Congress and the 50/50 split in the Senate is going to make it really hard to get that piece of legislation through since there are provisions in there like the end of qualified immunity that Republicans just don't really seem like they want to vote for.
Rebeca Ibarra: Nick, do we have a sense of how significant this legislation would be for addressing police violence, especially since the federal government really has very little control over state and local law enforcement?
Nicholas Wu: Now, Congresswoman Lee had said that it might save lives. That's certainly something that many proponents of this bill believe but the devil really is in the details here, since a lot of the way this bill works is by basically conditioning federal funds on certain policy provisions, so nudging local police departments to adopt certain policies. They would be very hard to do so, especially given that we don't have the same national police force in the United States that other countries have.
Rebeca Ibarra: It's interesting that you say this is going to be really hard to pass, and one of the sticking points you mentioned is qualified immunity. Can you tell us why this is such a sticking point, qualified immunity?
Nicholas Wu: Well, for Democrats, they see it as something that basically allows cops to act with impunity because they think that with the sorts of legal protections in place for police that make it very hard to bring civil suits against them, cops can act like they won't face any repercussions for their actions. Congresswoman Karen Bass basically made that point to me a couple of days ago. For Republicans, this is something that would lead to all sorts of unnecessary lawsuits against police and would get in the way of allowing police to actually do their police work because they'd be fighting lawsuits all the time.
Rebeca Ibarra: Republican Senator Tim Scott has proposed an alternative police reform proposal, which some Democrats have said is too narrow in scope. Could there be any room for compromise there?
Nicholas Wu: There might be. Senator Scott is talking with Congresswoman Bass, who's the lead sponsor of the George Floyd bill. There aren't any formal negotiations yet, and they're still waiting for any signs of movement among leadership in both the House and Senate. At the very least, they have this line of conversation going, and if there is going to be any movement, it's going to be among these people who have been hashing out the details on this legislation all along.
Rebeca Ibarra: Nick, some activists, including those from the Movement for Black Lives, oppose the legislation as it currently is. Where is their opposition coming from?
Nicholas Wu: As some people from the Movement for Black Lives have put it, they want a bill that would actually redirect funding for police, defunding the police, so to speak. This is where legislation like the so-called BREATHE Act, which I believe Congresswoman Ayanna Pressley, as a sponsor, comes in, which in addition to some of these policy provisions, would work towards redistributing funds away from law enforcement. Now, this is something that Republicans very strongly oppose, and now faces resistance from within the Democratic Party, as well, especially after many Democrats see their losses in the House last year, as in part due to this whole controversy over defunding the police.
Rebeca Ibarra: I want to talk about the Derek Chauvin trial for a second. Was this trial itself pretty divisive in Washington? What did you hear from different lawmakers about the process or the verdict?
Nicholas Wu: A lot of lawmakers withheld a lot of comment until the verdict came down. They were trying not to influence the jurors. When the verdict finally did come down, it was interesting. I was on the Hill that day, and members of the Congressional Black Caucus had all gathered in one room outside the house floor to watch the verdict read out on a single laptop screen. Once that finally came out, you've heard all these sighs of relief, and then people walked outside hand-in-hand to talk about it. As Congresswoman Bass put it, this brought her and other members back almost 30 years to the Rodney King verdict, which had gone a much different way.
I think for a lot of these members, they were just happy to see some element of justice done. Unlike many other issues in Washington, this was something that very much aroused a certain degree of bipartisan consensus that something had happened here. Now what they do to fix this long-standing issue of police misconduct is something else altogether.
Rebeca Ibarra: If the George Floyd Justice in Policing Act isn't passed at the federal level, could we see cities and states taking up similar laws, or is that happening at all already?
Nicholas Wu: They certainly could. Of course, cities and states will have control over their own local law enforcement. If they decided to pass legislation along some of the lines of this, that could be something that they do. Whether or not there's movement on that, again, it goes back to how there are splits of even among progressives on how exactly to reform the police. We'll have to wait and see there.
Rebeca Ibarra: Then how important is it that Vice President Kamala Harris helped draft the bill and that it has President Biden's support?
Nicholas Wu: It certainly helps give the White House's imprint on this bill. Vice President Harris is, of course, the very first Black vice president, but as we've seen with other issues in Congress, even the support of The White Huse isn't always enough to shepherd legislation over the finish line.
Rebeca Ibarra: Nicholas Wu is a congressional reporter for Politico. Nicholas, thank you so much for joining us.
Nicholas Wu: Thank you.
Copyright © 2021 New York Public Radio. All rights reserved. Visit our website terms of use at www.wnyc.org for further information.
New York Public Radio transcripts are created on a rush deadline, often by contractors. This text may not be in its final form and may be updated or revised in the future. Accuracy and availability may vary. The authoritative record of New York Public Radio's programming is the audio record.