Congress Avoids a Government Shutdown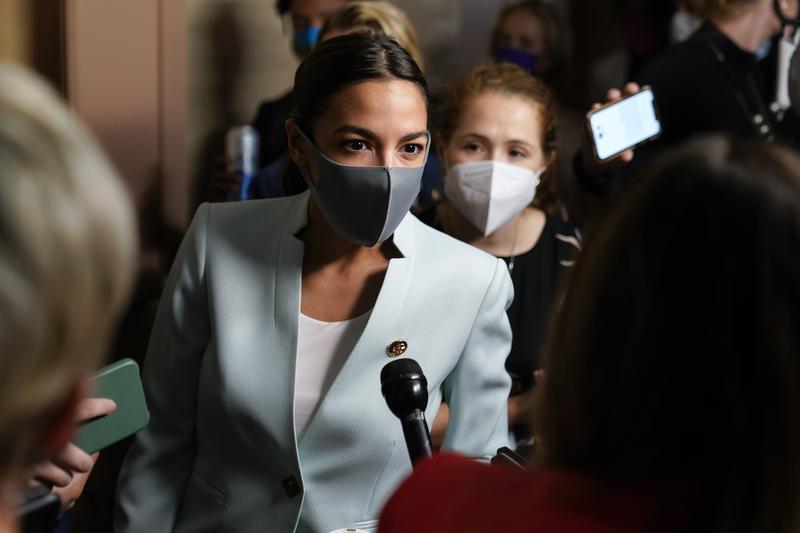 Transcript
Melissa Pablo Manriquez: Listening to The Takeaway. I'm Melissa Harris-Perry and it has been a busy week on Capitol Hill. For the past few days, Congress has been racing to avoid a government shutdown. Thursday was the final day for lawmakers to pass a funding bill to prevent the government from that fate. At the last moment, the House and Senate passed a stopgap measure before the midnight deadline. Also this week, the future of president Joe Biden's massive trillion-dollar infrastructure bill remains uncertain.
Democratic party leaders are struggling to strike a deal with more progressive members of their party, who have said they wouldn't vote on infrastructure until they reached a deal on the proposed $3.5 trillion social policy package. Here to break all this down are Nicholas Woo, congressional reporter for Politico and Pablo Manriquez's, who is Capitol Hill correspondent for Latino Rebels. Welcome to you both.
Pablo Manriquez: Thanks Melissa.
Nicholas Woo: Thank you.
Melissa: Pablo, I want to start with you, tell us about this stopgap spending package that was passed on Thursday. What does it cover and how long is it keeping the door propped open?
Pablo Manriquez: As I understand it, it keeps the door open until December. The government will remain funded until then. People will get their paychecks and that makes a lot of government workers really happy, but it also confuses the American people a lot, because it's like, what are we doing here? Do we not have enough money? Do we have enough money? I think that the Republicans have created a lot of confusion for the sake of creating confusion and making it look like that the Democrats have a problem governing.
Melissa: Nicholas, part of what this December date obviously does is, it creates a holiday situation. There's a certain politics to this question of, "Are you going to shut it all down just before the great holiday spending season begins?" I'm wondering, this week Treasury secretary, Janet Yellen said, she favors removing the debt ceiling from Congress's control altogether. Is that the only way we're going to make some actual Fiscal Policy sense instead of this constantly being a political battle?
Nicholas Woo: In an ideal world, Congress would be able to pass an annual spending bill, they'd be able to deal with the debt issues on their own, they would be able to just come to bipartisan compromise and all that. That's just not really what we've seen here. You mentioned no one necessarily wanting to shut down the government before the holidays, but they've done that before too. What they've really done here is kick the can to the beginning of December at least with the government funding issue, the debt issue is still entirely unresolved.
The House passed its own measure to address the debt ceiling. At the same time, Republicans in the Senate say that they don't want to raise the debt ceiling. They won't vote to raise the debt ceiling and this standard one measure. We're really at square one here. It's unclear exactly how they're going to resolve at the very least the debt issue for now.
Melissa: Nicholas, can the Democrats do it unilaterally or will they have to have Republicans on board in order to raise that debt ceiling?
Nicholas Woo: There's a little bit of dispute over that. There's a couple ways they could try doing this, they could try passing it through an ordinary bill, but then you still run into the filibuster, that procedural measure in the Senate that requires at least 10 Republicans to sign onto a bill, that's unlikely to happen. There's a separate process that they could use called "reconciliation," which would only require a simple majority in the Senate to pass a debt ceiling increase or other kinds of fiscal measures.
The problem is there that takes a lot of time to actually draw up and run through the process of creating a budget and so on and so forth. At least for now, Democratic leaders in both chambers have pretty much ruled that out saying that they just don't have the time to try doing it alone. It's a very classic Washington issue, like they're going to try to put something up and see who blinks first.
Melissa: Pablo, let's switch gears a little bit and let's talk about the infrastructure bill. Remind us of what is in that saga?
Pablo Manriquez: I guess there's so much in that saga and the war going on within the Democratic Party over the infrastructure bill is fascinating, because you have this group of moderates. They want an infrastructure bill vote prior to the reconciliation bill vote that the reconciliation bill that Nicholas just mentioned. What happened this week is that progressive said, and they've been saying this for about three months, that they will not vote for a infrastructure vote that comes before reconciliation vote. Now the reconciliation vote, the bill, it's this huge spending measure that basically is the essence of Joe Biden's social agenda for his presidency.
You have a lot of things in there from the child tax credit to just every type of progressive pipe dream of the last few years. For the first time since the ObamaCare vote, back in the day, progressive didn't buck. Now, I'm old enough to remember when the public option was a raging debate in Washington, everybody was talking about the public option. The public option was going to be the thing that made ObamaCare strong, the thing that made ObamaCare progressive, like a legitimately progressive bill. The Progressive's back then bucked on sticking to their guns and saying, "We will not vote for Obama care if it doesn't have a public option."
Fast forward to now, fast forward to this week, now Progressives said, "No, we're not going to vote for an Infrastructure Bill. Nancy Pelosi, if you put it on the floor, we're going to vote it down and it's going to be humiliating for you." Pramila Jayapal, the chair of the Progressive Caucus has Ilhaam Omar, one of the newer members of Congress who's been whipping votes for her. Then this week, it came down to like a real standoff between the moderates and the Progressives, the progressive did not bark. For the first time in over a decade, Congress is actually taking progressive seriously.
If you are a progressive person, this is something to be very hopeful about. The Progressives are actually showing teeth, they're not bucking, they're not bluffing, they're sticking to their guns and they are getting at least what they want. In essence, Nancy Pelosi has to respect that these people will sink her agenda and in essence, sink the Biden agenda, if it's not done in the way that was promised earlier in the summer, which means that a reconciliation spending package gets coupled with a bipartisan spending package and they get put through together.
Melissa: Nicholas, it does feel like what Pablo just so beautifully described, that there are two Democratic House speakers. There is the actual house speaker, Nancy Pelosi, but then there is Congress woman Pramila Jayapal out of Seattle, Washington area leading the Progressive Caucus. That split isn't around clear geographic lines, it's not around clear racial lines. It seems to be truly ideological. Is this something new? Again, if we go back to early 2000s and the ways that there was a progressive voice but not this institutional power?
Nicholas Woo: To a certain agreement where we're really seeing not just the evolution of the Progressive Caucus and Progressives in Congress as a actual political force that is holding the line, so to speak and is really putting it all out there to try to achieve their own priorities. It also speaks to the really small majorities that Democrats have in the House and Senate. Right now, it's important to remember that the Senate is split exactly 50:50 between Democrats and Republicans. In the house, Democrats only have a three vote majority.
Any one member will have an incredible amount of power to try to get what they want, let alone something like the Progressive Caucus which has over 90 members or even it's worth remembering that moderates have had an outsized voice in all of this as well, whether that's a couple moderate senators in the Senate or folks like Congressman Josh Gottheimer in the House who has also staked everything they want and trying to get the infrastructure bill through and in particular this week.
Melissa: Let's put these insights together. Pablo, when I hear you say, so, if you're a progressive, you ought to be a little bit excited about this moment. You see Progressives like actually with some teeth and a backbone and a leader and all that thing. Then if I go to Nicholas's point around this razor thin margin, which many believe will evaporate in the midterm elections due to redistricting and gerrymandering and you're going to have a likely Republican controlled house, should I be excited about Progressives or should I ask them to please take a seat so we can get some legislation passed?
Pablo Manriquez: Just for this term, the big difference between the Progressives of today and the progressive is during ObamaCare, like two major progressive spending initiatives, is that these younger Progressives like Ilhaam Omar, like a Alexandria Ocasio Cortez, some of these newer member, Cori Bush, they don't play like, and they don't bluff. It seems at this point that there's nothing that Nancy Pelosi can offer them to make them break from their principles. As you may recall, back during the ObamaCare votes and the different negotiations going on, President Obama would come up to the Hill and he would talk to members like Raul Grijalva and some of these older guard progresses that used to run the Progressive Caucus and eventually wear them down.
Ilhaam Omar, she was born in a refugee camp. She's not going to be somebody who you just come up and push her around. I think that, like, it is hopeful if you are a progressive, because you have people that are going to stick to their guns on principle. Now does it mean in this all or nothing scenario of legislative vote counting that the Democrats could walk away with nothing? Yes, but at the same time, it means that Progressives have a real meaningful voice and they're not messing around.
Melissa: Nicolas, I think Pablo makes a good point about President Obama doing some vote-whipping himself as President, where is President Biden? Has been making calls, has he shown up at the Hill, is he using what is always a fairly important pressure, the White House?
Nicholas Woo: The closest he's gone to actually being in-person with members of the Hill was being at the Congressional Baseball Game a few days ago, where he showed up on the field, went to the dugout, and shook hands with members on both sides of the aisle. Beyond that, like Pablo said, he has not been making regular trips to the Hill. He's been, of course, making phone calls, he's hosted members at the White House to hear out their concerns and the like.
At least as of now, a lot of members aren't necessarily feeling the heat. The Progressive Caucus held this conference call on Thursday night as they were trying to figure out where they're going to go next. A source on the call told me that the Progressive Caucus chair, Pramila Jayapal told her members that she really wasn't feeling any arm twisting from the White House, Speaker Pelosi, or House leadership. The people aren't quite feeling the heat yet but as these negotiations drag out, we'll see who gives first.
Melissa: I want to come public to your beat, what you've really been working on, and that is about immigration and immigration reform. We've been talking here about the progressive arm having a real voice, a real structural power. Is there some possibility of meaningful immigration reform coming out of this Congress?
Pablo Manriquez: There is a possibility, but at this point, it's very narrow. Basically, what's happened is that, every time Democrats take power, they've promised a lot to immigrants. The reason why they promise a lot to immigrants is worth noting here, more and more increasingly within the Democratic Party's campaign infrastructure, it's immigrant groups that are providing a lot of the backbone to the organizing necessary to get people who can register to vote, who can vote to vote for Democrats.
When Democrats win, when Joe Biden wins, when the House and Senate votes go Democrat, these immigration groups are saying, "Well, okay, we got you there, now it's time to pay up. What is in it for us?" Unfortunately, Senate Democratic leadership led by Charles Schumer, Senate Majority Leader Charles Schumer, and Senator Dick Durbin from Illinois, have put an unnecessary stopgap, if you will, an unnecessary barrier to entry into the reconciliation bill that Nick mentioned, that I've mentioned.
Basically, it goes like this. Joe Manchin wins the Senate Budget Committee, Democrats came out and said, "We're going to do a reconciliation bill," and the number has been tossed around, it has gone from $6 trillion to $1.5 trillion. It's all over the place. One thing that was clear throughout the summer, is that immigration reform was something that everybody, even Joe Manchin supported, some sort of legalization program for the undocumented population in this country.
Charles Schumer and Dick Durbin said, "Okay, fine, we are willing to push for this, but we're going to have to run it by the parliamentarian, the Senate parliamentarian, which is a hill staffer, who is basically the lawyer for the Senate who advises them. That advice that she gives when you put a pitch or a proposal to the Senate parliamentarian is completely non-binding. She said, "No." When they pitched her what was now called Plan A for Immigration. She said, "No, there's no way that the legalization of immigrants can be put into this package."
The reason why, her job is to assess the budgetary impact of a certain measure on the reconciliation bill and whether or not that budgetary impact is direct, or incidental. Her job was to basically say yes or no budgetary impact, and yes or no direct or incidental, but instead what Elizabeth MacDonough, the Senate parliamentarian did was issue this bizarre political statement saying that, "Yes, sure. There's a really direct impact that immigrants will create on the economy or on the budget rather, but it's way too much of an impact to be considered for a reconciliation package."
The more we looked into the senate parliamentarian, the more we realized that before ICE, before the Department of Homeland Security was created after 911, she was actually an immigration attorney. Now with FOIA and her records. Now, she was an immigration attorney so long ago that those records don't actually exist through FOIA. We're looking for mentions of her in FOIA, because the impression that a lot of people have who worked at INS back in the day is that somebody of her role could have only done one job, and that is defend the deportations that the United States was doing at the time.
It seems to me like a really weird thing that you would have a deporter attorney as the impartial arbiter of an immigration reform package, and Senator Durbin, and Senator Schumer have worked with Elizabeth MacDonough, the Senate parliamentarian for over 20 years, so there's no way they didn't know this. I put a poll up on Twitter that said, "Yo, do you believe that they're operating in good faith? Do you believe that the Senate Democratic leadership is operating in good faith on this immigration bill?"
No one buys it. Absolutely no one buys that they are operating in good faith, except for in the building. If you talk to the senators, they all love Elizabeth MacDonough. If you talk to a lot of the press, they also say Elizabeth MacDonough is a great person, you go outside of the building and she is reviled. The people who actually know who they are, the people in the immigration policy debate, who are paying attention, they just say, "This is ridiculous. We won you the House, the Senate, and the Presidency and now you're saying a hill staffer is preventing us from receiving the basic human equality and human dignity that immigrants deserve in this country." It's a mess.
I think that this is one of those situations where they put into place a political strategy that's going to come back to bite them because when they call upon these immigrant groups to help them organize, again, during the midterms, the immigrant groups are not going to turn out. There is no incentive at this point when you have given Democrats all of the power that you can possibly give them and then to have them around and say that, "One of our subordinates says it's not okay, so I guess an unelected subordinate says that it's not okay for us to help you." It's a really weird situation.
It's a strategy that doesn't seem to work. It's one of the dumbest political strategies I've ever seen, in fact, because it's death by 1000 cuts. Every few weeks now we're going to have Plan A, Plan B, Plan C, of trying to get the parliamentarian to come over and say, "Yes, let's do some immigration reform." Every time she says, no, people are going to be enraged. I think that to answer your question succinctly, there's one group of immigrants left that could be helped by a reconciliation bill. That is the family and work-based visa backlog of over a million immigrants in this country, largely people from India, who could have their status adjusted to citizenship or to a path to legalization.
In terms of the undocumented communities, the 11 million undocumented immigrants in this country, their Senate parliamentarian has basically said, "Hell no." They are upset, they are pissed, and they should be. You could read all of this at latinorebels.com where I report the news from Congress.
Melissa: All right, great. Now, Nicholas, I want to come to you on this because public story of one person standing in the way of important legislative action is, in some ways really shocking given that the person he's speaking of here, the parliamentarian is unelected, but in the US Senate, there are just a couple of people who are also having, as you had talked about earlier, outsized power in the decision making, particularly around these domestic policy packages. Can you talk a bit about senators Sinema and Manchin and what you see happening with them in this moment?
Nicholas Woo: Both of them have staked out a somewhat specific set of demands for what they wanted for this social spending package the Democrats are trying to pass and that's really what is driving the conversation here. Because at the end of the day, Democrats need all 50 senators to be on board with whatever package they try to pass. Senator Manchin in particular, as Politico had first reported on Thursday, wanted a package that was $2 trillion less than what Democrats had advocated for.
[unintelligible 00:18:38] wanted a $1.5 trillion social spending package instead of $3.5, in addition to any number of different demands about the maximum tax rates you wanted, and ways to cap programs and the likes. As a result, this has really served as a constraint, in many ways, on Democrats ambitions here. Senator Bernie Sanders, for example, had talked about wanting something as big as a $10 trillion social spending package. At the end of the day, you need something that people like Manchin and Sinema, some of the most moderate Democratic senators are going to accept.
There have been these furious negotiations between the White House house leaders and Senate Democratic leaders, with those senators to try to get them to accept some framework for the social spending package so that they can move that forward. With that, they can move the infrastructure package forward with it as well because Democrats have tried to link those two pieces of legislation and that's really been part of the problem here.
Melissa: Nicolas Woo is a congressional reporter for Politico and Pablo Manriquez is Capitol Hill correspondent for Latino Rebels. Thank you both for joining us. Thank you both for doing the work on the Capitol Hill.
Nicholas Woo: Thank you so much, Melissa.
Pablo Manriquez: Thank you.
Copyright © 2021 New York Public Radio. All rights reserved. Visit our website terms of use at www.wnyc.org for further information.
New York Public Radio transcripts are created on a rush deadline, often by contractors. This text may not be in its final form and may be updated or revised in the future. Accuracy and availability may vary. The authoritative record of New York Public Radio's programming is the audio record.