A Closer Look at Joe Manchin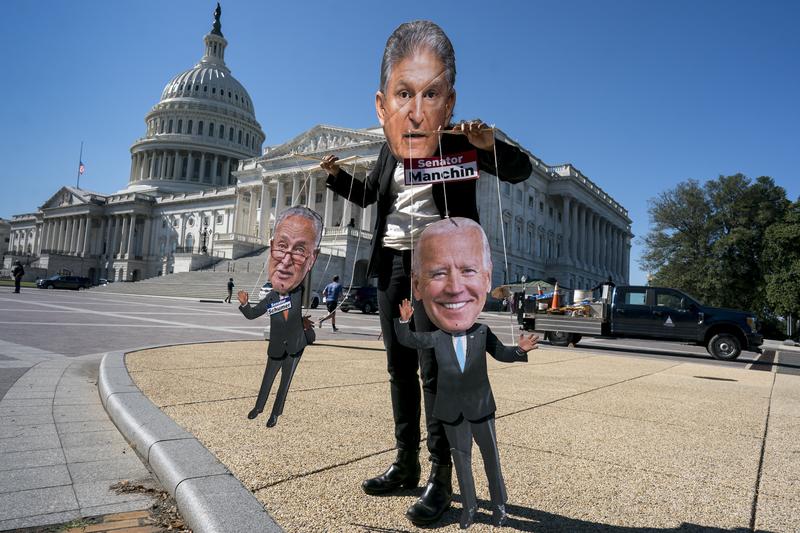 Transcript
[music]
Matt Katz: I'm Matt Katz from WNYC and for Melissa Harris-Perry this week, and this is The Takeaway. It's the season of togetherness, but we're starting in Washington DC so forget all that for now.
Senator Joe Manchin: "I cannot vote to continue with this piece of legislation. I just can't. I've tried everything humanly possible. I can't get there."
Matt: From the very start, West Virginia Senator Joe Manchin's main concern over the Build Back Better bill was its supposedly mammoth price tag that was slowly pared down on account of his wishes.
Senator Joe Manchin: "Bernie started at 6 trillion, then they went to 3.5 trillion down to 2.2 from the House side, even at 1.75. The thing that never changed was basically the same amount of things that they're trying to accomplish by just changing the amount of time that we can depend on."
Matt: His stated economic concerns included inflation and its impact on West Virginians, but of course, Manchin has a large family connection to fossil fuels, and maybe the large-scale climate change action in this bill is an underlying reason for his departure. That said, all this comes after months of negotiations with Democratic leaders in the White House and Congress. Nearly a quarter of President Biden's first term has been spent on this.
Senator Joe Manchin: "Every day, every minute of every day, I've been working on this, meeting with-- whether it'd be the president, President Biden, whether it'd be Majority Leader Schumer and his staff, whether it would be with Nancy Pelosi, all of my colleagues. I mean, from all different spectrums of the political spectrum, if you will, from the right to the left."
Matt: After his public execution of the current Build Back Better plan on Fox News, the White House wrote a blistering statement effectively questioning Manchin's word. Between Joe Manchin's tension with the White House,
Speaker: "Joe Manchin."
Matt: Joe Manchin's position opposite progressive Democrats,
Speaker: "Joe Manchin."
Matt: Joe Manchin's rejection of climate policy,
Speaker: "Joe Manchin you know by now."
Matt: Joe Manchin this, Joe Manchin that. It might not surprise you that much of the national media is talking a lot about the West Virginia senator.
Speaker: "On that setting announcement."
Matt: Getting a lot of reaction from liberal media side.
Speaker: "What it was that changed for him to now say definitively, 'No.'"
Matt: Manchin has said no a lot during the first year of the Biden administration. From a nominee for budget director to a voting rights bill that Democrats see as the best way to literally save democracy. Why? That's what we're asking today on The Takeaway.
Senator Joe Manchin: "I just can't. I've tried everything humanly possible. I can't get there."
Matt: With me now is Ken Ward Jr., co-founder of Mountain State Spotlight and distinguished local reporting fellow with ProPublica. Ken, welcome.
Ken Ward Jr.: Thank you.
Matt: Also here is Evan Osnos. Author, CNN contributor, and staff writer for The New Yorker. Evan, welcome.
Evan Osnos: Thanks, Matt.
Matt: All right, Ken. You've been covering West Virginia for a long time. What makes a politician want to tank his own party's foundational legislative agenda?
Ken: Well, I really think that despite the massive search for some answer on this from the national political media, that it's not really that complicated. The politics of it for Joe Manchin are West Virginia has become a deep red state. Republican operatives who've masterfully moved what was reliably a Democratic state into the GOP column are lying in wait for Senator Manchin.
They'd love to have his seat, and they're on the alert for anything they can point to that can be used to train him as being in league with the Democrats, with President Biden, or even worse, Speaker Pelosi. Congressman Alex Mooney, who represents West Virginia, labeling this bill as a socialist spending spree. Senator Capito calls it reckless. I think that the politics are pretty simple. Senator Manchin's idol, the late Senator Robert C. Byrd, used to say, "Run scared or don't run." Senator Manchin clearly is very worried about allowing the Republicans to position him as being some sort of leftist in league with folks that are pushing all sorts of socialist priorities.
Matt: That's the state of play in West Virginia. Evan, nationally, the reporting on this makes Manchin look like the sole barrier to the bill's passage. Is that really the case? Is he really 'President Manchin' or there might have been other obstacles to getting this bill through if Manchin wasn't the one out front on it?
Evan: That's an important point actually. There are other Democrats who are, in a sense, sort of hiding in Manchin's skirts a bit. They are happy to let him go out and take the heat and kind of to mix metaphors. Be the blocker who's going out ahead and taking all of this public attention, but there are other moderate Democratic senators who have reservations about the bill. Because he's willing and able to go out and do this, he ends up absorbing a lot of the flack, but he's not alone actually in his objections.
Matt: Who are the other potential obstacles? Who's hiding in his skirts, as you say?
Evan: We know Kyrsten Sinema, obviously, a senator who has also expressed her reservations, but then there are others. Now, they don't always announce themselves by name for precisely this reason, which is that you end up taking a huge amount of political flack. Look, as Ken said so well, the truth is that everybody is dealing with their own local political reality. In Joe Manchin's case, the politics in West Virginia make it very hard for him to go along with progressive priorities.
There are other states where that's also the case, where you have essentially a red electorate. Whether we're talking about Wyoming or you're talking about West Virginia, those are places where-- As Jon Tester once put it to me, he said, "You have to make sure when you're a blue senator from a red state, that you don't look as if you've gone Washington." A lot of what Joe Manchin has to do is to project that image as forcefully as possible.
Matt: Evan, you wrote a great profile of Manchin in The New Yorker, you wrote a book on Joe Biden. I'm just wondering if there was anything Biden, maybe with help from Senate Majority Leader Chuck Schumer, could have done to prevent this. Could Manchin have been persuaded? Could he still maybe be persuaded by a little something-something for West Virginia? A few billion for new schools. Just something like bacon he could have brought home that would've protected him politically. Could that have worked, Evan? Is that possible?
Evan: People have been looking for a way that Joe Biden could pick the lock. The old-fashioned political way would be all of a sudden you award West Virginia a big military installation, or you give the state where the senator who's giving you trouble something that he needs. Actually, part of the complexity of Joe Manchin is that he's basically saying, "No, I'm not going to go for it that way."
I think they have tried various versions of that, but the truth is that as-- and this is really where Ken hits the nail on the head, is that there is this fundamental political environment in which Joe Manchin is operating in. Where he gets up every day and he says, "How do I make sure that I don't look like I'm too much of a friend to Joe Biden, the Democratic president?" Which is ironic too because after all Joe Biden and Joe Manchin have a lot in common. These are both two Catholic Joe's in their 70s. They are both moderates by nature, they're glad-handers, they like to do politics, and they actually have a pretty good relationship fundamentally.
The joke is it's the Joe Matts, but I think even though you see it now breaking down over this moment, you also pick up - and this is important - that each one of them has said in the last couple of days, "This is not personal between the two of us. There may be a path forward," and you're going to continue to see them try to do something even though this bill has been kind of left on the cutting room floor by Manchin's decision.
Matt: Yes. Ken, Manchin said on Fox, "If I can't go back home and explain it, I can't vote for it." But you have a story out today, actually, that you published in partnership with ProPublica about a particular community in West Virginia that would've been greatly helped by the Build Back Better legislation that Manchin just killed. Can you tell me a little bit about that story and how Manchin's ties to fossil fuels are kind of lurking in the background here?
Ken: Sure. We published Mountain State Spotlight in ProPublica this morning, a piece about the community of Institute, West Virginia. It's one of only two census tracks in the state of West Virginia that's majority-Black, and it's a historically Black community with a historically Black college. It's also home to what ProPublica's analysis of toxic air pollution shows is one of the most dangerous chemical plants in the country. It's part of a larger project, with ProPublica examining the failure of our environmental regulatory system to protect us from the risks of cancer from toxic air pollution.
We found, among other things, that Black communities in this country face twice the cancer risk from toxic air pollution, and Institute, West Virginia is one of those. The Black community of Institute has faced 40 years of controversy in fighting with the plant there to try to make the place safer and reduce their risks. Interestingly, the Build Back Better bill had a bunch of money for environmental justice priorities, for cleaning up legacy pollution, for better monitoring of pollution, for better housing and jobs in these communities.
One of the most interesting things that Senator Manchin said in his statement opposing the bill was, when it is critical, these fellow Democrats saying they are determined to dramatically reshape our society. Senator Manchin is right about that. This kind of a bill is looking at dealing with structural inequities in our country, structural racism in our country, and providing government resources and government programs to try to change those things and reduce those structural inequities.
For a place like West Virginia, part of the structural inequity here is West Virginia is not really a massively poor state; it's actually a really wealthy state. It's just that most of the wealth from the natural resources from the coal and the natural gas and the production of steel and chemicals have gone someplace else. West Virginia ends up 50th on too many lists of bad things and first on too many lists of bad things.
This bill included lots of other things that would help a place like West Virginia. Child tax credits, childcare affordability, paid family leave, programs to fight child hunger. Most importantly, clean energy investments that are especially important in West Virginia as the coal industry continues a death spiral, and the communities here are making a historic transition away from some of these heavy industries. Our story points out the unique place of Institute in all of this, and how some of the activists like Pam Nixon, a longtime Institute resident, were working very hard at lobbying and speaking at rallies trying to get Senator Manchin to support this legislation. Now they feel very let down that he is declined to do that.
Matt: Do they think his ties to the fossil fuel industry, his monetary investments with the industry had something to do with it?
Ken: Well, I think the most interesting thing about Senator Manchin and his family's connections to the mining industry are that they cut both ways. Yes, his family continues to make significant amounts of money from its connections with the coal mining industry. At the same time, Senator Manchin lost an uncle in 1968 in the Farmington Mine disaster, an explosion that killed a bunch of coal miners, so Senator Manchin's family knows, like West Virginia, the relationship there is both enriching but also tragic.
Matt: Evan, I noticed today, rereading your profile in The New Yorker on Manchin, and you wrote that Manchin's "belief that Democrats could and must find Republican support for their legislation is a posture." So at odds with the present hostilities in Washington that it evoked a man hoisting his glass for a toast while his guests lunged at one another with steak knives. Evan, is Manchin just full of it when it comes to his stated commitment to bipartisanship, or is he naive?
Evan: I Think the thing to remember is that very often a politician acquires the habits of mind that shaped them when they were coming up, when they were successful, and this applies to Joe Biden as much as Joe Manchin. These are guys who came up at a time when you could muscle people towards a consensus. By some combination of charm and coercion, you could get people to agree on stuff - Republicans and Democrats - and he came to Washington with the same idea.
No, he's not faking it when he says that he thinks that he can get people to agree, but I think there is a feeling in Washington that he's operating in a realm in which there is this aspirational goal of getting everybody around the table. The truth is that's not at the moment something that's leading to resolution because of the toxicity of the divisions in Washington, and that leaves him sort of on an island of his own.
Matt: I've been speaking with Evan Osnos, staff writer for The New Yorker and contributor to CNN, and Ken Ward Jr., co-founder of Mountain State Spotlight and distinguished local reporting fellow with ProPublica. Thank you guys for coming on The Takeaway. I really appreciate it.
Evan: My pleasure.
Ken: Thank you.
Copyright © 2021 New York Public Radio. All rights reserved. Visit our website terms of use at www.wnyc.org for further information.
New York Public Radio transcripts are created on a rush deadline, often by contractors. This text may not be in its final form and may be updated or revised in the future. Accuracy and availability may vary. The authoritative record of New York Public Radio's programming is the audio record.