Civil Rights Organizations Denounce Amazon's Working Conditions on Prime Day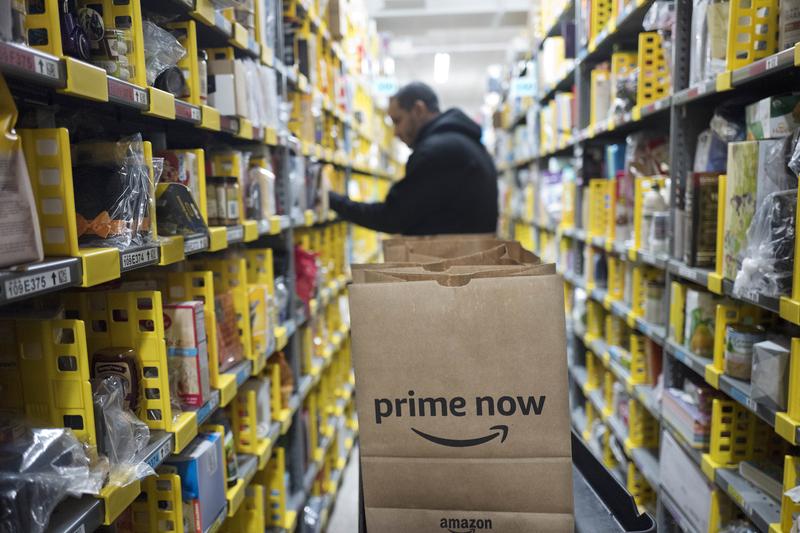 Transcript
Melissa Harris-Perry: You're listening to The Takeaway. I'm Melissa Harris-Perry, in for Tanzina Vega, and, yes-
[music]
Melissa: - it's the season we've been breathlessly anticipating.
Female Speaker 2: Today is Amazon Prime Day.
Male Speaker 1: These are the top 50 Amazon Prime Day deals 2021.
Male Speaker 2: Welcome to Amazon Prime Day.
Female Speaker 3: It's that time of the year again, one of my personal favorites. Amazon Prime Day.
Melissa: Amazon Prime Day, the season of discounted joy and free, fast delivery. It's all very exciting, unless, of course, you work in an Amazon warehouse. Now, from that vantage, Prime Day feels a little bit more like the classic 1952 Chocolate Factory episode of I Love Lucy.
Oh
Chocolate Factory Supervisor: All right, girls. Now, this is your last chance. If one piece of candy gets past you and into the packing room unwrapped, you're fired.
Lucy and Ethel: Yes, Ma'am.
Chocolate Factory Supervisor: Let it roll.
[laughter]
Melissa: Now, you know what happens next. As the speed of the conveyor belt increases, Lucy and Ethel struggle to keep up, and they end up shoveling handfuls of chocolates into their pockets and their shirts, and their mouth as the studio audience roars with laughter. But it's a reality that is anything but funny for the Amazon workers who are living with the consequences of an Amazon-imposed conveyor belt acceleration. For these Amazon warehouse workers and delivery drivers, Prime Day means more exhaustion, injuries, unsafe working conditions, invasive corporate monitoring, and fear of retaliation.
On Monday, a coalition of racial and labor justice organizations published a letter to Amazon calling for federal agencies to investigate employee allegations of abusive and unsafe workplace practices. During a year of quarantine, millions of us counted on Amazon to deliver the electronic devices that kept us connected, the clothes that kept us Zoom-ready, and the groceries that kept us fed. Amazon was our lifeline in a time of death. Finding fair labor solutions to the Amazon juggernaut won't be as easy as swallowing a handful of chocolates.
With us now is Lauren Kaori Gurley, who is senior staff writer at Motherboard, Vice's Tech site. Lauren, it's great to have you here.
Lauren Kaori Gurley: Thank you so much for having me, Melissa.
Melissa: I'm also joined by Annie Palmer, CNBC tech reporter. Thank you also for being here, Annie.
Annie Palmer: Thanks so much for having me.
Melissa: Annie, I want to start with you. Can you start by describing to folks the difference in experience when it comes to Prime Day for those of us who might be purchasing, looking for deals versus folks who are actually working on that day?
Annie: I think for consumers, Prime Day brings with it a lot of excitement because there's this idea that you might get a really great deal on whatever you're looking to buy. But for the warehouse workers that are employed by Amazon, Prime Day is a very different story. They refer to Prime Day as, "Peak season". That, in addition to the holiday shopping period are referred to as, "Peak season". For these workers, that means working much, much longer days, rifling through a flurry of orders, and just under a lot of immense pressure. In addition to that, we now know that injury rates spike during peak season or the weeks of Prime Day and Cyber Monday.
The Center for Investigative Reporting uncovered this last year, when an attorney obtained internal injury logs and found that during those two weeks had the highest rate of serious injuries for all of 2019. While consumers are getting some great deals during these two days, for workers, it's potentially a much darker outlook.
Melissa: Lauren, how is this different than if I'm an accountant, and it's tax season, if I'm a political scientist, and it's election season? Work is the thing that has these busy periods. Why should we be particularly concerned about what's happening at Amazon, whether it's during the holiday season or the Prime Day season?
Lauren: Well, for one thing, this is a heavy manual labor. Unlike a tax accountant, you are bending over thousands of times over the course-- most shifts are between 10 and 12 hours in the lead up to Prime Day and Prime Day. Over the course of this many times repeating the same motions, lifting, bending, pulling, repeatedly, that puts a lot of strain on your body. Over time, it breaks people's bodies down to the point where they can't work anymore. I think I would think about it differently than maybe a white-collar office job, where there's crunch going on, although I'm sure there's issues with that, too.
This is really serious injuries that for people's lives make it difficult for them to walk, to hold other jobs. They have chronic pain for years after they work here. They are not able to work again, so I think it's different in that sense,
Melissa: Annie, help us to also understand this idea of time off task. Again, something that those of us who are in white collar jobs typically don't have to worry about in terms of that surveillance.
Annie: Absolutely. That's certainly something that a lot of folks have really zeroed in on as being a major issue that's unique to working at an Amazon warehouse, which is these two policies, rate and time off task. Rate is what Amazon uses to monitor the speed with which workers pick, pack and ship items, while time off task really tracks these workers movements when they're not at their workstation and not actively working. It's part of the way that Amazon is able to [inaudible 00:06:03] our packages so quickly is that they keep these workers under pretty tight working conditions in order to make sure that they are working at a brisk pace.
At the same time, you've got concerns that it adds to this environment of surveillance and tracking in that for-- a lot of workers have told me that they feel like the time off task policy is what keeps them from feeling comfortable taking an extended bathroom break or even really resting. Similar to what Lauren was saying about just how backbreaking this work can be. If you can't really take a moment to sit down or take a break, it can really add stress to these workers' bodies. Their claims are that these policies contribute to that stress immensely.
Melissa: Lauren, aren't there meant to be federal policies through OSHA that protect workers from this kind of grueling, literally backbreaking labor?
Lauren: Yes, there are, but the penalties for violating workplace health and safety laws are pretty minimal. I believe Amazon has been fined before for workplace injuries, serious ones, but the enforcement mechanism, especially during the pandemic, when Trump was president, and the agency itself significantly had gotten a lot smaller, so I think that generally we weren't seeing enforcement, and you weren't seeing companies feeling any real pressure to change some of the stuff.
I guess I'd just really like to highlight that a lot of this is directly related to Amazon's obsession with its customers and customer satisfaction. These things are intimately tied, worker injuries and pressure on workers, and what's going on right now.
Melissa: I know so many of us came to rely on Amazon in ways that we never had previously during the pandemic. I don't know if Lauren or Annie wanted to start first here about how that has impacted what's happening in the warehouses and for the delivery drivers.
Annie: The pandemic has really cemented Amazon's dominance across a number of different categories. It's not just online commerce anymore. They're in virtually every industry, it feels like [unintelligible 00:08:47]. That acceleration in online spending has really led more and more people that wouldn't otherwise rely on Amazon for not just essentials but a lot of different items around their home. Amazon is now one of their go-to sites more than before the pandemic. While some industry analysts believe that some folks will probably return to shopping in stores at some level-- for example, there was this huge surge in online grocery spending.
Some of that is expected to return back to brick and mortar grocery stores. They still believe that it's going to remain at elevated levels. For the workers in Amazon's warehouses, I don't believe that it will be at the same peak levels that they saw during most of 2020, but it does mean that it's much harder for some consumers to understand that, when you buy something from Amazon, there is this-- I don't want to say-- not risk necessarily, but there is this consequence in the background, which is that yes, you are getting free shipping, and it's coming to your doorstep in two days, and increasingly now, one day in same day.
There's a worker at the other end of that that is working really hard to ensure that promise. I think on Prime Day, you're seeing a lot of different groups trying to highlight that and really make it clear for consumers that there is a consequence of supporting Amazon.
Melissa: If you're a consumer, in this moment, do you choose not to support Amazon and in so doing potentially reduce the overall number of jobs that are available? Do you simply not shop on Prime Day because it speeds up that conveyor belt? What are some of the ways that consumers can be more aware of those folks who are working so hard under such difficult circumstances?
Annie: Well, I don't think that we're going to see consumers abandoned Amazon out of speed of which we will start to see people's jobs be in jeopardy. It's important to note that Amazon by 2022 could potentially overtake Walmart as the nation's largest employer. There is a No Way sign that they're going to slow down anytime soon, but for consumers, for one thing, I think, also putting the onus on consumers is maybe a short-term solution. I think all consumers can benefit from looking at their spending and saying, "Maybe I don't need this item in two days.
I could [unintelligible 00:11:55] a store in my neighborhood instead," where possible, but I think what's more meaningful in terms of taking Amazon to task around working conditions is really having regulators approach this thoughtfully, and we're seeing a lot of that. Within the last week, there's been some legislation introduced, really aimed at sizing up big tech companies and potentially even breaking them up. I think putting the onus on consumers to kind of reign in Amazon isn't necessarily the right solution. That being said, the more mindful that people can be about where they're spending their dollars online is always a worthwhile conversation to have.
Melissa: Lauren, of course, one of the other ways that we have held companies and employers responsible for workplace conditions over the decades has been labor unions. Amazon just went through a contentious unionization efforts in Bessemer, Alabama, that failed. Can you talk a little bit about the possibility of workers themselves organizing on their own behalf?
Lauren: Yes. The union and election in Bessemer, Alabama, which was defeated or voted down and March, I think a lot of the labor movement was very disappointed by what happened. At the same time, the union that organized that warehouse drive, RWDSU, the retailers union had thousands of workers reach out to them, interested in organizing during that time. You have grassroots organizing drives popping up all over the country. Right now there's specifically one at JFK eight in Staten Island, which is a New York City's only fulfillment center. It's being run by a group of workers, not an established union.
The Teamsters, the biggest logistics union in the US have hinted at a national project toward organizing Amazon and has suggested that they would take a different approach than a traditional NLRB union election. I think a lot of the bigger unions are looking at what happened in Bessemer and thinking, Amazon really waged a very intense union vesting campaign there. Their captive audience meetings, those are mandatory meetings that workers have to attend that are anti-union. They changed streetlights, they hired thousands of workers, hard for the union to push back again.
I think a lot of unions are strategizing in terms of direct actions, strikes, workplace work stoppages, petitions that can sort of build up industry pressure to get Amazon to the bargaining table, instead of going the election route. I think we're going to be seeing a lot more of that.
Melissa: Speaking of that external pressure, Lauren, there was a letter yesterday from a group of racial justice, labor justice organizations making some demands about Amazon. Can you tell us about those demands?
Lauren: Yes. It actually just goes back to what Annie was talking about, time off task. Basically, there is a coalition called the Athena Coalition of around, I think, three dozen grassroots organizations in the United States that have banded together to take on Amazon on multiple fronts, antitrust, labor, the environment. Yesterday they wrote a letter to, I believe, lawmakers demanding that they get Amazon to stop using this time off task policy, which, as Annie explained, pushes workers to not take bathroom breaks, to not have time to rest, to work so hard that they're facing really serious injuries.
That's what that letter was about. I think a lot of the concerns that people have about Amazon are related to the squeeze for productivity, as opposed to maybe wages and benefits.
Melissa: Lauren Kaori Gurley is a senior staff writer at Motherboard, Vice's Tech site, and Annie Palmer is a tech reporter for CNBC. Lauren and Annie, thank you both for joining us.
Annie: Thanks so much.
Lauren: Thank you so much, Melissa.
Melissa: I also just want you to know, we did reach out to Amazon for comment for this story, and we're going to be posting their response on thetakeaway.org.
Copyright © 2021 New York Public Radio. All rights reserved. Visit our website terms of use at www.wnyc.org for further information.
New York Public Radio transcripts are created on a rush deadline, often by contractors. This text may not be in its final form and may be updated or revised in the future. Accuracy and availability may vary. The authoritative record of New York Public Radio's programming is the audio record.