"Citizen Ashe" Spotlights a Legend On and Off the Court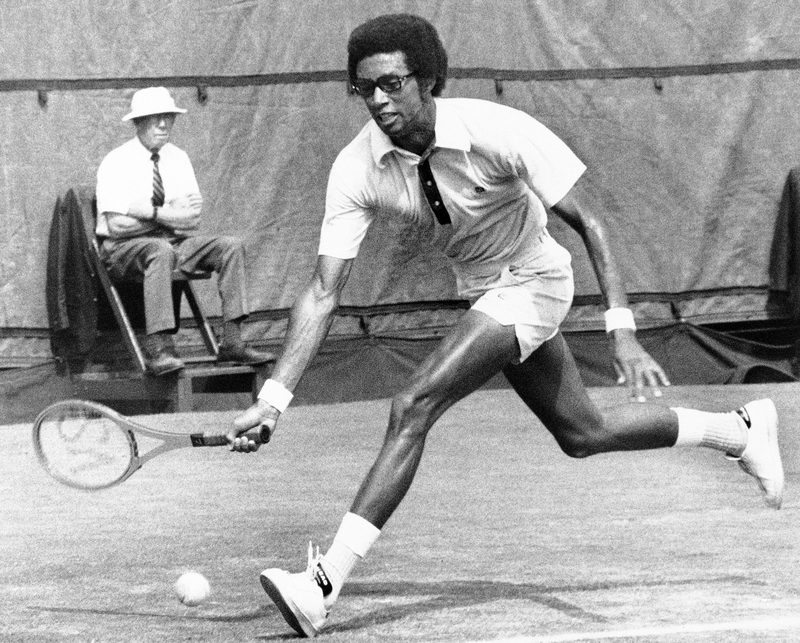 Transcript
Melissa Harris-Perry: It's The Takeaway. I'm Melissa Harris-Perry.
Bud Collins: "And you're an amateur but yet your life is tennis. Sometimes do you wish you could stop and get off and look back and see what's happening to Arthur Ashe?"
Arthur Ashe: "Yes, but I really don't want to do that. Sometimes you wish you could, but on second thought it's not too good because you don't want to look back. I always look forward to the rest of today and tomorrow. What's in the past is past and is water under the dam, and you learn from your mistakes and you must go from there."
Melissa Harris-Perry: That archival audio from the US Tennis Association features a young Arthur Ashe, thoughtful as always. While Ashe himself may not have wanted to look back on his life, that's exactly what we're going to do today. This month a new documentary called Citizen Ashe is out in theaters. In their film, co-directors Rex Miller and Sam Pollard show how Ashe evolved from someone who initially focused just on the game, to an outspoken critic of racism and other forms of injustice. According to the filmmakers, his first Grand Slam victory at the 1968 US Open was a turning point for the athlete.
Arthur Ashe: "This US Open victory was sandwiched among Dr. King's assassination, Bobby Kennedy's assassination, the coming Black boycott of the Mexico City Olympics, President Johnson saying he wouldn't run for president, riots in the summer in Newark, LA-- you didn't get five minutes to breathe. Even though it was a monumental achievement for me."
Melissa Harris-Perry: After winning that Grand Slam, Ashe became more willing to voice his criticism on issues like apartheid in South Africa. This was of course a time when segregation was still deeply embedded within the American tennis world. Here he is on WGBH in 1969 talking about those discriminatory policies.
Arthur Ashe: "I can play at and use the facilities at lots of these clubs, and as I said I can't join them, but that's the way it is. It's something like somebody having the LA poker game in town, and he says, 'You want to play poker, you play with my rules or you don't play at all.' To that extent, I'm slightly powerless to change a lot of things overnight, but some things are changing."
Melissa Harris-Perry: Ultimately, many of the changes that happened within the tennis world during Ashe's lifetime happened because he did take matters into his own hands. Ashe mentored a number of other Black tennis players before passing away in 1993 due to complications from AIDS. In 2008, Ashe's widow Jeanne Moutoussamy-Ashe went on WNYC's The Brian Lehrer Show to talk about her late husband.
Jeanne Moutoussamy-Ashe: "There were so many important issues on his plate that I think Arthur always had the mission of using tennis as a platform to be able to talk about the inequities in life having grown up in segregated Richmond, Virginia as he did. He used that platform very well. He happened to be a really good tennis player, [chuckles] and--"
Brian Lehrer: "Win three of the majors around the world, including the US Open."
Jeanne Moutoussamy-Ashe: "Not bad. [chuckles]"
Melissa Harris-Perry: To learn more about this really good tennis player, I spoke with filmmakers Rex Miller and Sam Pollard about Citizen Ashe.
Sam Pollard: Well, my Arthur Ashe origin story goes all the way back to probably 1966/1967. I was 16, 17 years old, and as a young African American man growing up I was aware of him being this anomaly in the tennis world. This one Black player that you saw playing out there against all the other players, white players. I was aware of him back in the '60s. What I didn't know about Arthur then that I learned from working on this film was that he was just much more than the tennis player. He was a activist. He wasn't like Ali or Jim Brown or Kareem Abdul-Jabbar, but he also had a very strong political perspective that grew even more after he started to really gain a lot of fame and notoriety as a tennis star.
Melissa Harris-Perry: You walk in initially through the sports world, through the tennis, and then find the activist.
Sam Pollard: Yes, exactly. I think that was Rex's mission as he got into this film four or five years ago. To really look at Ashe not only as a phenomenal tennis star winning the '68 US Open, beating Jimmy Connors at Wimbledon, winning the Australian Open. This was an amazing athlete, but also an amazing human being. One other thing that's interesting in the film, at the very end he says he doesn't want to be remembered just as a tennis player. He wants to be remembered as this African American man who basically was out there to do more than just be a tennis star.
Melissa Harris-Perry: Rex, you also have explored the life of Althea Gibson. I think for young people today who know - I guess actually we're not even that young anymore - the Williams sisters and moving forward, I wonder if there's something specific about tennis and activism for Black players, or if it is simply the nature of being in a sport that is connected with whiteness in the way that tennis is that also contributes to this position of activist athlete.
Rex Miller: Well, my background is very much in tennis. I am the product of two tennis fanatic parents, so I grew up literally in the crib by the tennis court. My mother who was Jamaican and a brown-skinned woman played Althea in 1958 at the segregated Merion Cricket Club. Neither one of them could join the club. It was restricted but they were allowed to play in the tournament. My mom was a good local player in the New York area.
I come at this story and Althea's from the tennis perspective, but I'd say that I literally got exposed to a great deal of activism through being an admirer of Arthur Ashe. I used to imitate his serve when I was like 8, 9, 10 years old. When I was 6 in 1968, I was at the finals of the US Open in Queens near where I lived. I come at it through tennis. Arthur and Althea had very different reactions to the pressure of being an activist. Althea came more than 10 years before Arthur. She was a champion in the late '50s. Arthur didn't reach that level till 10 years later in '68.
Althea was very much a reluctant activist. Things were a lot rougher in the '50s. Also being a female and being really very much on her own, it was downright dangerous both for her life and any career she might want to fashion by going out on a limb and demonstrating. Arthur, as Jeanne Ashe pointed out to me, had a lot of support along the way. He had the support of the church when he was growing up to give him some stability. He had the support of UCLA and then later West Point, the US Military, and then the Davis Cup team.
All of these institutions and organizations gave him a ground to stand on. It still took Arthur a while to develop his outspoken activism because he was the same age as Emmett Till and saw that through the newspapers and the media. Saw that murder take place, and as he says in the film, "If you were Black growing up in the '50s, you knew who Emmett Till was even if you were illiterate." Althea and Arthur had different stances on being an activist.
Melissa Harris-Perry: Yet there was some reluctance for Ashe. That point earlier, Sam, that he was not necessarily Muhammad Ali and his initial desire to be immediately forthright. Sam, I wonder if you can talk us a little bit through what that reluctance looked like and what pushed him past that. Was it primarily the Emmett Till moment?
Sam Pollard: I think the reluctance came from the fact that as for African Americans, and particularly African American men during that period of segregation, if you lived in the South at any moment you could be lynched. You could be pulled off the streets, you could be murdered. I think that the strategy for many African Americans at the time was not to make any waves. I think for Arthur, he grew up like that.
He grew up with a father who was very disciplined. Who said, "Here's this world we live in, the segregated world, but you need to figure out how to protect yourself. The way you protect yourself in white America and segregated America is to not make waves. Is not to cause any fuss or any ruckus, because you don't want to end up like Emmett Till or Chaney, Schwerner, and Goodman."
You can see that was his stance and his approach. I think what you see in the film is that as he started to become much more confident about his skills in tennis as he started to get more awareness, and by winning that '68 US Open he felt like he had found his platform. He was now able to say, "Look at me. I'm a winner at the US Open, and I think I can speak out." I think he was reluctant to do that before he had established himself and got this reputation. After that, we see in the film when [unintelligible 00:09:58] interviews him, he was a different man. He was a different man. He was able to speak up now and speak out.
Now, the thing to remember, Melissa, he was never going to be like Ali; bombastic. He wasn't going to be like Stokely Carmichael or Huey P. Newton, but he was going to do it the Arthur Ashe way. He was going to still be focused, disciplined, but speak his mind in a different way. Remember, his brother Johnnie says in the film the man that he wanted to emulate was Jackie Robinson.
Think back to Jackie Robinson breaking into the major leagues under the guidance of Branch Rickey, and being told by Branch Rickey, "We want you to be the symbol of integration for the Major League Baseball, but you can't go out there when people yell at you and call you the N-word or scream at you and throw things at you, you can't fight back." Arthur basically had that same kind of strategy and approach.
Melissa Harris-Perry: I'm wondering if the language that you just used, Sam, of his discipline, of his dignity-- I even think of the ways that my own father, who's born just two years before Ashe right there in Richmond, talked about how he presented himself. Was that in part, Rex, do you think, the military service, that sort of disciplined, buttoned-up way of self-presenting?
Rex Miller: Yes. Arthur had that buttoned-up manner way before he got to the military. As Sam mentions, that came from his father. That came from growing up in the capital of the Confederacy, Richmond, in the '40s and '50s. That was further influenced by his mentor Dr. Robert Johnson from Lynchburg, Virginia, who had basically a tennis academy not only for African American kids but all kids who wanted to play in that area. Primarily African American kids, but Dr. Johnson picked Arthur in a similar fashion that Branch Rickey picked out Jackie Robinson.
As the legend goes, there were a couple other players that were as talented or more talented than Arthur in the young years - 12, 13, 14 - but Arthur had the discipline and the stoicism, and he was unflappable. That served him well because as Arthur said in his words, "I was the raisin in the rice pudding." Meaning in the other sports, track and field, and then later in basketball and football, there were many more African Americans than just one, but he was the only male player. Even at that point Althea was done, so he was the only African American tennis player at the highest level.
Melissa Harris-Perry: Rice pudding is also a particular kind of claim to make about what the tennis world is.
Rex Miller: Oh yes.
[laughter]
Rex Miller: As Charles Kuralt says in the film, but Billie Jean King says it a lot in her appearances, the clothes were white, the balls were white, the shoes were white, the people were white. That was tennis.
Melissa Harris-Perry: That is tennis. Sam, can you talk a little bit about the end of Ashe's life and how his death from AIDS reverberated in the sports world?
Sam Pollard: Well, I think a couple of things, Melissa. First of all, all this emotional and psychological containment and the fact that he had a family history of heart issues probably contributed to him having these heart attacks. As he says in the film, he couldn't imagine being an athletic young man in his late 30s having a heart attack. But he did, and he had a number of heart attacks. Then he had the blood transfusion where he contracted AIDS, and then he had to deal with that.
The thing to remember, which really speaks volumes about Arthur and also Jeanne Ashe, is that they had a level of discipline and stoicism that they were going to work through everything. These were the kind of people-- Arthur Ashe was the kind of person who got hysterical, not in public, maybe in private, but I doubt that. He looked at everything through a very focused prism and said, "How do I deal with this calamity that's impacted my life?" How does he deal with it? By giving back. By his starting organizations that's going to deal with people who have AIDS. By always giving back. He's very focused.
You know what's interesting to me, Melissa? Before I got involved in this film I just thought that, "Oh, good. That was that Black guy who was a good tennis player." He didn't do much, but he did a lot when you really think about it. One of the things that's so amazing about this film is the audiotapes that Rex uncovered. How many times have you had the opportunity to watch a documentary, to hear a person who's the focus of this documentary give you his interior thoughts about his life? The closest that I've come to this is when I did the Sammy Davis one. Sammy Davis is another one who was very introspective.
It's amazing how introspective Arthur is about his life, about the people in his world, in his orbit. His relationships with different people from Muhammad Ali to Stokely Carmichael, to his feelings of guilt about not being on the front lines when people were protesting in the '60s. Amazing revelations that you get from this man.
Melissa Harris-Perry: Both of you have used the word stoic more than once to talk about Ashe. When I think about the headline-making Black tennis player in this moment, Naomi Osaka, and her decision to actually opt out of the Olympics this summer. The multiple conversations we had here on The Takeaway and throughout media around her decision as a young woman of color to, as many understood it, put self-care at the core of her decision making, would that make her not stoic? Would it make her stoic in a 21st century way? I'm wondering if there is any kind of a throughline that we clearly see from an Arthur Ashe moment to a Naomi Osaka moment.
Rex Miller: She inhabits a different sports landscape than Arthur Ashe did. The microscope that she's under has both a woman of color and of Japanese descent. Her father's Haitian and her mom's Japanese, so she's got a lot of pressure on her to basically represent both of those races. She gets a lot of money from Asia, all those endorsements, and a lot is put upon her; a lot of responsibility. The exterior that she showed when she was winning the US Open in 2020, where she wore a different mask for all seven of her matches celebrating and drawing attention to people of color that were killed by the police, that was totally on her own.
I think that's the throughline from Arthur to players like Naomi Osaka and Serena. We see Frances Tiafoe, up and coming male star from the States, also representing his thoughts and social activist views. I think that's the throughline. Harry Edwards in the film talks about how athletes these days have the greatest opportunity through this thing called Twitter; social media. They can post their own views. Back in the day, a lot of times if athletes spoke out it wouldn't even be covered by the mainly white sports media that was following them, but nowadays athletes can speak for themselves and you see them doing it left and right. I think that's the throughline.
With Naomi particularly, I think she's going to rebound and find her core and realize that she has big things to accomplish, mostly off the court. She's already accomplished a lot on the court. As Arthur stressed, he wanted to be remembered for things that he did off the court, and I think Naomi is headed in that direction.
Sam Pollard: I think that Naomi has the same-- I do think she has a certain kind of stoicism that is similar to what Arthur has. She's not outwardly vocal, she's not loud about how she's feeling, but she really articulated that was going through some struggles psychologically and she felt that she needed to pull back. I think there's a certain kind of stoicism she has that to me is similar to Arthur. She's an athlete who says, "I don't have to make a lot of big waves to basically say I need to take care of myself. This is what I need to do: I'm going to stop playing tennis for a while." I think she is in line with the way Arthur saw himself and how he reacted to things.
Melissa Harris-Perry: Rex Miller and Sam Pollard, co-directors of Citizen Ashe. Thank you both for joining The Takeaway.
Sam Pollard: Thank you, Melissa.
Rex Miller: Yes, thanks to you.
Copyright © 2021 New York Public Radio. All rights reserved. Visit our website terms of use at www.wnyc.org for further information.
New York Public Radio transcripts are created on a rush deadline, often by contractors. This text may not be in its final form and may be updated or revised in the future. Accuracy and availability may vary. The authoritative record of New York Public Radio's programming is the audio record.