Cities Across New York Submit Plans for Police Reform, Critics Say Many Don't Go Far Enough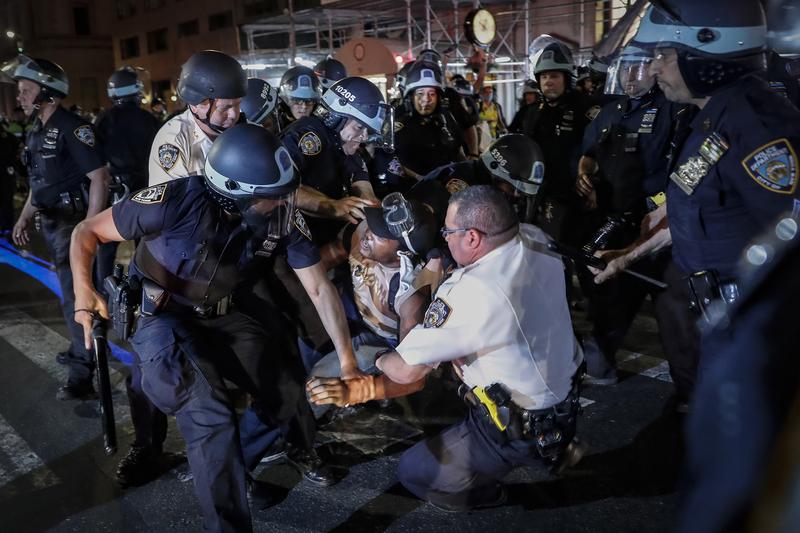 Transcript
Rebecca Ibarra: You're listening to The Takeaway. I'm Rebecca Ibarra in for Tanzina. After the police killing of George Floyd and the racial justice uprisings that followed across the country, New York Governor Andrew Cuomo signed an executive action pushing for policing changes at the local level. The order required every locality with a police department to submit a reform plan by today, April 1st, or risk losing state funding. While this might seem like a comprehensive policing overhaul, some critics of the order argue that it doesn't do nearly enough.
Governor Cuomo gave no real blueprint for what the reform plans need to include leaving communities to decide what changes to make on their own. Here with us now is George Joseph, an investigative reporter with WNYC's Race and Justice unit. Good to have you here, George.
George Joseph: Hey, Rebecca.
Rebecca Ibarra: What exactly does this executive order require from cities and towns in New York?
George Joseph: Last year after the massive Black Lives Matter protests, Governor Cuomo tried to implement his own vision of police reform, but because so much of policing is controlled at the local level, he used his power of the purse at the state level to say, look, every single municipality across the state, which is over 500 of them, needs to submit a reform plan by April 1st. If you don't, you may lose state funding, which is really important to some departments across the state.
Rebecca Ibarra: How varied are the different plans that the localities have put out?
George Joseph: Governor Cuomo's letter to these executives at the local level didn't really specify very much. It listed numerous things they could consider to change, for example, use of force, restorative justice, focused deterrence. There's so many different types of ideas that localities could use here, but all they really said as a structure is that localities have to reach out to locals, meet with community groups, come up with a plan, get the plan ratified, and then submit the state. There's no clear criteria in of, you need to do X, Y, and Z because that meets best practices. What we're seeing across the state is, it really all comes down to the politics, the political will, and frankly, a knowledge base of locals on how they're going to change their departments.
Rebecca Ibarra: Were there any other localities that were more resistant to putting together any comprehensive reform policies?
George Joseph: That varies across the state. We've seen in some small towns, especially upstate, some resistance at these town halls from police chiefs, where someone will say that police are racist, and then the chief will say, "No, we don't have that problem here." Even in the biggest police department in New York City, the NYPD where there have been tons of protests and there are tons of reform organizations, the changes haven't been as dramatic in the city as in other parts of the state.
Some of the staff of the NYPD is implementing in response to this are implicit bias training, more diversity in the force. These are initiatives that have already been tried before and are ongoing for the NYPD. They're not necessarily the sort of radical defunding stuff that activists were calling for, although there is some shifting of funding in New York to a small degree.
Rebecca Ibarra: Then what actually happens if an agency doesn't have their plan ready by today, or if the governor doesn't approve of the plans they made?
George Joseph: We have to wait and see on that. Thus far, it's too early to say that the governor is going to reject any of these plans. That would really depend on the governor's political calculus if he wants to take a harder stand on what localities need to do. Some critics felt like this was just a way for the governor to show that he was making a change by requiring these reforms, but by not really giving any rules about it, basically allowing localities to do whatever they wanted to do.
Rebecca Ibarra: I have a feeling I'll know the answer to this question, but George, you've been reporting on corruption in police departments in the state. Will this address anything related to corruption in those police departments?
George Joseph: Again, it really depends on the local political will. For example, one of the places that I've reported on is a small town called Mount Vernon, and in Mount Vernon, which is a fairly not super well-funded police force they are using this opportunity as a way to modernize. They're finally, proposing things that people in big cities may consider basics like body cameras or Public Information Officers for their department to help the public understand what's going on with the police department. These things sound like basics, but we have to remember, so much of American policing is decided at the local levels in small cities and towns. In some ways this push is not just to reform, it's to modernize.
Rebecca Ibarra: Apart from this executive order, what else has New York State done to address police brutality and corruption since last summer?
George Joseph: There's been quite a bit of activity at the legislative level. Listeners may not be aware of it. For decades, New York had much stricter laws protecting disciplinary records for police from coming out, even as compared to other states like Texas and Florida. One of the big changes right after the George Floyd protest was that legislature repealed one of those secrecy laws, and now cities across the state, from Rochester down to New York City, have been putting out thousands of documents, finally, going back years on police misconduct findings.
Rebecca Ibarra: Now that these plans are in, what are you watching for next when it comes to policing in New York, George?
George Joseph: There's so much that reform advocates still want. One thing I'm watching, in particular, is on the surveillance side of things. In recent years, there's been such a quiet adoption of technologies like DNA databases and facial recognition software, often in partnership with private companies. There's very little regulation, especially at the state level for the use of these technologies and how police are using them in criminal investigations. We'll see if advocates and privacy rights advocates calls for more regulation of those technologies finally comes to fruition.
Rebecca Ibarra: George Joseph is an investigative reporter for WNYC's Race and Justice unit. Thanks so much for joining us, George.
George Joseph: Thank you.
Rebecca Ibarra: As we just heard, today is the deadline for every city and town in New York State to submit police reform plans to Governor Andrew Cuomo. The city council of Rochester, New York, voted to approve their city's plan earlier this week. Here's Rochester Mayor Lovely Warren at a conference outlining the proposed overhauls in February.
Lovely Warren: My uncle was the first person to receive compensation from a lawsuit that he had filed against the city of Rochester, for police officers brutally beating him back in the 1960s. This work is very, very important to me. It is personal to me, it is personal to my family, and I want to get it right for all of you, the citizens of Rochester.
Rebecca Ibarra: This all comes at a moment when the Rochester police department is facing increased public scrutiny. Over the past year, Rochester police officers have been at the center of multiple high-profile incidents of police brutality, including the killing of Daniel Prude in March of 2020 and the pepper-spraying of a nine-year-old girl earlier this year. According to the civilian-led Rochester Police Accountability Board, the city's police reform plans are unlikely to create meaningful change within Rochester. Here with us now is Conor Dwyer Reynolds, Executive Director of the Rochester Police Accountability Board. Thanks for being here, Connor.
Conor Dwyer Reynolds: Rebecca, wonderful to be with you.
Rebecca Ibarra: First off, what should people know about the role of Police Accountability Board in Rochester?
Conor Dwyer Reynolds: We're a community-led organization dedicated to establishing community control of our police department and our public safety system.
Rebecca Ibarra: For listeners who aren't familiar with Rochester, how distinct is the city's police department compared to other similarly sized cities?
Conor Dwyer Reynolds: We're an outlier. Compared to about 75 cities closest to us in size, we have twice as many officers. The only city nearly our size that has more officers is Birmingham, Alabama.
Rebecca Ibarra: Wow. Last year, the Police Accountability Board put out a proposal detailing changes you wanted to see for policing in Rochester. What were some of the key pieces of that proposal?
Conor Dwyer Reynolds: The heart of that proposal was that the community wanted fundamental change rather than piecemeal reform. Community Chloe spoke up and wanted immediate millions of dollars investments in alternative first responder programs that put social workers in mental health providers on the frontlines. They wanted to remove white supremacy from institutions of policing and public safety, and they wanted the community to be leading when it comes to reshaping the public safety budget to ensure we have an equitable system in Rochester.
Rebecca Ibarra: You say, remove white supremacy. What does that look like put into action?
Conor Dwyer Reynolds: It's a couple of things. It's making sure that we're screening out white supremacists from our public safety forces, including our police department, as well as looking at the systems and rules that enforce things like white supremacy in our city when it comes to enforcement patterns like stop and frisk and other practices.
Rebecca Ibarra: Conor, how does the city's plan compare to your proposal?
Conor Dwyer Reynolds: There's a lot of things missing from the city's plan in our proposal. Some of the most important things that we pushed for were concrete deadlines and hard funding commitments to make sure that the public knew that real change would actually get implemented. A lot of the proposals in the current plan that the city submits are pretty vague saying we'll do things in some years to come, but not specify what the exact things will be and commitments to say they'll increase funding to programs without giving dollar signs.
Rebecca Ibarra: How are you feeling about the proposed plan then?
Conor Dwyer Reynolds: It's an election year and so these plans come out pretty often whenever there's an incident of police brutality. I think what Rochesterians want are investments in the current institutions that are community-led that are already dedicated to creating fundamental changes plans for change and reform and for ensuring that officer misconduct is addressed quickly, fairly, and transparently.
That's what we have in the Police Accountability Board, which was created by an overwhelming referendum supporting by Rochesterians in 2019. Any plan that doesn't fully support and fund the existing police accountability board, I'm not sure that Rochesterian should have a ton of faith that vague promises are going to do a ton.
Rebecca Ibarra: We mentioned the killing of Daniel Prude as well as the incident from this year where an officer pepper-sprayed a nine-year-old girl. Both Prude and the girl were Black. Have there been any significant changes within Rochester's police department in response to either of those incidents?
Conor Dwyer Reynolds: The Rochester police department has been rolling out some new policies like things like a duty to intervene to make sure that officers respond when others are doing wrong, things like de-escalation policies and practices.
The trouble with rolling out new policies is that anyone who's involved in policing knows that new policies are just words on paper, unless there's sustained training on the front end to make sure officers understand what they're supposed to do, and then disciplinary policies on the backend to make sure that rules are followed. We haven't seen those things yet from the Rochester police department. Right now we can't be sure that any of the changes that the police are doing, they reform themselves are actually creating change.
Rebecca Ibarra: The Police Accountability Board says that Rochester residents want a fundamental overhaul of public safety in your city. Is that true across the board for white residents, as well as Black and Brown residents?
Conor Dwyer Reynolds: In any community, we can't characterize them as modernalized, but the important thing to remember is that something that hopefully makes this moment different is you do see across racial and demographic groups, real support for concrete change. We saw thousands and thousands of Rochesterians take to the streets over the last year, the community standing up united to say something needs to change across our system. They overwhelmingly supported the Rochester Police Accountability Board too. That's why I have faith in the short to medium term we will have fundamental change in Rochester.
Rebecca Ibarra: How fully have Rochester officials acknowledged the role that racism plays in the city's criminal justice system?
Conor Dwyer Reynolds: It's been hard. The Police Accountability Board is very focused on talking about things like white supremacy, systemic racism, misogyny. These kinds of structural oppression that really gets to the heart of what the problems with our system are. I think it's been hard to get people to say those phrases and words, but it takes more than just saying them. It takes having policies, procedures, practices that constantly center these ideas and then attacks them, frankly. We're a long ways away from really getting to the place where we need to be when confronting these structural issues in our public safety system in Rochester.
Rebecca Ibarra: Then Conor, what needs to happen going forward to create lasting change for policing in Rochester, according to you and the board?
Conor Dwyer Reynolds: The board is so focused on making sure that the community's voices get heard. When we were developing our proposals for change, we went out and specifically solicited the voices of unhoused people, Black and Brown people, former officers, formerly incarcerated people. These are the groups that see the most when it comes to policing and they're the voices that need to be centered.
I think that what the Rochester police accountability board is looking for is systems of empowerment, ways of doing government differently because when we talk about policing, it can be easy to just focus narrowly on things like incidents of police brutality, but in cities across the country, the most powerful and largest part of government is policing. When we talk about changing policing, what we're talking about is changing the fundamentals of government and politics. If we don't have an approach that empowers ordinary people when it comes to policing reform, I doubt that we're going to see actual lasting fundamental changes to our cities across New York.
Rebecca Ibarra: Conor Dwyer Reynolds is the executive director of the Rochester Police Accountability Board. Thanks so much, Conor.
Conor Dwyer Reynolds: It's wonderful to be in here. Take care.
[00:15:33] [END OF AUDIO]
Copyright © 2021 New York Public Radio. All rights reserved. Visit our website terms of use at www.wnyc.org for further information.
New York Public Radio transcripts are created on a rush deadline, often by contractors. This text may not be in its final form and may be updated or revised in the future. Accuracy and availability may vary. The authoritative record of New York Public Radio's programming is the audio record.