A Check-In With an Abortion Provider in Texas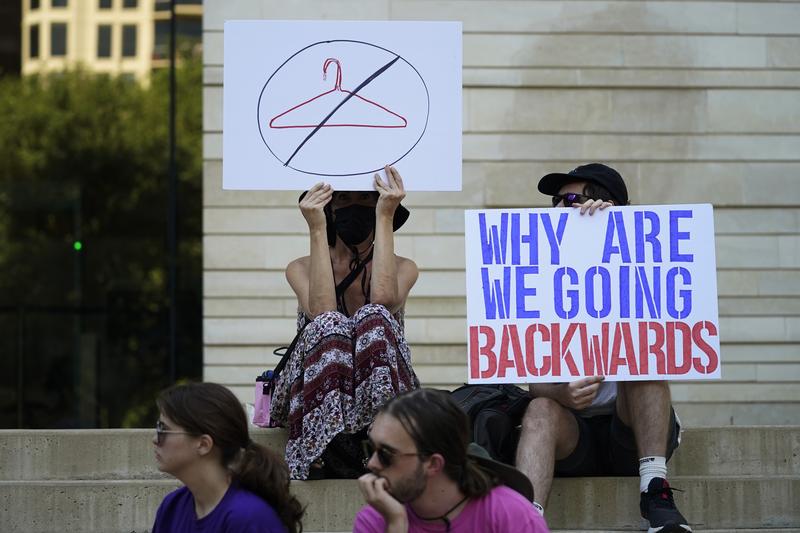 Transcript
[music]
[protesters chanting]
Melissa Harris-Perry: You're listening to The Takeaway. I'm Melissa Harris-Perry. It's been three days since the Supreme Court overturned Roe v. Wade and already millions of American women live in states were abortions are now illegal. On Friday, I spoke with Alexis McGill Johnson, president and CEO of Planned Parenthood Federation of America and the Planned Parenthood Action Fund.
Alexis McGill Johnson: That's who I'm thinking about, Melissa, the people who are waking up today with this news and grappling with the fact that they now have to go on a journey, go on an adventure just to get healthcare that they should be guaranteed. That's what's so devastating, that millions of people are going to have to travel if they can or be forced into pregnancy.
Melissa Harris-Perry: Or be forced into pregnancy. Those are the-- I'll say it, obscene words that stayed with me all weekend. Even before the ruling, 13 states had so-called trigger laws that enacted bans contingent on Roe being overturned, and nine states had preexisting bans, which presumably go back in effect now that Roe has been overturned.
Texas has both and the Planned Parenthood and Whole Woman's Health along with other providers stopped providing abortions as of Friday, based on Attorney General Ken Paxton's statement that, "Abortion providers could be criminally liable for providing abortions starting today." With me now for more from Texas is Dr. Ghazaleh Moayedi. Dr. Moayedi is an OB-GYN, abortion provider, and founder of Pegasus Health Justice Center. Dr. Moayedi, welcome back to The Takeaway.
Dr. Ghazaleh Moayedi: Thank you for having me.
Melissa Harris-Perry: Obviously, we've been talking many times in the months leading up to this moment, but still, there was always the possibility of a different kind of ruling. How were you feeling over the course of the past few days?
Dr. Ghazaleh Moayedi: There was a hope that there could be another type of ruling, but I think seeing how SBA has played out over the past almost year in Texas, this was the really the expected and only outcome. This was the playbook and it has been a terrible past few days over a terrible past 9, 10, 11 months here.
Melissa Harris-Perry: My understanding is that the Texas trigger law effectively bans abortions from the moment of fertilization with no exceptions, except in the case of imminent threat to the life of the person carrying the pregnancy. Is that right?
Dr. Ghazaleh Moayedi: Exactly. Yes, so there are very few exceptions and a physician has to certify the imminent threat to life and that is essentially the state that we are living in now.
Melissa Harris-Perry: You are now an abortion provider in a country that no longer has a constitutional right to seek an abortion. What are some of the things you're most concerned about here?
Dr. Ghazaleh Moayedi: I am very concerned about my community, number one. I am concerned about all of the people that have been traveling and how much further they're going to have to travel now. I'm concerned about the safety of the people that help them to travel it. You can't travel alone. It's a community effort to get folks from Texas to even Oklahoma, but now farther and farther and farther as the rest of the country as also needing to travel.
I'm also extremely worried about every single pregnant person I take care of here in the state that wants to be pregnant and has some unspeakable complication. We know through research that we've done here in the state that abortion bans make pregnancy more dangerous and the more and more we restrict access to abortion, the more and more pregnancy will become dangerous in general. I'm very concerned for my community.
Dr. Ghazaleh Moayedi: What does this mean for you as a provider? I know we've talked before about your commitment to trying to stay in Texas. Is that still possible for you?
Dr. Ghazaleh Moayedi: I am in so many meetings with my lawyers all the time trying to figure out how I can continue to stay here and serve my community and now, also quite literally, not go to jail. Which is unconscionable, right? It's surreal to have your kid come up to you and say, "I'm sorry, your job is illegal now, mom. I'm sorry that they," yes, it leaves you speechless.
I'll say that every community deserves to have skilled and trained abortion providers, that we are a public good, the training that we bring, the education that we bring enhances the care of all people in our communities. I'm going to fight like hell to stay here but I am concerned about this ruling and everything else that was said and unsaid in the ruling too, right? That this isn't going to be the end and that makes me deeply fearful for my child and for all of our children. What is this going to mean for generations to come?
Melissa Harris-Perry: I had a conversation on Friday with a member of my family, a senior woman in my family who had an abortion before Roe v. Wade. She talked to me about-- and her language was very clear. She said it was because my personal physician was willing to break the law. He had me come into the office when the office was closed, I couldn't have anybody with me, and I couldn't have any pain medication or anything but he did provide the first trimester abortion in his office risking, at that time, so much to do so.
What she said to me was now we're going to rely on whether or not physicians will be willing to break the law. I thought, "Whoa." I'm not sure that I have the words to describe what it would come-- I'm not sure that I pick up this mic and broadcast on this radio if I thought that my family's future was threatened by the possibility of me being arrested, and going to jail for what I do. This must be something providers are talking about the willingness, the capacity to skirt or move around these laws.
Dr. Ghazaleh Moayedi: You don't come into this field before this decision, or after not having that in the back of your mind. Thankfully, now people have access to two medications: one tablet of mifepristone and four tablets of misoprostol. They can take those pills and safely end their pregnancies on their own. Through modern medicine and modern technology, we're definitely in a different world than the pre-Roe era so legality and safety are not synonymous in the same way that they were in 1972.
I think that that is an important thing for people to recognize that while we really did depend on many individual brave people needing to break the law previously, that there are medications now. That doesn't mean that we're not going to continue to need people working and fighting and being brave, but it's a very different landscape now. The reality is that surveillance on all of us is very different now than it was then. Those are things that people have to keep in consideration as they're considering whatever they will be doing.
Melissa Harris-Perry: I want to talk about another aspect of providers and that is you all go to medical school, you become doctors, you have to do this whole process of learning a variety of medical practices. When I look at the map of where abortion is already now entirely legal, where it will be in the next 30 days, is there going to be any place where one can even learn these practices-- D&C procedures, for example, in medical school? Places where during residency, you would have an opportunity to-- I'm just wondering if there's also just a capacity where medical knowledge, capacity will diminish dramatically.
Dr. Ghazaleh Moayedi: Yes. The advanced education and abortion care is already coastal to some extent with some places in the middle of the country where you can learn here and there and here and there, and it's going to be even more divided.
While many OB-GYNs will learn a D&C procedure done in an operating room with a person that's asleep, the access to training for advanced abortion procedures like a D&E is very limited even before this decision and it doesn't even include all of the family medicine physicians, all of the nurse practitioners, all of the midwives that also learn these procedures and how this ruling will impact their training as well.
There are definitely going to be some people that hear this and say, "Well, if you don't have abortions, you don't need people that need that training." and that's just simply not true. I use those skills to help regular OB-GYNs prior to this decision and prior to SBA almost every single week in managing pregnancy complications. The skills that abortion providers have are necessary for the health and safety of pregnant people.
It is going to be a huge loss in knowledge within all of our communities to not have students and not have residents of all specialties exposed to that education.
Melissa Harris-Perry: Can you say a bit about how it is that your skills are-- again, before this decision, were being put to use to assist OB-GYNs in pregnancy care?
Dr. Ghazaleh Moayedi: Yes. There's a list of things that can unfortunately and sadly go wrong in pregnancy. One of the most recent cases that first comes to mind is a person that had a pregnancy that was growing inside of the scar of their C-section. Oftentimes, these can be caught early, maybe at five, six weeks, but still, this is a very complicated procedure and there's not one best way to do it. There are papers that compare different methods because it can be so dangerous.
It can result in massive hemorrhage and a need for an immediate hysterectomy and in fact, there are some places where if your C-section scar has the pregnancy implanted in it, the treatment is hysterectomy, but this might not be detected until someone is over 15 weeks. In this particular case, that was the case that the person had an advanced pregnancy growing within the C-section scar. This is a case where you need D&E skills. You need to be able to do a procedure to remove the pregnancy from the uterus.
We were able to do that for this person without removing their uterus. They didn't have to have a hysterectomy. They didn't have to have a blood transfusion. They were able to leave the hospital perfectly fine the next day and that was directly a result of having a person in the community that had advanced abortion skills. Otherwise that person would've had a major abdominal surgery several days in the hospital and not have a uterus anymore.
Melissa Harris-Perry: This is someone who presumably wanted to be pregnant. I think there's this framework of that every termination is exclusively-- this isn't to make a any kind of moral ranking or ethical ranking, but simply that the experience of termination is an experience that people may choose for a wide variety of reasons, even when they very much desperately want to be pregnant.
Dr. Ghazaleh Moayedi: Yes. One of the things that I have been so upset about in the past few days is the framing that I've seen around anti-abortion, anti-choice people being shown as so happy over the lives of fetuses that they've saved. That is just so insulting, dehumanizing, and degrading to the people that have chosen abortion because they also love and respect and care for the pregnancies that they have chosen to end. Whatever the reason was, that there is love behind the decision for abortion, that there is caring.
I hear that and see that from every single person that I take care of, that those decisions are deeply personal, and they come from a deep place of love. To be seeing images of people saying that they know what's best, not only for our bodies, but for the pregnancies that we love is so degrading and dehumanizing.
I just wish people would spend time. Let's talk to someone, come hear our stories, come hear what's really happening and listen, and you would see the humanity and the compassion in what's happening in the care that we provide and the care that people receive.
Melissa Harris-Perry: Are you feeling any hope right now?
Dr. Ghazaleh Moayedi: I'm trying really, really, really hard every day to find hope. I think about social justice movements of eras past and what it must have taken for people when they realized that potentially that justice wasn't in this lifetime, but that their work was moving us towards it. I'm trying to find some peace in that, that even though this decision has set us so far back, that we continue to move forward, we're going to continue to just love and be joyful despite it.
Maybe it's not going to be our lifetime, but that doesn't mean that we're going to stop.
Melissa Harris-Perry: Dr. Ghazaleh Moayedi is an abortion provider in a state where it's now illegal to provide abortions. She's also the founder of Pegasus Health Justice. Thank you for being here, Dr. Moayedi.
Dr. Ghazaleh Moayedi: Thank you for having me.
[music]
Melissa Harris-Perry: In the day since the Supreme Court overturned Roe v. Wade, we've been hearing from you, tears, outrage, anger, heartbreak. You've called and you've weighed in on a decision that will transform American life.
Kathleen Ginestra: Kathleen Ginestra, Jensen beach, Florida. I am literally in tears that I have watched in my lifetime Roe v. Wade come to pass in my college years and Roe v. Wade to be taken away as I turn 70. This does not end abortion, it just criminalizes it.
Female Speaker 4: My name is [unintelligible 00:17:51]. I'm a heartbroken. I had a late term abortion as a teenager and I am very upset to think of all the other teens who now have nowhere to go.
Melissa Harris-Perry: Some of you told us how afraid you are about the effect this decision will have on women and on people of color.
Jennifer Piazza: My name is Jennifer Piazza, and I'm calling from Vacaville, California. My reaction is that this is just absolutely abhorrent. It's basically a reinforcement of the fact that people who can get pregnant are considered second class citizen.
Female Speaker 5: This is a way for the rich and powerful to control women in particular. The specific women are Black and Hispanic women because you will keep them down on the totem pole because they'll be busy raising a child or children.
Melissa Harris-Perry: Ainsley McWilliams is a fourth year med student who went to medical school because she wanted to an abortion provider.
Ainsley McWilliams: I am very scared. My future job has just been made illegal in my state. I'm scared I'm not going to be able to get the training to help women they need me to have. More than anything, I'm just very, very angry that half of our country's population are having their autonomy ripped out of their hands by people who aren't representative.
Melissa Harris-Perry: Like Ainsley. Many of our callers said they don't feel like lawmakers represent their values and they worry American democracy is at risk.
Susan: This is Susan from Vashon and I am outraged but not surprised at the court's decision to overturn Roe. In my view, it is further evidence clarifying the fact that our country is no longer a democracy, but an autocracy in the clutches of an extremely conservative minority of oligarchs who have no interest in the wellbeing of the majority of today's American.
Robin Einhorn: Robin Einhorn, Oceanside, California. The Supreme Court does not represent this country. Christian values are great, but they are not this country. Abortion issues shouldn't be decided by a bunch of men.
Melissa Harris-Perry: Now, we also heard from men across the country saying it should be a pregnant person's right to choose.
Male Speaker 1: As a father of four, I'm upset for my wife, my two daughters at Roe v. Wade being overturned. I live in Charleston, South Carolina, and I know I probably don't hold the same views as the people around me, but it doesn't change my aggravation, my frustration, and my willingness to fight.
Damien: Damien calling from Louisville, Kentucky. It has been a long time in coming. I do not support that. I am a strong believer that it's a very personal decision and that a woman should make decisions about her own body and no one else should.
Melissa Harris-Perry: Thanks so much to all of you who called in, and please keep sharing your thoughts with us. Talk to us about the end of Roe by calling us at 877-869-8253. That's 8778-MY-TAKE.
[music]
Copyright © 2022 New York Public Radio. All rights reserved. Visit our website terms of use at www.wnyc.org for further information.
New York Public Radio transcripts are created on a rush deadline, often by contractors. This text may not be in its final form and may be updated or revised in the future. Accuracy and availability may vary. The authoritative record of New York Public Radio's programming is the audio record.