CDC Issues New Guidelines on Wearing Masks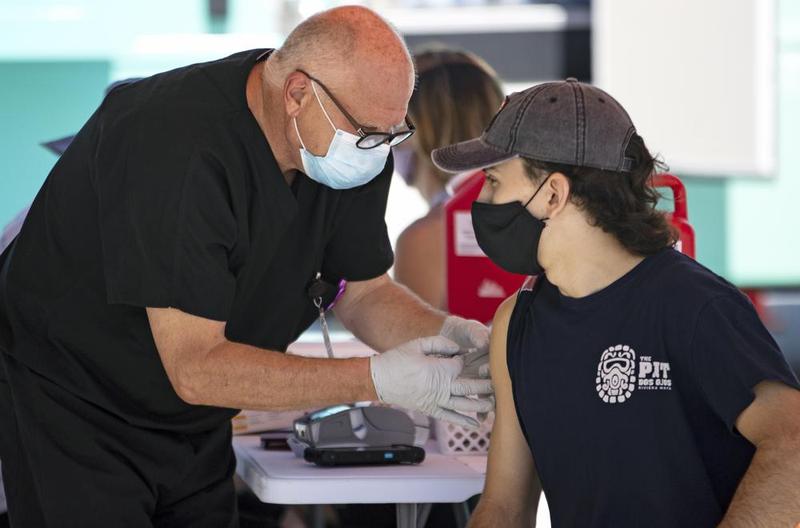 Transcript
[music]
Lizzie O'Leary: I'm Lizzie O'Leary, host of the podcast What Next: TBD from Slate, in for Tanzina Vega. This is The Takeaway. We start this week with the latest from the CDC.
Speaker 2: Today is another day we can take a step back to the normalcy of before. Over the past year, we have spent a lot of time telling Americans what they cannot do, what they should not do. Today, I'm going to tell you some of the things you can do if you are fully vaccinated.
Lizzie: Last week, the CDC released new COVID-19 guidelines relaxing the wearing of masks outdoors as the vaccine rollout continues and cases decline across the US. While it still recommended that people wear masks in crowded areas like at concerts and sporting events. The CDC says those who are fully vaccinated no longer need to wear masks in small gatherings or while walking, running, and dining outdoors.
Speaker 2: The science shows if you're vaccinated, you can do so safely unmasked.
Lizzie: The CDC also says that unvaccinated people can forego masks in outdoor settings. For some people, the new guidance comes as a relief. A glimpse into our slow return to some sense of normalcy, but for others, the new rules are causing even more confusion, and you told us about it.
Speaker 3: Pretty soon I'll be considered fully vaccinated, but what if I'm in an elevator with someone who has COVID and they're coughing? I'm going to continue double masking and keeping distance from strangers. I'm going to look at those things as wearing my big boy pants.
Doris: This is Doris from Greenville, South Carolina. All the adults in my family group are fully vaccinated. We all are still masking, avoiding crowds, not eating indoors at restaurants, not eating out really at all. I consider the risk to my grandchildren, all children, to still be too high to go back to pre-pandemic normal. We don't really know yet what all the long-term and potentially permanent side effects might be.
Mary: Hi, this is Mary from Fremont. I thought, "Yay" and went for a walk without my mask, but passing by others who would not know whether or not I had been fully vaccinated felt uncomfortable, so I decided to continue to mask up. It feels more supportive to the community to do so.
Lizzie: For more on this, we're joined by Dr. Megan Ranney, emergency physician and associate dean of the School of Public Health at Brown University. Dr. Ranney, welcome back to the show.
Dr. Megan Ranney: Thank you, Lizzie. It's a joy to be here with you.
Lizzie: What exactly did the new guidelines say for vaccinated people and unvaccinated people? Let's lay them out first.
Dr. Ranney: Absolutely. Really the big place that there are changes here are for vaccinated people, and the new guidelines basically say if you're vaccinated, you can go without a mask in most outdoor activities, particularly if you're with mostly other vaccinated people. This is more of the same from the CDC saying that if you're around only vaccinated people, you can be unmasked either outdoors or indoors. The big change for unvaccinated people is just saying for the first time, listen, you can go for walks and runs or bike rides outside without a mask, as long as you're just with your family group. Then reinforcing if you're unvaccinated, and only around other vaccinated people, you could be without a mask in that small group. Nothing else has changed. None of the recommendations for indoor masking have changed and none of the recommendations, particularly for unvaccinated people in big groups, have changed.
Lizzie: There's been some criticism, notably in The Atlantic and a couple other places saying this is really complicated. There's this color-coded flowchart. Do you think the guidance might confuse people?
Dr. Ranney: I think it may confuse people and there are two really important things that I tell folks. I will say, my phone blew up with text messages and emails and phone calls last Tuesday after the recommendations came out with this confusion. What I tell people is two things. The first is, if you are vaccinated, this is more proof that vaccines are our ticket back to normality, so if you are vaccinated and you are around vaccinated people, you can go unmasked. The second big thing is that you still have a choice.
You know those listener quotes that you played at the beginning, the folks that still want to wear masks because it feels supportive of their community or because they don't feel comfortable being unmasked, that is okay. You absolutely can still mask, this is just telling you that the science supports that outdoors, it's all right to take the masks off.
Lizzie: I think back to something that a scientist told me at the beginning of the pandemic, which is that we are often used to, as a public, consuming science at the endpoint, but with COVID-19, it's a novel virus, this is a process. I think about how the CDC has rolled out this guidance. It feels like they say, "You must do this one thing. No, you must do this other thing." I wonder what would have happened or what might happen if they say, "Hey, it's a process. We're learning."
Dr. Ranney: I love that. I think that we have been hamstrung in a bunch of ways across this pandemic. The first, of course, is that last spring, the CDC was not allowed to put out true science-based recommendations. They were under tremendous political pressure from the executive branch, that lost the trust of the public and really impaired--
Lizzie: We also had people say, Tony Fauci included, that, "Hey, you don't need a mask unless you're a healthcare worker."
Dr. Ranney: True and you know what? At that point, in the pandemic, A, I'll say as an ER doc, we were short on masks, and every mask that was out there needed to be saved for us in healthcare. B, we didn't know it was aerosolized. We did not know that this virus spread through the air back when Dr. Fauci said that. But you're right, absolutely, we should have nuanced.
I think when you look at this CDC chart, it has a little more nuance than we've seen in the past. I'm also telling folks to expect more changes to come and as you said, this is not a black and white issue. The pandemic is unfortunately shades of grey, and science is progressing and recommendations will continue to progress. Vaccinations are progressing and recommendations will change as we get more vaccines out there.
Lizzie: As you heard in those listener clips, obviously, mask-wearing has become political, but there's also this sort of community thing where maybe you're fully vaccinated, but there's no way to convey to someone you're passing, "Hey, my mask is down because I'm fully vaccinated." What would you say to people who are worried about being perceived as not taking this seriously because there is no way to convey that to people you're passing?
Dr. Ranney: Totally. If you're out on a bike trail, or hiking or going for a walk in your neighborhood, whether you are vaccinated or not, it is safe to be unmasked as long as you're not in a crowd. If you're getting together with people outdoors, I would ask folks, before you agree to go to a dinner party or a barbecue or a pool party, I would ask if people are vaccinated. I will say there are pins for sale saying I'm vaccinated. There's a local company here in Rhode Island called Pinning Me that makes these gorgeous little pins with state insignias, so you can wear a pin to show that you're vaccinated. Again, wearing a mask isn't a bad thing. It's just to know that if you want to take it off in these very specific settings, it's okay.
Lizzie: How much do you think the average person listens to the CDC at this point?
Dr. Ranney: I'm hearing from people across the spectrum that they're feeling distrustful of the CDC's recommendations, and as a public health professional and an ER doctor, that makes me really sad because the CDC has been the shining light of public health for our world for well over 100 years. I think right now, it's really on the media, on those of us in medicine and public health, who do have a bit more of a platform, to help share and interpret these guidelines until the CDC regains the trust of the American public.
Lizzie: Maybe I'm being a bit of a Pollyanna here, but I wonder if in some places where there has been resistance to masking, if these guidelines might come across as more reasonable or maybe just a little easier to take, "No, you don't have to wear them when you're walking the dog, but yes, when you're going to the grocery store, you do." Do you think it's become so divisive that the ship has sailed in terms of being able to capture some people on the margins?
Dr. Ranney: There are so many states that have completely lifted mask mandates even before these CDC recommendations came out. I think there are some folks who are simply not going to wear masks indoors unless forced to, regardless of CDC recommendations. That said, I do think that these recommendations are important because they show that the CDC follows the science, and the science says that if you are vaccinated, you are much lower risk of catching COVID, and if you are outdoors because of the way the virus spreads through the air, you're much lower risk. I think it's important just from that perspective, that it shows that the CDC is willing to change as the science evolves.
Lizzie: What does all of this mean for kids? I have a baby. A lot of people have kids who have been cooped up and parents are struggling, kids are struggling. How do we get this across to parents? But also, kids can't be vaccinated yet. So what advice do you have for parents who are trying to help their kids not lose their minds and socialize a little bit right now.
Dr. Ranney: I get it. I have an elementary school kid and a middle schooler, so I feel that pain every single day. The most important thing for kids is to stay masked at school and to stay masked at those extracurricular or social activities, particularly if they're indoors. We are seeing rising rates of infection for kids across the country linked to social activities and extracurricular activities, not to being in school, because most schools across the country are requiring masks.
If you're doing an outdoor play date with one other family and your kids are going to be at a little bit of a distance, it's safe to take off those masks. But if they're close together, if they're in a big group, if they're playing soccer, or contact sports, those masks are really critical to keep on for right now. Then fingers crossed, that we're going to have vaccines for age 12 and up, hopefully by the end of this week if all goes well.
Lizzie: Given all of this, if you're making like an individual risk budget for your family, which is something I do every day, how do we think about risk? Especially if you've got parents who are vaccinated.
Dr. Ranney: The way that I think about it is a few things. The first is, what is the chance that the activity that you're doing puts you in contact with a person who has COVID? Obviously, if all the people there are vaccinated, that risk is really, really low, so it's safe to take off the mask. As the number of people goes up that you're around, the chance of one of them having COVID increases. Of course, if you're in a community with high rates of COVID, that chance of someone else at your get-together having COVID increases again. That's the first question.
The second question is if there is someone there with COVID, how likely are you to be exposed to it? Again, being outdoors is much lower risk than being indoors, having a well-ventilated area is lower risk than a poorly ventilated area, and a crowd is higher risk than something where people are distanced.
I think about those in terms of those two things, and then how much am I willing to take on the chance of myself or my family getting sick? Listen, my husband is almost fully vaccinated. I've been fully vaccinated since January. Once my husband is fully vaccinated, I'm going to take on a little more risk because I'm no longer going to be worried that either of us are going to get super sick, hospitalized, or die.
I think that for each family across the US, we're going to continue to make those calculations as this pandemic, unfortunately, continues to progress and become something that just becomes part of the daily fabric of our life.
Lizzie: Dr. Megan Ranney is an ER Physician and Associate Dean of the School of Public Health at Brown University.
Copyright © 2021 New York Public Radio. All rights reserved. Visit our website terms of use at www.wnyc.org for further information.
New York Public Radio transcripts are created on a rush deadline, often by contractors. This text may not be in its final form and may be updated or revised in the future. Accuracy and availability may vary. The authoritative record of New York Public Radio's programming is the audio record.