Cast Of "As We See It" Discusses Autism in Adulthood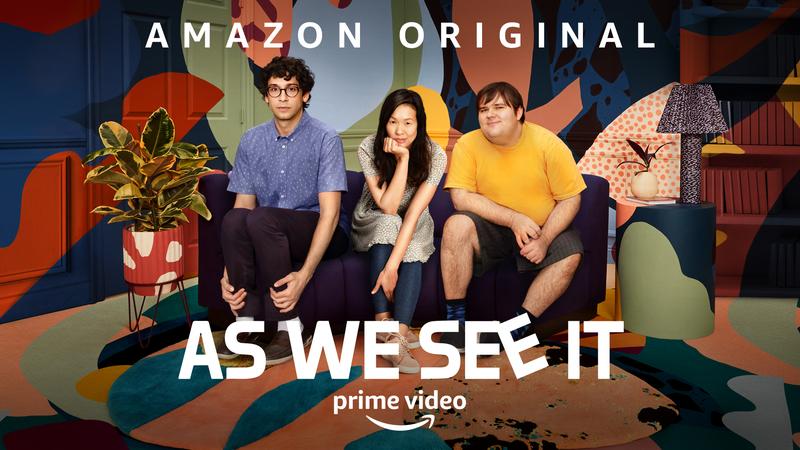 Transcript
Melissa Harris-Perry: It's The Takeaway. I'm Melissa Harris-Perry. Jason Katims, the creator of Parenthood and Friday Night Lights has a new Amazon Prime show, As We See It. It's a dramedy about 20 somethings with autism, navigating love, friendship, and social cues. At the heart of the story are roommates, Jack, Harrison, and Violet. Violet played by Sue Ann Pien is looking for love and hopes to find a normal boyfriend and live what she considers to be a normal life. Albert Rutecki's character Harrison suffers from agoraphobia and the challenges of a noisy world.
Rick Glassman plays Jack, a skilled computer programmer who tells it like it is uninhibited by social filters. Together, these three live in an apartment supported by their aid Mandy, played by Sosie Bacon.
Mandy: Jack, is that how friends talk to each other?
Jack: No, but he's not my friend.
Harrison: My best friend since preschool.
Jack: You're not even qualified to live here with us.
Mandy: Of course, he is. Your family has rented this apartment for all three of you and you know that.
Jack: So we could become independent. Harrison will never be independent or have a job.
Mandy: Harrison, don't listen to that. Jack--
Jack: His parents are filthy rich, and they pay for most of the rent. Otherwise, you wouldn't even make the cut.
Mandy: Jack.
Harrison: I don't like him very much now.
Mandy: Yes, I understand. Jack, do you hear that?
Violet: How am I ever going to hook up with a man?
Mandy: Maybe you can go on a date with someone at drama club.
Violet: Drama club, I wanted someone normal.
Melissa Harris-Perry: Many of the actors, writers, and crew members who work on the show are neurodiverse, including Rick Glassman, Albert Rutecki, and Sue Ann Pien. I spoke with the three stars about their experience in front of the camera and beyond.
Albert Rutecki: My cousin, Riley was doing her graduate studies. A person who worked at NBC had brought up the show. He said that they're looking for autistic actors. My cousin, she grew up down the block from me, knew I was autistic, knew I went to Hofstra to study drama that I wanted to be an actor. She managed to get me an audition, and I sent in a self-tape. That's how I found out about it.
Melissa Harris-Perry: Sue Ann, I know that you are both an actor and a director as well. Can you tell me a little bit about your work behind the camera?
Sue Ann Pien: Yes. It came about just randomly because my wife, Cynthia Catania is a musician. When she joined this band, and they needed some music videos, I thought it'd be really fun to just do it for fun and for free, so to speak, and then it just became this very rewarding and fulfilling creative endeavor that supplemented what I was doing in front of the camera, from creating sets to writing out the storylines and casting my friends and just designing the aesthetics. I started to really, really love and also appreciate how much work it is on the other side of the camera.
Literally, we just have to show up and we're out, but when you're behind the camera, you're the first one on set and the last one to leave.
Melissa Harris-Perry: Rick, let me come to you on this because you also have multiple roles. You're also a comedian and a podcast host, tell me a little bit about your other projects as well?
Rick Glassman: A lot of my time, these days, the past couple of years, is on my podcast. I just did an episode with Albert and Sue Ann. It's called the Take Your Shoes Off Podcast. When I'm not doing anything, I at least have the podcast and stand up and it's really nice, especially during the pandemic when stand up didn't exist that the podcast let me feed some creativity and get to write jokes with the guest or write jokes in the editing. It's just fun to be able to make stuff. Like Sue Ann said, you could always find your friends to do stuff with you could always make something.
Melissa Harris-Perry: All right, so I feel like, in some ways, we've established that all three of you have other creatives that yes creative in these ways, but it wasn't as though you were necessarily just sitting around waiting for this show to appear. Albert, as you talk about having studied drama, wanting to be an actor, in what ways has being on autism spectrum then impacted and affected the ways that you pursue that dream?
Albert Rutecki: I'm not entirely certain because I just don't know what life is like not on the autism spectrum. I have a professor tell me that I have an unbelievable ability to connect, those were his words to the characters. I just love to look at them, try to treat them as people just like flesh them out. I'm not sure I don't get that necessarily autism-related, though.
Melissa Harris-Perry: Talk to me about Harrison and connecting to him and fleshing Harrison out.
Albert Rutecki: Before this, I did little student films and plays, the whole characters just laid out right away for you in the script. This time, it just built to from episode to episode, and I didn't get all that at once. As I got more and more script, I was just seeing this character who was stuck at the onset of the show. As the story progressed, as he begins to attempt new things, begins to go out of his comfort zone, and gets more in touch with his emotions. It was just an interesting experience to explore all that.
Melissa Harris-Perry: Sue Ann, let me come to you about Violet. I'm wondering how, in a similar way, do you relate to Violet, what has it been like to bring Violet to life, to start to flesh her out as a character because she's performing some particular anxieties around being neurotypical or normal as she calls it?
Sue Ann Pien: Oh my gosh, well, that's definitely something that I do share with Violet. It's very similar to Jack's storyline, where he was mortified when he thought that he couldn't pass and that's something because I was groomed from such a young age, to hide all of the strange peculiarities of even my autism. I would stim and I'd be told, "Don't move your legs, don't kick." Everything was a performance, so to speak, around people, so it was very exhausting and tiring. In my mind, I thought the end all be all of life, was just to be able to pass as normal. [chuckles]
I remember going to this party, this New Year's Eve party in New York City, and I was looking around at everybody around me drinking and laughing. I was doing the same thing they were. The only thought, at that point, was I did it and nobody knows I'm different [chuckles] and no one could tell, and so I thought the point of life was just to act enough to get by. It's unfortunate, but it comes from a very protective instinct. Now that I'm older, I understand, "Oh, that's what my mom was doing."
I would come home from school because a little boy punched me and I'd be crying, and she couldn't understand why I had no friends. She was just grooming me so that I could fit into society and especially because my IQ was off the charts. I remember going in at third grade, fourth grade, and they were giving me tests and they were like, "Oh, she's very, very gifted." On the outside, it's like you can't see the challenges or the differences or what I'm struggling with.
It's unfortunate, there's this study that people who are, for lack of a better term, they call it high functioning on the autism spectrum, the suicide rates are off the charts because, one, you're expected to fit into normal society and the moment you don't, the consequences are really devastating. Rick and I, we were talking about this on the podcast. It was like it's not like you're wearing down syndrome on your face or body or people think they need to treat you kinder and so you're not in a disabled category, so to speak, but you're also not, you're just not fitting into normal society.
You start to get shut and rejected over and over and over again and that's going to have some unfortunate lasting effects, especially if your family members are also reinforcing the message that you should do better, you should know better and there's punishment over and over for things you can't control.
Melissa Harris-Perry: Rick, I appreciate that in both listening to Albert and Sue Ann, they both mentioned your podcast multiple times, and the conversation that the three of you all had there, it seems like part of what you were doing and clearly have extraordinary skill and are adept at is creating that space where this conversation could emerge. I know that you were diagnosed on spectrum as an adult. I'm wondering if that helps to give you insights into your own past in thinking about little kid Rick and rereading it through that diagnosis.
Rick Glassman: When I got the diagnosis, in a moment, it was so many unrelated-- obstacles sound so victimizing, but just like we all have challenges and so many unrelated things and did not being included and then not understanding certain things and having to go to special classes and go to a special school and being kicked out of this thing. They were all unrelated. All just like, "Oh, it's all this one thing." This one thing didn't necessarily mean autism, but the autism diagnosis did bring into-- I always, without even realizing I was doing this, I always felt that whatever I'm thinking you are thinking.
Whatever perspective I have, that's what everyone has. It wasn't that mine was the right one. It was, "No, you go this way," because A to B is fastest. If someone goes from A to C to B, it's not possible. Maybe they wanted to take the longer route because it's more beautiful or whatever. I never got it. Then I started to realize-- and have such instead of embarrassment for who I was, such like appreciation for how difficult it is when you're missing one little thing. The littlest thing that is so obvious to other people, you didn't pick up on.
You didn't see them roll their eyes. That people don't tell you directly, "Hey, Rick, you're a little loud." Instead, they just didn't invite you places. Then you didn't get to do things. Something that I learned that is so helpful in life, and I really think helped me at a podcaster and just having friends is I speak quite directly, but that doesn't mean that other people receive me well. They might see it as aggression or as something that makes them feel uncomfortable. I also learned that other people don't speak directly.
I found ways of asking, "Hey, Sue Ann, when when you said that you didn't like my socks, did you mean that the brand or do you not want to be wearing socks in my house?" Because whatever it is, that's a horrible example. I just got confident in speaking directly and establishing my boundaries and saying what I want. I found that when people are around other people who speak directly, they kind of do too. It's almost like there's a trope that it's not always the case. People with autism tend to be direct.
Yet, they're in a world where people are different, but the people that don't speak directly, they're the ones acting and pretending, and I'm not allowed to say this, and I can't be this way. They step into our world. I found that one thing that autistic people tend to always be, is accepting of other people's quirks and differences, even if it's not their own. Getting the diagnosis that made me feel more comfortable of not being accepted wasn't my fault. I happen to have been around people that weren't accepting.
Melissa Harris-Perry: I so appreciate that. Again, I think about that moment in diagnosis and listening to the psychologist and she says, "Oh, when your daughter is playing, she doesn't look first to the adult to get a confirmation. She just does this." I was like, "Wait, what? That's bad? I'm not trying to change that." I've actually like to have all of our young people feel like they can make that kind of choice. Talk to me about this show, this scripted show, Rick, but that is doing something different than the show that it's based on the Israeli show on the spectrum.
Instead, what Jason is doing here is giving us actors, writers, crew members who are in fact neurodiverse. What kind of difference is that going to make for what this show is versus the show that it's based on?
Rick Glassman: There's two things. That one is just the authenticity of the storytelling, where you have so many voices, whether they're on camera or off, whether they're a lead or reoccurring or a guest star that brings something authentic. I don't mean that in a Goodwill type of way. As in like when people are bringing their choices to something, it just makes things easier. It's just easier to be around people who make choices and all of these choices just are so different, but so honest that it's just comfortable knowing that whatever we do is right.
I don't know if that's the right mentality, but just like everything we do is right. [chuckles] There's a confidence in that of just knowing that like, "Yes, good. Do that thing." The other thing and the broader thing when the people behind the camera in the writer's room and on set and the makeup trailer, and everyone is either on the spectrum or most people if not has a sibling or a partner or somebody, it was just the most inclusive kind accepting set where it's exhausting to-- Wait, you want me to do this? I'm supposed to be doing this thing.
What if I say this, how are people going to feel? I'm not supposed to have my headphones in because that looks disrespectful. Even if I don't want to put them anywhere else because I rely on them and it's just was kind and easy to be around. I think that this idea of having a lot of people on the neurodiverse either them, themselves, or someone close in their life, it was just nice. I think it also maybe gave the opportunity to some people that maybe hadn't been in this position before to be able to be part of the crew.
They don't have to be working on autism shows, but all shows will benefit from having people that understand that if I need to fit in certain ways, so do other people and they give them the space.
Melissa Harris-Perry: Rick Glassman, Sue Ann Pien, and Albert Rutecki, thank you so much for joining The Takeaway, and congratulations on the show.
Rick Glassman: Thank you very much.
Sue Ann Pien: Thank you for having us.
Albert Rutecki: Thank you so much.
Copyright © 2022 New York Public Radio. All rights reserved. Visit our website terms of use at www.wnyc.org for further information.
New York Public Radio transcripts are created on a rush deadline, often by contractors. This text may not be in its final form and may be updated or revised in the future. Accuracy and availability may vary. The authoritative record of New York Public Radio's programming is the audio record.