Capturing Conflict and War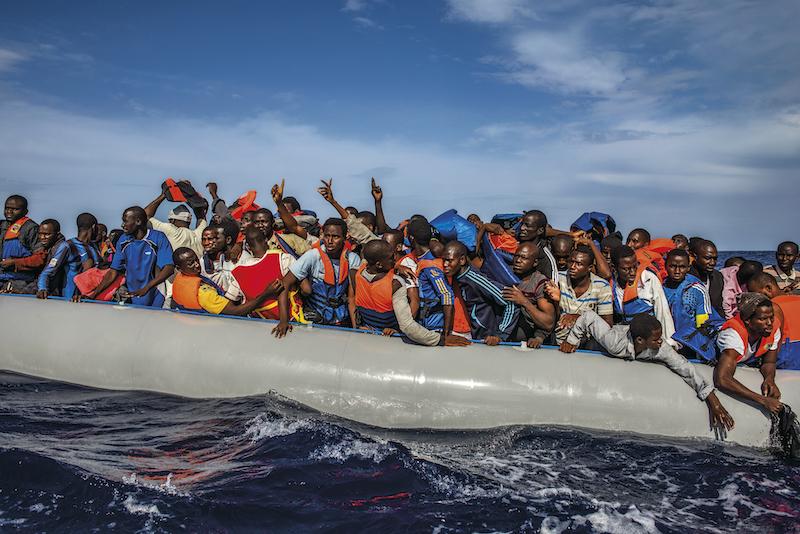 Transcript
Melissa Harris-Perry: You're back with The Takeaway. I'm Melissa Harris-Perry. Whether you know it or not, you've likely seen Lynsey Addario's work. The award-winning photojournalist has captured intimate, human, startling, arresting, painful moments in the midst of many of our world's most devastating disasters and conflicts.
Lynsey currently has a career-spanning exhibition on display at the School of Visual Arts in New York City, and it looks back at her fearless work over the last two decades. With me now is Lynsey Addario, Pulitzer Prize-winning photojournalist, and author of the New York Times bestseller, It's What I Do. Lynsey, welcome to The Takeaway.
Lynsey Addario: Thank you so much.
Melissa Harris-Perry: It is indeed what you do, why?
Lynsey Addario: Well, it's such a tough question, why? Why? I guess, fundamentally, because I believe in journalism. I believe that the world needs to see what's happening on the ground in many of these places where conflict is unfolding and there are injustices taking place against, not only women and children but civilians across the board. I believe that policymakers need to be held accountable to their decisions. Often they can't get to the places they make decisions for because it's not safe enough simply, so there are many reasons why.
Melissa Harris-Perry: I've been challenged by this idea that visual images of the horrors that human beings enact on one another changes us, how do you capture images in a way that despite all that we see still somehow breakthrough?
Lynsey Addario: It's a challenge, of course. I've been covering conflict for over 2 decades. I'm constantly thinking about how do I make people care about this situation, how do I make people care about the fact that we are still seeing images of violence and war around the world. I think, for me, I often gravitate toward civilians, toward women, toward children, toward the human toll. I try to take pictures that offer the viewer some way in, some way to identify with the person in the photograph, some way for them to be able to relate. If it's a mother-- We all share so many similar wants and needs and desires in our lives in every part of the globe, and so part of my job is to just connect us.
Melissa Harris-Perry: You were on the ground in Ukraine in the earliest days of the Russian invasion, you've been back many times since, is it different from other conflicts?
Lynsey Addario: There are similarities in every conflict. I think I see, in the initial weeks and months, people fleeing, so they're displaced, hundreds of thousands, if not millions of people who are displaced from their homes. There's destruction on infrastructure and residential complexes, obviously, civilians injured and killed. I guess with Ukraine, there's just a lot of unpredictability because there's so much long-range missile usage and artillery strikes. It's harder to pinpoint exactly where the danger is because it's pretty much everywhere.
Melissa Harris-Perry: Of course, that notion of the danger being everywhere is perhaps your photo on the cover of The Times that certainly displayed that for so many of us, a woman and both of her children killed while trying to get to safety. Talk about the moment and that decision to take that photograph in that way.
Lynsey Addario: The moment was pretty harrowing. I had gone to what I thought was a relatively safe place. Obviously, no place in Ukraine is totally safe, but it was a known civilian evacuation route. It was the European bridge. We have seen so many images of people, the wounded, the elderly, just people crossing out of the suburbs surrounding Kyiv into Kyiv for relative safety.
I went there very early on a Sunday morning to try to capture images, those similar images of people fleeing. Shortly after getting there, there was a round came in. I don't know if it was a tank round or a mortar round. It came in pretty close to the position we were in. My security adviser asked if I wanted to leave, and I said, "No." It just somehow felt safer where we were because we had a little bit of protection with this concrete wall.
Also, my perspective was, everyone knows, particularly Russian soldiers know exactly where the civilian evacuation route is, and of course, they would never target that. They're probably targeting a Ukrainian military position off to the side, so we stayed and within minutes another round came in, closer to us, and then in very quick succession another round came in, and it was about 20, 25 feet from where we were standing.
We both, Andre [unintelligible 00:05:39] who is my colleague, who has been shooting video and is working as a translator for me, we both dove for cover inside of the cement-like box. When we popped up, it was totally chaotic, it was dusty. I had been sprayed with gravel, so I was trying to figure out if I had been hit with shrapnel, and I was asking him if I was bleeding. We were both a little bit in shock.
Our security adviser ran out immediately, heroically, and pulled one of the territorial defense soldiers to safety who had been injured in that blast. We couldn't see what was in the distance. Steve, our security advisor, ran across. He called for a medic. It was clear someone had been injured. I assumed it was another soldier. When he finally called us to come across the street because we were waiting for clearance to move, we came upon these four lifeless bodies.
There was a mother and two children, as you said, and a church volunteer who was ushering them to safety. When we came upon these bodies, the first thing I noticed were these tiny little moon boots, boots of a child.
Of course, I'm a mother, I have two sons. The first thing I thought of was, "Oh my God." I knew I had to take photographs because I knew what I had just witnessed. I knew I had just witnessed the intentional targeting of civilians, and so I started taking photographs, but also I've been doing this so long that I also knew I had to be very careful about how I took those photographs because it's so sensitive and I wanted to be respectful. I didn't want it to be too graphic, but of course, I had to show that there were civilians who were just killed in front of me.
I worked my way around the scene and took pictures very quickly because it was still extremely dangerous. There were still civilians streaming past us. Some were looking over at the horrific scene, some didn't even look. Then we had to run out and tried to get to our car which was maybe 500 feet off in the distance. As we were leaving, two more rounds came in very close to us. We had to dive for cover again. It all happened very, very fast, and it was terrifying and heartbreaking.
Melissa Harris-Perry: Lynsey, pause with us for just a moment. We're going to be back more with Lynsey Addario. This is The Takeaway.
[music]
Melissa Harris-Perry: You're back on The Takeaway. I'm Melissa Harris-Perry. We're continuing our conversation with Pulitzer Prize-winning photojournalist Lynsey Addario. Lynsey, you were telling a truly harrowing story about capturing that image, but then there's this more recent photograph of two Ukrainian police officers getting married in Kyiv at the wedding hall this month, talk to me about that picture.
Lynsey Addario: Well, I think I've now done three rotations in Ukraine. The first one was six weeks. We've talked a bit about how that went. It was just constant barrage of missiles and artillery on Kyiv, the second trip was mostly in Donbas at the frontline and also covering people streaming out of Mariupol into Zaporizhzhia. The last trip I wanted to focus on some feature stories, more sort of what does life look like now six months into the war.
To my great surprise, a lot of people, perhaps a third of the population has returned to Kyiv and it was incredible. There are, as you noted, people getting married. There're people on the streets, the cafes are back open. I saw people swimming on the beaches. There are little pockets of beach along the Dnipro River. In that sense, it was beautiful to see after witnessing so much death for so long, and it's not like that has ended, it's just right now it's very focused on the east and in the south.
Melissa Harris-Perry: I'm thinking again, for a moment as you were telling that story of capturing the family and that it's the boots that in a certain way feel for you like the, "Oh, no," moment, right?
Lynsey Addario: Yes.
Melissa Harris-Perry: As I was spending time with some of your work again, I was realizing that so many of the images I might experience as most brutal aren't necessarily that graphic or bloody. I'm thinking specifically of the young woman whose husband had held her down and cut off her nose and her ears. We're not looking at a graphic bloody, she's actually quite beautiful and we see her standing there but also that her nose is gone. Somehow that was the one that kept coming back in my dream, was even more than severed arms or something on the battlefield.
Melissa Harris-Perry: Sure. I guess what I've learned over the years is that people don't want to look at really violent images. We see enough of that in our daily lives. We see it coming out of Hollywood. We're bombarded by these video games that are really violent our children are playing. We see violence everywhere and experience it everywhere.
For me, I'm trying to distill these wars and this violence against women and maternal mortality and all of these issues that I've covered for so many years into an image that a viewer can actually look at and spend time with and ask yourself questions and yes, revisit. I think that's what I was trying to do with a mid-career retrospective at the School of Visual Arts is really give the viewer and people who look at my pictures a chance to sit with them and to ask questions and also to get a bit of the behind-the-scenes.
I think we talked about what happened with the family on the European Bridge and what we did in the exhibition is play Andre's video. I didn't even realize he was rolling as the mortar or the tank ground came in but play his video. Then we showed every single frame out of my camera. We showed real series of frames out of the two cameras I was using to piece together what it looked like from my eyes, experiencing that attack, realizing it's a family, and literally moving around the scene.
I think we don't get to experience that as a public because we see one image out of a thousand. That's what I was trying to do is just give a more comprehensive look, not only at the images you see but as what photojournalism, what goes into this profession.
Melissa Harris-Perry: That's exactly where I wanted to go with you next is, you are an extraordinary photographer and you are a photojournalist, help people understand the journalism part.
Lynsey Addario: A huge part of my job is doing reporting, talking to people, getting the facts, understanding what happened, understanding someone's life enough so that I know what to shoot and how to shoot it and what to focus on, and then presenting all of that in a package. That means a caption that is well-researched, fact-checked, that has enough information that the person looking at the image knows what they're looking at and then putting that all together.
My job isn't to just go out and make pictures, that is a fraction of what I do. So much of what I'm doing when I'm not shooting is preparing and becoming well versed in a subject, trying to understand what's going on, and reporting.
Melissa Harris-Perry: Talk to me about consent as part of that.
Lynsey Addario: Consent is, it's tricky because in so many of the countries I work, there's a language issue, so I always have a translator with me, there's often trauma involved. I try and not only get consent from the person I'm photographing but maybe a counselor who is with that person or someone who is in that person's life pretty consistently, who can also guide me and make sure that that person understands consent.
I think with the proliferation of social media, I have to say, yes, this is for the New York Times, for example, but it will appear on Facebook and everywhere else because I think we cannot be sure anymore that the images will appear just where we think they will appear.
We have to assume that all of our images appear everywhere and that is a fair assumption these days. It's tricky. I always, always take so much time to get consent and I think I can only hope I get it right. I often shoot both ways of face and no face, but some people are very clear. They don't want their face, that's fine. Some people say yes, and then I've had someone come back to me two years later and say, "I just got married. Can you erase that photo?" It's like, "I can't because it's on the internet." It's tricky.
Melissa Harris-Perry: Here we come to the end of this conversation and we manage a little laugh. Where's the light? Where is the inspiration? Where is the remaining humor? How do you not just get dragged into the depth of this suffering?
Lynsey Addario: I think genetically I'm just a happy person which I can think my parents and my sisters. Also, the thing that I've witnessed over the years and the darkest of dark circumstances is that people naturally gravitate to humor. I think it's a natural instinct to try to continue laughing, to look for those moments of levity, to make light out of darkness and I think that most of the people who do what I do have a sense of humor. We rely on that to pull us out of whatever we're witnessing. I think it's really important.
Melissa Harris-Perry: Lynsey Addario, thank you so much for joining us here on The Takeaway.
Lynsey Addario: Thank you so much for having me.
Melissa Harris-Perry: The Master Series, Lynsey Addario's solo exhibition is on display at the School of Visual Arts in New York City until October 29th. You can also check out some select photos of her work on our Instagram page.
[music]
Copyright © 2022 New York Public Radio. All rights reserved. Visit our website terms of use at www.wnyc.org for further information.
New York Public Radio transcripts are created on a rush deadline, often by contractors. This text may not be in its final form and may be updated or revised in the future. Accuracy and availability may vary. The authoritative record of New York Public Radio's programming is the audio record.