The Capitol Insurrection's Impact on American Democracy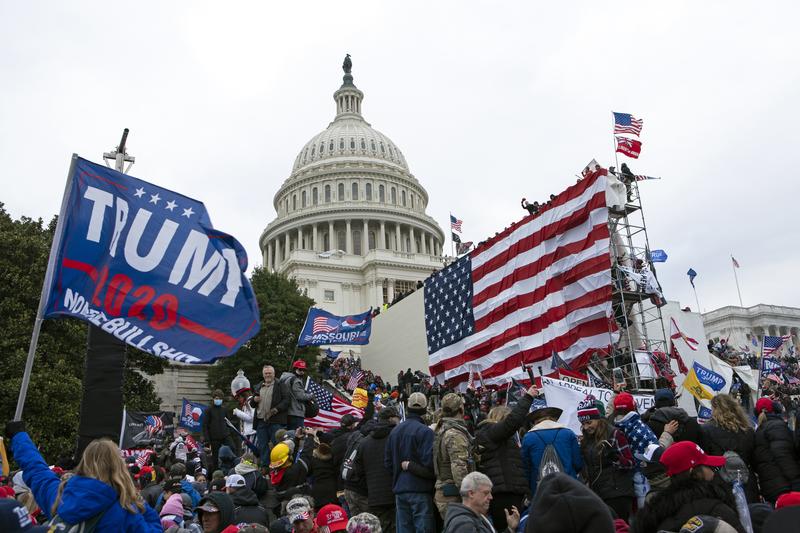 Transcript
[music]
[audio playback]
[riot sound]
Reporter: They just reach the [unintelligible 00:00:22].
Witness: Get down.
Reporter: Get down under your chairs if necessary so we have folks entering the Rotunda and coming down this way. We'll update you as soon as we can but just be prepared.
Witness: We're going to walk down and I'll be there with you.
[end of audio playback]
Melissa Harris-Perry: Authorities say the dead include a woman who was shot by US Capitol Police, as well as three others who died in medical emergencies.
[audio playback]
Protester: Freedom.
Witness: Threatening the safety of dually elected officials it's not protest, it's insurrection. I call this mob to pull back and allow the work of democracy to go forward.
Reporter: Call it off, the election is over.
Witness: Dozens of texts including from Trump administration officials urged immediate action by the president. [unintelligible 00:01:13] has to come out firmly and tell the protestors to dissipate. Someone is going to get killed.
Reporter: As the violence raged, aids urged him to respond and he reluctantly tweeted his backer should stay peaceful and then posted a video message.
Donald Trump: We love you, you're very special.
Witness: Donald Trump Jr. texted, "Meadows' respondent, I'm pushing it hard, I agree." Still, President Trump did not immediately act.
Donald Trump: I know you're pain, I know you're hurt.
Witness: I think Donald Trump probably should be brought up on treason. [unintelligible 00:01:49].
Witness: This plan we had called the Green Bay sweep.
Witness: Do you realize you are describing a coup?
Witness: Justice will be done.
Witness: It was the saddest day I've ever had as serving as a member of this institution.
Witness: Criminal behavior will never dominate the United States Congress.
Witness: This is going to be the misdemeanor from hell from Merrick Garland, Nancy Pelosi, and Joe Biden.
Witness: This will be a stain on our country not so easily washed away.
Witness: Votes for President of the United States are as follows, Joseph R. Biden, Jr. of the State of Delaware has received 306 votes. Donald J. Trump with the State of Florida has received 232 Votes.
Witness: Everything is different but nothing has changed. Why is telling the truth hard? I guess in this America it is.
[music]
[end of audio playback]
Melissa Harris-Perry: Those voices tell the story of the violent January 6th, 2021 insurrection when rioters with Trump flags and faces painted with the American flag broke through barricades and attacked Capitol Police Officers, all in an attempt to disrupt the certification of Joe Biden as president-elect. Many watch in disbelief that they were wondering what was happening to our democracy and when the mob finally dispersed, we were left stunned in searching for answers and seeking context.
Maybe out of this low point, public officials could have worked together to strengthen our democracy and its institutions. But a year later, our democracy is even more fragile as we bear witness to state efforts to restrict access to the ballot box and to empower partisan influence to determine the outcome of future elections. Today President Biden reflected on the insurrection and the stain that it put on our country.
[audio playback]
President Biden: Former president's supporters are trying to rewrite history. They want you to see election day as the day of insurrection, and the riots that took place here on January 6th as a true expression of the will of the people. Can you think of a more twisted way to look at this country, to look at America? I cannot.
[end of audio playback]
Melissa Harris-Perry: I'm Melissa Harris-Perry and today on The Takeaway we're looking back at the Capitol insurrection and its impact on democracy in America. All this hour we're going to discuss and reflect on what happened in this country one year ago and what has happened since. We start with Barton Gellman, Staff Writer at The Atlantic and author of Dark Mirror: Edward Snowden and the American Surveillance State. His recent article for the Atlantic is Trump's next coup has already begun.
We're talking about this new article of yours and part of what it looks at is people who believed Trump's big lie. Who are those people?
Barton Gellman: It's interesting. There are a lot of them, they are on the order of two-thirds of all Republican voters which is a catastrophically high figure when you're talking about people who have completely lost faith in the electoral machinery of this country to give a fair report of the outcome.
They are often urban, not just rural voters, they are skewing older, they're employed, many of them are college-educated. It's the whole demographic of Trump's support plus more you wouldn't necessarily expect.
Melissa Harris-Perry: That seems to contradict at least a version that we often hear in media or in narratives that say January 6th was really about these uneducated, rural, poor, whites who showed up at the Capitol and don't worry, as long as the elites are managing things everything will be okay.
This suggests that even in the context of the elites, we have a group of people who genuinely no longer believe in the American project, at least as it's working right now.
Barton Gellman: That's right. If you look at the sample of people who were arrested for crimes on January 6th at the Capitol, they're very different from the traditional look of people who were arrested for political violence in this country and overseas.
Melissa Harris-Perry: The January 6th rioters were not simply a crowd of dispossessed and uneducated troublemaker is an important insight and it's backed by research from the University of Chicago Project on Security & Threats. Professor Bob Pape directs the project.
[audio playback]
Prof. Bob Pape: Over half of the 700 who broke into the Capitol, who've been arrested so far for breaking into the Capitol, are business owners, CEOs from white-collar occupations, doctors, lawyers, architects, and accountants.
[end of audio playback]
Melissa Harris-Perry: There's something else notable about these insurgents, where they live. Here's Barton Gellman again.
Barton Gellman: If you look at the 700 or so people who've been arrested and you go back to what their home counties are, they are much more likely to come from counties in which the white population is on the decline in which the fraction of the non-Hispanic white population has been diminishing in the past 10 years. You are also, when you do a national poll on this as they've done at the University of Chicago you find that the great majority of people who agree that violence is justified to restore Trump to power also agree that Democrats are trying to use Black and brown people and immigrants to replace them in the electorate and to take political power illegitimately. They are believers in the great replacement theory, which is the latest incarnation of a racist ideology that says the position of white people is under threat from the rise of minorities.
Melissa Harris-Perry: Is the position of white people under threat from the rise of minorities?
Barton Gellman: It depends whether you feel like you can build a multiracial, multi-ethnic democracy in this country which is a fundamental challenge for the American experiment. We do know that sometime around 2045 white people will no longer be an actual majority of the population in this country that is a terrifying prospect to some of them. Those are the ones by and large who are Trump supporters and believers that action has to be taken to prevent the loss of their power and authority.
Melissa Harris-Perry: The belief that violence is acceptable to prevent the loss of power is certainly not unprecedented in American history. As chilling as it might be to have seen it manifest on January 6th, the imperfect but resilient structures of American democracy have always found a way to recover. I asked Barton why he believes American democracy might be more fragile now a year after the insurrection failed.
[audio playback]
Barton Gellman: The reason why the country is at great risk right now of losing its democratic structure is that this popular anger is driving the Republican party to try to game the system, to try to cook the next election, and that's what I'm talking about. Trump's strategy in his first attempt at a self-coup was to persuade Republican state legislators in states that Biden had won to reverse the outcome, to disqualify the Biden electors and to appoint Trump electors instead and send those to Congress.
He didn't succeed and he didn't succeed in part because there were people of conscience and goodwill doing their jobs as election administrators around the country. You had the Secretary of State of Georgia, you had a guy from the Board of State Examiners in Michigan, you had the governor of Arizona, all of whom certified Biden's victory and all of whom were themselves Republicans. What's happened since then is that Republican operatives have driven all of those people from office or tried to replace them or tried to remove their power to supervise elections and with some success. I mean, look at what happened in Georgia. You had Brad, Rothenberger, the Secretary of State who withstood enormous pressure from Trump to try to cook the Georgia election results.
Brad Rothenberger: Our investigators have seen no widespread fraud either. Even after this office request that president Trump try and quell the violent rhetoric, being born out of his continuing claims of winning the state's were he obviously lost, he tweeted out, "Expose the massive voter fraud in Georgia. This is exactly the language that is at the base of growing threat environment for election workers who are simply doing their jobs".
Barton Gellman: but he insisted that a fair count had shown that Biden won. What's happened since then? Trump has recruited a candidate to run against him and endorse that candidate in the coming election. The state legislature has removed Rothenberger from the board that oversees elections, so one of the main jobs that he had as secretary of state has now been stripped from him and for good measure, the state legislature, the Republican legislature has created a new body that reports to the Republican legislature and given it power to fire election officers in the counties and particularly in Fulton County, which is the home of Atlanta and the bulk of the democratic electorate in Georgia.
At every level, they've assaulted the idea of a free and fair election counted by normal rules and put partisan control over the count itself. This is a much graver threat even than suppressing the vote because if you can count the vote, you can count whatever you want.
[audio playback ends]
Melissa Harris-Perry: That's a terrifying prospect for American democracy. On Monday, I spoke with Ari Berman, senior reporter at Mother Jones, and he highlighted the same issue.
[audio playback]
Ari Berman: It's not new this attack on voting rights, but it's a dramatic intensification of an existing trend. I think the best way to think about it is we're coming up on the one-year anniversary of the insurrection, and since the insurrection, the Republican party has had a single-minded focus on trying to achieve the goals of the insurrection through other means. They were unable to overturn the last election so they're doing everything they can to rig the next election, and if that doesn't work, try to overturn it after the fact in a way they couldn't do in 2020.
[audio playback ends]
Melissa Harris-Perry: Now, it can feel like the grave threat has passed but from what Bart Gelman is saying, it seems that the longer tail that's the part that's more threatening.
[audio playback]
Barton Gellman: An insurrection that goes unpunished is just rehearsal for the next one. It's just practice. It is not only a unique event in American history to have the American people themselves stacking the capital and trying to prevent the certification of a president. It's the beginning of something and not the end of something, and the foot soldiers, the 700 who've been arrested. Some for felonies, some for misdemeanors are being prosecuted, but the people who organized and funded and inspired and called for that violence are not being punished.
As far as we know, not even being investigated by prosecutors. Now, it's possible that there is some secret grand jury operating under the guidance of the Justice Department that is going after the former president for his actions in trying to overthrow an election. It's possible that they're going after the funders. We know that the January 6th committee is interested in investigating these things, but it does not have prosecutorial powers or even influence in that respect. If those folks go unpunished, there's nothing to prevent them from doing what they're already doing and plotting to do it again.
[audio playback ends]
Melissa Harris-Perry: Barton Gellman is a staff writer at The Atlantic, an author of the book, Dark Mirror, Edward Snowden in the American Surveillance State. I think I want to say thank you in part, but I do feel also a bit distressed at this moment.
Barton Gellman: Exactly how you feel. Thank you for having me.
Copyright © 2022 New York Public Radio. All rights reserved. Visit our website terms of use at www.wnyc.org for further information.
New York Public Radio transcripts are created on a rush deadline, often by contractors. This text may not be in its final form and may be updated or revised in the future. Accuracy and availability may vary. The authoritative record of New York Public Radio's programming is the audio record.