California's 37th District is in For a SHElection!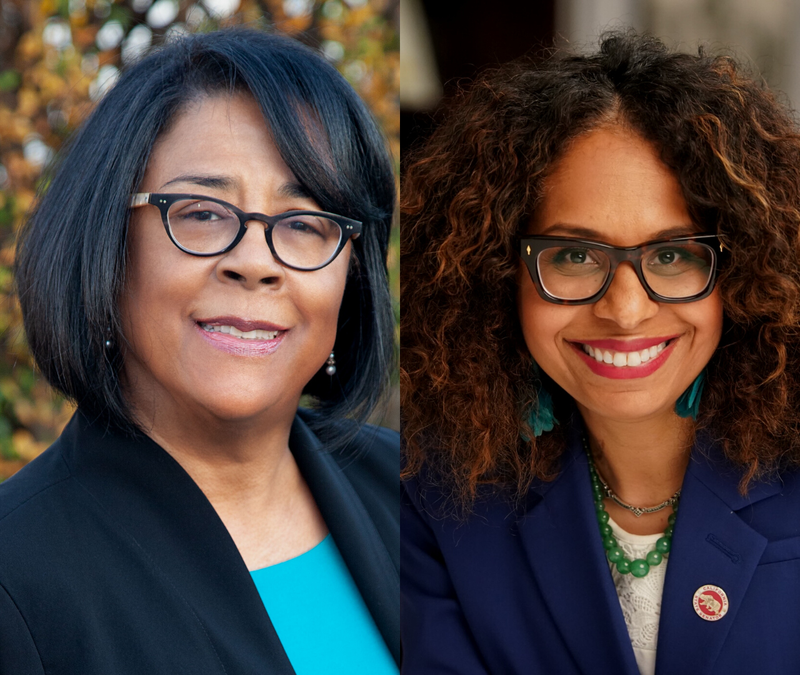 Transcript
[music]
Melissa Harris-Perry: Hey there, it's Melissa and we're back with more of The Takeaway. We've got another edition of our special midterm series, SHElection!, in partnership with the Center for American Women in Politics and with support from the Ms. Foundation for Women. Next up, California. When it comes to Black women in elected office, California has special importance. After all, it is the home state of our history-making vice president, Kamala Harris.
Vice President Kamala Harris: I accept your nomination for vice president of the United States of America.
Melissa Harris-Perry: California is home to the longest-serving Black woman in the US House of Representatives, Congresswoman Maxine Waters, affectionately known to many as Auntie Maxine.
Steve Mnuchin: -meet with you-
Congresswoman Maxine Waters: Reclaiming my time.
Steve Mnuchin: -several times-
Congresswoman Maxine Waters: Reclaiming my time.
Steve Mnuchin: -that we were doing our--
Congresswoman Maxine Waters: Reclaiming my time.
Jeb Hensarling: The time belongs to the gentle lady from California.
[music]
Melissa Harris-Perry: Down the 37th congressional district, there's Congresswoman Karen Bass. Karen Bass has served six terms in office. She's led the Congressional Black Caucus. During her tenure, she worked to secure targeted COVID relief for communities of color. Bass is also a co-founder and co-chair of the congressional committee on foster youth and is a vocal opponent of family separation.
Notably, Representative Karen Bass authored the George Floyd Justice in Policing Act, a groundbreaking police reform bill written in the aftermath of the murder of George Floyd. It's meant to hold police accountable to the communities that they're employed to protect. In September of 2021, Bass announced she decided to run for mayor of Los Angeles.
Congresswoman Karen Bass: In Congress, it fueled my work to win pandemic relief for small businesses. Now, I'm running for mayor to meet today's challenges, crime, homelessness, and the soaring cost of housing.
[music]
Melissa Harris-Perry: If elected, she'd be the first woman and the first Black woman to serve LA as the mayor. It would be a historic accomplishment coming at a time when African-American women are serving as mayor of seven of America's largest cities. What this means, the California 37th congressional district is now an open-seat race. California's 37th is a predominantly Black and Hispanic district, where the overwhelming majority of voters self-identify as Democrats.
According to reporting from the gender policy-focused nonprofit news organization, The 19th, voters in this district have been laser-focused on abortion rights ever since the Supreme Court's reversal of Roe v. Wade. That's because, in November, California voters will not only elect their public officials. They're also going to decide the fate of Proposition 1. Prop 1 is an amendment to the state's constitution that codifies abortion rights, ensuring the right to reproductive healthcare is instantiated as a state constitutional right.
[music]
Melissa Harris-Perry: Since 2011, primary races in California have operated under what's called the Top Two Candidates Open Primary Act. That means that candidates for most offices, including the California 37th congressional district, they all go on the ballot in one big primary. Then the top two vote-getters, regardless of party affiliation, move on to the general election.
Seven people entered California's open primary for this seat and two are still standing after the state's primary in June. California State Senator Sydney Kamlager and former Los Angeles City Councilmember Jan Perry. That makes the California 37th a very special she-lection because both candidates are Democrats, both candidates are women, and both candidates are Black women. Basically, it's a sister-sister she-lection.
[music]
Jan Perry: This is Jan Perry and I am a candidate for the 37th congressional district in Los Angeles, California.
Melissa Harris-Perry: Jan Perry is no stranger to politics. She was a Los Angeles city councilperson for 12 years and a candidate for LA mayor back in 2013. She also worked for several nonprofits and Los Angeles city agencies. I asked her, why Congress now?
Jan Perry: After I turned out in 2013, I was also the general manager of the Economic and Workforce Development Department for the city of Los Angeles. Then after that, I started to run a nonprofit called the Infrastructure Funding Alliance. Then I didn't have enough to do, so I picked up another job during the lockdown as the executive director of a nonprofit called Shelter Partnership that supports organizations that take care of people who are homeless.
It seemed like a natural extension of what I was already doing. I've never left the community. I've never stopped serving the community. Quite frankly, like a lot of people, I'm pretty angry and frustrated. I'm running because I have a skill set and a 360-degree viewpoint. I know from experience, having been in office and being out of office, that the greater transformation and the greater opportunity to be able to help people on a much larger scale is in being in a congressional seat.
Melissa Harris-Perry: Now, this conversation is part of a series that we've undertaken here to think through the midterm elections, through some really particular kinds of races. We're calling them the she-lections, where candidates are running against each other and both are women. In your case, it's even more unique of a race, which is to say not only is your opponent also a woman, she's also a Democrat. [chuckles] Can you talk to us a little bit about the rules in California that even make this possible?
Jan Perry: Well, we have the top two finishers advanced from the primary to the general. We were the top two vote-getters. That's why we're both two Dems in the race.
Melissa Harris-Perry: I think for so many of our listeners there in that part of the midterms where all of the campaign ads are beginning to flood the airwaves and, typically, they're not very pleasant, how is the strategy different when you're a challenger who, presumably, you perceive yourself to be a better candidate for office, but they also belong to the same party? How does it change your strategy?
Jan Perry: Well, I think that where you really make the distinction is when you're interacting with the voters. Also, assuming you've been out with the community, in the community, engaged in the community, myself, I have lots of very deep, long-term, 30-year-plus relationships with people in the community where I'm running who are very influential. I test that out when I do a lot of outreach at religious institutions.
I walk in. I don't make an appointment. I show up and I stay for the service and I enjoy it with people. I think you make the distinction that way. It's the depth of your relationships with the community that you wish to serve. It's not so much tied into your party affiliation. It's more tied into the authentic connection you have with your community and I have that.
Melissa Harris-Perry: Talk to me a little bit about that connection, those relationships. I've been so interested in your focus in part on infrastructure. Give me the broadest definition because infrastructure means a lot of different things for you. Tell me a bit about what infrastructure means to you.
Jan Perry: Infrastructure can mean a number of things. Now, in the position that I hold or the nonprofit that supports organizations that support people who are unhoused, that I would call part of the human infrastructure of helping people who are homeless because we have a warehouse. It's filled with non-perishable goods. We give it out four times a year to organizations that are part of our connectivity.
That's over 300 organizations in the county of Los Angeles, so that's a lot of connectivity. That's the human infrastructure. Now, the project I've been working on is in one of the ports of Los Angeles to change the way we move goods from the ship to the container, to the yard, to the distribution points, to the people. The goal is to clean the air, get the trucks off the street, reduce truck traffic, get cleaner air, create new jobs with clean energy usage for the vehicles that transport the goods.
Net new jobs, that is the infrastructure, the traditional view of infrastructure where you create new systems, new opportunities, new structures, update technology, and make sure that nobody gets left behind by that, that they have to be upskilled along with it, and everybody has to be brought along together so that you don't disenfranchise people and you prepare them for the future.
Melissa Harris-Perry: 12 years on the council, what led you to run for office the first time? Given all the work that you do in nonprofits, you're embedded in this community, why run for elected office?
Jan Perry: Well, it's interesting. Term limits had just kicked in in Los Angeles. I will call them the mothers of the community. There was Mother Mary Nalls, there was Helen Johnson, and there was a lady named Juanita Tate. Then when term limits kicked in, I had been the chief of staff in the area for a while. They said to me, "Why don't you run?" A lot of people don't know that I'm bilingual. I speak Spanish and English. Then in South LA, the majority of the population is Latino and a lot of the older folks still speak Spanish.
I said, "Okay," and I got out there. Basically, I walked and I knocked on doors. I talked to people. I raised money. I think people felt that I was there for everyone and that my door was open to everyone because I was able to communicate with everyone. There were no barriers to my communication. That's why I decided to run. Nobody expected me to win, but I won. I won by a very large margin. Actually, it was 14% at the time. I was running against someone who was an elected official at that time. We're friends now though.
Melissa Harris-Perry: Do you think that women and maybe particularly Black women campaign differently and/or govern differently?
Jan Perry: I think we run the gamut just like any other group, and so I wouldn't say that we're any different. I think it depends on your mindset and why you're there for public service. To me, the litmus test is, are you there for yourself or are you there for something greater than yourself?
Melissa Harris-Perry: You've got a pretty great endorsement from Congresswoman, Representative Maxine Waters. What does that mean to you?
Jan Perry: Well, it was very meaningful and she endorsed me in the primary. Then Diane Watson, who held the seat, also endorsed me. To have these iconic Black women speak in support of me was, God, it's just amazing. I almost want to cry because I've always looked up to them, both of them, for different reasons. When you come through college and you see these women out there just doing it and both very different people, different styles, all that, it's an affirmation for me to be recognized, to be seen by these women.
Melissa Harris-Perry: When you said that you looked up them because that was my next question is as you are making your way through first serving on the council and now a congressional run, which is a big deal, who are the women who you look to or are they women? There could be other elected leaders. Who are the elected leaders and/or community-based activists that you look to and say, "Maybe not perfect," but these are models that inspire you?
Jan Perry: Well, you've mentioned Maxine Waters and I mentioned Diane Watson. I look at the people who are out there flogging away every day running organizations where they're actually getting people off the street and into beds and into treatment. They're not all women. Many of them are men, but they never take their foot off the gas pedal. They keep at it and keep at it until they get maybe a thousand people off the street or senior citizens.
I look at the nonprofit housing developers that I've worked with for so many years who continue to bring new housing online, but what's important is they have support services there for the clients who move in so they get help on-site. They don't have to go somewhere to get help. I keep digging deeper and deeper in the community. Yesterday, I was at a place called Hill Church.
Deitrick Haddon is the pastor there, Pastor Deitrick Haddon, and you might recognize him because he wrote that song called I Can't Breathe after George Floyd was murdered. To see that energy and to be able to bask in that energy and to develop relationships with people like that, that's where I am going. I'm a community-based person who wants to take the work that I have done on behalf of folks that I know and help and want to continue helping on a much bigger scale at the federal level.
Melissa Harris-Perry: Former Los Angeles City councilmember and candidate for the 37th congressional district in California, Jan Perry. Thank you so much for joining us.
Jan Perry: Thank you.
[music]
Melissa Harris-Perry: Up next, we're talking with her opponent, California State Senator Sydney Kamlager.
[music]
Melissa Harris-Perry: Back with more of our SHElection! midterm series. I'm Melissa Harris-Perry and this is The Takeaway. We've been talking about California's 37th congressional district race, which has the unusual distinction of featuring two Black women Democrats vying for a now open congressional seat. It was left vacant by Karen Bass, who's running for mayor of LA. Earlier, I spoke with one of the candidates, former LA City Councilmember Jan Perry, who's not related to me. [chuckles] Next up, I'll speak with the other challenger.
Senator Sydney Kamlager: Hi, my name is Sydney Kamlager. I'm the senator for the 30th state senate district in California. I'm running for the 37th congressional district.
Melissa Harris-Perry: Kamlager is the only Black woman serving in the California State Senate. I asked the state senator why she decided to run for Congress.
Senator Sydney Kamlager: That's such a great question. Sometimes on very busy days, I ask myself that very same question.
[laughter]
Senator Sydney Kamlager: We're at a historic moment nationally, but also in Los Angeles, which is on the precipice of electing its first Black woman as mayor and Congresswoman Karen Bass. I'm the only Black woman, if you can believe it, that's serving in the California State Senate. I know how to break those feelings and increase representation, but I also know how to get things done.
I've worked on policies at the state level that have responded to the moment that we're in now and are also part of the larger conversations we're having at the national level, policies on police reform on the 13th Amendment at the state level and at the federal level, reproductive and voting rights, reparations, climate action, affordable housing, the incarceration and probation systems, and economic justice.
These are platforms and policies that I've been working on for a while. They're also the same kinds of discussions that we're having at the national level, and I think they are part of what we mean when we talk about saving democracy. I'm running to be part of this new wave of leadership to talk about these very uncomfortable issues and work to get some change.
Melissa Harris-Perry: I want to back up for a second because I actually am having a difficult time believing that you're the only Black woman serving in the California State Senate. What is up with that?
Senator Sydney Kamlager: [chuckles] I don't know what's up with that. Not only am I the only African-American woman in the most populous state in the country serving in the state senate, but very often, I'm the only African-American woman either on the Senate floor or in chambers holding hearings. I have to say it's incredibly isolating.
It's also what has propelled me to do things like found the Black Women's Democratic Club in Los Angeles to find money to start a statewide Black women's political think tank because I think we have to do all that we can to create pipelines, to expand the representation of African-American women running for office, but also to expand the representation of African-American women working in politics and on policy.
Melissa Harris-Perry: Let me dig in on that a little bit. This conversation is part of a series that we're doing in the midterms. We're looking at the midterm elections through some kind of unique races, races where both opponents, both candidates are women. Your race is even more unique in that both of the general election candidates are women, both are Democrats, and both are Black women. On the one hand, that is indicative of possibly this growing or expanding capacity for representation. I'm also wondering when you're actually in a race like that, how it might change your strategy. Is it different to raise money, to think about opponent strategy when your opponent is in the same party?
Senator Sydney Kamlager: Well, I try not to run against Black women. I try to support them although I have run against African-American women in the past. I try to actually support a new leadership of Black women. When I decided to run for the congressional seat, I worked to identify and uplift another sister to run for my state senate seat. Having said that, we know this to be true. Black women are often competing for the same job, right?
Usually, because there are too few positions or there's only room for one of us. I don't think the question would be asked if we were two men because we've normalized men running against each other, but we haven't done that. We haven't normalized that for women. I actually attribute more women running for office and against each other to organizations like Emerge and HOPE and EMILY's List and Her Bold Move and LAAAWPAC here at the local level.
Many of these groups have endorsed me, but they've also supported women and women of color running for office. I think strategies around raising money don't change because you're running against a woman. You're still a woman or an African-American woman trying to raise money in a very misogynistic and patriarchal system. I can tell you in all the times that I've run for office, I may be asking for the same dollar amount that a male counterpart is asking for and that person will get a much higher check than I will.
That person will be deemed more important or a priority or someone who's in a competitive race and needs the help and I don't because Black women have got me or because I'm a better candidate and don't need their help. Regardless of if you're running against another woman, you're still faced with some of the same challenges that have been historical to women who are interested in running for office.
I think in addition to that, Black women don't often run because it's not a hospitable profession for us. Black women take pay cuts when we run for office. Sometimes these jobs don't come with any kind of pension or retirement or health benefits. We're challenged with managing households and elected office. Sometimes we are financially tapped because we have to live in two places at the same time.
We can often be caregivers caring for someone older than us and younger for us. Sometimes this kind of work can compromise the nucleus of our family, and then we're judged for not being superheroes and everywhere at the same time and putting our children first. Those are very real issues that make it harder for Black women to decide to run on top of the challenges of having to compete with men in raising money.
Melissa Harris-Perry: I'm sorry. I'm just going to need a breath because I'm having a religious experience over here.
[laughter]
Melissa Harris-Perry: You talk about the problem of being a school woman. Woo. All right, okay. Let me just--
Senator Sydney Kamlager: It's tough. The more women that run, the more opportunities we have to change those dynamics. I'm a mother of school-aged children. I'm also a wife and a daughter working to support my mother, who's a caregiver to her sister and also was a caregiver to her mother. These things complicate my life on top of making sure that I'm representing an incredibly diverse and active and engaged constituency that is wanting change.
Oftentimes, I'm asked to make decisions that will put constituency in front of family. How do you navigate that? Because at the end of the day, I'm taking care of a young Black boy who I want to be safe and I'm married to a Black man who I also want to be safe. Oftentimes, the work that I'm doing, the policies that I'm pushing are with them and their safety and their future in mind.
Melissa Harris-Perry: I was going to say one of those policies I feel like is probably that involuntary servitude amendment. Can you say a bit more about that? Why is it so important?
Senator Sydney Kamlager: I was part of this movement and I still am shepherded by men like Dorsey Nunn and women like Jamilia Land to take involuntary servitude out of our state constitution. This is part of a national movement across the country to do this in other states. The goal is to have enough states ratify their constitution so then we can ratify it at the federal level and take the 13th Amendment off the books. This was an emotional--
Melissa Harris-Perry: Presumably not the part that ends slavery off the books.
Senator Sydney Kamlager: The interesting thing is different states have different wording. Some have said, "No slavery." Some have said, "No involuntary servitude." Some have said, "Slavery, no, but involuntary servitude, yes." It says, "We prohibit involuntary servitude, except for the punishment of a crime." That's the out. My job this past year was to work to take that out of our constitution by passing ACA 3 so that it could go to the voters in November. Louisiana did this not long ago. It got passed 98 to 0.
I think Colorado and Utah have also passed similar amendments because we have to reconcile the fact that for many of our state's history, slavery and involuntary servitude was part of that legacy. It has been infused into our incarceration and probation systems. We have men and women who are incarcerated, who are working for pennies on the dollar literally. Their labor is contracted out by private companies that are earning profits off the backs of these generally Black and brown men and women.
If they don't want to do a particular job that actually may be harmful to their health, they can be punished. That's what involuntary servitude means. Federally, actually, many folks who were incarcerated don't have rights that those of us that live on the outside do. This wouldn't even have addressed that. It would have said you cannot punish folks for not wanting to work the kind of job, the kind of hours that you as a warden demand that they work.
Unfortunately, this bill failed in California, which was a blow to the national movement. I have promised the activists that I would join forces with those in Congress and in the Senate to keep pushing because I believe so deeply that we have to undo some of this horrific language, these horrific words and phrases and vestiges of slavery that remain in our state constitutions across the country.
Melissa Harris-Perry: You've been endorsed by Congresswoman Karen Bass. What does that endorsement mean to you?
Senator Sydney Kamlager: Oh, my goodness, Melissa. I have to tell you, it means so much. First, I just have to say, I wasn't really planning to run for Congress. I was minding my own business in the state senate thinking about what I was going to do next year when this icon of a woman tapped me on the shoulder and said, "I think you have the voice, the temperament, the constitution, and the righteousness to run for this seat while I do something even bigger, which is come back and run for mayor."
This is a woman who put my CRISES Act into her George Floyd Justice in Policing Act. I did a bill that would fund community-based organizations to respond to 911 calls so that law enforcement doesn't have to do that. She picked it up and put in her George Floyd bill. It became the impetus for the national 988 hotline that we now are going to see across the states and the country.
She's been a righteous warrior for social justice. To have her ask me to consider this seat, her seat on the backs of other Black women like Congresswoman Diane Watson, who's also endorsed me, was intimidating. Also, it told me, it affirmed for me that I've been doing the right thing, talking about uncomfortable issues, speaking the truth to power, and fighting to make a difference for so many constituents that feel like they're unseen by the government.
Melissa Harris-Perry: As you were talking about the challenges, particularly facing Black women, again, you caught me with the intergenerational caregiving piece, the extraordinary expectations, and yet also the desire to serve, why in the world did you run for office in the first place, not just the congressional seat, which you've talked about? What made you say, "You know what? I could go work for private industry and earn more. I could do work through nonprofit organizations and not at least have the campaign aspect"? Why is running for office important, not only for you but for other women?
Senator Sydney Kamlager: I think it's important for us to see ourselves everywhere. I listen to Lizzo and that's what she says, right? You can be big and Black and beautiful and bold. You want to see yourself in every space that is available to us. I want to do that for my stepdaughter. I want to do it for my mother so she can see the product of her work and her toiling, and for the younger generation. My role models are folks like Fannie Lou Hamer. I actually modeled an urban farming program after her work.
I ran because of women like Holly J. Mitchell, who's our Los Angeles County Board of Supervisors chair here, and Congresswoman Karen Bass. I actually worked for Holly and worked on her campaigns years ago. There are also role models like Cat Brooks, who really works hard to make sure that we're holding law enforcement accountable and that we're supporting our Black and brown communities, and women like Jamilia Land working on the abolition movement to remove slavery.
I run because these women have been doing righteous work. Their struggles and their successes are important to me. If I'm able to work within the system to change policies or to elevate their stories and struggles so that we can have a democracy that is more fair, that is more just, and that sees us, that's really important to me. I think we are all put on this planet for a purpose.
My purpose has been joining Planned Parenthood and elevating the issues that Black women have when it comes to abortion access and reproductive rights, right? My purpose is to fight for affordable housing here in my county so that we can use this playbook across the country and figure out how to reestablish generational wealth for Black and brown and working communities. My job is to get into spaces where we're not normally seen so that we can braid federal and state and local funding to create the kind of future that's going to allow our children to love and learn and live in peace.
Melissa Harris-Perry: In some ways, you've answered, I think, my final question, but I want to ask it in a pointed way. Running for office is in part about articulating to voters, but maybe even more importantly to yourself, what your vision of the future is. What is your vision for California's 37th congressional district?
Senator Sydney Kamlager: My vision for this district, which is beautiful and diverse and engaged, is to be part of a movement that brings Washington, DC, to the 37th and not the other way around. My vision is to bring folks from the margins to the center using voices and stories and organizing efforts to bolster democracy and make it more healthy and not just democracy at a macro-level, protecting the constitution, representation, voting rights, although those are really important.
My vision is that we're fighting to make democracy healthy and functioning at a more micro-level where everyone has clean running water, a roof over their head, schools that are teaching their children, health care that they can afford and access, and then access to the same kinds of capital as those who are wealthy and jobs with dignified wages. These are fights that I'm going to fight here in Los Angeles, but they're the same fights that are happening in Detroit, Michigan, and in Jackson, Mississippi, and in everywhere in between.
Melissa Harris-Perry: California State Senator and candidate for the US congressional district, the 37th from California, State Senator Sydney Kamlager. Thank you for joining us on The Takeaway today.
Senator Sydney Kamlager: [laughs] Thank you so much for having me.
[music]
Copyright © 2022 New York Public Radio. All rights reserved. Visit our website terms of use at www.wnyc.org for further information.
New York Public Radio transcripts are created on a rush deadline, often by contractors. This text may not be in its final form and may be updated or revised in the future. Accuracy and availability may vary. The authoritative record of New York Public Radio's programming is the audio record.