California Attorney General Has an Aggressive Reform Agenda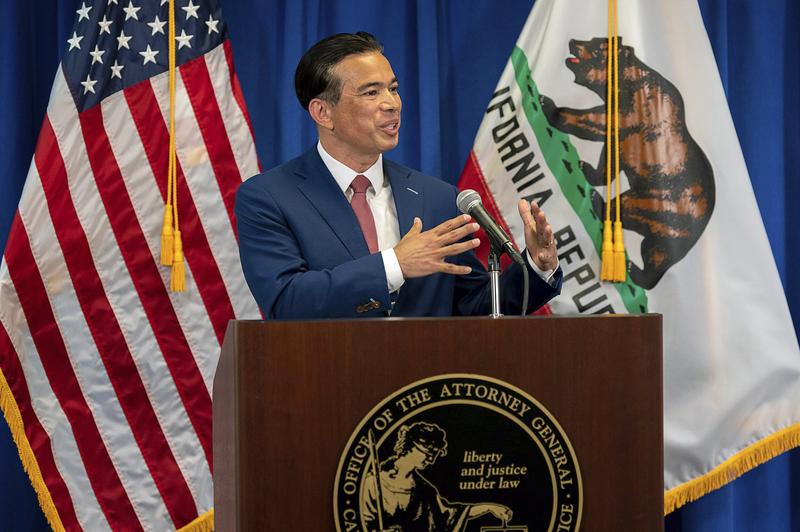 Transcript
Melissa: Hi. I'm Melissa Harris-Perry in for Tanzina Vega and this is The Takeaway. Hold on tight because we're shaking things up a bit. We usually bring you the weekly politics takeaway on Fridays but today, we're going to flip it, change it or rearrange it. See, when you tune in tomorrow, instead of politics, you're getting a very special episode commemorating Juneteenth and celebrating Father's Day. We've been hard at work on it, so please don't miss it. That means today is politics. We're going to check in on the Biden-Putin meetup or was it a square off, that happened in Geneva.
We'll dig into the legal and political strategy motivating the legal challenges to targeted COVID relief and Professor Britney Cooper will join us to discuss the politics of time. Yes, time is political. First, we begin in California, where there have been a lot of changes in the past year. First, the junior senator from California. Well, she became the vice president.
Kamala: Kamala Devi Harris, I solemnly swear that I will support and defend the Constitution of the United States, that I will support and defend--
Melissa: President Joe Biden also tapped California attorney general Xavier Becerra to lead the Department of Health and Human Services.
Xavier: Mr. President-Elect, Madam Vice President-Elect, I am honored and excited to join your team.
Melissa: You guessed it all this shuffling at the top left a critical vacancy in the role of California's Attorney General, a vacancy now filled with another history maker.
Rob: Rob Bonta, California Attorney General.
Melissa: Rob Bonta, is the first Filipino American to serve as the Attorney General of California. He assumes the role after serving for nearly a decade in the California State Assembly representing District 18. That's the East Bay, or rapper Too Short would remind you--
[music]
Now, I sat down with Attorney General Bonta earlier this week, and I asked him what inspired his life in public service.
Rob: My father marched in Selma, organizing for civil rights and voting rights. Both my parents work for the United farmworkers of America, we actually live in the headquarters of La Paz in a trailer, a stone's throw away from the home of Ceasar Chavez, and my mom organized for the restoration of democracy in the Philippines after Ferdinand Marcos became a dictator and violated human rights repeatedly for the people of the Philippines. It was that spirit to uplift other people and right wrongs and make people's lives better that inspired me to get into public service.
Melissa: With this appointment, Bonta is finishing out the remainder of Becerra's term, which means he's up for reelection in 2022 and the primary is only about a year away. In politics, that means the campaign is already in full swing. We spoke about taking on such a big job with such a compressed timeline.
Rob: I'm incredibly excited for the opportunity to be in this role and yes, there's an election, a primary election in less than a year in June of next year. As I have served in the role of California Attorney General, I'm also running for a full four-year term. I think the best way, the best audition, to be able to continue in the role you're in is to do a good job while you're in the role. Every day I roll my sleeves and the first thing on my mind is how can I make the lives of Californians better today.
That's what we focus on, so many areas, as we emerged from the pandemic and economic recession and you still confront a racial justice reckoning, a climate crisis, homelessness, and housing affordability crisis. There's so many areas where I can move the needle as California Attorney General and provide relief and comfort to those in pain and to help those who are hurting.
Melissa: Let's start with one of those areas and this is around criminal justice. In California right now, there are these very reformed-minded district attorneys in Los Angeles in San Francisco and the reality is that many of them or much of what they've experienced in their reform-mindedness has been critique, criticism, even some might call it attack. I want to hear from you about how you're thinking about the fundamental questions of safety, and of justice, and what that looks like when it comes to real policy issues like bail reform.
Rob: It starts with my position that every Californian deserves to be safe in their community and that's a top priority for me to ensure that they are safe through all the tools and the levers that I have in California Attorney General's office. It's important to have safe communities and I'm absolutely committed to making that happen and making that and that is a top priority. It's also important that we look at all of our systems and make sure that they're working, that they do make people safe, that they are fair, that they are just and fairer, more just systems and criminal justice are also safer.
It's important to look at things like bail reform that you mentioned. Bail does not ask any question about safety, the way money bail works. The only question it asks is how much money do you have in your pocket? It doesn't ask, what your risk to the community is? It doesn't ask, what the safety risk is? it doesn't even care to. All it says is, how much money do you have, and it punishes poor people for being poor. It makes the jailhouse door swing open and close based on how much money is in your pocket. It's essentially pay-to-play. I propose a reform where we did ask that question.
What is the safety risk of the individual and not ask how much money do you have in your pocket and make decisions based on actual safety risk. It's more fair that way, it's more just that way and it's safer that way. That's a classic example of how we can acknowledge and must acknowledge a fundamentally broken part of our criminal justice system, and can provide reform that is both safe and just.
Melissa: I'd like to talk with you a little bit about police accountability. I know that you have talked about being open to an investigation, potentially of the killing of Sean Monterrosa by Vallejo police. I know there's a push in California to reopen the Oscar Grant killing. Where are you on these cases and on police accountability more broadly?
Rob: Police accountability is a really important part of my priorities. We are implementing a really important bill that I coauthored called Assembly Bill 1506, which requires that the California Attorney General conduct independent investigations of officer-involved shootings that result in the death of a Californian. I know that law enforcement are critical parts of our communities and invaluable and that the vast majority want to build that trust between law enforcement in the community that is too often missing today in too many places and in too many ways.
We also need to have accountability because you can't have trust without accountability. Accountability is critical and something that the attorney general has an important role in playing. When it comes to the Sean Monterrosa case, there was inaction and uncertainty and I wanted to change that and I did. We committed to conducting an independent review of that case, we're doing that now, that is happening. That decision has been made, we are in the process of conducting that independent review now. The State of California, our communities [unintelligible 00:08:12] community, the family of Mr. Monterrosa deserve nothing less. They deserve an independent, thorough review and for that review to go wherever the facts and the law lead.
Melissa: Let's talk about accountability in another arena. California is among many things, as you said, as goes California, so goes the nation, maybe even the world. The question of tech firms and accountability of tech is something that is going to be critical in part for the work that you're doing. I'm interested in how you might be thinking about managing issues around enforcing consumer protection around racial algorithmic bias in tech and simply using your platform to push even the federal government to do more on these tech accountability questions.
Rob: Tech accountability is a top priority for me. I see the role of the California Attorney General as being the people's attorney of standing up for everyday people, making sure that the scales of justice are balanced and essentially protecting the little guy from the overreach of power and the abuse of power by the big guy, whoever the big guy is, and no matter how big they are, or who they are, including big tech. It's important for consumers for Californians to have their privacy protected, their consumer rights vindicated and honored, and respected.
If that means taking on big tech, we have and we will, to make sure that the rules are being followed and that there is no manipulation or abuse that is contrary to the law. California is is really important in this arena, so are the alliances we've built with attorneys general throughout the state including New York and other states we often work in tandem to identify an issue that's hurting consumers often. If big tech is crossing a line or violating a rule in California it is not necessarily restricted only to California. It can impact other consumers throughout the nation so it's a top priority for me. We're working with our colleagues throughout the nation and focusing on everyday folks to make sure that they're free from abuse treated lawfully and appropriately and that their privacy is protected and that their consumer rights are honored.
Melissa: We're in a time when much of the nation is acknowledging the violence against AAPI communities and not only acknowledging it but recognizing that it has been discursive violence structural violence and now very serious physical violence given your particular historic role in representing not only the state of California but also as a Filipino American having a very particular position around representation. Will you be using your platform and your actual powers of office to address these AAPI violence issues?
Rob: Addressing anti AAPI hate violence is a top priority for me. I say to that AAPI community I see you. I value you. I am you and I am feeling and experiencing many of the same things that the AAPI community generally is throughout the state and throughout the nation. We were in a full-on state of emergency a fallen state of crisis. We are all rightfully concerned anxious worried sometimes frightened off and angry about what's happening.
My own mother reached out to me, 83-year-old mother, and said I'm planning to take a Lyft into the city, and do you think it's safe, given all the anti API hate and it's just an ordinary trip to attend a meeting and see some friends. I said I don't think it's safe. Let's make arrangements for me to take you or for a family member to take you in and we changed plans.
That is how so many AAPI community members are feeling right now. Just that the fear of conducting everyday activity is running errands, going for a walk, being on public transportation. It's my role to stand with our AAPI community to fight for them to address the forces of hate and take them on to make sure that perpetrators of hate are held accountable and that victims are allowed to heal.
In that regard, we have set up the racial justice bureau in the California Attorney General's office to take on organizations that are organized around hate and white supremacy to work with local law enforcement to make sure that they know all the best practices to investigate, and identify hate crimes and acts of hate violence and bring those who perpetrate those acts to justice.
We're working on other issues to protect our community members like campus climate issues making sure that young people are treated with support services and healing instead of punitive and discriminatory policies. We are focusing on racial and social justice and addressing the urgency of now with hate violence in our racial justice bureau and with other work that we have within the attorney General's office so that we can provide the support healing and be the champion that our AAPI communities need right now.
Melissa: Attorney general just real quick we talked at the very beginning about you now having to run for office relatively swiftly after being appointed, do you have any candidate that you might be endorsing for your former assembly seat.
Rob: I do. I am endorsing an incredible leader named Mia Bonta the president of the Alameda school board and a powerful leader for social and racial and economic justice. Congress member Barbara Lee is also endorsing her. There's no one I believe in more. I've known her since I was 17 years old. That's when we met, we've been partners in life and partners in service and having served this incredible assembly district which I believe is the most enlightened and most social justice-oriented in the entire state and having the honor privilege of representing this district and knowing what it takes over the last almost decade. I know that she will be an incredible leader and have everything that it takes in more to provide the service and leadership at this district.
Melissa: Attorney general Rob Bonta California's new attorney general. Thank you for joining me today.
Rob: Honored to be with you, Melissa. Thank you for having me.
Copyright © 2021 New York Public Radio. All rights reserved. Visit our website terms of use at www.wnyc.org for further information.
New York Public Radio transcripts are created on a rush deadline, often by contractors. This text may not be in its final form and may be updated or revised in the future. Accuracy and availability may vary. The authoritative record of New York Public Radio's programming is the audio record.