Butterfly-Gate: How a Butterfly Center Became the Target of Far-Right Conspiracies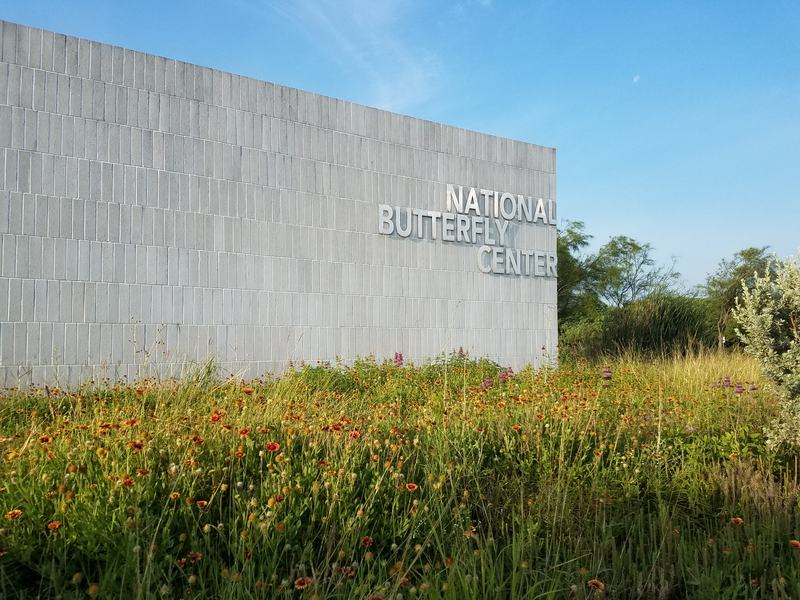 Transcript
Melissa Harris-Perry: Hi, everybody. I'm Melissa Harris-Perry and this is The Takeaway. Thanks for being with us. Butterflies, conspiracy theories, and the Texas Mexican border. Those aren't phrases that you typically hear together but we start today with a story that involves all three. The National Butterfly Center located along the US-Mexico border is owned and operated by the nonprofit North American Butterfly Association. It's a conservation project for wild butterflies located on 100 acres of botanical garden.
[birds chirping]
Marianna Trevino-Wright: We have more butterflies in both variety of species diversity and volume anywhere in the United States. The list for the property is already over 240 species of butterflies documented there and you could reasonably expect to see about 350 species, which is half of all of the species found in North America.
Melissa Harris-Perry: That was.
Marianna Trevino-Wright: Marianna Trevino-Wright, executive director of the National Butterfly Center in Mission, Texas.
Melissa Harris-Perry: While the National Butterfly Center sounds like pretty much the most pleasant place on earth, it closed its doors indefinitely on February 1st due to fears of harassment from far-right conspiracy theorists and anti-immigration groups. How'd we get here? Well, in the last few years it's become the target of malicious lies not unlike the debunked pizza gate conspiracy from a few years ago.
Marianna Trevino-Wright: They said a bunch of awful, untrue things about us, lies on social media and their regular media channels and print and other places, declaring we were a cartel front, that we were engaged in human trafficking, selling women and children into sex slavery. All of these things are designed to elicit a pretty dramatic response from decent people.
Melissa Harris-Perry: After a border security rally took place in a neighboring border town in late January, fearing escalating threats, the Center decided to close until it could assess the risks and plan for reopening safely. This fight actually dates all the way back to 2017 when the center sued the Trump administration for trying to build a portion of the border wall that would cut through the middle of the National Butterfly Center land.
Marianna Trevino-Wright: Since then, we have been in a tumultuous cycle of conflict with people who are proponents of border wall who believe that it is a solution to the very complex problem of immigration.
[music]
Melissa Harris-Perry: To learn more about how the National Butterfly Center got wrapped up in all of this, I spoke with Melissa del Bosque, co-founder of the Border Chronicle, a Substack publication with reporting and analysis from the US-Mexico border.
Melissa del Bosque: Filing that lawsuit against the Trump administration was what put the Butterfly Center on the map in terms of harassment from supporters of Trump and right-wing online harassment. Then fast forward to 2019 and Steve Bannon, one of the main advisors to Trump and another man named Brian Kolfage, who's a triple amputee veteran who had a history of a right-wing media misinformation. He and Bannon and two other men formed a group called We Build the Wall which was a crowdfunding platform to build private sections of border wall. What they did is they built a three-mile-long segment, a private border wall right next to the Butterfly Center in 2019.
Melissa Harris-Perry: Let me just start. Is it legal to build a private border wall?
Melissa del Bosque: No. What they did is they violated a binational treaty with Mexico. Neither country is allowed to build in the flood plain of the Rio Grande without pretty extensive hydrologic studies and both countries have to sign off on it because they want to avoid flooding communities on either side of the border. What this private We Build the Wall organization did is they just went ahead and built it without any type of extensive hydrologic studies or without permission from the International Boundary Water Commission which is the binational organization that oversees the treaty. At one point, the IBWC had also sued We Build the Wall for building illegally in the flood plain.
Melissa Harris-Perry: Now, you talked a little bit about the origins starting with 2017 and the idea of simply pushing back against the attempt of the Trump administration to build this portion of the border wall directly through the National Butterfly Center. I'm also wondering how the conspiracy theories associated with it. If that's the origin, how has it replicated? What have been the engines for reproducing and disseminating the conspiracy theories?
Melissa del Bosque: Well, during the building of the private border wall by Brian Kolfage and Bannon and their other associates, Brian Kolfage has a pretty extensive history of right-wing misinformation and vicious online attacks towards people who criticize him or are against the idea of We Build the Wall and these private border wall segments that they were building.
What happened during that time when the Butterfly Center filed their lawsuit against We Build the Wall, Kolfage started putting out Photoshopped images of the dock down at the Butterfly Center on the river with Photoshopped deflated rafts saying that these were the rafts that child sex traffickers were using to traffic children to the Butterfly Center.
Using a lot of these Photoshop images and putting out this false idea that there were child sex traffickers at the Butterfly Center.
They also targeted a Catholic priest who was very, very popular, Father Roy Snipes. They also accused him of child sex trafficking and anybody in the area who was critical of We Build the Wall or called them out for building that segment of border wall there. It started with that and then they had armed militia people showing up at the Center who wanted to stop the child sex trafficking and so forth. A lot of the serious attacks really started around the construction of We Build the Wall.
Melissa Haris-Perry: It seems so wildly disconnected. It's not that I don't understand conspiratorial thinking. I have maybe been known to have a little conspiratorial thinking myself, especially as a younger person. But typically it's related to at least somewhat reasonable connection. Just to take one that's been long in our history is the belief that it wasn't a single gunman who acted in the context of the assassination of President Kennedy, right? That's like a long-term underground or really quite above-ground conspiracy theory. The idea of child sex trafficking associated with a pizzeria or the National Butterfly Center I guess I'm wondering if you have theories about why something that seems so wildly disconnected manages to stick.
Melissa del Bosque: That's a good question and I think it was really surprising to the Butterfly Center, to Marianna Trevino-Wright who's the director there as to how these people could really believe something so farfetched and nutty-sounding, but the issue of child sex trafficking is very big in QAnon, of course. QAnon has really merged with the anti-immigrant far-right type of crowd that has really focused heavily on this section of the border which is the Rio Grande Valley because it's the shortest distance to Central America.
It's probably received the largest number of arrivals of unaccompanied minors and families since it first started in 2014. You take a very real concern of course about trafficking and then just spin it off into this whole crazy scenario which people sadly start to believe, I think, because it's repeated over and over and over again on social media, on these QAnon sites, on Facebook, and to the point now where we have even elected officials or people who are running for office, who are accusing Catholic charities which is a very well respected humanitarian organization of being child sex traffickers, which is just totally crazy but has become a real safety concern for humanitarian organizations along the border.
Melissa Harris-Perry: What kind of safety concern?
Melissa del Bosque: Well, having-- which has happened at the Butterfly Center, having armed militia members show up who threatened them, Alex Jones who does the Infowars far-right radio personality confronted Catholic charity workers, and then blasted it out on social media so that employees from Catholic charities were targeted. They target people both physically and online with very scary threats and attacks to their reputation. People are overwhelmed by this. They don't know how to respond.
At first, they think it's ridiculous because they can't believe people believe this, but then it becomes a very real threat and impact to their lives and to their jobs. I think people for instance at The Butterfly Center they've closed due to threats from just these far-right conspiracy folks that they're afraid will show up at the center armed or making threats or they just don't really know what they're capable of.
Melissa Harris-Perry: Given that we're in a midterm season. Do you think that this will escalate?
Melissa del Bosque: Yes it has escalated I think because of the midterm season, because as I've been documenting at the Border Chronicle, there are hundreds of candidates nationwide who are running on these outrageous conspiracies about the border, calling Catholic charities child sex traffickers or the National Butterfly Center and then wanting to go down there and create this content for the far-right ecosystem, and also to get Trump's endorsement so that they can stand out in the crowd when they're running in the primary. Most recently, the Butterfly Center had an incident where a Republican candidate running for Congress from Virginia showed up at the center demanding that they open the gate and let her drive down to the riverbank so that she could see the illegals crossing on rafts, which immediately tipped off the Center that she was talking about those Photoshopped images that Kolfage and others had circulated to smear them after they filed a lawsuit against We Build the Wall. The Center's director said we're not going to do that. We're not going to open the gate for you, and there was an altercation and now the Center has filed charges against this congressional candidate.
Melissa Harris-Perry: There is something particularly bitter about the fact that this is a Butterfly Center given that butterflies migrate. I think of the ways in which butterflies and migration are sometimes held up as examples of the ways that nature moves across these borders that we please so heavily as people.
Melissa del Bosque: Yes. One of the terrible things for the community is that the Butterfly Center is one of the last public places where people in the community can access the river because the river in that area has been entirely cut off by the border wall which is 30 feet high. The border wall in this area is built up to a mile from the river, so it's not like it's on the bank of the river.
It's actually going through people's backyards, through the university, right through the community, so the Center is one of the last places where kids who are growing up there can go down and see the river and experience the beauty of the flora and the fauna and the butterflies. Unfortunately, because it's public and it has access to the river it's being used now by the far-right to go down there and to film or try to create a scene for content just so that they can crowdfund or run for office or whatever it is they want to do.
Melissa Harris-Perry: Melissa del Bosque is the co-founder of The Border Chronicle. It's a Substack publication with reporting and analysis from the US-Mexico border. Melissa, thank you for joining us.
Melissa del Bosque: Thank you for having me.
[00:14:50] [END OF AUDIO]
Copyright © 2022 New York Public Radio. All rights reserved. Visit our website terms of use at www.wnyc.org for further information.
New York Public Radio transcripts are created on a rush deadline, often by contractors. This text may not be in its final form and may be updated or revised in the future. Accuracy and availability may vary. The authoritative record of New York Public Radio's programming is the audio record.