Broadway's Latest Season Centers Black Theater Artists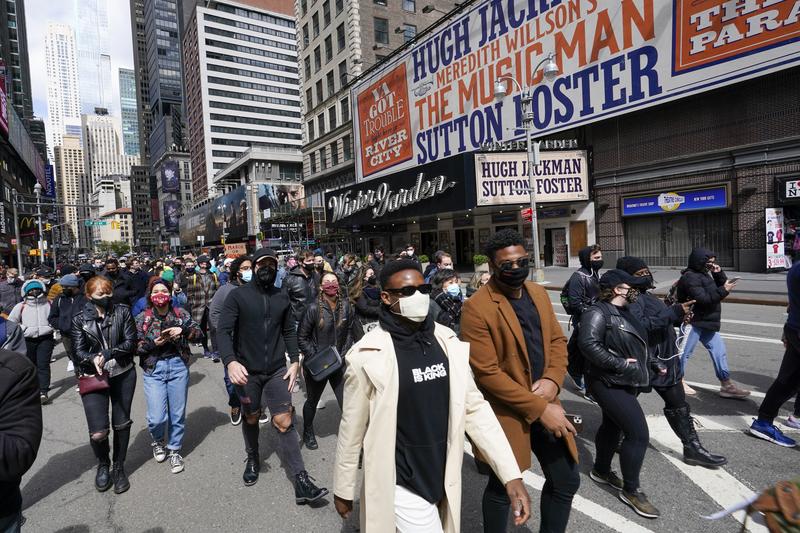 Transcript
[music]
Melissa Harris-Perry: Let's take a stroll over to Broadway where producers are doing something a little different this season, supporting and celebrating the work of Black artists. All seven of the new plays premiering this season on Broadway were written by Black playwrights. It's a testament to the activism displayed by Black theater artists over the course of the pandemic.
Earlier this month, the play Pass Over by Antoinette Nwandu became one of the first productions to open on Broadway since the shutdowns of 2020. After the show's first performance, audience members headed out into the street for a dance party where Nwandu addressed the crowd from a balcony.
Nwandu: Ya'll, I feel like [inaudible 00:00:44] [unintelligible 00:00:44] We've been rehearsing. I've been praying.
Crowd: [unintelligible 00:00:56]
Nwandu: We have been working, and now we are here together-
Crowd: Yes.
Nwandu: -to tell this story of Black joy.
[music]
Melissa Harris-Perry: This is an exciting moment for theaters in New York and across the country, but it's also a precarious one. The ongoing threat of the Delta variant means a productions, just starting to open back up could once again, face shutdowns in the Fall. With me now to talk about Broadway's current season are Maya Phillips, critic at large for The New York Times, and Vinson Cunningham, staff writer and theater critic for The New Yorker. Thank you so much for being here.
Maya Phillips: Thanks for having us.
Vinson Cunningham: Thank you. So fun.
Melissa Harris-Perry: Maya, I want to start with you. In part, because as I introduce you as The New York Times and Vinson as The New Yorker, start by telling us why Broadway matters beyond New York City.
Maya Phillips: Oh, my gosh. Broadway, I feel like it sets the tone for a lot of what happens around the country. Obviously, I do believe in local theaters, and I think that there's always great work to be seen in regional spaces, but Broadway is just a historic institution. You'll see places across the country pick up shows that got their start on Broadway. It's a big deal.
Vinson Cunningham: I think that's totally right there. There is a tone-setting function, but then, in a very literal sense, people from all over the country come to New York to watch Broadway shows to the extent that New York is a magnet for people all around the country. Broadway has a disproportionate amount to deal with that.
Melissa Harris-Perry: Maya you just saw Pass Over.
Maya Phillips: I did, yes, last week,
Melissa Harris-Perry: What was that like for you?
Maya Phillips: Oh, man, I had mixed feelings about the experience because I was obviously super excited to go back. It was my first Broadway show in all of these months. When I was in the lobby, I had this moment of panic that all these people around me, and, of course, they're all vaccinated, but it's like a trauma response.
I was like, "Oh my God, there are people everywhere. How did I do this before?" Then, of course, I settled down. Once I sat down in the seat and the show started, it was so emotional. To hear everyone cheering, everyone was so happy to be there. It was a little of both, but mostly the good stuff. [chuckles]
Melissa Harris-Perry: That's part of the theater piece, is that the fact that when we watch something alone or even with simply our intimates, it's not the same experience as when we watch it collectively, when we watch it in the crowd. Vinson, how was your experience with Pass Over?
Vinson Cunningham: What struck me was just the weird exchange of energy that happens when you're in the room with a lot of other people. Those Broadway seats are-- there's not a lot of space. You really are shoulder to shoulder with other people and hearing their banter and sometimes unfortunately hearing their cell phones or whatever it is, the crinkle of their Eminem rapper. There's a different thing that happens when, for example, someone laughs at something that you hadn't yet found funny, and you are negotiating, "Okay, what they find in that," that part of it, that triangulating against other people's emotions and responses, especially as a critic when you're trying to figure out what those responses might be. It's valuable. There are lots of other things that happened during the pandemic. Virtual theater was in some ways, in some instances amazing, but this is a different thing for sure.
Melissa Harris-Perry: [unintelligible 00:04:25] I haven't thought of it as a non-critic. I'm always just going to enjoy or hate on any given show on my own. The idea that, I suppose, Maya, you're reading the crowd as much as you are reading the play itself.
Maya Phillips: Oh, absolutely. I'll also add that that's an element, especially as a Black critic. I won't speak for you Vinson, but I know for me, just that immediately flooded back into my mind that I'm like, obviously the content of this play is very much about race, and I'm looking around me, and once again, I'm in this crowded theater space that I'm really happy to be in, but there are white people all around me, and I'm for lack of a better word but like policing their interactions with the play, and what they find funny, how they respond to, especially the N-word that comes up a lot. All those things are going through my head, too.
Melissa Harris-Perry: Oh, gosh, it's such an important point, it so much has happened since we were last on Broadway together. Vinson, it occurs to me as Maya's speaking that not only have we been in the context of a global pandemic, but obviously also in the context of the post murder of George Floyd, and it's been so long, not only was Mr. Floyd murdered, but his murderer found guilty. This has been a time around race in America. How was that playing out for you?
Vinson Cunningham: One of the things that has brought into being as like a-- I don't know if it's a panic response or an empathetic response or simply some level of responsiveness from Broadway and from the theater establishment in New York to try to figure out what all of the uprisings last summer have meant for the stage. Pass Over was this really strangely congruent because incongruent thing to come back to about these men on a block, and they're buffeted by these forces not unlike the forces that eventually killed George Floyd, the police, and enclosure in their own environments.
It was very much in some ways on the nose of that development in our lives. As we think about coming back to Broadway, you think about like, I don't know, a lot in the musical or something.
Melissa Harris-Perry: [chuckles]
Vinson Cunningham: You think about like it's celebratory thing and here we have this, in some ways downbeat meditative thing that's happening around the things that we've been thinking about for the last couple months. This particular play was very interesting to come back to because it was like minor keyway back into all of this.
Melissa Harris-Perry: Maya, indeed, all seven of the new plays being produced this season on Broadway are by Black playwrights. Would that have happened without not only the uprisings but this June 2020 later from a group of Black theater artists titled we see you white American theatre?
Maya Phillips: I would love to be optimistic and say, "Yes, I think it would eventually happen," but I'm not sure it would. I do think that the combination of the culture, what was happening in the cultural conversation around Black Lives Matter. Though we see white theater, there is so much pressure, all of a sudden being put on theaters, institutions, just like figures in power, particularly, of course, white figures in power, in a way that we haven't really seen in the theater or at least I haven't, I think it's great.
I think that the fact that we're seeing these institutions shift, not just with the new plays that are coming to Broadway, but just the fact that there are new people who are coming in, there are diversity inclusion officers, there are changing of the guard in a lot of the big theaters, that's all really important. I'm really excited to be a part of that or be part of this moment, especially as a Black critic.
Vinson Cunningham: I think last summer was a time for better and worse for many establishments across our country to receive the incoming about what their actions and what their omissions and their blind spots have meant to the constituencies and the communities that they serve. Of course, the theater was no exception. Throughout the publishing world, throughout the academic world, everywhere, there was a often expressed in this epistolary way like, "Here's, what's been going on, and here's how this part of our society has contributed to this larger, mess this conflagration that we see."
Those letters I thought had a big impact, and the theater community as I'm learning as a critic and understanding the byways, it's a very small community. Jeremy O Harris's Slave Play, for example, there were lots of things that happened in producing group to bring in Black audiences and change price structures and things like this. This was a deepening of something that's been going on for a long time.
Melissa Harris-Perry: Whether you think it has changed for all time or not, it's really cool to be part of a thing while it is happening and to be able to both contribute and think about it in the moment. I'm wondering if you also feel optimistic that the changes will be lasting and sustained.
Maya Phillips: Oh, I am not at all an optimist, unfortunately. [chuckles]
Melissa Harris-Perry: [laughter]
Maya Phillips: Yes, I was saying that it feels great to be in this moment, but I say that with the same asterisk that Vinson was saying that. We've seen this so many times in so many industries that there will be changes happen, and I hope that it won't just be like this season that this conversation is still fresh in people's minds. I hope after that, after fire of everything dies down a little bit more, that we won't go back to a season of all-white playwrights and all-white casts and all-white creative teams. It's always a possibility, unfortunately. That's how this industry is, and it's dominated by whiteness, unfortunately.
Melissa Harris-Perry: We started by saying why should Broadway matter beyond New York, but also why should it matter beyond those who have a certain kind of disposable income? How do we get to experience be part of Broadway these experiences you all are having being there, in that actual space, hearing the Eminem rapper, unless you have hundreds of dollars in disposable income?
Vinson Cunningham: It is something that frankly haunts me. Theater from its origins, in the ancients, it's supposed to be an expression precisely of democracy. If it comes along with the Greeks, we think of it in parallel with something like democracy, something like broad access, something that reflects every current in the society so if everybody can't come, that seems like a bit of a dark joke. I actually think that this issue of class and access has a lot to do with what we're talking about just varying the offerings that come on to the stage.
In both cases, it seems to me that our country needs to realize what actually the arts give our society. The democrats have pushing forward this infrastructure bill, and part of that has been expanding what we mean by infrastructure. It seems to me that one of the deep places of infrastructure in our country is indeed the arts. We used to have a federal writers program, a federal theatre program that helped artists make work and increase their capacity to reach audiences outside of these establishments and make their work undeniable, and that's how so many of the people that we love made it to the stage in the years after the new deal. It seems to me that our country, in some ways, needs to step up and provide some insurance that perhaps these establishments can't or won't. Until that's a part of it, until these ticket prices go down, and I don't know how we use that pressure except the highest level, it's going to be a bit of a shame.
I think this year is a test case because I think tourism is still down. We have a little bit of an experiment, like "Can we get somebody to travel not from Iowa, but from Queens to come to the theater? Can we get somebody to come from Staten Island and come to the theater? What can we do here in our own backyard, this varied city that we have? Forget about seeing the country, we don't see the city in these theaters." That to me seems a good place to start.
Maya Phillips: I was also specifically thinking about my experience just being a fledgling theatre critic in New York. It's just like I was affected by the accessibility, too. [chuckles] Of course, it's a different situation, of course, I am still coming from a place of privilege, but it's also difficult for certain groups of people, even within the industry, to get access to certain shows.
As a freelancer or whatever, I wasn't always able to get prior press access into some of the big Broadway shows. There are some gaps in my knowledge that are unfortunate. That's me as an actual journalist, so just imagining all these audiences that are out there who just have no awareness of the shows being happening or can't get out there or just don't have the money to get out there, it's all an issue. [laughs]
Melissa Harris-Perry: I feel maybe you just planted a Hamilton Shade Tree. I'm not sure if that was accurate or not, but that was interesting.
[laughter]
Melissa Harris-Perry: I am going to just let that shade tree grow and spread its branches and won't do anything more around that. [laughs]
Maya Phillips: No comment. [laughs]
Melissa Harris-Perry: That's okay. Great, good. Vinson and Maya, before we go, though, I am hoping that maybe you'll both Just give me one- We talked a little bit here about Pass Over, I don't know whether to call it Pass over or Pass over or Pass over, but tell me a little bit about at least one other play that for you is what you're really looking forward to this season. Vinson, we can start with you.
Vinson Cunningham: First of all, I would say that the confusion over that name is precisely one of the tensions I think in the place. You are already on the right track. Something that I'm perversely waiting for because I just don't know what to expect is the Michael Jackson Musical. I just want to know what Lynn Nottage will do with Michael Jackson, who, if you're alive now, you've probably been thinking about for your whole life.
Maya Phillips: Oh, I am really, really psyched for Trouble in Mind which is-- it should be a classic, it should be part of the canon, but I think that it's been forgotten. I just think it's one of the perfect plays for this moment, just talking about bringing black actors and a black show to the stage, and what that actually means. I think that's going to be exciting to see people experience.
Melissa Harris-Perry: Maya Phillips is a critic at large for The New York Times, and I really feel like needs to come back and have a whole conversation about freelancing. Vinson Cunningham is a theatre critic for The New Yorker and drops phrases like minor key and epistolary just like, It's no big deal, and I enjoyed this very much." Vinson, thank you for being here.
Vinson Cunningham: So fun. Thank you so much for having me.
Melissa Harris-Perry: Maya, thank you for being here.
Maya Phillips: Glad to be here. Thanks. [chuckles]
Copyright © 2021 New York Public Radio. All rights reserved. Visit our website terms of use at www.wnyc.org for further information.
New York Public Radio transcripts are created on a rush deadline, often by contractors. This text may not be in its final form and may be updated or revised in the future. Accuracy and availability may vary. The authoritative record of New York Public Radio's programming is the audio record.