Brittney Griner's Sentence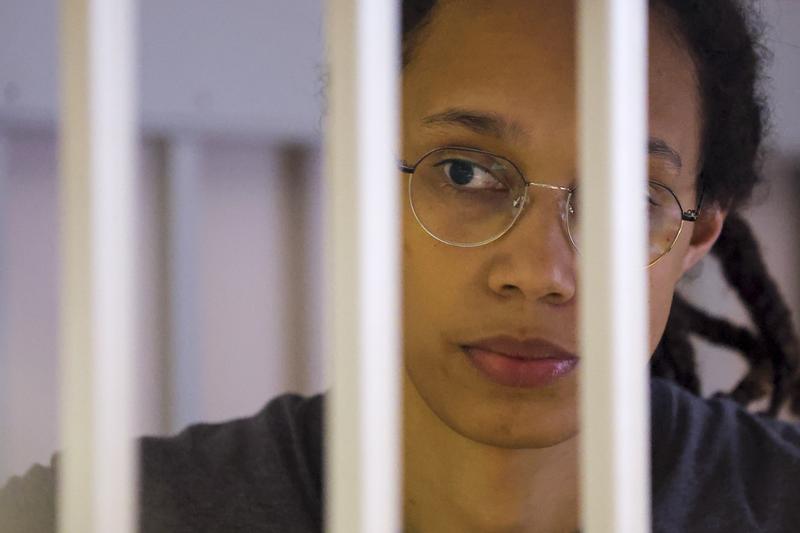 Transcript
[music]
Melissa Harris-Perry: This is The Takeaway. I'm Melissa Harris-Perry.
[music]
On Thursday, WNBA star and two-time Olympic gold medalist Brittney Griner appeared once again in front of a Russian court. She'd been detained for 168 days at that point after Russian authorities found vape canisters containing hashish oil with trace amounts of cannabis in her luggage way back in February. She faced up to 10 years in prison and two charges, for drug possession and for bringing illegal drugs into the country. In the courtroom this week, Griner stood behind bars in a rectangular cage. Speaking to the judge through a translator, she made a plea for leniency.
Brittney Griner: I understand everything that's being said against me, the charges that are against me and that is why I pled guilty but I had no intent to break any Russian law.
Melissa: Griner maintained that she had made an honest mistake in a rush to pack her luggage. Her legal team brought in character witnesses from the Russian basketball team she played on for off-season since 2014 who came to testify in her favor and they included written testimony from a doctor who said he prescribed her cannabis for pain treatment. It was all to no avail. The court found her guilty not just of breaking the law but of breaking the law with criminal intent.
Translator: Final verdict is nine years of imprisonment in the penal colony.
Melissa: Griner from the courtroom cage listened with her eyes downcast. When the verdict was done, she sat down, took the hand of a supporter from behind the bars, and sip from a water bottle. When Griner was finally led out of the courtroom in handcuffs, she said to reporters, "I love my family." In a statement released after Griner's sentencing, her WNBA team the Phoenix Mercury wrote, "We are inspired every day by BG's strength and we are steadfastly committed to keeping her top-of-mind publicly until she is safely back on American soil." Outside the court building, the United States Embassy official Elizabeth Rood promised that Griner would not be forgotten.
Elizabeth Rood: This is a miscarriage of justice. The US Department of State has determined that Ms. Griner was wrongfully detained. Nothing in today's decision changes that determination. We will continue to be closely engaged in this case. We will remain in frequent contact with Ms. Griner and with her legal team. The entire American government remain committed to bringing Ms. Griner home safely to her family, friends, and loved ones.
Melissa: On Friday, US Secretary of State Antony Blinken said he will continue to pursue Russia's offer to discuss a possible prisoner swap for Griner. With me now is William Butler, the John Edward Fowler Distinguished Professor at Penn State's Dickinson Law School. Thanks for joining us, Professor Butler.
William E. Butler: My pleasure.
Melissa: Kimberly St. Julian-Varnon, a historian studying race in Russia, doctoral student at the University of Pennsylvania Department of History. Thanks for coming back on The Takeaway Kimberly.
Kimberly St. Julian-Varnon: Thank you for having me.
Melissa: William, Griner was sentenced to nine years in a penal colony, a one-million ruble fine, that's about $17,000. Was that sentence commensurate with the charges?
William: The sentence is consistent with other prosecutions that have taken place under Article 229¹ which is the article she's charged under for smuggling. Smuggling and possession of course go together so as far as I'm aware, there's only one article of the criminal code engaged and the sentence is consistent with that. The article provides for a sentence of deprivation of freedom from 5 minimum up to 10 years and the possibility of a fine of up to 1 million rubles. The court assigned nine years and the maximum fine.
Melissa: William, penal colony. Is that something different than what we might think of a prison in the US?
William: It's different in the sense that there are no behind bars. It's not a cell, it's more like a camp. They used to call them camps in the old days. It's a correctional labor colony and there will be various levels of colony. The court judgment should have determined which level she was assigned to. We haven't seen that yet.
Melissa: Kimberly, were you at all surprised by this outcome?
Kimberly: Unfortunately no, I wasn't surprised. The work of scholars like Dr. Butler has shown us what to expect when it comes to these types of cases, not just for Americans who are facing these charges in Russia but for Russian citizens as well. This is pretty par for the course.
Melissa: I want you to pause there a bit and say a bit more about that for me, certainly for Americans who are watching through media who don't have familiarity with Russian court systems, seeing Brittney Griner physically restrained in what feels like a cage and also this sense that perhaps this was part of an international question rather than simply the Russian court systems operating. What do you see here that maybe is distinct or not distinct from what a Russian citizen might experience?
Kimberly: In terms of seeing Brittney in a cage and I know that was a very shocking image for a lot of Americans, that is the standard operating procedure for most court cases, most criminal cases in Russia. You've seen similar instances of Alexei Navalny, who the Kremlin tried to poison a couple years ago. He was also testifying from a cage. [unintelligible 00:05:54] testified from a cage and so did Paul Whelan, who's also detained in Russia.
Most of the time you see them testifying in court from cages but also they're transported to and from court in those iron cages and in shackles. While for American audiences it's shocking, for Russian audiences, this is what happens. I think that's one of the key takeaways in terms of how different it is in America versus in Russia. In that way, she was treated the same as a Russian offender.
Melissa: William, can you help us to understand what the legal teams and perhaps even the US government's strategy is here? We in media have received multiple messages about whether or not it would be more beneficial to amplify her case or to actually speak less about it in order to give room to US officials to do some of this work back door. Seeing her actually plead guilty I know raise questions, so maybe you can help us understand the strategy here.
William: There are no pleas in Russian criminal law, that's a mischaracterization by Western media. A plea and acknowledgment of guilt has no procedural consequences. In our system, a plea of guilty or not guilty does have procedural consequences. This goes back to the Stalin period when confessions were routinely extorted from individuals and then used against them. Confession has no procedural consequence under Russian criminal procedure.
The prosecutor has to prove the case independently of whatever the defendant may say yes or no with respect to whether they considered acknowledgment of guilt or not. In her case, she was given two opportunities to acknowledge guilt. One at the beginning of the proceeding and she was silent as she had every right to be. At the end of the prosecution's case, she was asked again and having heard what the prosecution had to say, she acknowledged guilt. That had no procedural consequence as I indicated, the prosecution had to prove its case independently of that.
The strategy here was for the defense council to make the strongest possible case they could for leniency in punishment and that they undertook to do. They challenged the quality of the investigation of the evidence and they did everything they could to build a strong character reference for Brittney in this situation. The extent to which the court takes it into account remains to be seen. She has the right of appeal, she has 10 days which to appeal the sentence and I presume she'll do so. It's common to appeal sentences in Russia. Well, over half the verdicts of criminal proceedings are appealed to the higher court.
Melissa: If appeals are common, how common is it for appeals to be successful?
William: Surprisingly common. Of course, the majority are upheld but it is not uncommon for appeal courts to not usually reverse the sentence but possibly to reduce the sentence or to send the case back for further consideration.
Melissa: Kimberly, the US embassy says the entire government is committed to bringing her home. What are the actual options here?
Kimberly: The options for the State Department are really the prisoner exchange. Brittney has a few more options. We have the appeals process but also after a conviction, she can seek a pardon, a presidential pardon from Vladimir Putin, which happened a few years ago when an Israeli national was convicted of drug possession and she received a presidential pardon from Putin.
In terms of the American government side, it really is emphasizing the prisoner exchange. That's going to be the only way to get her out really without dealing with an appeal or with a presidential pardon. There's a lot of focus on the prisoner exchange but the Biden administration is in a very difficult situation. They haven't actually confirmed that they're interested and have offered Viktor Bout the convicted arms dealer for a Paul Whelan and Brittney Griner swap. That's been recognized and I think CNN was first to report it. The question is will Russia be interested in a two-for-one swap? It doesn't seem like that's the case.
A couple of weeks ago, they were asking for another convicted killer, he's actually in German custody. He was convicted late in 2021 of killing someone in Germany, Vadim Krasikov. Russia responded to the initial offer with saying they want him too. The State Department read that as a not very serious response from Russia but problem is, I think it might be a serious response. It's Russia showing that it holds the leverage, it holds the cards in this situation.
Because there's so much public pressure on the Biden administration to get Brittney Griner in particular, but both Brittney Griner and Paul Whelan home, they know that they're holding Biden's feet to the fire and they also know that they control the timeline. The longer they drag this out, the more domestic infighting you'll see in the United States and we've already seen this across social media. People saying that Viktor Bout is too dangerous to release for Brittney Griner or "She brought drugs into Russia so it's her fault, she should be in prison for nine years." These conversations are being held in American public opinion. Russia is very much aware of that. I think that also leads into how Russia will play with this timeline, and how it will respond to further inquiries about a prisoner exchange.
Melissa: On this question of timeline and holding the cards Kimberly, how is the conflict in Ukraine playing into all of this?
Kimberly: I think it plays an important role in this, not only from the moment we found out about Brittney's detainment a couple of weeks after the war started but also the fact that she had been taken before the initial invasion on February 24th. We have to also think about what Russia could want. Beyond a prisoner exchange as political pressure builds on the Biden administration, could Russia ask for a decrease in sanctions? That's a possibility. We have to think about this, I think globally. While it's happening to Brittney Griner, it's happening to Paul Whelan and has global implications when it comes to this war.
The United States just recently, a few days ago passed another major funding in military aid bill for Ukraine, including HIMARS which have been doing a serious amount of damage to the Russian offensive in the Ukrainian East. All those have implications in Ukraine but also in Russia and how Russia is going to view a deal and how Russia is going to view how it looks being engaged in a prisoner exchange. Putin needs to look like he's gotten a win, and that he's also made the Biden administration look weak. These are all going to be working together, in terms, of how serious Russia will respond to a prisoner exchange, but also from what Russia will expect in a prisoner exchange.
[music]
Melissa: We're going to take a quick pause here. More on Brittney Griner's sentence in Russia in just a moment.
[music]
We've been talking about a Russian court sentencing Brittney Griner to nine years in prison. We've also been hearing from you on Griner's lengthy sentence.
Listener 1: I'm deeply shocked, saddened, and upset by the excessive sentence that Brittney Griner received in Russia. She wouldn't have had to go to Russia if she was being paid what she is worth in the WNBA.
Wendy: I'm Wendy from Clinton, Massachusetts. Incredibly upset by the verdict today. It's wrong. Brittney did nothing wrong, this is such a political ploy on the part of Russia.
[music]
Melissa: Still with me are, law Professor William Butler and historian, Kimberly St. Julian-Varnon. Professor Butler, I want to try to think about this just a little in the context of-- Kimberly was saying we have to think about this in a global context in terms of the geopolitics, but also from the perspective of law here. On the one hand, again, seeing someone in the courtroom in a cage is shocking for American audiences, nine years in a penal colony for WNBA star seems shocking and then, if we take a really hard look at our own system, we have more than 40,000 Americans incarcerated in this country for marijuana offenses. Even as work is happening in this one case, is this an opportunity to talk about American law as well?
William: I think it is an appropriate time to talk about American law and in the sense what Brittney actually did in this situation is a controversial issue here. We know that we're in the midst of a dialogue about whether to legalize medical marijuana or recreational marijuana. Some states do, some states don't. We in Pennsylvania have been cautioned that our neighboring state, New Jersey has legalized recreational Marijuana. If we chose to go to New Jersey and purchase some and consume it there, that's legal. If we bring it back home, that's illegal, that's a federal offense. That's appropriate indeed, for us to talk about it.
Russia is a zero-tolerance jurisdiction when it comes to narcotics, they have been for decades. The prison penalties are severe, and Russians are equally incarcerated in Russian institutions on a substantial scale for narcotics offenses, probably not smuggling so much but other offenses in the criminal code address this issue as well.
Melissa: What do we know about the conditions that Griner is likely to be held under? You talked about this as not having cells but rather being a camp, but camp can certainly mean lots of different things. Help me understand the conditions.
William: It's not going to be pleasant, confinement never is. The camps themselves or the correction labor institutions vary in severity. They are graded in a way that purports to reflect partly the severity of the crime for which the individual has been convicted. Whatever institution she's been given, and the court will have determined that, she's not going to find it a pleasant situation.
Melissa: Kimberly, from the beginning, the fact that Brittney Griner is a Black gay woman being sentenced now to nine years in a country extremely hostile to LGBTQ folx, will that affect the experiences she's likely to have during her confinement?
Kimberly: I think it depends on the people she's around. I spoke with Trevor Reed a few weeks ago about his experiences in Russian prison and it was a mixed bag. Some people were really vehemently anti-American and then other people were just fascinated by the fact that he was American, they wanted to talk to him and learn more about America. Brittney's race and her sexuality do make her a little bit different, but also the fact she's over 6 foot 8 feet tall. There's that part too.
Just my own experiences in that part of the world, people are going to stare at you. You're often the first Black person that they've ever seen, so getting used to constant eyes on you, people asking questions about you, your hair, things like that. Because of her stature in her celebrity but also the meaning she has to Russia right now as leverage, I think that it's in Russian interest to make sure that she's safe. Generally, just female penal colonies and prisons, they tend to be different than men's prisons, and often they're less violent.
I think one of the hardest things is in terms of talking about Brittney as a person, she doesn't speak Russian. Being in a penal colony, and everyone there speaks Russian, it's a new level of isolation. You're already far away from home, you're in a new place, but also depending on where she goes, the Russian winter. These are new, very different situations that she's going to have to navigate and navigate those alone. I think that it's going to be very difficult. Beyond her race, beyond her sexuality, just her as a person, and being in this completely foreign situation is going to be a very difficult time.
Melissa: William, looking at how the Russian system works, how likely is it that she's going to serve the full nine years?
William: The Russian system provides for lower time served in return for good behavior and there are formulas in the criminal code that relate exactly to this. The time that she served in investigative detention will be set off against the nine years, so she's already down to eight and a half. There will be the possibility of earlier release assuming that she is not otherwise pardoned or amnestied or released in a prison swap.
Melissa: Kimberly, I know you're not a sports writer but I do feel like I need to ask this. We keep talking about her as a WNBA star and she certainly is, but she was also part of a Russian team for eight years. Does she have any level of celebrity status there and does any of that matter for her experience?
Kimberly: She doesn't have the same stature in Russia that she has in America but considering that she's a female basketball player, she is still popular. I think what's important to emphasize is that her coach and some of her teammates from her team, Ekaterinburg UMMC that they testified on her behalf off court. That's a very powerful statement, not only in their support for her but also, I have to emphasize that they're also putting themselves at risk because Russia has passed and recently made even more draconian, their foreign agent and foreign contact laws. Just by talking on the legal record and supporting her, they can end up down the line facing some charges.
Melissa: William Butler, John Edward Fowler Distinguished Professor at Penn State's Dickinson Law School, and Kimberly St. Julian-Varnon, a historian of Russia, and doctoral student at the University of Pennsylvania. Thank you both for being on the show today.
William: Pleasure.
Kimberly: Thank you.
[00:20:33] [END OF AUDIO]
Copyright © 2022 New York Public Radio. All rights reserved. Visit our website terms of use at www.wnyc.org for further information.
New York Public Radio transcripts are created on a rush deadline, often by contractors. This text may not be in its final form and may be updated or revised in the future. Accuracy and availability may vary. The authoritative record of New York Public Radio's programming is the audio record.