Breakdancing Will Be an Olympic Sport: Hip Hop and Break Legends Discuss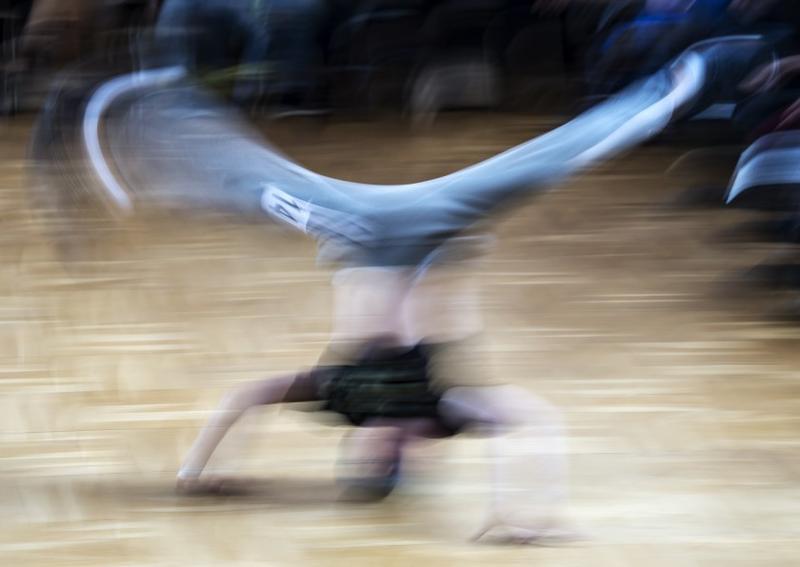 Transcript
Tanzina Vega: I'm Tanzina Vega. Welcome back to The Takeaway, and now for some breaking news.
Commentator: What a fabulous battle that was is, and Ram is our first-ever youth Olympic champion.
Tanzina: That's the sound from the 2018 Youth Olympic Games, the first year in which breakdancing or breaking appeared at the games. Now, as of this week, breaking has been declared an official Olympic sport set to appear in the 2024 Paris games. For many, this is a sign of a deeper appreciation of breaking throughout the world. To others, it could signal a watering down and a co-opting of a sport with deep roots.
Here to give us their thoughts are two legendary figures in breaking history. Michael Holman is a New York-based artist, writer, filmmaker, and historian. He created the New York City Breakers and the first hip hop TV show Graffiti Rock. Michael, Welcome to The Takeaway.
Michael Holman: Thank you.
Tanzina: I'm also joined by Ken Swift, a second-generation B-boy and former vice president of the Rock Steady Crew. Ken is considered to be one of the people with the greatest influence on breakdancing. Ken, welcome to the show.
Ken Swift: Thank you for having me.
Tanzina: I just want to say, as I mentioned, I grew up in New York City in the '80s, and so I watched the evolution of breaking. I'm not a breaker myself, but I watched it. It was amazing and to see this moment to me was surprising. What did each of you feel when you heard about the decision? Michael?
Michael: Well, actually in 1983 as I was manager and choreographer for the New York City Breakers and we were doing all kinds of shows on television. One of them was the NBC Salute to the Olympics, and it occurred to me at that time that breaking, breakdancing was going to become an Olympic sport. It just popped into my head and I actually wrote a proclamation, all the New York City Breakers signed it, and I've put it in my book that came out in 1984 with rules and regulations that would go along with a competition like that. Actually I was prescient and was I think the first person to predict that this would happen.
Tanzina: Now that it's happened, are you happy about it, Michael?
Michael: I am. I know that there are a lot of cautionary thoughts involved, for example, there's the obvious debate about whether breaking should be a sport at all. There's always been for generations, people arguing that it was an art form and it was a dance and it wasn't a sport and it shouldn't be seen that way, but breaking was born in competition. It was born in the battle and it developed and matured in battle, in break battles. I think that as a competitive sport, it's a natural for braking.
Tanzina: Ken, what about you? What were your thoughts when you heard about this breaking competition that we're expected to see in 2024 in Paris?
Ken: Well, the interesting connection with Michael and myself is that he was actually the manager of the New York City Breakers for masters and as a member of Rock Steady Crew, we were in those circles. We were in those battles, those wars in the East Village and anywhere else we could. That needs to be noted. I do remember when Michael had this whole idea. Me personally, I was on the side.
I couldn't figure it out. I didn't get it because I grew up with sports and I was very athletic. Me and my older brothers, tons of trophies, love sports, love the Olympics, but there was something different that happened to me to connect with a circle in a park, with music playing and this energy, it was different than sports for me. I don't really see breaking as a sport.
I never had music playing to the beat while I was dribbling a basketball. We have Olympics, but it's called hip hop culture. We have a DJ that provides the beats. This is the experience I have. I'm not against the Olympics. I think it's great. I was contacted five years ago to be on these boards and a lot of people from different federations were reaching me and there was something inside of me that was just like, I'm actually responsible to a full-world community of hip hop culture so I opted out of it. I just don't think it's a sport. I think it's an art and that's because of the streets and where I come from. That's the way I feel that way.
Tanzina: Ken, let's talk about the streets and what that looked like for people who-- I feel like what's interesting to me as a Gen Xer is watching how the generations that were transformative to me are now considered retro and cool. I think breaking falls into that. What was it really like back in the day? Michael, I'd love to hear your thoughts as well. What was breaking like back in the original New York City iteration of it? Ken, what was your experience?
Ken: Like I said, I was into sports. My mom raised me and my brothers and sports was a huge part of our lives. All through the week, we would have to get out of the house. We couldn't stay home. We had to get out in the summers and then on the weekends, we were part of a sports league and it was everything to us. That's the way we occupied our time at that time. Now, when I was exposed to the first images I saw and these situations that I ran into were like, they were mind-blowing.
At first, I would see these kids flipping on the street and central park, there was a sand park there and these Black kids was lined up in this long, long, long line of concrete and just one by one go run real fast and just round off somersaults and do all these crazy flips. It blew my mind and that was around '77. Then at '78, three blocks to the left of that, there was music playing and it was dark and I went in there and saw this circle and became a spectator and went I tried to peek my face in and saw these-- some of the same Black kids I saw flipping, they were dancing, they were breaking in this circle.
There was no security. It was just like this gathering and it was like the secret language, this underground thing. I was intimidated and I was like-- but at the same time, I was completely intrigued by it and at the time I was also riding dirt bikes and doing crazy stunts. I was 12 years old. I was a daredevil. But at time, I didn't know if I was allowed to jump in and do something because it was very intimidating in a sense and it took a couple of more times of going to these spaces to see that I knew people and then I started getting developing relationships and then develop the courage and from that point on, it just became my life.
Tanzina: Michael, how has braking evolved since the time that Ken is talking about, and the times that you and I, the three of us all remember this being a street competition, a dance form, something that people would whip out little squares of linoleum and just spin on? Where are we today from where we were then?
Michael: It's amazing. It started out as a dance that was all about one-upmanship and battling and doing moves, original moves that someone else had never seen before. It was very dance-oriented, it was very music-oriented. I always remember the Rock Steady Crew, and especially Ken, being an amazing dancers and being all about the rhythm and style. At an event-- I had a club called the Negril, I had with a Kool Lady Blue, down in the East Village, down in your neck of the woods, back in the early '80s.
I had this opportunity to bring in the whole Zulu Nation Throwdown, including Rock Steady Crew to perform for an East Village crowd and at that time it was very-- considering what it is today would be, it would have been considered quite rudimentary and not terribly stylistic or athletic, but great dancing and great sense of music. That's what Rock Steady Crew brought to the game. Then, I asked the Crazy Legs, "Listen, it really would be great if you would bring another crew down to battle, so that this East Village crowd could see a B-boy battle."
They had befriended another crew uptown called the Floor Masters and they decided, okay, let's bring the Floor Masters down to perform a battle in front of an East Village crowd. That was when I first saw power moves. I think that the Floor Masters-- What Rock Steady Crew had in dance and in style and smooth beat and smooth moves, the Floor Masters have power and speed. I was so attracted to this athletic thing and so I--
Tanzina: Michael, when you're talking about Floor Masters, you're talking about what? These are the people who are doing, what's known as windmills and all of these floor moves right on the ground, right?
Michael: These are moves on the ground windmills, backspins. It's very interesting because-- Ken is talking about, he's really identified in one moment in evolution of dance where the early, early first iteration of a B-boying or breaking were mostly Black kids doing a lot of moves, gymnastics moves, but they were mostly on their feet and doing flips and whatnot. It was really the Puerto Rican kids who took it to the next level of gymnastics. All these amazing moves that again, take gyroscopic skill, and they took it to the next level in the later '70s and early '80s.
Then, people like myself, Fab Five Freddy, Charlie Ahearn, and Martha Cooper, Henry Chalfant were these people downtown in the art world, bringing hip hop culture downtown to expose it to our contemporaries and friends. What happened was the rest of the world, [unintelligible 00:10:38] BBC, [unintelligible 00:10:40] in France, NHK Tokyo, they would see these events happening at that and the Negril, the club downtown, and then it spread all over the world.
20, 30 years later, the dance changed from what it was in the early '80s to this incredible acrobatic gymnastic thing that it is today, just because of the competition, when you've got Russians and Chinese and Koreans and Brazilians, and with all of their cultural influences coming in, the dance just kept evolving and evolving and evolving to where it is today. If you really, honestly, if you look at some of the best moves that Ken Swift or Powerful Pexster of the New York City Breakers was doing in the early '80s, compared to what you see today, ask Ken, but I think it's almost night and day and it's wow. The amount of evolution that happened is just almost shocking.
Tanzina: With that evolution and with this becoming an international phenomenon over the course of the years, Michael, as you just described, I'm wondering Ken, is this also a business? Has it evolved into a business where people or professional breakers are able to make a living? Where this new Olympic sport, if you will, will enable that further? Where do you see this going in terms of the business element of it?
Ken: Well, it's important to understand that we are approaching 50 years since the birth of hip hop culture. That 50 year period will come right before 2024. What we've done since the '70s is, we've built a world community with this art form. We've sustained it. We figured out a way to do it in the early years with no money. Jams happened, people made it happen because of the passion behind the experience.
We carried this dance and this art form around the world, of course, with those opportunities in the '80s to travel and the films and so forth. It did become-- I leaned more towards teaching and education as my journey progressed and it provided me opportunities to see the world and perform and do all types of interesting art with braking. It did establish these world events that still go on to this day, these huge world championships that provide opportunities.
Now, the financing was always an issue. This is rollercoaster, this rollercoaster ride of how do you get the money who gets the money? What country is going to give you money? You know what I'm saying? Worldwide experiencing this for the last 40 years, I'm just like looking at it and I'm saying, "Well, there are struggles within it." One thing I know that this is the community I'm a part of, you know what I'm saying? It does provide dances opportunities to win battles.
Now, the mentality changes a little bit when people want money. The attitude started leaning towards, "Well, how much is the battle?. I'm not going to answer if it's--" People were thinking about money to enter these battles. Within the evolution of the dance form itself, the mentality is also changed a lot because people get older and people got bills and you got to pay rent and like a lot of dancers were concerned on that level.
I think that a lot of people are leaning in the direction of thinking that the Olympics is going to change all that. Once again, it's just every four years. Every four years, this happens but within them four years, it's like hundreds of jams around the world. I don't know the business side of it, but I know that the Olympics is a business.
Tanzina: Also, just to that point, I'm wondering, the music that accompanied breaking, I should say back in the day almost felt symbiotic, right? Like everything just felt like it went hand-in-hand with the moves. When in hand-in-hand with the music, the music went in hand-in-hand with the move. Some of that was happening in the moment because DJs were responding to breakers, breakers are responding to DJs.
Hip hop itself has evolved significantly since those days of what we would call the golden era or the beginning of hip hop. Has that connection remained? Ken, has music influencing the way that hip hop has evolved has breaking evolved with it, or are they still a symbiotic relationship, or are they two separate things now?
Ken: Well, there are generations, there are new dancers that appeal to new music and there's a lot of new dances that can identify with '70s funk and soul. There is a world underground community that is conscious of this. There's a love of music within the whole world community where when the opportunities are there for, to spin records and DJ after parties and DJ battles, you're going to still have the tradition flowing through it.
Now, the other end of his evolution of music and also people producing music. There's a mix, there's a new blend of new kind of approach to music engineering and production. A lot of that vinyls, it's those James Brown and the music that defined that era and the dance itself, we have to wait and see how if that's going to be considered, and if it's going to be respected because I believe in the vinyl, I believe the vinyl is a part of the tradition and not only the words that these songs, the beats of the songs, but the words combined. These songs were pivotal in uplifting people in the '70s.
When you feel this music, you listen to the lyrics, it's inspiring in a sense. There's a lot more music that's being produced, where there is, there are no lyrics. A lot of times they're not allowing DJs to play the actual records. Time will tell how this is going to affect the dancer but I think a lot of young dancers really love the music that's being produced. I can identify that well because I come from a different generation. Each generation is going to like really lean towards what they like. Some people are going to like the oldest stuff and some people are on it. Time will tell.
Tanzina: Finally, Michael, will this dilute breaking? In terms of bringing it to the Olympics, will it dilute the soul of breaking?
Michael: I hope not. That's an important thing. That's something to be mindful of. Thomas Bach of the International Olympic Committee actually said in quote, "more gen-- He wants the summer games to be more gender-balanced, more youthful and more urban". He's recognizing the Black and Puerto Rican influence of the original dancers, New York dances that created breaking or be B-boying. He wants to embrace that.
I just hope that we can get more American sponsors and American corporations, the American government to support American breakers in the Olympics, the way that other countries' governments and corporate sponsors, corporations are supporting dancers from different countries. We just don't have that type of support. If I could just mention one thing about that Ken mention about music and the importance of music, one important thing, one important challenge for the Olympics in terms of keeping it soulful, keeping the dance soulful is being able to play original breakbeats, songs like James Brown's Give It Up or Turn it Loose live, or Jimmy Castor Bunch It's Just Begun.
A lot of dancers will have been raised on this music and inspired by this music, but then the publishing rights to actually play that music on international television can be prohibited. That's a real challenge right there. I'm hoping that there's a corporation out there, maybe YouTube, or maybe Universal Music that would foot the bill so that dancers in the Olympics can dance to original tracks as opposed to music that's made just because it's inexpensive and was made just for this event and it sounds like the original music.
Secondly, in terms of maintaining its soul, my biggest concern, even though I was predicting this back in the early '80s, my biggest concern has always been, when braking enters the Olympics, is it going to be co-opted by gymnastics? Will it because the music isn't right and because the judging isn't what we'd like it to be and because the dancers have continued to be more and more and more athletic, gymnastics oriented, are they losing style? Are they losing the dance?
Are they not listening to the music when they hit certain beats in the dance? Are they conscious of the music? Are they dancing to the music? Is the music important? Because sport or not, this is a dance and unless breaking can maintain its purity and its style, it could possibly be co-opted and it could possibly lose its soul. It needs to maintain the musical connection. It needs to maintain itself as a dance and not just a bunch of gymnastics moves, which there's a danger of, and it needs to be able to use those original tracks if that's what dancers want.
Tanzina: Michael Holman is a New York-based artist, writer, filmmaker, and historian, and he created the New York City Breakers and the first hip hop TV show Graffiti Rock, and Ken Swift is a second-generation B-boy and former vice president of the Rock Steady Crew. Michael and Ken, thanks so much for joining us.
Michael: Of course.
Ken: Thank you.
Copyright © 2020 New York Public Radio. All rights reserved. Visit our website terms of use at www.wnyc.org for further information.
New York Public Radio transcripts are created on a rush deadline, often by contractors. This text may not be in its final form and may be updated or revised in the future. Accuracy and availability may vary. The authoritative record of New York Public Radio's programming is the audio record.