Border Patrol's Inhumane Treatment of Haitian Migrants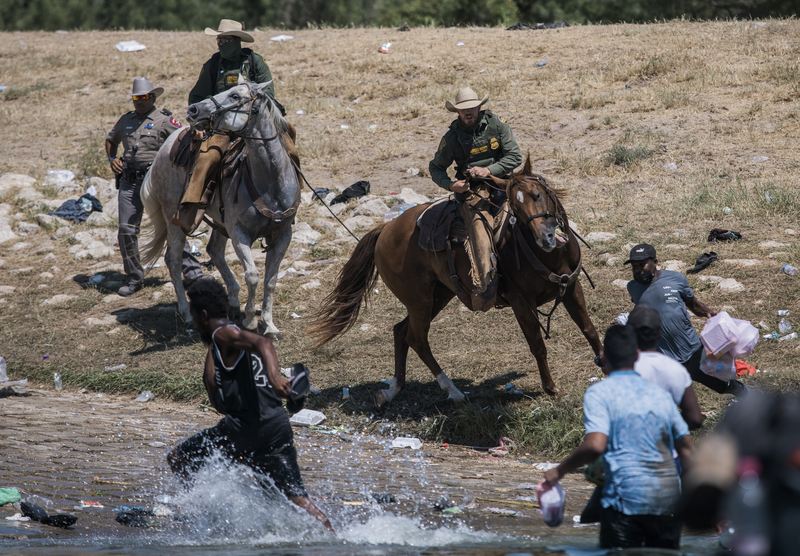 Transcript
[music]
Melissa Harris-Perry: This is The takeaway. I'm Melissa Harris-Perry, take a listen.
Alejandro Mayorkas: We do not tolerate any mistreatment or abuse of a migrant, period.
Melissa Harris-Perry: That's Department of Homeland Security, secretary Alejandro Mayorkas on Monday. He was responding to outrage from the general public and from members of Congress about images and videos of US Border Patrol agents on horseback chasing, blocking, intimidating, and cursing at Haitian migrants along the southern border. Here's what White House press secretary Jen Psaki had to say about the images.
Jen Psaki: I don't think anyone seeing that footage would think it was acceptable or appropriate. We just saw this footage. It's horrible to watch. It's obviously horrific, the footage.
Melissa Harris-Perry: Horrific, certainly, but something else is, well, familiar. The images evoked the gut-wrenching collective memory of slave patrols, the evil unleashed by the fugitive slave act, allowing deputized white men to pursue, capture, abuse, and return Black, poor, laboring people who'd escaped unspeakable suffering with hopes of finding freedom. It is sickening and by some accounts, it's utterly routine.
Jen Psaki: I was not surprised at all.
Melissa Harris-Perry: Last night, we spoke with Jenn Budd, a former senior patrol agent with U.S. Customs and Border Protection and a whistleblower against the agency who now works as an immigrant rights activist. She was on her way to the border but took time to talk with The Takeaway.
Jenn Budd: Now reigns and crops used as whips. That's not an actual border patrol tool to use. Do border patrol agents typically use their reigns and their crops to lash out at migrants and to try and get them to do what they want to do? Absolutely.
Melissa Harris-Perry: I wondered why those of us in the public are typically unaware of the abuses happening at our border.
Jenn Budd: The emphasis on immigration started getting bigger in the Clinton years as far as deterrence policies but certainly Trump. Trump made it popular for everybody to fall on one side or another and so more people are paying attention to it and more people are realizing the things that are done in the name of national security which actually has nothing to do with national security, are human rights violations and they're brutal and they are cruel. Donald Trump didn't start this but he certainly exasperated the situation.
Melissa Harris-Perry: Jenn emphasized that the language border patrol agent use is overtly and purposely racist.
Jenn Budd: The United States Border Patrol mostly through their union has adopted the wording and the propaganda of the anti-immigrant hate groups, the types of groups that produce people like Stephen Miller. You see the wording that agents use and how they refer to migrants as subhuman, they call them invaders and criminals. It has a robust racist culture. They use racist terms. They teach us specific racist terms that aren't used outside of the border patrol so that people don't know that we're using racist terms. They tell us not to tell anybody.
Melissa Harris-Perry: I wanted to understand more about the history and perpetuation of this culture. Jenn offered this.
Jenn Budd: The border patrol is taught that they can racially profile and they are typically only looking for people who are brown or Black. This is the prejudice that has been in the border patrol since the '20s. The very first border patrol agents were KKK members. The one border patrol agent that they referred to as their first agent ever was actually a guy by the name of Jeff Milton, but they don't tell you on the CBP website.
His actual name is Jefferson Davis Milton, [chuckles] and he is the son of the Governor of Florida who was a general in the Confederacy. He ended up when they finally came and told him, "You must free your 50 plus slaves." He shot himself because he just thought that was awful. It's deeply, deeply rooted into border patrol culture.
Melissa Harris-Perry: I admit that what Jenn said next took me by surprise. She suggested that these horrifying images of migrant abuse might be part of a larger strategy to create even more support for the border patrol and its tactics.
Jenn Budd: It's a game plan by those on the right with the help of the Border Patrol Union to exasperate these situations. This is what they want. Frankly, they're happy they were videoed doing it because it gets everybody upset, at the same time, it gets their supporters upset. That's the visual they want.
Melissa Harris-Perry: While these images might be part of the game plan for someone, this is definitely not the image of immigration policy that the Biden administration wants to portray.
Jenn Budd: Unfortunately, the Biden administration is trying to play both sides here. They're trying to seem like they're tough on immigration at the same time while they're trying to get people to stop using derogatory terms in regards to refugees and asylum seekers. They're trying to have it both ways and it's just not going to work.
Melissa Harris-Perry: Jenn Budd pulled no punches in her assessment of the border patrol.
Jenn Budd: They're very smart, the amount of money they spend on their propaganda and trying to show themselves as being humanitarians and saving migrants, although their policies and how they enforce those policies are actually what is putting the migrants into dangerous situations. Everybody goes, "Well, it's just a few bad apples." I'm here to tell you that no, not everybody in the border patrol is bad but a significant amount of the border patrol is and that is the culture. The border patrol is the most rogue, corrupt, racist, and inhumane law enforcement agency in the country absolutely.
[music]
Melissa Harris-Perry: We turn now to Franciscka Lucien, Executive Director of the Institute for Justice and Democracy in Haiti. Welcome, Franciscka.
Franciscka Lucien: Thank you so much, Melissa. It's wonderful to join you today.
Melissa Harris-Perry: Are you at all surprised by what Jenn Budd has said here about the border patrol?
Franciscka Lucien: I think her words are shocking and the revelations that she points to are really concerning. Absolutely, the images that came out from the border over these last few days have been nothing short of horrific.
Melissa Harris-Perry: Help me understand why Haitian migrants are at the Texas border instead of Florida.
Franciscka Lucien: It reflects the final destination of an arduous journey that many of these migrants have been through over several years. I think one thing that's important to put into context with what we're seeing along the southern border right now is that for many, they left Haiti years ago, especially after the devastating earthquake in 2010. They have been traveling through numerous countries across South America. They're finally arriving at the southern border and that's what we're seeing now. This is really the endpoint of many years of migration for those individuals and families.
Melissa Harris-Perry: What would those individuals and families have experienced over the course of all those many years of traveling.
Franciscka Lucien: Through those travels, they have faced obviously challenges with displacement, difficulties, and being able to be received. Many of these South American countries, they have faced discrimination along the way. Certainly, anyone who's undertaking a journey of the scale is facing immediate humanitarian issues, whether it's hunger, whether it's shelter, whether it's access to health services. The implementation of metering policies in 2016 under the Obama administration, actually limited avenues available to migrants to effectively seek asylum.
They're now arriving at the southern border really with the hope of finally being able to be processed for asylum but instead, we're seeing one of the largest and swiftest expulsions that are happening targeting specifically Haitian migrants.
Melissa Harris-Perry: Can you talk a little bit about that expulsion and what's happening beyond those horrifying images that we saw this week?
Franciscka Lucien: Yes. These expulsions are happening under what is called Title 42, which is the public health law that is really being misconstrued to justify these mass expulsions. What is happening right now is that the Department of Homeland Security has indicated a plan of as many as eight deportation flights per day to immediately repatriate Haitian migrants to Haiti, but without offering an opportunity really to pursue an asylum claim.
Melissa Harris-Perry: Wait, I don't know what the details of that to get lost. What you're saying to me is that these are families, individuals who have been crossing from Haiti, across Central America up through Mexico to our border for potentially as long as a decade, and we're sending eight flights a day of people immediately back to Haiti, where the President was just assassinated, and where there was a massive earthquake and then a tropical storm?
Franciscka Lucien: That is absolutely right. Biden administration officials have indicated a plan of as many as eight deportation flights. Exactly as you said, Haiti currently is reeling from a 7.2 magnitude earthquake that just struck its Southern Peninsula, estimated that over 800,000 are affected by that earthquake, the assassination of the president in July of this year, rampant gang violence, widespread insecurity, and a worsening hunger crisis. Those are the conditions that Haitian migrants are being repatriated to under this massive scale-up of expulsions along the southern border.
Melissa Harris-Perry: Why are Haitian immigrants, in particular, being targeted?
Franciscka Lucien: There's concern that this is yet another instance in, unfortunately, a long history of discriminatory policies towards Haitian migrants. That is evidenced by what happened in the '80s when the United States previously had not been detaining asylum seekers but in an effort to deter Haitian migrants fleeing the dictatorship in Haiti at the time, they establish an immigrant detention system. I think one of the most emblematic examples of that is the Krome Detention Facility in Miami, Florida in the 1990s, they then moved to detain more than 10,000 Haitians at Guantanamo Bay.
In 2016, the administration in response to it they were seeing an influx of Haitian asylum seekers along the southern border, implemented what is called a metering policy, which was essentially a policy that effectively limited the number of people who could enter the United States to seek asylum. I would just add on this point that that system was just determined to be illegal by a federal court in California earlier this month.
I think it's shocking to see what's happening right now in present-day along the southern border, but it is another instance in a pattern of policies that have specifically targeted the Haitian migrants in the Haitian community, which is extraordinarily concerning.
Melissa Harris-Perry: Is race part of this?
Franciscka Lucien: I think considering all of the facts, it's hard to not conclude that racism plays into this, and it plays into the discriminatory policies that we're seeing towards Haitian migrant communities.
Melissa Harris-Perry: I'm also wondering about the public health aspect or the discourse around public health aspects associated with Title 42. Again, this language was also used around an HIV/AIDS crisis in the '80s. When you talk about, or when I asked about race, I guess part of what I'm also wondering here is, if this is harkening back to a long tradition of believing that Black and African descended people are actually a disease that spreads, you have to have different water fountains for Black people, you have to have different bathrooms and that somehow you also can't even imagine asylum for people whose home nation is in such turmoil right now.
Franciscka Lucien: I'm really glad that you brought up that point because I think that one other aspect of the history and the narrative around migration coming out of Haiti was that what was said in the '80s and '90s, that Haitian migrants were bringing in HIV here into the United States. I think that there needs to be greater care taken when evoking public health as a justification for actions that actually impact and may even violate the human rights and certainly the dignity of immigrants coming to the US seeking refuge and asylum.
A couple of things on Title 42. There has been very real concern that Title 42 expulsions, do in fact violate the US government's own responsibility both under domestic refugee law and under international treaties, and the UN High Commissioner for Human Rights even put out a statement, raising concerns that these expulsions and the massive scale-up along the southern border really brings into question potential violations by the US of immigrant rights here.
Also, Title 42 is being used or misused as a public health justification, given the current pandemic conditions, but notably, both international and domestic public health experts have come out, calling for an immediate suspension of Title 42 and really expressing concern that there is no justification for the use of Title 42. That there are well known public health alternatives to manage concerns of pandemic and prevention in the case of immigration.
I would just add, as a concern to Title 42 as well, domestic courts have also called on the US government to end or limit its use. Notably, a judge issued a preliminary injunction to prevent the administration from expelling immigrant families under Title 42. That injunction was issued on September 16 with a 14-day stay of the ruling that is scheduled to go into effect September 30th. To see these expulsions happen in a window right before this injunction is scheduled to be executed is doubly concerning.
Melissa Harris-Perry: Franciscka Lucien is executive director of the Institute for Justice and Democracy in Haiti. Thank you for joining us today.
Franciscka Lucien: Thank you so much.
[music]
Melissa Harris-Perry: We reached out to the U.S. Customs and Border Protection, they declined to respond. Just to note in the past, the agency has responded to Budd's characterizations, saying, "allegations of abuse and corruption are taken very seriously, as the slightest hint erodes public confidence and subverts the border patrol's ability to effectively accomplish its mission." Joining us now is Julián Castro, former Mayor of San Antonio and former US Secretary of Housing and Urban Development. Secretary Castro, welcome back to The Takeaway.
Julián Castro: It's great to be with you, Melissa.
Melissa Harris-Perry: Can you tell me, when did you first see these images, this footage, and what was your response?
Julián Castro: I saw the images I think, probably right after they were put up on social media. I'm here in Texas in San Antonio, which just is a couple of hours away from the Texas-Mexico border. My reaction like I think the reaction of a lot of people was, what in the world, what in the hell is going on down there that people are being treated like this? People are being treated like animals, and that has no place in the way that border patrol agents should treat people. It's an outrage.
Melissa Harris-Perry: I have to say the distress I feel that this is happening after we had seen previous images, the language you're using of treating migrants like animals when we saw children in cages, and this was part of the rallying cry of Democrats in the context of the 2020 election was let's change this, let's make this different. Does this mean that the border policies and practices of the Biden administration are substantively the same as those of the Trump administration?
Julián Castro: Look, Biden is not Trump. Trump, I believe had a dark heart toward immigrants and wanted to inflict cruelty. I don't think that's Joe Biden. Donald Trump left a mess for the Biden administration on immigration policy, and they've had to start to peel back a lot of that. There has been some good work on that. At the same time, what the images of those kids in cages and the image that we saw the other day of these horse reins being used, essentially to whip a migrant, what they had in common is cruelty.
It doesn't matter whether there's a Republican in office or a Democrat in office, we need to be better than that. What's been disappointing to me over the last couple of days, is that President Biden has not offered moral clarity on that. He has not said very clearly, maybe in just more than half a sentence, I think, this won't be tolerated. We're not going to do this.
There's a larger point, which I think is even more important in the grand scheme of things that we promised these Democrats to use compassion and common sense toward refugees, asylees, migrants. If you look up the definition of what a refugee is or should be to this country, these Haitians fit the bill. As you all have talked about on the show already, natural disasters, deep poverty, gang violence, political assassination of the president, they are fleeing desperate circumstances.
They're seeking a better life in this country the way that people from all over the world of different generations have. This year, the United States only is allowed in over 11,000 refugees into the country. That's the lowest number in decades. The Biden administration said this year, they're going to raise the cap to 125,000 next year. Even if we get to 125,000, that pales in comparison to the number that we've taken in, in decades past. This country is not living up, I don't believe, to its obligation, to be a place of refuge, a place of opportunity for people who are seeking a better life from around the world.
Melissa Harris-Perry: Secretary Castro, I want to play for you, Texas Attorney General, Ken Paxton, speaking on Fox Business yesterday and talking about the situation and really blaming it on the Biden administration. Let's take a quick listen.
Ken Paxton: From the very beginning, this illegal immigration problem, it wasn't an accident. Joe Biden invited them in, in violation of federal law. He's been doing that from the beginning. He gave Haitians special protection so that they wouldn't be deported and sent the message just like he's been doing from day one of his administration. The message is very clear. We have federal laws. We're not going to follow them. I'm not going to follow them. Come to Texas, come to Arizona, come to our country, we'll let you in. We're not worried about any of the problems associated with it. That is the reality we have to accept.
Melissa Harris-Perry: Secretary Castro, given that the political opponents of the president are characterizing this policy in this way, really quite differently than we've been characterizing it. I'm wondering from a pure political strategy perspective, how does the administration respond to misinformation and provide the moral clarity that you've called so for clearly here.
Julián Castro: It begins with making the argument. Right now, I don't even think they're making the argument. The argument starts with that we've seen these kinds of surges of people at our southern border under a Republican president, a Democratic president. We live in a neighborhood. We don't live on an island in the United States. We live in a neighborhood. When there's deep poverty, when there's strife, when there's political turmoil, whether it's in Haiti or it's in the Northern Triangle countries, we're going to feel that.
We need to take a mature adult approach to thinking through not just in the next few days or weeks or months, but really over the long term, how do we deal with that?
Maybe the most promising work that's happening for the long term is the work that Vice President Harris is doing in those Northern Triangle countries to work with them, to make sure that people can find safety and opportunity at home instead of having to come and seek it in the United States. We should be doing that collaboratively, respectfully, not like we've acted sometimes in the past with Haiti too.
We can't act surprised every time this happens at our southern border and then allow folks like Ken Paxton here in Texas or Greg Abbott, the governor, to try and manipulate the passions of people and stir up xenophobia. You have to make the argument. You have to offer moral clarity and an alternative positive vision of where we can go. Right now, the Biden, administration is not doing that.
Melissa Harris-Perry: Julián Castro is the former mayor of San Antonio and former US secretary of Housing and Urban Development with the keen reminder that we in fact do live in a neighborhood. Thanks so much, Secretary Castro.
Julián Castro: Thank you.
Copyright © 2021 New York Public Radio. All rights reserved. Visit our website terms of use at www.wnyc.org for further information.
New York Public Radio transcripts are created on a rush deadline, often by contractors. This text may not be in its final form and may be updated or revised in the future. Accuracy and availability may vary. The authoritative record of New York Public Radio's programming is the audio record.