Alicia Garza, principal at Black Futures Lab and Co-Founder of #BlackLivesMatter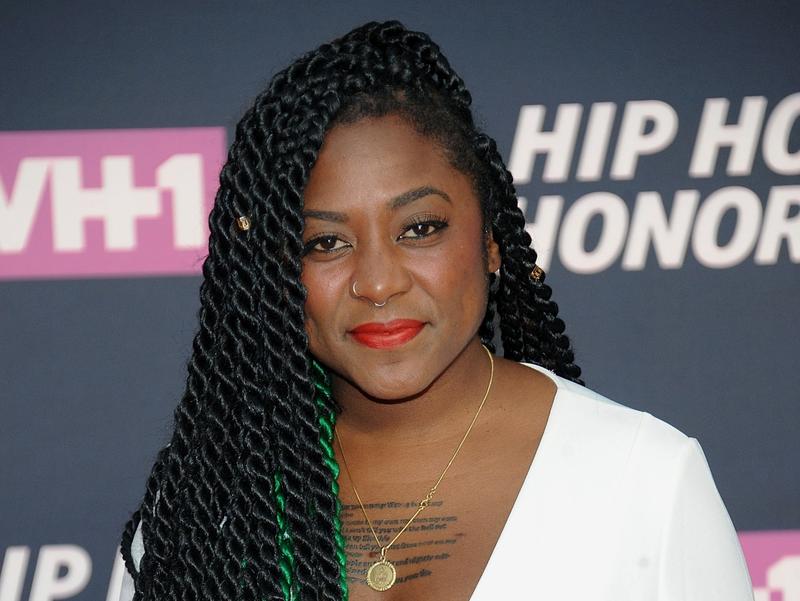 Transcript
[music]
Melissa Harris-Perry: It's The Takeaway. I'm Melissa Harris-Perry. We're back with the second installment of our series Black.Queer.Rising. This month, we're highlighting stories of changemakers who are rooted in Black history and working to forge Black queer futures.
Alicia Garza: I am Alicia Garza principal at the Black Futures Lab and the Black to the Future Action Fund.
Melissa Harris-Perry: Alicia is also the author of The Purpose of Power: How We Come Together When We Fall Apart. I asked Alicia to tell us how she got into organizing.
Alicia Garza: I really started my organizing career fighting for are reproductive justice and fighting for reproductive rights. I didn't know what those big words meant at the time. What I knew was that my school district was entertaining a proposal to allow for condoms to be available in school nurses offices and my little progressive to liberal small town that I was going to school in was all up in arms because apparently, the presence of condoms in a school nurse's office meant that you were encouraging your kids to have sex. Little did people know sweet little Sally and sweet little Jimmy were already having sex and they had nobody to talk to about it except their older brothers or finding out about sex on television.
It was really important to me as the child of a single mother who didn't expect to be single. When she had me, I came up with all of these narratives about what it meant to be able to make choices with the information you needed to make the choice that was right for you. To me, it was a no-brainer, condoms in school nurses offices allow people to protect themselves against immediate ills and to not have those things available because you're hand ringing about what it might morally mean does not prevent teen pregnancy but having contraceptives does. We did win that campaign. I was hooked on organizing ever since.
Melissa Harris-Perry: I love that story. Part of it is that you won. It feels like for many young organizers, and heck, I'll say even just for first-time voters, it can feel like you don't get the first win. I keep wondering about how much difference it makes to be able to absorb the later losses when you can at least get the first win.
Alicia Garza: It's an interesting question. There's lots of different kinds of wins. It really depends on what your strategy is. I think for people who are just coming into social change efforts, we expect that a little bit of effort is going to result in the ultimate victory. I wish that was true. [laughs] The most significant change that we've experienced in our lifetimes and in this country has been the result of decades of work and decades of wins and losses.
When I say it depends on what you define as a win, I don't mean doing that shortcut thing where you really lost bad because you had a bad strategy, and you go, "Well, it was still good because--" No, you lost because you didn't actually have a sharp plan to win. Sometimes as a part of your strategy what you want to do is get people in position, for example, to come out next time in full force.
I think that women, for example, are in a position to do that in the upcoming midterm elections, especially when I think in the 2016 election women felt robbed of an opportunity to change the country with the calling of the election for President Donald J. Trump. I think women are up in arms and infuriated about the abortion debate that's happening at the Supreme court level, of course, with two additional judges appointed by President Donald J. Trump. Even if Democrats lose some seats in this upcoming midterm election, if women, for example, are activated and motivated, I would say that is still a victory. That's because women as a constituency are a part of my broader strategy to win. There's times when even though you lose the thing that you set out for, there are victories that you've gained, it just is not the ultimate thing you were trying to fight for.
I say that to be important because I do think that sometimes we can be a little too black and white when we know, what is it that Dr. King said, the arc is long, honey. That's the paraphrase. The arc is long.
Melissa Harris-Perry: There's some morality in the universe. There's an arc, it's going somewhere.
Alicia Garza: Basically, it's long. The point is social change takes time and we experience change sometimes as immediate like we did in 2020 with all of the massive protests that erupted around the globe due to to the ongoing murders of Black people at the hands of the state.
We also know that things like Black Lives Matter or a long time in the making. That's great that all of that was popping off in 2020. Don't you know in 2013 nobody could even stomach to say the words black lives matter? That was a span of seven years. I want people to keep in perspective that not every victory is immediate, but every movement requires time, strategy, wins and losses and sometimes your losses actually open up opportunities for victories and wins.
Melissa Harris-Perry: I just have to ask which woman.
Alicia Garza: Actually, I know you had to ask. Look, women of color are motivated. We are mobilized. White women are also motivated and mobilized in the challenges around what. There's a lot happening right now around this particular constituency. I would say that the extremist party that used to be formally known as The Republican Party is absolutely courting white women voters in a particular age demographic, I'm going to go with 45 to 55.
They're also targeting white women in that demographic that live in suburbs. Mostly, they're targeting people who may have questions about how we got to this place and who's responsible. That extremist party likes to answer those questions in the form of "It's Black people. It's Black people, and it's government." [unintelligible 00:07:26]. [laughs] I think if there is a shift in how white women participate in this upcoming midterm election as one constituency that needs attention I think we'll see some significant victories.
Melissa Harris-Perry: I heard you saying strategy and both talking about your strategy and then also assessing and saying, "Okay, you got to have your strategy together. You have to think through strategy." This is obviously a key aspect of the book as well. As you well know, I assigned Purpose of Power to my students. They were so surprised and pleased by it and had found out to actually be useful in terms of thinking about again not necessarily system change we might think of as the headline-grabbing level but often system change in their own communities or our campus. Talk to me a bit about strategy and what it means to have strategy that also keeps real-life actual human beings at the center.
Alicia Garza: The easy way to talk about strategy is it's your plan to win. I work every single day to make Black communities powerful in politics so we can be powerful in the rest of our lives. I need to have a plan to achieve that. [laughs] It's not enough just to want it. I have to have some hypothesis about what it's going to take in order to get there. That is fundamentally what strategy is. I would say strategy you could also look at the scientific method. [laughs]
You have a hypothesis of what you think is needed for change. You have a control group which is just the status quo. Then you have your group that you're experimenting with and you make some comparisons to anything changed and anything shift. Did the strategy actually work? Do we need to tweak the strategy in some way?
When it comes to who needs to be at the center of those strategies, it's absolutely the people who have the most to lose and the most to gain from your plan to win working with us at the Black Futures Lab and The Black to The Future Action Fund. We are focused on motivating, educating, activating and inspiring Black communities to be a part of the process that shapes our lives every single day. We do that from a perspective not of if you don't vote, your voice doesn't matter. We don't believe in that. We don't shame Black people into participating in a system that was actually designed for us to not be a part of it. What we do is we actually approach our work in such a way where we talk about the fact that our lived experience every day is that nobody's coming to save us anytime. Black people got something in this country, it's because we decided to save ourselves.
We really focus on being the superheroes in our own stories. Our work as an organization is about helping people own their particular superpowers. Not everybody is an activist or a protestor, but everybody has something that they can bring to the table. We think that when we activate everyday people's superpowers that what we're able to do is accomplish greatness. That's how we were able to mobilize a million Black voters in the 2020 election, to help turn the tide and change the direction this country was going in.
This time around we'll be doing the same. In fact, speaking of putting Black people at the center of our strategy, we are relaunching our Black Census Project, which is currently the largest survey of Black people conducted in America in over 157 years. We're going bigger. We want to beat our own record. The whole point of that project is to really gather valuable research and data about who Black people are in this country, what we experience every day and what we want to see for our futures.
We let that guide our policy agendas, we want those experiences and those solutions to guide how it is that we make and fight for public policy that is responsive and reflective of our needs. It is what we use to motivate Black voters to participate in the political process. It's what we use to hold politicians accountable when they do receive our support in return. That's an example, I think of the importance of putting the people who are central to your strategy, at the center of the work that you do in order to win.
Melissa Harris-Perry: We started a bit by talking about getting that first win. Then the strategies for maintaining wins and making progress, the notion of change being hard. One of the hard parts it seems to me is the level of public vitriol. It is certainly something as you point out like that seven years and the notion of just saying Black Lives Matter, the folks couldn't even dame to say it. Now, of course, for these moments come the backlash moments. Talk to me a little bit about your, let's call it the strategy, again, your strategy for surviving, living through, responding to what is necessary to respond to and also ignoring the noise, and doing the work.
Alicia Garza: My strategy has been tough skin, soft heart. That is my mantra. It's been my mantra for the last seven years. It's served me well. It's been really hard to practice at times, but when I'm able to commit to it, it really works. I'm so glad that you talked about this moment is backlash because it is exactly that. What we are seeing in this country is that white people want their stuff back. [laughs] Essentially what they've seen is a ground swell, not just a Black people taking to the streets, but also white people in allyship.
I think that that is incredibly dangerous to the extremist regime that this party formally known as the Republican party is trying to usher in backed by corporate forces that also want to see that and support that. As a part of that strategy, what they have to do is delegitimize movements that are galvanizing people, Black Lives Matter, and not being an exception to that rule. They have to delegitimize things like defunding the police and you see the ways in which moderate Democrats in particular kowtowing to that because it's what they think is going to win suburban white voters.
Once again, in order to do that, they throw the strongest most consistent, most progressive of their base under the bus in order to pursue people who are fair-weather friends and will continue to be so. For me, it helps me to zoom out and understand those dynamics in order to weather the storms. These kinds of attacks and vitriol, it used to really destabilize me. I can remember one time in particular where I was at home on the couch with fibroids. I'd just been diagnosed with fibroids. I was like, "What is this excruciating debilitating pain?"
Then there was some buddy who wanted a journalism career who wrote a bunch of really awful slanderous and [unintelligible 00:16:05] stories about our organization and our work. I remember literally being on the couch [unintelligible 00:16:12] both pain from fibroids, but also just pain from being attacked not just from the left, but also from the right. For me, I think having been in this work for 20 plus years now, what I know is that these moments have been flown. What I know is that people are growing up in this movement. At the same time we need this movement to be effective. I've learned to have a lot of compassion for that.
I've also learned how to have strong boundaries. I've learned how to not take things personally while also remaining open to the possibility of change, remaining open to the possibility of not just change in terms of what we want to see happen in the world, but personal change, too. I haven't always shown up as my best self and I've been the beneficiary of somebody, most likely who had been in this longer than me, who was like, "Okay, honey, we go work it out." I try to extend that as well. What I find is that it helps me have perspective that keeps me in the work and keeps me from being bitter, but it also keeps me from being afraid.
Melissa Harris-Perry: Last question, this is part of our Black.Queer.Rising series for Black history month. When I say Black.Queer.Rising, what does it mean to you?
Alicia Garza: Black.Queer.Rising to me means being courageous enough to rethink our boxes and our labels, our status quo, our way that we've been taught it's always been and therefore it always has to be. For me, Black.Queer.Rising is Black liberation. It's freeing ourselves of antiquated notions of what Blackness is who gets to be Black and who decides what Blackness is. Instead it invites us to throw off our shackles and redefine ourselves for ourselves.
[music]
Copyright © 2022 New York Public Radio. All rights reserved. Visit our website terms of use at www.wnyc.org for further information.
New York Public Radio transcripts are created on a rush deadline, often by contractors. This text may not be in its final form and may be updated or revised in the future. Accuracy and availability may vary. The authoritative record of New York Public Radio's programming is the audio record.