Billy Porter on "Anything's Possible" and More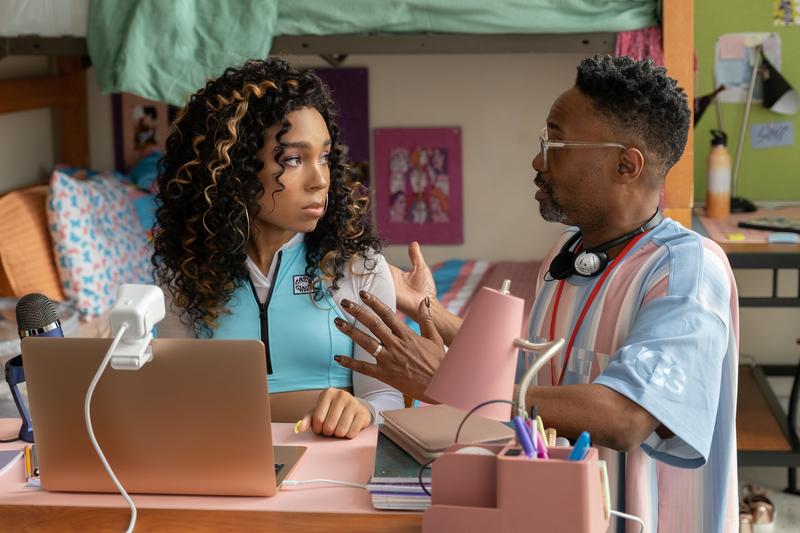 Transcript
[music]
Melissa Harris-Perry: Welcome back to The Takeaway. I'm Melissa Harris-Perry and we've got a real treat for you today because we're talking with--
Ms. Laverne Cox: Legend, living legend, fashion icon, Tony, Grammy, Emmy Award winner, my dear friend Billy Porter.
Melissa Harris-Perry: I borrowed there from my friend Ms. Laverne Cox for that intro because, as she said, Billy Porter has done a lot. He's three-quarters of the way to an EGOT. He's already won a Tony and a Grammy for his iconic role in Kinky Boots.
[music]
Melissa Harris-Perry: An Emmy for his star turn as Pray Tell in Pose.
Billy Porter: The category is bring it like royalty.
Melissa Harris-Perry: Of course, off-screen, Billy is always bringing in like royalty. Remember that tuxedo gown from the Oscars, or the time he arrived for the Met Gala dressed as an Egyptian sun god and carried on to the red carpet by six shirtless men? Yes, Billy Porter knows how to make an entrance and he didn't disappoint for our interview.
Billy Porter: I'm on the highway. Can we just get off and pull over at some that exit so that the signal can stay clear, whenever you can.
Melissa Harris-Perry: Yes. Billy pulled over on the highway to be sure we'd get good audio for our conversation. I'm talking with Billy today because he's adding another title to his list of accomplishments, director. His new film Anything's Possible is a queer high school rom-com based on a true story. Four years ago, a real-life high school student elicited the help of relationships Subreddit looking for some romantic advice. The post read something like this.
Speaker 1: I, 17 male, and developing a huge crush on this girl, 17 female. It's like a pull your hair out screaming out the window for the whole world to hear kind of deal. The problem is she's trans. Not that that's a problem for me. I'm just afraid of the drama I could cause if I asked her out.
Melissa Harris-Perry: The post has now come to life in Anything's Possible. The film stars Abu Bakr Ali has the kid with the crush and Black trans actor, Eva Reign has Kelsa, a transgender high school senior.
Kelsa: I've been thinking a lot about dating, like whether or not I want to because when exactly am I supposed to disclose that I'm trans?
Melissa Harris-Perry: Billy Porter. How are you?
Billy Porter: Melissa Harris-Perry. How are you?
Melissa Harris-Perry: I'm so excited to have you. Thank you for taking the time with me.
Billy Porter: Thank you. Thanks for having me.
Melissa Harris-Perry: Thanks for literally pulling over on the side of the road to talk to us.
Billy Porta: I have an actual day off if you can believe that. I'm on my way out to the house.
Melissa Harris-Perry: You're just going to do 52 interviews today as opposed to the normal 152 interviews?
[laughter]
Billy Porter: Yes, booked, busy and blessed.
Melissa Harris-Perry: Listen, now of all the places in the world that I've been where I would want to go again, at the bottom of that list is high school. Tell me why you wanted to do a high school rom-com.
Billy Porter: Well, the high school rom-com came to me. It was Christine Vachon. The producer is David Hinojosa, DJ Guggenheim, Andrew Lauren. hey had the script and they thought about me. They came to me. When I read it, I thought, "Wow, this is so beautiful." It really takes a genre that we know, it takes a life, a world that we all know, and flips it with the characters that populate the story. We're not used to seeing these characters in this way. I was very moved by that.
Melissa Harris-Perry: I hear you saying flipping characters that we don't normally get an opportunity to see but, to me, it feels almost like breathing life into characters so frequently made flat. Can you talk to me about how you and your collaborators made sure that Kelsa was a real person?
Billy Porter: Well, I cast a real person. It's like 80% to 90% of your work as a director is casting. Eva was the first person that I saw, Eva was my first choice the whole time. We were blessed to be able to get her. She's grounded, she's present. She's open and she's powerful. I really wanted to make sure that this character was empowered, that this woman was an empowered Black trans woman because our girls need to see that. They need to see that it comes from within, your power comes from within and she has that in spades.
Melissa Harris-Perry: You talk about casting as being this critical aspect of your work as a director. What did you love about directing and what was frustrating?
Billy Porter: The actual directing part, the actual creative part was like bliss. The hard part is dealing with the studio, that's a new thing for me. I'm from the theater, so I never really had to do that before. That was challenging. I'm not going to lie. I'm looking forward to doing it again and employing what I've learned.
Melissa Harris-Perry: What have you learned?
Billy Porter: That I know a lot more than I thought I knew. That my instincts are actually right, and to lean into what I know to be true.
Melissa Harris-Perry: What I love about that coming out of you talking about Kelsa has empowered is that sense of empowerment I hear from you as a director. Having walked through both this bliss and it sounds like a little bit of fire at the same time, are you feeling empowered with a directorial voice on the other side of it?
Billy Porter: Yes, I do. I do feel empowered with this directorial voice. I got a chance to make a film and put a piece of art out into the world that I truly believe in. Something that is a game changer in a lot of ways. That is amazing. That's an amazing feeling and it came from me, all of it. I got the script, and then I went to work honey. I got to watch it last week in front of an audience and it was just magical. It's a lot. I'm finally able to feel it. When you're in the middle of doing it, it's hard to feel it. Now I have some distance. Now I have some separation. To be able to watch the thing as a whole, and it's out and it's like, "Shoot, I made a whole movie."
[laughter]
Melissa Harris-Perry: As you're talking about finally being able to step out, see the whole thing right in its entirety, have you ever just taken a weekend and binge-watched Pose all the way to the final episode?
Billy Porter: No, I haven't. I probably should.
Melissa Harris-Perry: I've done it at least twice, to be clear.
Billy Porter: I've watched everything at least once all the way through but I've never binge-watched myself. I think because it's like so much of my career I was told that my queerness would be my liability. I spent so much time trying to act a certain way so that I could be perceived to be straight enough so that I could eat. When I decided to choose myself and just be who I am, what I find is that if I look too much at myself, then I'll start to judge myself and then maybe I'll stop being who I am. I fear that still a little bit. I don't watch myself a lot so that I can not judge myself, so that I can stay my true self right now. Hopefully, that'll change but that's a little bit of a thing for me still.
Melissa Harris-Perry: I hear you laugh as you say that. I hear the protective laugh that comes with that but I also just don't want to lose that formulation. To act straight enough to eat, to feed yourself, to work.
Billy Porter: That was a big deal for a very long time and I was good at it. People made me feel like I wasn't and now I could go back and I have watched old stuff, my old music videos and all of that stuff and it was like, "No, I was straight. I passing," [laughs] but it wasn't the truth. Ultimately, as an artist, for myself personally, I wanted to tell the truth. I needed to tell the truth. I needed to represent the truth. I need to represent the truth, period. I'm grateful that I went through that to get to where I am now because I'm a very, very different person. I'm a very different artist. I'm grateful, I am.
Mellisa Harris-Perry: Last year you walked quite publicly into another difficult truth, stating publicly for the first time that you've been living with HIV since a 2007 diagnosis. How Is that moment of extraordinary courage playing for you now? How are you feeling? You said part of why you wanted to do it was so that you could feel the unadulterated joy, so that you could have the peace, the intimacy, the sex without shame. Tell me that that's what you're experiencing now, please, because I'm excited for you.
Billy Porter: I'm getting there. Once again, it's such a journey and none of it is immediate. What I will say is it's so much better. I'm so much better. I'm so much on the road to healing, on the road to consistent peace. I have spots of it now, but now I know what it feels like, you know what I mean? Now my space, my body, my mind, my heart, everything is in alignment and so I'm beginning to feel things more. I literally just said to my therapist today, I was like, "We're getting good reviews. I should read them and I should celebrate that. I'm going to do that." Because I don't read reviews, all that stuff.
You can't get away from them when they're good because people don't only send them to you, they send them to you and then they pull out the quotes and they put the quote in the text so you're like, "I can't get away from these whether or not I want to or not so let me read them and enjoy them." Like for the first time in my life I was reading reviews and going, "Thank you, Lord. Thank you. All right, y'all got it. That's exactly what I was trying to do. That's exactly what I was trying to say." To be able to connect with that and feel joy surrounding it is magical and new for me. [laughs]
Mellisa Harris-Perry: First of all, not only yes to reading the good reviews, but yes to having the friends and community around you who send you the pull-out best quotes. Listen.
Billy Porter: [laughs] They're sending me the quotes because they know I won't read them. They know they'll send me the review and I won't read it so they're pulling out the quotes to make me, you know what I mean? It is family, it is love. It is folks going, "You deserve to have joy. Please have joy. Look at all this work that you've done. Please have some joy," and so I'm doing that, Melissa. [Laughs]
Mellisa Harris-Perry: One of the things that brings me great joy is enjoying you on the red carpet.
Billy Porter: [laughs] Thank you.
Mellisa Harris-Perry: What is the perfect outfit for you? What are the tools you use for making those red carpet choices?
Billy Porter: The red carpet thing came organically. I knew that fashion would be a part of my art, a part of my language, a part of how I expressed myself, but I didn't know that it was going to be so big and I didn't know that it was going to be so transformative and revolutionary. Then the Oscar dress happened and that was just organic. That was an idea that was organic. It happened and then what really clicked in was, "This is just who I am. This is who I've always been." When I go back to growing up in the Black church, now everybody knows that's a fashion show.
My favorite part of the year was Easter and Christmas because I got a new Easter and Christmas suit every year. I've always loved dressing up. Being first generation post-civil rights movement, it was always about what we looked like as a first impression, coupled with education. It's always been there and nobody around me was surprised. I was always the person. My mother would always be like, "What are you wearing? What is that?" I just had a lot of phases. I went through my vintage phase. It was just you see old photos of me and so it feels like a natural extension of who I am.
What I decided was once it happened, I had to find the point. It's like, I'm not just wearing dresses to cause a ruckus, that's not the point. The point is I'm trying to create a space where different kinds of conversations can happen. Conversations around masculinity, conversations around femininity, conversations around why are clothes gendered at all? Why is everything that we do gendered? Why? I want to be a walking piece of activism, art with my clothing and so that's my goal and that's what I think about.
[music]
Mellisa Harris-Perry: Billy Porter, thank you for inviting the questions. Thank you for stepping into truth and thank you for continuing to pursue that joy that you absolutely deserve.
Billy Porter: Thank you, Melissa.
Copyright © 2022 New York Public Radio. All rights reserved. Visit our website terms of use at www.wnyc.org for further information.
New York Public Radio transcripts are created on a rush deadline, often by contractors. This text may not be in its final form and may be updated or revised in the future. Accuracy and availability may vary. The authoritative record of New York Public Radio's programming is the audio record.