The "Big Con" of the Consulting Industry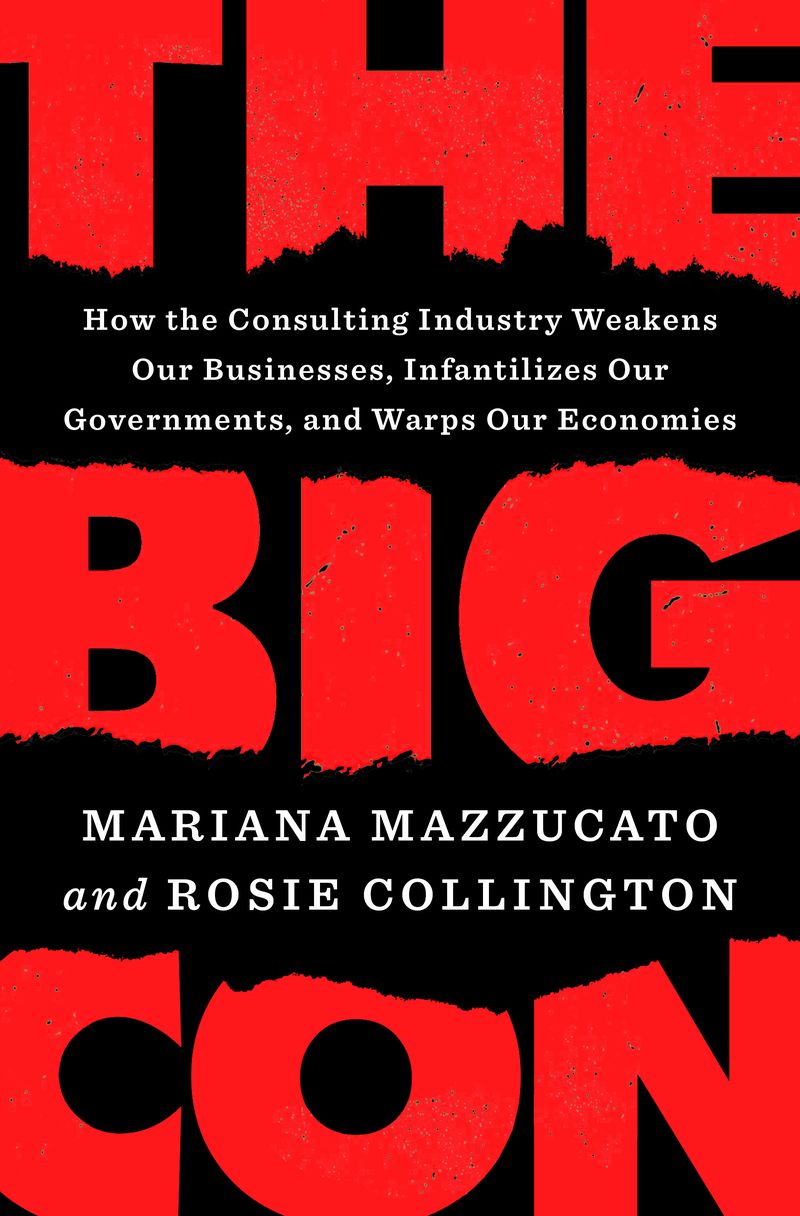 Transcript
[music]
Melissa Harris-Perry: Welcome to The Takeaway. I'm Melissa Harris-Perry.
Today we're looking at a particular industry that affects nearly every aspect of our lives, but it's rarely in public view. Now this is a global industry worth roughly $130 billion. It's helped to design our cities, craft education policy, manage the mergers of companies, privatize public services, write tax legislation, and even advise armies. Occasionally, the curtain does get pulled back just a bit, as in this viral exchange from 2020 between a New York Times journalist and then presidential candidate Pete Buttigieg.
Pete Buttigieg: "So the proposition that I've been on front lines of corporate price fixing is [blip]. Just to get that out of the way."
NYT journalist: "You worked for a company that was fixing bread prices."
Pete Buttigieg: "No, I worked for a consulting company that had a client that may have been involved in fixing or was apparently in a scandal."
Melissa Harris-Perry: Yes, the consulting industry.
Rosie Collington: A consultant in very broad terms is someone who is contracted by a government department, perhaps, or a business to provide advice to offer expertise, to fulfill a capacity need that might exist in the organization. My name is Rosie Collington, and I'm a political economist at University College London.
Melissa Harris-Perry: These are the experts meant to guide our governments and businesses through times of crisis and reform, or at least that's the definition on the glossy advertising brochures. According to Rosie, it's mostly a big con.
Rosie Collington: I'm also the co-author, with Mariana Mazzucato, of The Big Con: How the Consulting Industry Weakens Our Businesses, Infantilizes Our Governments, and Warps Our Economies. When we dig a bit below the surface, we see that they actually play a very different role or a more important role in our economies in terms of the power that they are able to wield when they're in these roles.
Melissa Harris-Perry: I know that the inspiration for this book came from seeing how consultants were employed by the UK government during this early COVID-19 pandemic. Tell us a bit about that story. Ground us in the reason for the urgency of this
Rosie Collington: What was happening in the UK, and also the US, by the way, during the COVID-19 pandemic, was really emblematic of the wider trends and the wider tendencies that we've seen of governments to outsource core functions and capabilities. At one point, one of the large consulting firms was earning £1 million a day for its contracts to help deliver the UK's national Test and Trace program, the program for monitoring the spread of COVID-19. This program was itself widely recognized to have failed on its own terms. A parliamentary inquiry into this program found that it had not achieved its main aims of helping to break transmission and enable people to get back to a normal way of life.
It actually had quite a strong indictment on the way that the government had used consultancies. It found that there had been this huge dependence, this over-reliance on consultancies throughout the pandemic, and that this had also come not just because of consultancies forcing themselves on government, but also because the government itself lacked capacity internally to develop the things with the skills that existed in the civil service. It didn't have those skills in-house, and that was a challenge.
This was also a problem in the US, as I've just mentioned. We saw in March 2020, leaders at the Department of Veteran Affairs were spending, at one point signed a $12 billion contract with one very large consulting company to spend up to a year consulting on all aspects of its healthcare systems operations during the pandemic.
Melissa Harris-Perry: All right. I want to dig in a tad bit more here on this notion of not having this skillset within the bureaucracy itself. Does that mean that in a fundamental way, that the state is broken if the bureaucracies haven't developed this in-house capacity?
Rosie Collington: We don't suggest, and we're not arguing by the way, that governments should do everything. This is particularly important in countries like the United States where governments have an important role, but so do many other actors across society. What we do nonetheless recognize is that governments continue to be the main channel that citizens have to realize their democratic goals, to ensure, for example, that people can access healthcare perhaps, even if they don't have money to pay for private healthcare. All of these things we use the state in order to realize this.
Even for things like regulating markets and ensuring that banks don't have a financial crisis that ultimately ends up making us all poorer. The state plays a very important role in all of this. Governments do play a very important role. Now, if they can't do the things that citizens elect them to do, then, of course, that's an issue for our democracies.
Melissa Harris-Perry: Is there a key lesson that we should draw from the Test and Trace program in terms of the value that consultants either can or can't bring?
Rosie Collington: When we think about what happens when a project fails, organizations learn from the failure of projects. If the process of doing something, if the development of something is not done by that organization, but it has outsourced the doing, it has outsourced the learning, then they're not able to learn from the mistakes either. In the case of the pandemic, unfortunately in our lifetimes, we probably are going to see another pandemic, and it will be challenging for governments to confront this next pandemic if they aren't investing in capabilities to develop the technologies and the skills internally to do this in-house.
Melissa Harris-Perry: Here on The Takeaway, we have reported on this, it's often called the economic crises or the debt crises of Puerto Rico. I'm so taken by what you describe in this book around the privatization of services and how the consulting industry is in fact bound up in this ongoing economic crisis, and particularly this language that you write, "nail, meet hammer." Can you talk with me a bit about the case of Puerto Rico?
Rosie Collington: What's been happening in Puerto Rico for a long time, but particularly in the wake of Hurricane Maria, was something that has happened by design, unfortunately. Governments have disinvested in public infrastructure. They have privatized public resources that would then have been useful in the wake of Hurricane Maria. Part of the impetus for them doing this has come from advice that they have received from large consulting firms.
Now I'm not going to name any names here, but the reporting that we have used in the book that's come from investigative journalists really helps you to see the lines between the advice that these companies give governments, the ability of governments to point to an external actor, to legitimize decisions that might be unpopular domestically, for example, in Puerto Rico, among citizens and the implications that this then has for the capacity of local services and health systems, and particularly in the wake of crisis like Hurricane Maria.
[music]
Melissa Harris-Perry: Stick with us. Rosie's helping us put the con in consulting. It's The Takeaway.
It's The Takeaway. I'm Melissa Harris-Perry, and I'm talking with political economist, Rosie Collington, about her new book, The Big Con. Rosie points out that the power and reach of the consulting industry has helped perpetuate a particular narrative about how big or small the state really is.
Rosie Collington: What most people don't realize is that the state today, the size of government around the world today in most countries is bigger than ever before. Yes, it got bigger under conservative governments. Yes, it got bigger under liberal governments, under labor governments. The size of government spending has grown and grown and grown. It increased more quickly under Reagan than it has pretty much since any government since then. It's not the size of government that is the issue, it's what government does and how it does it. That is the issue.
When we talk about Reaganomics, we might, instead of talking about it as being something that was aiming to shrink the state as a project or an ideology that was seeking to transform the state to use it to different ends. Instead of that taxpayer-funded money going towards public services, for example, which were retrenched or reduced in some areas, instead that money goes to other places, which could be subsidizing private sector actors. It could be increasing the number of contracts that go to consultancies, for example. It could be all of these things, but the size of the government itself actually hasn't changed in that process. It's what it does that has changed.
I think the case of Hurricane Maria, I guess, is very important in this respect, because in the wake of Hurricane Maria, we saw that spending on consultants in Puerto Rico did increase, instead of this money perhaps having been reinvested earlier in rebuilding the infrastructure and the capacity at the local level that might have enabled citizens to respond and be able to grow through this process and recover from this trauma.
Melissa Harris-Perry: Any good stories for me on consulting?
Rosie Collington: We do have many examples across our economies of this advice going-- Well, we've seen many instances during the pandemic, again, of scientific expertise having been very useful. We have also early examples from the consulting industry itself, where the advice it provided actually helped governments and helped local communities to build their organizations. This advice was coming from the sidelines. It wasn't coming from the center. To give a concrete example, in the National Health Service, which is the UK's public health system that we are all very proud of here, at the outset, this was a new project for the government when it was founded in the 1940s. Governments didn't necessarily know how to do everything itself.
Even something like cleaning, and how demand cleaning in hospitals is obviously really important and challenging, but governments didn't know how to manage that process. They contracted this to a consultancy, and they came in and they helped to advise the government to develop that really important process. Of course, we can point to instances. Even within the existing company as they are today, they're so large. Of course, they can point to caters where they're going right. We want to challenge the idea though that they are always creating value, and in fact suggest that very often they don't.
Melissa Harris-Perry: Now, as we talk, I couldn't help but to think of the many students I teach who end up going into the consulting industry. Many are idealists, and they believe in the fundamental necessity of government, but there is an allure, this message that they need not be in public service to serve the public.
Rosie Collington: If you read the recruitment material from big consulting firms, which, of course, they've spent lots of money researching and developing these, they promise the world to young graduates. They promise them that they'll be able to create public purpose, that they will be at the forefront of the green transition. They will be able to help increase diversity in companies. All of these things that people want. Everyone wants to have meaning in their life.
If you are told, you're promised by a company that you'll be able to do this, and by the way, you'll also be earning enough to pay off your student debt and rent in a big city, then why wouldn't you do this? There is evidence now that lots of people are becoming disillusioned with this idea of consulting once they've worked in it.
Melissa Harris-Perry: When you suggested, and again, I'm thinking so much of my students here, that part of the attraction is you can solve big problems like the climate crisis. Are the consultancies helping or harming in that?
Rosie Collington: We know that this sector has massively increased its climate consulting divisions over the past few years, but there is no evidence that on aggregate, the use of consultants in this way has helped to reduce emissions. Actually, we can point to various tools that they are using, which obfuscate the emissions or could have the effect of obfuscating the emissions of companies. Take this thing that some of your listeners might have heard from, and it's become a bit of a buzzword in the business world. ESG, Environmental, Social, and Governance frameworks, that's what they're called.
Now in 2009, it was a couple hundred of these frameworks that existed that companies could adopt, which they could then use to show that they were actively meeting emission standards, but this was not a standardized framework. This was not something that was regulated by government. Instead, because there were so many of these frameworks out there, it may it possible for companies to shop around, find the one that made them look the best, that made them look like they were doing the most to reduce emissions and help to reduce the climate impact, and in the process, then greenwash.
This whole tool, this whole market for ESG frameworks has actually created much more confusion and obfuscated the impacts of climate often.
Melissa Harris-Perry: Are there solutions?
Rosie Collington: Of course. Of course, there are solutions, thankfully. The first one is that we have to start changing, again, how we think about, not just governments at the national level, but the potential for local governments, which many people feel they might have a closer connection with for example. We have to start thinking about these institutions as avenues for change as citizens and recognizing that governments need to have capacity to be able to do things. Otherwise, they're not going to be able to do the things that we want them to do as citizens.
The other things that we need to be doing is, again, rethinking where value is created in our communities and our economies. We're not just assuming all the time that because we're getting some flashy brochure from a consulting firm, that it's necessarily going to be the best thing for an organization to go and work with that company. Instead, we should be thinking critically about where does the knowledge exist? Where does the expertise exist within our organization or within our community, within NGOs, within businesses, within perhaps trade unions, within community organizations. Where does it actually exist?
Melissa Harris-Perry: Rosie Collington is a political economist and co-author of The Big Con: How the Consulting Industry Weakens Our Businesses, Infantilizes Our Governments, and Warps Our Economies. Rosie, thanks for coming back on The Takeaway.
Rosie Collington: Thank you very much.
[music]
Copyright © 2023 New York Public Radio. All rights reserved. Visit our website terms of use at www.wnyc.org for further information.
New York Public Radio transcripts are created on a rush deadline, often by contractors. This text may not be in its final form and may be updated or revised in the future. Accuracy and availability may vary. The authoritative record of New York Public Radio's programming is the audio record.