What a Biden Victory Means to Leaders Around the World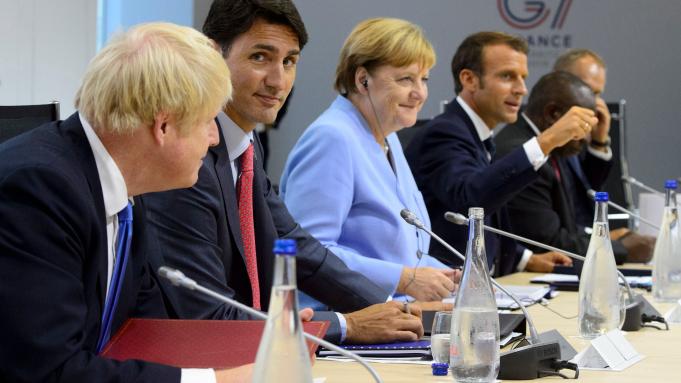 Transcript
[music]
Speaker 1: Prime Minister Narendra Modi tweeted, "Congratulations Joe Biden on your spectacular victory," by joined with other nations leaders around the world in congratulating.
Speaker 2: I congratulate.
Speaker 3: On behalf of New Zealand, we recognize and congratulate.
Speaker 4: I want to congratulate President-elect, Biden, and Vice President-elect, Harris.
Tanzina: US allies around the world have moved quickly to congratulate President-elect, Joe Biden, and Vice President-elect, Kamala Harris, on their win even as President Trump still refuses to concede the election. For countries like Canada, France, and Germany, Biden's victory could signal a return to cooperation on alliances like NATO, and treaties, including the Paris Climate Agreement.
The prospect of a Biden administration seems less promising to more authoritarian leaders with whom President Trump forged strong relationships during his time in office, including North Korea's leader, Kim Jong-un, Brazilian President, Jair Bolsonaro, Chinese President, Xi Jinping, who so far have all refrained from publicly congratulating Biden and Harris. I'm Tanzina Vega and how the Biden ministration will be viewed on the world stage is where we start today on The Takeaway. Joining me now is Yasmeen Serhan, London-based staff writer at the Atlantic. Thanks for joining us again, Yasmeen.
Yasmeen: Thanks for having me.
Tanzina: Also with us is Klaus Larres, professor of history and international affairs at the University of North Carolina at Chapel Hill. Klaus, good to have you with us.
Klaus: Thank you. Hello, how are you doing?
Tanzina: All right. We are in a very interesting political moment right now. President Trump has refused to concede and yet President-elect Biden is moving forward and the world is noticing. Klaus, how would you describe this scope so far, of the international reaction to Biden's victory?
Klaus: On the whole, I think there has been a lot of rejoicing, a lot of applause for Biden. I think people are hugely relieved that the Trump administration will not have a second term. Most people, most leaders in Europe and Asia, and people in that countries, are really overjoyed. I think they were really getting fed up with the Trump administration. It was too dramatic, too chaotic, too unpredictable. People are relieved to see a new administration.
Tanzina: Klaus, you said the administration was dramatic and unpredictable and I think many Americans would agree with you. It continues to be dramatic and somewhat unpredictable given the fact that the Trump administration is now calling for recounts, and investigations into what they allege are voter inconsistencies. Are world leaders looking at that and saying anything about that, that the fact that there still has not been a concession from President Trump?
Klaus: They all shaking their heads. Most of them are shaking their heads, but they keep that sorts to themselves because it is no point to interfere in what is seen as domestic American politics. Very few people, at least very few Democratic leaders have any understanding for what is going on in Washington. It seems to be pretty obvious that the election was free, and was not done in a fraudulent way at all. Over 4 million people voted for Biden, rather than for Trump so the majority was 4 million.
The popular vote he won 4 million people. People have accepted that Biden is President-elect and will be the new president but they are wondering what's going on in Washington. Hardly anyone is actually surprised that the Trump administration would embark on such a course of action, because that fits in with what his administration was like, chaotic, dramatic, unpredictable, and quite irrational to some extent.
Tanzina: Yasmeen, given what Klaus just laid out there in terms of the continued reaction to the world leaders, at least US allies saying, "Okay. Well, we'll watch what's happening and see how this all plays out." How much of the reaction do you think is excitement about Biden himself versus relief about removing President Trump from office?
Yasmeen: It's a great question. It's worth noting, and I thought Klaus's overview is spot on, that for a lot of world leaders, Biden is a very familiar character. He's certainly not new to the world stage. I think it was in Benjamin Netanyahu, the Israeli Prime Minister's congratulations, that he noted that he's known Biden for 40 years. I think a lot of world leaders know Biden.
I think, probably if I had to guess, my assessment would be that it's probably the latter. I think a lot of the protests here we're seeing in the US in the days after the result was finally announced, was probably felt, at least to me as an American observing from afar, with a lot more relief than necessarily excitement. This isn't to say that folks don't like Biden or unexcited to see him at the helm. He's, as I said, a recognizable figure. I think the world generally just took a big sigh of relief that here returns a US administration that recognizes the US's traditional role in the world and will hopefully be retaking that spot on the international stage.
Tanzina: Yasmeen, you are in London, where Prime Minister Boris Johnson has had a strong relationship with President Trump. How do you think this relationship between the US and the UK will evolve under a Biden administration?
Yasmeen: It's a really good question. There's certainly been a lot of chatter about that very thing here, leading up to the US election and now after that we know the result. I think there was some conjecture that obviously, as you just said, President Trump and Prime Minister Johnson had a pretty good relationship. I think a lot of that stemmed from the fact that President Trump was quite a big supporter of Brexit and I think quite appreciated the comparisons between him and Johnson superficial.
Some of them may be particularly I think he quite liked references to Johnson as Britain Trump, if I'm remembering correctly. There has been some talk about some potential tensions between a Biden administration and Johnson's Downing Street, particularly with regard to Brexit, Biden has been very clear about his support for the Good Friday Agreement and opposing anything that would undermine it.
I think there's also some talk about how, Johnson, before he was Prime Minister, had made some comments with regard to President Obama's support for Britain staying in the EU, where I think he made comments about Obama's Kenyan ancestry and how he had an ancestral dislike of the British Empire. These are no doubt, comments that a Biden administration will probably remember well. I think it's worth noting that these are things I do not think are going to shake up the UK-US relationship in a major way.
I think there's a lot more that Johnson and Biden share, particularly with regard to issues like climate change, like the Iran deal. I think more broadly, I would expect pretty good relations between the US and the UK going forward. It's certainly true that Trump and Johnson had had a decent relationship. I think the UK is certainly a country that would see its relationship with the US being important irrespective of who's in power.
Tanzina: Klaus, does that same theory holds true for other EU leaders like Angela Merkel, for example, and Emmanuel Macron, who themselves had troubled relationships with President Trump, and who I could imagine so far are somewhat relieved to see this new administration elect.
Klaus: Yes. Regarding Johnson, I would say that Johnson does feel a little insecure. He was the first international leader I believe, who phoned up Biden and congratulated him. I think that shows the level of insecurity. Also, Biden's Irish background will make him wonder how much you [unintelligible 00:08:03] on the United States in the future when the United Kingdom needs a trade deal with the US.
I think he is for it. I think he would probably have seen a second Trump administration as being more helpful. Regarding Angela Merkel and other European leaders, they certainly were relieved. Angela Merkel had a very bad relationship with Trump, or will rather put it the other way round, Merkel tried on various occasions to make overtures to Trump. It was Trump who really rejected it, who couldn't really, in the end, stand Angela Merkel.
I think he had a problem with female leaders. He had a problem with leaders who were much more open to immigration and to do something about asylum, people who were looking for asylum in their countries and he could understand. He also always criticized the EU, including Germany, for its huge trade deficit with the United States, or rather, the United States, of course, had trade deficit with the EU. He almost criticized the EU and its trade policies as much as he did China.
He called the EU actually a foe, which is really surprising that you consider you're most longest-standing allies in the world, that you suddenly regard them as foes, at least in trade relations. Angela Merkel and the German establishment as well as the French and other foreign policy establishments in Europe are hugely relieved that they see the end of the Trump administration.
As Yasmeen just said, Biden has a very good reputation. He is regarded to be quite honest as perhaps a little too old for the job. On the other hand, he is a centrist. He is not extreme as on the left nor the right. People know him. They appreciate his personality. He's a people's person. Some would say he's a backstabbing politician, but much more extrovert, much more outgoing, and much more ready to compromise than Trump was.
All that shouting at NATO Summit or G7 Summit, all that very bad atmosphere, the tension, the talk about the breakup of NATO, and the talk about that Trump wanted to undermine the cohesion of the political union of the European Union, all that will be a thing of the past because Biden and his administration can be expected to be very constructive towards NATO and towards the EU.
However, having said that, maybe as a last thought, Biden will also insist on the Europeans spending more money on their defense efforts. He will not be softer regarding NATO and regarding the defense efforts of the Europeans. Here, Europe really needs to do something, because that is an old complaint, which goes back to the Obama administration and before, that wasn't actually unique to the Trump administration. The Europeans know that and they are very reluctant to spend more on defense. I think perhaps President Biden will actually be more successful in persuading them that that would be the right thing to do.
Tanzina: Klaus you mentioned, Joe Biden's age and I think that that's something that we must talk about because if something happens to Joe Biden, we could be looking at a president Kamala Harris. I'm wondering, this is something that came up yesterday in our conversation about the role that Black women played in American democracy in electing Joe Biden. We've seen Kamala Harris is the first woman of color to ever sit in that role. I wonder how she will be received by world leaders? Yasmeen your thoughts on that?
Yasmeen: It's a good question. I think obviously, that history-making of her being elected, the first female vice president of color, is obviously huge and certainly noteworthy among a lot of the congratulations that were received. I think it was Prime Minister Narendra Modi of India who actually dedicated an entire tweet just to Kamala Harris herself. I think the reason for that is obviously, her Indian heritage. He sees that as an opportunity to even further strengthen the relationship between India and the US.
I would anticipate, as you say, given President-elect Biden's age, that Kamala Harris could have a more hands-on role than previous vice presidents that we've seen. For that reason, we may find that world leaders will quickly get to know Kamala Harris in a way that perhaps they didn't get to know vice presidents of the past. It seems just based on the comments that we've seen, I think Angela Merkel also made a comment about looking forward to meeting Kamala Harris that we could expect that the world will be paying attention to both of them very much, not just Biden.
Tanzina: Klaus, what's been the reaction from China and President Xi Jinping?
Klaus: So far, there hasn't been much of a reaction. Xi Jinping has kept quiet. We don't quite know why. There's speculation that perhaps Xi Jinping doesn't want to antagonize the Trump administration, while it is still in office because in 10 weeks, you can do a lot of harm. He knows that relations between China and the United States are difficult as they are, that will continue to be difficult under the Biden administration. He's keeping a low profile.
On the social media in China, there have, however, been lots of comments. Some people are really regretful that Trump is leaving because it made the United States weaker. It created a vacuum in international affairs, which was appreciated by some observers in China. Others believe, it is much better to have a more stable, more predictable government, even if that government is perhaps more strategic in its relations with China. They appreciate that proper possible predictability in international affairs.
Essentially, it's difficult to say what the leadership actually thinks. We will have to wait until eventually Xi Jinping and the foreign ministry in Beijing will come out with a statement, but they will do so. think, at the latest, once that domestic insecurity about the election outcome has been resolved. Then they, of course, will congratulate Joe Biden and Kamala Harris.
Tanzina: Now, of course, Klaus, one country that we know has been watching the disarray in the United States, or at least attention in the United States has been Russia. What have we heard if anything from Vladimir Putin and or his administration so far?
Klaus: Again, Russia is keeping a low profile. Putin hasn't congratulated Biden and he is keeping quiet. There's not much coming out of Russia. They, of course, are disappointed that Trump did not win the second term and there's been a talk about disinformation campaigns not quite as much as in 2016. Russia did its bit to perhaps enable a second Trump victory.
Trump, however, to be quite frank hasn't been soft on Russia. The administration, perhaps not the president personally, who always had that soft spot for Putin and very confidential talks with him, and no one really knows what went on during these talks. When you look at his administration's policies towards Russia, that wasn't soft at all, imposed over 40 times new sanctions on Russia.
The administration actually hasn't been soft on Putin. I believe that Russia feels that the unpredictability and the chaos and the, let's say, less focused way of the Trump administration, than what you can normally expect from an American administration, that that, in the end, helped Russia, that often the president closed both eyes and that influenced also the foreign policymakers in his administration, like in the State Department?
Tanzina: Yasmeen, another interesting figure here is Israeli Prime Minister Benjamin Netanyahu, who has been a very close ally of President Trump, and that even translated into votes here in the United States for the president from certain Jewish orthodox communities. He congratulated Joe Biden and Kamala Harris this past weekend. What do you expect to see from Benjamin Netanyahu in the near term when it comes to US-Israeli relations under a Joe Biden?
Yasmeen: I think this is something that doesn't just apply to Benjamin Netanyahu but other leaders who have had good relationships with President Trump. I think Narendra Modi also falls into this category. Even figures like Viktor Orbán and Rodrigo Duterte, both of whom have also congratulated President-elect Biden. I think Netanyahu particularly is a leader who obviously has a vested interest in maintaining a good US-Israel relationship, irrespective of who's in the White House.
It's no secret, that obviously he benefited quite a lot from having President Trump in the White House, the moving of the US embassy to Jerusalem being obviously one of those hallmark examples of a win for him. That said, he recognizes that the administration is changing, and I think he wants to shore up that relationship. It's been reported that the Trump administration is hoping to work with the Israelis to apply some more punitive measures on Tehran, before Trump leaves the White House, in the form of sanctions to make it more difficult for Biden to return to the Iran nuclear deal and try to bring that back.
This isn't to say that Netanyahu and Biden would necessarily see eye-to-eye on a lot of things. I think we would probably see under a Biden administration, a return to the bit of the more traditional tone that we've known the US to take vis-à-vis Israel opposition to settlement expansion, that sort of thing, support for a two-state solution. Indeed, it will not be as rosy of a friendship, as we've seen between Netanyahu and Trump, that's for sure.
Tanzina: We should also note that President Trump's administration was also very close with Jair Bolsonaro of Brazil, both are considered to have really supported populist movements. I'm wondering whether or not Jair Bolsonaro who's also refrained from congratulating Harris and Biden on their win, and other populist movements across the world are looking at this and saying, "Well, maybe this signals a change here?"
Yasmeen: I think it's definitely a loss for them. It's a setback because I think, particularly for leaders like Bolsonaro who really played on his relationship with President Trump domestically. I think this is a loss because even before, particularly with populist movements, even in places, unlike Brazil, where they aren't in power, they could turn and look to President Trump and tell their supporters, "Look, he's able to achieve this in the United States, so we can achieve it here. If the most powerful leader in the world can do this, then we can do this where we are."
Without question, I think it's a setback for them. They lose that key ally in the White House. That said, I think, you know, populist leaders, like-minded leaders to Trump who could potentially take that narrative and utilize it in their favor. While it is a loss for them, I don't necessarily think that it will end their relationship with Trump or will end them using Trump as an example to their benefit.
Tanzina: Yasmeen Serhan is a London-based staff writer at the Atlantic and Klaus Larres is a professor of history and international affairs at the University of North Carolina at Chapel Hill. Thanks so much to you both.
Klaus: You're welcome.
Yasmeen: Thank you.
[00:19:55] [END OF AUDIO]
Copyright © 2020 New York Public Radio. All rights reserved. Visit our website terms of use at www.wnyc.org for further information.
New York Public Radio transcripts are created on a rush deadline, often by contractors. This text may not be in its final form and may be updated or revised in the future. Accuracy and availability may vary. The authoritative record of New York Public Radio's programming is the audio record.