Biden Outlines Agenda To Boost the Middle Class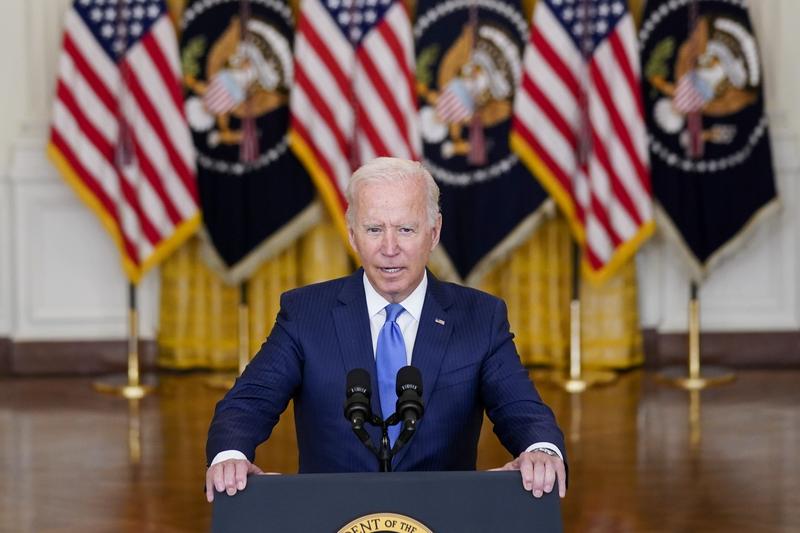 Transcript
[music]
Melissa Harris-Perry: This is The Takeaway. I'm Melissa Harris-Perry. It's politics time and I am nerding all the way out because Congress is back and that means C-SPAN is on a [00:00:16] puppet.
[applause]
Melissa Harris-Perry: On Wednesday, the House Ways and Means Committee met for seven and a half hours to mark up the fiscal 2022 reconciliation bill. Think of this as trying to balance your checkbook with 41 of your cousins.
[crosstalk]
Melissa Harris-Perry: 41 of your very talkative cousins.
[crosstalk]
Melissa Harris-Perry: 41 of your very talkative cousins with strongly held utterly opposing perspectives, or as Arizona Republican, David Schweikert put it.
David Schweikert: One of those moments you come to quite a realization as we listen to each other. The left and the right, we live in parallel universes that never actually seem to come close to touching each other.
Melissa Harris-Perry: Okay, sure. The parties disagree, but these lengthy, somewhat unwieldy legislative sessions are comforting. This is the grinding messy work of democracy. Unlike post-debate spin room talking points, these congressional conversations reveal meaningful, analytic difference between the members. Here's Gwen Moore, Democrat from Wisconsin.
Gwen Moore: It is puzzling to me that we don't get it, that we don't understand that investments in people is where we increase our economic output.
Melissa Harris-Perry: Here's Drew Ferguson, a Republican from Georgia.
Drew Ferguson: I think the majority is missing the boat on what this is about. This is about jobs.
Speaker 4: Damn.
Drew Ferguson: Wait, this is good stuff. The democratically elected leaders of the world's largest economy debating the core tenets of what contributes to economic growth. Hey, Jay, pass the popcorn because it got even better on Thursday when President Biden weighed in with his own understanding of how we build back better.
President Biden: Build back better.
Melissa Harris-Perry: In a Thursday afternoon speech, he outlined the plan to raise taxes on the highest income earners in an effort to both strengthen the middle class and boost the economy.
President Biden: This is our moment to deal working people back into the economy. This is our moment to prove to the American people that their government works for them, not just for big corporations and those at the very top.
Melissa Harris-Perry: With a $1 trillion bipartisan infrastructure plan that the Senate passed last month and a $3.5 trillion spending package moving out of committee, Democrats just might have the chance to implement their vision for American prosperity growth and equity. That is if they can meet the government funding deadline and when the looming debt ceiling battle. Let's see if we can generate a little C-SPAN level heat on this little radio program with Dave Weigel, who is a national reporter covering politics for The Washington Post. David, thanks for joining us.
Dave Weigel: It's good to be here. Thank you.
Melissa Harris-Perry: Brendan Buck is a Republican strategist at Seven Letter and a former aide to Republican speakers of the house, John Boehner and Paul Ryan. Brendan, welcome back to the show.
Brendan Buck: Great to be with you.
Melissa Harris-Perry: And Maya King, politics reporter at Politico. Maya, it's always great to have you here.
Maya King: Hi, Melissa. Thanks for having me.
Melissa Harris-Perry: Let's start with you Maya and with President Biden's speech on what he calls the middle class. What exactly is his plan here?
Maya King: This is largely seen as almost an extension of his pandemic response, essentially saying that his effort to get COVID under control is nearing its end and now he's aiming to fix the economy, which was better off now than it was at the start of his presidency but it still faces some challenges and the administration does in making sure that it's communicating that and understands that. Essentially, what he's aiming to do is expand the social safety net and pay for that by increasing taxes on the rich, those who are making over $400,000 a year, and also decrease those taxes on those who are making less than that.
It's a part of a larger part of this administration's economic agenda that they've outlined from the first day of taking office, and also really a part of this larger effort to ensure equity across the economy and several different agencies. I guess the biggest question here is whether or not he'll actually be able to pass this, not just given republican pushback, but also a fair amount of fighting within members of his party on the hill and making sure that all aspects of this bill and really what it would do are included.
Melissa Harris-Perry: Brendan, I want to come to you on this because that wrangling within the Democratic Party is certainly one of the things that was revealed in the context of these many hours long C-SPAN conversations, but there was also these clear differences between Democrats and Republicans in understanding what stokes the economy, what creates jobs, what creates prosperity. Can you talk a little bit about our, I guess, 50-year experiment right now with lowering taxes as a way to increase economic growth?
Brendan Buck: Sure. I think that's ultimately what it comes down to. The Republican vision is lower taxes, less regulation, less government involvement, and allowing the market to flourish. Democrats have a very different view, obviously. I don't think it's that the tax increases they think are necessarily what's going to generate economic growth. It's the spending that those tax increases are funding. They want to dramatically expand the role of government in all kinds of places, education.
This is one of those things where it is a COVID response, but it's also reimagining what the federal government should do, and they think that is really where you're going to be able to both help the economy but also help their political situation. I think one of the big challenges, politically at least, for for Democrats right now is, as you laid out, the committees have already passed out all of their pieces of this reconciliation package. What we're really talking about is the tax increases. I don't think that's the debate the Democrats are hoping to have.
I know they believe that taxing the rich is a winning message but you don't get to make that argument in a vacuum either. Republicans are going to talk about how raising the top rate on individuals is actually the rate that small businesses pay, and you're going to cost jobs and you're going to hurt small businesses by doing that. There's a lot of counterarguments you can make. I don't think raising taxes is necessarily what Democrats are hoping will be the takeaway of what this whole experiment was about.
Melissa Harris-Perry: Dave, I'm wondering about Brendan's point there that if you look at the headlines in the next hours after the President spoke, this idea of tax and spend, we're going to raise taxes on one group, we're going to pass big spending packages. Again, it's a 30-year-old monicker for the Democratic Party, and it showed right back up again.
Dave Weigel: It is, and it is what they ran on in 2020. That's a lot of the tension in the party right now is between the left which has been fairly built on to get along. You have statements from members of Congress like Alexandria Ocasio-Cortez criticizing the smaller scale of the bills, but not in opposition to the bills themselves, even with the infrastructure. I'm sure we'll get into this. The argument is basically over bundling the two together versus passing them separately. It's not consistent with the left. You have instead a couple of Democrats from pretty safe seats who were more moderate that are putting up resistance to pieces of the bill.
All of this, and the left has been pointing out, is stuff that Biden ran on. He did run on raising these tax rates. In 2018, Democrats captured the House despite the tax cuts that were passed because they were not that popular. The Democrats do have this loop they're stuck in where they take the presidency and Congress, they raise tax. They did in 1993. The downstream effects that are predicted aren't often that bad. In 1993, the Republican message on the Clinton tax increases was it going to kill the economic recovery, which just didn't happen. In fact, they are very easy to attack and you have within the party some moderates who are squeamish about paying for anything.
Melissa Harris-Perry: All right. Maya, help us dig in a little bit because I think it's one thing to look at those bottom lines or top lines, how big the bill is, but what is in it? In that $3.5 trillion spending bill, those priorities, is this about holding steady all those expansions that did happen during COVID, which in certain ways as a political benefit, it is well said that once something is in place in DC, it's pretty hard to take it out, or these brand new initiatives that would be occurring?
Maya King: It's a little bit of both, but largely the former and expansion of a number of things that we've started to see. One thing that stands out to me is this expansion of tax credits for low-income families. One thing that the Biden administration has really touted, of course, is the child tax credit, and just how much that's helped low-income families in this time during the pandemic. I think really what you hear a number of people talking about now is how this expands the federal safety that. Of course, paying for it, it's got a huge price tag, but I think the message that Democrats want voters to hear is exactly what they could be getting with this message.
It's not just helping out low-income families, it's investing more money into measures to combat climate change, expanding Medicare benefits, and a number of other just expanded safety net programs that could actually really help a number of low-income families and again, tie into this administration's larger equity message. Thinking about this also through the lens of 2022 and how Democrats are going to take this into the campaign trail not just now but in the future, I think this is the message that helps them communicate this to voters not just what they're doing but how important it is.
Melissa Harris-Perry: Brendan, the child tax credit that Maya mentioned is wildly popular right now. Again, it's literally dollars coming directly into the bank accounts of most American households with children. As I listened to the debate, the debate was primarily about work requirement. Again, it sounded a little 1993 to me but it was also a fair debate. It was a discussion about whether or not a work requirement should be associated with it. Does that seem like the strategy that could actually cross party lines?
Brendan Buck: I do have to say a child tax credit is wildly popular and it's a bipartisan idea. Republicans expanded the child tax credit when they did tax reform and we did tax reform and I was there. It is a popular program and the work requirements is absolutely one of those fundamental areas where there is a difference of opinion on how government support should and Republicans have long said that if you have too many supports, if you're too generous with government programs, there is going to be a disincentive for work. We actually saw that in some of the data.
I know the degree of it is disputed but there is a lot of evidence that the very generous support in COVID bills have made it really hard for employers to find workers. You talk to any restaurant tour, they'll tell you that they're having trouble getting people to come back come off where they were anyway, having people come off the sidelines and come back to work so it's not a specious argument. There are real-world consequences to having a government that is so big that the programs make it worth less appealing to people. A child tax credit I think is one of those very few areas we're seeing in the tax debate where there is some bipartisan agreement.
That's not where the rub is going to be. The rub is going to be on individual rates, how you tax corporations. One of the big things that I think even Democrats are going to have trouble coming to an agreement on is what a corporate tax rate is. The rest of the world is lowering all of their rates and we are now considering raising ours. We've got people like Joe Manchin who's saying co-rate, that is, at least the rate that's being discussed is too high. He's saying maybe as high as 25 is as high as he will go. Democrats have a long way to go. I think what they are learning as they put out $3 trillion worth of tax increases is that there's a lot of sharp knives in that drawer.
A lot of the things that they have proposed they're finding that even their own members are a little squeamish about. They've done, I would say, a pretty poor job of communicating the importance of all these various pieces and are hoping that just a broad message, tax the rich will be able to muscle their way through. That's fine but the longer a process this drags out, and I do think this is probably going to take months before it gets resolved, you're going to start seeing things get thrown overboard and that $3.5 trillion is going to become $2.5 trillion or $2 trillion. I think ultimately this ends up being a much smaller bill than what we're currently talking about.
Melissa Harris-Perry: Okay, y'all, lightning round here. Dave, are we going to be able to get past this looming government shutdown and the debt limit battle?
Dave Weigel: Democrats have a strange confidence that this is all going to work itself out. I don't think they'd be necessarily lucky as much. It takes work and compromise to pass things with slim congressional majorities. They have been getting most of what they want so far. I think a conflict here is that, we've been talking about the conflict that plays politically, I think there's just an inherent strategic maybe mistake in how Democrats conceive of this.
Republicans do not come out and lead with how much one of their spending bills is going to cost wherefore Democrats were for the left, the size of the spending bill is very attractive. You want to advertise how big these things are. I think that has gotten dominant in the conversation about what they're trying to do and that's created this political problem. It's really up to them whether they want to increase the debt limit in reconciliation which can be passed with 50 members or not.
I think asking about it now, we have several permutations of these arguments between them to go. We have more time where the debate in public is not going to be great for them. These are survivable things. I don't think the party with control-- With the debt limit, some of the confidence looking from the outside of Democrats must be that since the 1970s when Democrats had the White House and both houses of the Congress, a party in power hasn't had these issues with the debt limit if it controlled the White House and the Congress.
We saw 10 years ago the problem was that House Republicans used the debt limit for leverage. I see that as a navigable problem for them but one thing that is going to get mixed up with the larger political fight and just this demand from the left that something be bigger and spend more and tax the rich more, this worry from Democrats about the constant pressure they're getting because framed the right way, those things are unpopular.
Melissa Harris-Perry: Maya, one of the ways that Democrats could have more control in particularly the Senate but certainly if they want to maintain control in the House is their voters are going to have to be able to make it to the polls and cast a vote for them. What's going on with voting rights?
Maya King: I think the argument that you're starting to hear now particularly from Democrats who are in these states where voting rights are particularly fraught and where Republican-held state legislatures are passing a lot more restrictive voting rights pieces of legislation. There's just a lot more a sense of urgency in getting this passed. The message is no longer this is good for democracy coming from Democrats.
The message is increasingly we will have a much harder time actually turning out our voters and winning these tough races. You see the introduction of the Freedom to Vote Act this week that has a number of the same provisions in the more sweeping For the People Act that, as we know, has essentially failed to pass in the Senate. You have some of these provisions like banning, of course, partisan gerrymandering, making election day a holiday, same-day voter registration.
A number of these things would protect against the more restrictive provisions in states, again, like Georgia and Texas and others where Democrats are really starting to sound the alarm. Of course, the biggest question is whether or not this bill-- It has enough votes now for a majority of Democrats, in fact almost all Democrats, to support it in the Senate but whether or not Republicans will actually get behind this is really the big question. Right now it looks like the answer to that is no.
Melissa Harris-Perry: Brendan, there is an expected pro-Trump protest taking place at the Capital on Saturday. I'm wondering if you've heard anything from lawmakers about this and maybe particularly from Republicans.
Dave Weigel: Yes. All I've seen is Republicans trying to distance themselves from it but those tend to be some of the more responsible Republicans. I think it's a really shameful event that that's taking place. I would hope that all Republican members of Congress would keep their distance and frankly condemn it. The reality is you probably have a few who are probably going to at least embrace the message that's taking place. I'm thinking of Paul Gosar from Arizona, for example. For a lot of people in those Republican ecosystem in the echo chamber, this issue that the people who led the insurrection, were storming the Capitol are somehow victims has become a bit of a cause célèbre among the far right.
It really comes to show, I think, how far we've come in this effort to rewrite history of what happened on January 6th. It plays directly into Trump's victimhood politics. The President of course has been leading the charge on that. He put out a statement this week talking about how those people who stormed the capital are victims and patriots. I'm hoping that there is less to this event and that it's more hype than actual people show up but I guess we'll have to keep an eye on it. I'm confident though that the Capitol police will be much more prepared this time around
Melissa Harris-Perry: Dave, there was a recall election in California. What do you think Democrats learned from it?
Dave Weigel: Democrats were very buoyant about the results. I think they may have overlearned from what happened in California. To sum up, there was a recall effort of Governor Gavin Newsom in large part because the judge gave petitioners more time to collect signatures. I mentioned that because it was never clear that a majority of California wanted to recall the governor. The things that have made him unpopular are conservative media, not necessarily things that are unpopular with the California electorate, that is very liberal especially concentrated in big cities. All you have in California universal mail voting, which was instituted during the pandemic and included so it's easy for people to get it out.
[crosstalk]
Melissa Harris-Perry: That is M-A-I-L as opposed to M-A-L-E.
Dave Weigel: Mail voting, yes. Any given gender can use it, voting by putting it in the mailbox. You had a situation where Democrats who may not have been super enthused to vote were just getting something in the mail. All they needed to do was take a minute and turn it around. You had some advantages on how Democrats could turn their vote out and the votes they could get. It's a two to one democratic state but they did even a little bit better than expected. What Democrats have decided to take from that is that Gavin Newsome instituted vaccine mandates for teachers and for healthcare workers.
He ran on those the final month, the moment moved away from the recall and he won. We've got literally almost three months left to count but he won probably by at least 20 points. What the Democrats took from that is we're going to run on vaccine mandates in the rest of the country. Easy to say now there are states where they're going to compete in 2022 or they're less popular but in Virginia this year, in New Jersey they're going to run on that
Melissa Harris-Perry: Rather than seeing it as a consensus issue, they see it as a winning issue. Got you. Maya King is a politics reporter at Politico. Dave Weigel is a national reporter covering politics for The Washington Post, and Brendan Buck is a Republican strategist at Seven Letter. Hope the three of you will all come back and maybe talk mommy, daddy, party and maybe also your slightly off the rocker uncle party. We should talk about all of those.
Dave Weigel: Thanks, Melissa. [chuckles].
Brendan Buck: Thank you.
Maya King: Thanks for having me, Melissa.
Copyright © 2021 New York Public Radio. All rights reserved. Visit our website terms of use at www.wnyc.org for further information.
New York Public Radio transcripts are created on a rush deadline, often by contractors. This text may not be in its final form and may be updated or revised in the future. Accuracy and availability may vary. The authoritative record of New York Public Radio's programming is the audio record.