New Biden Policy Limits Who and How People Can Claim Asylum at Southern Border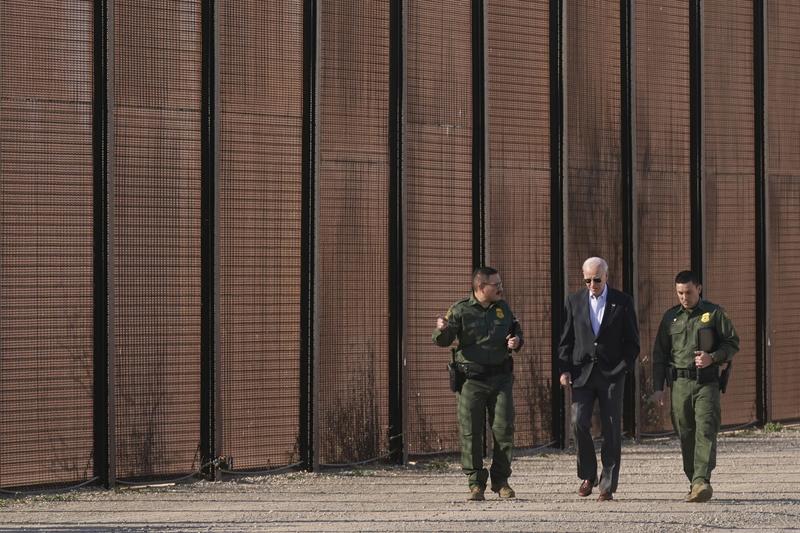 Transcript
[music]
Melissa Harris-Perry: This is The Takeaway. I'm Melissa Harris-Perry.
[music]
Melissa Harris-Perry: Congress has not passed meaningful immigration reform in more than two decades, so when President Joe Biden took office in 2021, he promised to craft immigration policies far more humane than those of his predecessor and to "reassert America's commitment to asylum-seekers and refugees." The realities of immigration during the Biden years have been far more mixed.
Indeed, in recent months, the administration has put in place more restrictions on who and how people can claim asylum in the US and at the US/Mexico border. These rules are some of the administration's harshest asylum policies yet. These tightened restrictions are coming just ahead of the end of the Trump-era border restriction, Title 42.
Now, you'll remember that, since 2020, Title 42 has allowed border security to turn away hundreds of thousands of migrants, refugees, and asylum-seekers who are attempting to enter the country through the southern border. Title 42 is set to expire when the Biden administration lifts the COVID-19 national and public health order on May 11th. The White House has voiced concern about a possible surge in migration at the border when Title 42 expires. For more on this, we're going to talk now with Krish O'Mara Vignarajah, President and CEO of Lutheran Immigration and Refugee Service. Krish, great to have you back.
Krish O'Mara Vignarajah: Thanks for having me. Nice to chat.
Melissa Harris-Perry: Also Isabela Dias, who is a reporter at Mother Jones covering immigration. Thanks for joining us, Isabela.
Isabela Dias: Hi, thank you for having me.
Melissa Harris-Perry: All right, Isabela, I want to start with you. Just in the past three months, Biden administration has ramped up its immigration policies. Can you talk us through what has happened since January?
Isabela Dias: Absolutely. Earlier this year, we saw the Biden administration announcing a set of border-related measures in anticipation of the end of Title 42. These policies, I guess, could be described as carrot-and-stick policies. The Biden administration is making it easier to turn away migrants and asylum-seekers from countries like Cuba, Venezuela, Haiti, and Nicaragua, while at the same time, offering a pathway for them to be let into the country through a process called parole. If they have sponsors in the United States, they would be allowed to stay in the country for two years.
The Biden administration has also made it so that in order to apply for entry into the country legally, migrants and asylum-seekers need to use an app called the CBP One app, which, I think it's worth mentioning, has-- It's far from perfect. There have been some reports of migrants facing a lot of challenges in terms of being able even to connect with the app because of spotty Wi-Fi connection and issues with facial recognition in the camera function, especially for migrants with darker skin colors.
Melissa Harris-Perry: At first, when I heard you say "app," I assumed that you were talking about an application, a particular way of applying to come in, but you mean quite literally an app on a mobile device. Then you're telling me that there is a facial recognition challenge related to some of what we've talked about many times here on The Takeaway relative to complexion?
Isabela Dias: Exactly, yes. It's a smartphone application. Yes, there have been reports from advocate groups who are helping migrants try to get appointments, and there have been reports that the camera function is very glitchy, and also, sometimes it will not recognize or it will take some more time to recognize people with darker skin.
Melissa Harris-Perry: I want to just stay on this for a moment. Within the context of other Democratic or Republican presidential administrations, is what we're seeing from the Biden administration since the start of the year in line, harsher, or more open?
Isabela Dias: I think what we will hear from the Department of Homeland Security and the White House is they are very determined in differentiating their approach to the border from the Trump-era policies. In practice, I guess, what you will see is that they are making it considerably harder to seek asylum in the United States in a way that asylum is hardly recognizable at this point.
One of the harsher policies that they have introduced and has been accurately compared to a Trump-era policy that was known as a transit ban will make it so that migrants, asylum-seekers who cross through other countries on their way to the United States and fail to seek protection in those countries, those people will be ineligible for asylum in the US with few exceptions, including for unaccompanied minors and in cases of imminent danger.
That policy, during the Trump years, the transit ban, was blocked in the courts multiple times for violating asylum laws, so I think it's safe to say that the Biden administration will be facing legal challenges moving forward with this policy, which is essentially a virtual ban on asylum even though they don't want to put it that way.
Melissa Harris-Perry: Okay. Krish, I want to bring you in here as Isabela is talking about the likely challenges. Can you tell me a bit about what advocates and immigrant rights groups are saying about these policies since January and how you all might be gearing up going into the end of Title 42?
Krish O'Mara Vignarajah: I think litigation is undoubtedly something we should expect. We should expect it not just from immigrant advocates but those conservative attorneys generals, where we've seen litigation already. We've seen a lawsuit filed to end DACA and dismantle protections for dreamers who call the US home since they were children. We've seen litigation to keep the Biden administration from ending Title 42 asylum restrictions.
There's been litigation against Biden's enforcement priorities, which really just directed immigration officials to prioritize violent offenders for deportation. Of course, there's been lawsuits about how the administration issues parole to migrants seeking safety both at the border and from their home countries.
That's all to say that the federal court system has been a battleground for immigration policy, basically, in terms of the transit ban, which looks quite like what President Trump instituted roughly four years ago. I do expect we will see litigation because, obviously, there's a good chance that these lawsuits, they may be filed from both flanks. I think it is concerning because we expected to see a very stark contrast with the previous administration, and the truth is, we have seen policies that, very closely, mirror a Trump era in some areas.
Melissa Harris-Perry: Do you have a sense of why?
Krish O'Mara Vignarajah: Well, as Isabela said, I do think this administration believes that the carrot-stick approach is a smart policy and, I think, perhaps a political strategy. I think the difficulty I have with it is that the carrot-and-stick approach makes sense if a person has a real choice to choose the carrot before they face the stick because, in this case, the carrot is offered to only certain nationalities or requires people to have things like a US-based financial sponsor or to have a passport or to be able to afford a flight to the US. It's difficult when you see this stick being applied to them when they seek to exercise their legal right at the border.
Melissa Harris-Perry: One more follow-up on this. You used that language of legal right at the border. Help us to understand this because, so frequently in our public discourse, the language around immigration, particularly those who are seeking to enter the US through the southern border, is language about being unauthorized or illegal. When I hear you say "legal right," I want to be sure you clarify that for us.
Krish O'Mara Vignarajah: Yes, and I appreciate the opportunity because it is difficult to hear some of this rhetoric, and obviously, I want to make sure that people understand. An asylum-seeker can really only seek the right of asylum when they reach American soil. That contrasts with a refugee, for example, who will cross a third country border and then apply to the UN or the US in order to be resettled here in the US.
For families who are fleeing the most dire of circumstances, they're facing war, persecution, attacks because of a social group or political group that they identify with, they're coming to the US in the most desperate of circumstances, and they are asking for legal relief.
Now, that's not to say that there is never an instance of a migrant who's crossing the border, seeking to go undetected, but honestly from the clients that we interact with, these are folks who really do want legal status. They want their chance to have a day in court, to be heard, to hopefully have the protections that American soil can afford them and to live long-term here.
I think it's really important to understand these are not people who are burrowing in the soil and then they're going to go to some corner of the country and live there for years without trying to seek legal authorities. These really are people who are trying to exercise a legal right that is codified in both US and international law.
Melissa Harris-Perry: Isabela, why pursue a policy likely to make everyone unhappy when you're coming up on an election year? Do you have a sense in your reporting about how they're reading the politics of this?
Isabela Dias: Yes. I think also it's relevant in this context to just acknowledge that the Biden administration and the Department of Homeland Security Secretary Alejandro Mayorkas. They're under a lot of pressure. The Republicans in the House have been vowing to start impeachment proceedings against Mayorkas. There are real challenges that they're facing.
I think if you hear Mayorkas, he will say, "We are a nation of migrants and we are also a nation of laws." I think that's what they are striving to do here.
He has said also that all policies should be on the table. We also saw, recently, reports that the administration might be bringing back family detention, which is also something that have been received with a lot of criticism from immigrant rights groups. I think their approach is, we have to try every tool we have in our toolkit, even though it is a flawed, incomplete toolkit.
Melissa Harris-Perry: Okay, both of you, stick with me. We're going to be right back in just a moment with more on the Biden Administration's recent immigration policy. This is The Takeaway.
[music]
Melissa Harris-Perry: Thanks for sticking with us on The Takeaway. I'm Melissa Harris-Perry. We're still talking with Krish O'mara Vignarajah, who's President and CEO of Lutheran Immigration and Refugee Service, and with Isabela Dias, a reporter at Mother Jones covering immigration. We've been talking about the Biden Administration's new restrictions on who can claim asylum and how they can do it at the US-Mexico border.
All right, Krish and Isabela, I want to take a moment and listen to a White House press conference last Tuesday. This is our White House press secretary responding to this claim that the Biden administration policies are pretty close to Trump era immigration policies. Let's take a listen.
White House Press Secretary: A lot of people have compared what the president is doing as either extending what Trump did or being very Trump-like, and I just want to make sure that is not what's happening here. What we saw in this last administration, the administration before us, was a gutting of the immigration system.
Melissa Harris-Perry: All right, I'd love for both of you all to respond to that. Maybe Krish, I'll start with you.
Krish O'Mara Vignarajah: There are some notable policy differences and I want to make sure that the administration does get credit. Many of President Biden's executive actions on immigration have been rescinding Trump policies in his first few weeks in office. He ended the Muslim ban and the public charge rule. He also launched the Family Reunification Task Force to reunite thousands of families that Trump's family separation policy had ripped apart.
While this administration has struggled to rebuild the formal refugee program, he did raise the admissions target from Trump's record low of 15,000 per year all the way up to 125,000, although we haven't gotten anywhere close to that in the last couple years.
Finally, we have seen the administration use a new program to allow for 80,000 Afghans, after the fall of Kabul, more than a hundred thousand Ukrainians after the Russian invasion. There are some seriously concerning overlaps, and it does worry us that some of the Trump administration's most harmful policies won't necessarily stay in the dustbin of history. I think that's where we look to Title 42, which has been largely kept in place, the new asylum ban, which has been proposed to be instituted when Title 42 ends, and then of course, as Isabela mentioned, family detention that's been floated as a potential policy that they would re-institute.
Melissa Harris-Perry: Isabela, let me also bring you in on this. What else do you hear there?
Isabela Dias: I think it was common to hear during the Trump administration that their immigration policies, often cruelty was the point, using cruelty as a way to try and deter people from migrating to the United States. I think that's not the case with the Biden administration. No, they don't intend for cruelty to be a point. Like Krish said, it is absolutely right that there are so many overlaps.
I think what is frustrating for immigration experts, immigrant rights groups, and people on the ground is that contrast right between what they can campaigned on and promise to do upon taking office and the reality and the consequences of the policies that they are actually implementing. It's hard for them to have it both ways without, rightfully so, getting backlash and push-back.
Melissa Harris-Perry: I want to, Krish, come to you because in making these kinds of critiques, it's always valuable to also think about what the alternatives are. What could sound immigration and asylum policy at the border look like? What are the alternative options, especially given that there isn't a good sense that Congress is about to act on this? What else is available?
Krish O'Mara Vignarajah: In terms of what President Biden could do using executive authority, I think part of it is restoring asylum. Some of this, as Isabela said, is trying to reduce the disparity between what candidate Biden pledged and what we've seen President Biden do. That means opting for a well-resourced border infrastructure. We certainly saw some of that in President Biden's budget proposal with 25 billion for CBP and ICE to hire additional agents and buildup processing.
There's also contingency funds to respond to surges. We see additional funding for HHS to scale up services for unaccompanied migrant children. I think building that infrastructure means that we will see less of these images of crisis at the border, which have obviously captivated the national attention.
Beyond funding and resources, there needs to be recognition that the buildup on our border is because our immigration system writ large is so dysfunctional. That's where obviously Congress does need to play a role because of three decades of inaction. Some of what we want to see is pathways that ease the strain on the border. Those pathways could be similar to what we've seen announced from the White House in terms of the parole process for Cubans, Haitians, Nicaraguans, and Venezuelans. It's also rebuilding the refugee resettlement infrastructure. That is something that is completely under the control of the Biden administration.
Finally, I think some of this is about making the case. What worries us is that you have, on the one side, a lot of myths and no one really fighting the fiction with fact, and on the other hand, you have a strong argument for why the US needs to be leaning into immigration. We have 11 million jobs that are unfilled right now, only 6 million American workers who could fill them. That's a 5 million gap, and that's not something that's going away.
If you want to talk about inflation, you've got to talk about immigration. I think drawing that connection is important because otherwise Americans could hear one side in the rhetoric about fentanyl and crime and not understand that that's not only not true, but immigrants are going to be a core part of how we remain an economic superpower.
Melissa Harris-Perry: Absolutely. Is there any reason to hope for congressional action on immigration reform?
Isabela Dias: I think most people would agree that that ship has sailed at this point. There were some bipartisan talks late last year, but I think when Congress split. Just based on when we see the kind of rhetoric coming from some of the House Republicans and in their border hearings, a lot of anti-immigrant stances, it is very unlikely that any sort of legislation that is significant and comprehensive and targeting immigration will come to pass.
It's been hard to even find common ground when it comes to dreamers, children who came to the country as children and inspire a lot of sympathy and empathy. It's hard to come to an agreement on how to provide them with a permanent legal path. I am not very optimistic on that front.
Melissa Harris-Perry: Isabela Dias is a reporter at Mother Jones, covering immigration and Krish O'mara Vignarajah is President and CEO of Lutheran Immigration and Refugee Service. Thank you both for being here today.
Krish O'Mara Vignarajah: Thank you for the conversation.
Isabela Dias: Thank you.
[music]
Copyright © 2023 New York Public Radio. All rights reserved. Visit our website terms of use at www.wnyc.org for further information.
New York Public Radio transcripts are created on a rush deadline, often by contractors. This text may not be in its final form and may be updated or revised in the future. Accuracy and availability may vary. The authoritative record of New York Public Radio's programming is the audio record.