How a Biden Administration May Change Dynamics with Mexico and Central America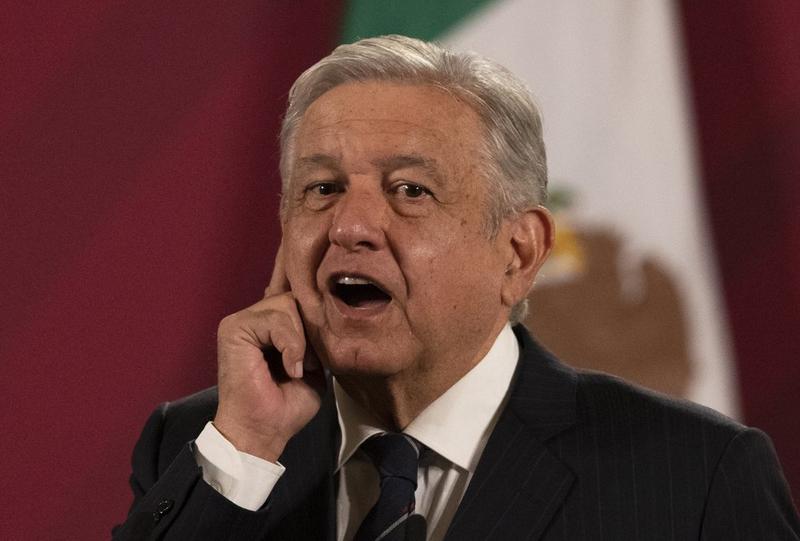 Transcript
Tanzina Vega: While many US allies across the world are celebrating Joe Biden's win as president-elect of the United States, others are staying quiet. Among them is Mexico's President Andres Manuel Lopez Obrador. He told reporters on Saturday that he's waiting until the "electoral process is finished". Under the Trump administration, Mexico and other Central American countries have largely capitulated to the US government's requests, looking to stay in the US government's good graces. That's included policies around asylum and immigration enforcement that were meant to stem the flow of migrants towards the US.
As the United States begins its transition to a Biden-Harris administration, all of that could change. Jonathan Blitzer is a staff writer for The New Yorker, and he's back with us to talk to us about how all this is going to play out. Jonathan, welcome back.
Jonathan Blitzer: Thanks so much for having me, Tanzina.
Tanzina: Manuel Lopez Obrador over Mexico has refused to recognize Biden's election, but what does that tell us in terms of the broader Mexico-US relationship right now?
Jonathan: It's a bizarre posture for him to take, particularly because it's hard to imagine administration treating Mexico any worse than Trump has. I actually think, in amylose case, what seems more likely than the fact that he's cowed by Trump and by what the outgoing Trump administration might do to Mexico, I actually think it's a bit of a personal psychological grievance he has. He himself in 2006 in Mexico, lost by a razor-thin margin, never conceded alleged fraud, and resented the international community for rushing in to declare his opponent the winner. I really think a lot of that is the psychodrama we're seeing now in terms of his refusal to actually recognize the result and congratulate Joe Biden.
Tanzina: That notwithstanding we do have a president-elect so far in this country, and that administration is the Biden-Harris administration, which is already beginning its own transition. Remind our listeners, the United States under the Trump administration created the Remain in Mexico policy, which forced asylum seekers to wait in Mexico before they were asylum screenings here in the United States. How could that policy shift under a Biden-Harris administration?
Jonathan: It's a really interesting question. The incoming Biden administration and the president-elect himself have been explicit in saying that they want to end the Remain in Mexico policy. It's complicated to do in practice, though. At this point, basically, there have been 60,000 people who have been shunted to Mexico as part of this program. The program just to remind listeners is basically that anyone seeking asylum, essentially from Central America coming to the US border, had to put in their asylum claim in the US and then wait for an indefinite period in Mexico.
There were over 60,000 people who went through that process, fewer than 1% actually were granted asylum. There were huge attrition rates, people were brutalized while they were waiting in Northern Mexico. At this point, at least as of September, they were between 24,000 and 25,000 people who were still in limbo, what happened was in March, when the Trump administration closed the border in response to the COVID pandemic, everyone who was waiting for their asylum hearing got frozen out of the process, and hearings were suspended indefinitely.
Now you have between 24,000 and 25,000 people who are stuck between these two countries. It's not entirely clear what you could do with this population of people. While the Biden administration admirably, has called out Trump for the Remain in Mexico policy, which remains a huge indignity. It's not so straightforward what you begin to do with a population that is pretty large, and that's going to need immediate help in having their asylum claims processed and vetted.
Tanzina: Mexico, of course, is not the only country that signed an asylum agreement with the United States in many ways. Guatemala also had an agreement with the Trump administration to manage the flow of migrants and asylum seekers there. Where does that stand?
Jonathan: The three countries in the northern part of Central America, El Salvador, Honduras, Guatemala, all signed agreements that were called Asylum Cooperative Agreements, but which we all know more commonly as Safe Third Country Agreements. The idea being that anytime someone crosses through those countries to reach the US to seek asylum, the US by the terms of these agreements could simply send them back to these countries to have asylum seekers pursue asylum there.
At this point, of the three countries that have signed those agreements, only one, Guatemala, has actually gone forward and begun to receive asylum seekers under the terms of that agreement. That happened in Guatemala, basically between December of 2019 and early March of 2020, at which point all bets were off because the US shut down the southern border.
At this point, there have been a few hundred people who had been returned to Guatemala under those agreements, but for the most part, I actually think those will be relatively easy to undo for an incoming Biden administration. Both because the Biden ministration has been very clear about not wanting to abide by those agreements, but also because they haven't been fully underway. I actually think as far as unwinding things from the Trump administration goes, that'll be an easier thing to wind down just because it never fully gathered steam to the same degree, for example, that Remain in Mexico did.
Tanzina: You mentioned El Salvador, the El Salvadorian President Bukele was elected during Trump's presidency. What has the US relationship been with El Salvador, and could that change under Biden administration?
Jonathan: It'll be really interesting to see. Bukele had positioned himself quite safely to get close to Trump, does seem to do right by the Trump administration. It obviously infuriated people in El Salvador and people in the region. As a result, he was given a free pass on a lot of domestic maneuvers that are caused for major concern in El Salvador.
He has steadily over the last few years, really crept into a much more openly authoritarian posture, attacking journalists, using the pandemic to further consolidate his power, flirting in alliance with the military. Of course, under Trump, he doesn't get called out for any of these things. I do think an incoming Biden administration would be much more inclined to hold his feet to the fire.
Tanzina: Jonathan, I want to go back to Guatemala for a second because under the Trump administration, we saw the United States support Guatemala and doing away with an anti-corruption body called the International Commission Against Impunity. What were the implications of that, and how do we expect Biden administration will handle that?
Jonathan: I think, for one thing, an important historical fact to understand about how the US abandoned its support of that UN-backed anti-corruption body was that the outgoing president at the time, person who himself, Jimmy Morales and his family were under investigation for various forms of corruption. They basically struck the asylum cooperative deal, the safe third country deal with the US, in part as a way to try to bolster their standing with the US amidst all of that controversy over their ending that international anti-corruption body.
I think the Biden administration's posture. If Biden's time as vice president is any indication, well, I think they are a much more standard American posture vis-à-vis Guatemala, which is to say, I think they would push for more systematic anti-corruption efforts to be undertaken there. Now there is a new president in Guatemala, a conservative Alejandro Giammattei, who to date hasn't really expressed outright support for the secede, which is the name of that anti-corruption body.
He has made general gestures toward anti-corruption efforts but has spoken more specifically about the need to have an anti-corruption body be run from inside the country, as opposed to having this UN more internationally based body, which I think isn't a great sign. It will be interesting to see the extent to which the Biden administration really pushes the Guatemalans in this regard. I'm not sure exactly what will happen.
Tanzina: We also have to talk about Honduras because the Trump administration supported President Juan Orlando Hernandez in 2017, who won the election in Honduras on many say are questionable grounds at best. We've also seen corruption charges against President Orlando Hernandez, including from US prosecutors. Where does this relationship stand, and how could that be influenced by a Biden-Harris administration?
Jonathan: In many ways, the Juan Orlando Hernandez situation is the most interesting one in the region, I would say, precisely for all the reasons that you layout. For one thing, his election in December of 2017, was marred by fraud and outright government intervention in the waning hours of the vote count, which is eerily now this is similar to what we're seeing from the current administration. As you say, Juan Orlando and his brother have also come under. His brother has been indicted in the Southern District of New York.
DOJ has launched a series of investigations for drug trafficking, all of which point to Juan Orlando's involvement in all of these criminal operations, and so he was one of the first leaders in the region to congratulate Joe Biden, largely because he is a survivor and this is how he's played the game from the very beginning. He's basically played off of different divisions in the American position.
The US is obsessed with stemming migration from Central America and often pursues that and without any kind of broader understanding or interest in the context in the region. Juan Orlando has brilliantly played that to his advantage for years, both during the final years of the Obama administration and on into the Trump era. In some ways, what you see is that the Department of Homeland Security has partnered with Juan Orlando Hernandez on stemming flows of migrants leaving the country.
For DHS, Juan Orlando has been an outright ally, but now simultaneously to all of that, at the State Department, at the Department of Justice, at the DEA, you see Juan Orlando and his family in the crosshairs of all kinds of criminal inquiries and investigations. It's going to be interesting to see whether the usual American fixation on stemming migration at all costs Trump's this broader, more important, I would say, thinking about rule of law and the region.
I have to say that Democrats on the whole have been pretty good about Juan Orlando Hernandez and the need to bring him to account. I'm cautiously optimistic that a change in the administration, that a Biden Harris administration really will be more aggressive in rooting out systemic corruption inside the upper reaches of the Honduran government.
Tanzina: What's most at stake for US-Mexico/Central American relations right here? Is it under a new Biden-Harris administration?
Jonathan: I think there was a real and legitimate fear that there was going to be a rush of asylum seekers coming to the border in the immediate aftermath of the inauguration, which of course, makes sense. It stands to reason that after you've had a president who's spoken, basically nonstop about ending asylum for the last four years, and is largely done that, that there would be an immediate push for people to make their trips to the US. They're no less desperate than before. In fact, arguably, they're more desperate than they've ever been.
You have COVID ravaging the region. It's obviously been brutal from a public health standpoint, from an economic standpoint, you've recently had a hurricane tear through parts of Guatemala and Honduras, displacing thousands, if not more. I think there's going to be an acute humanitarian crisis at the border. I think the Biden-Harris administration is already making plans to deal with what that looks like. I think it's going to be extremely complicated.
I think what always happens is, there's a need for more thoroughgoing, farther-reaching, deeper thinking policy in the region to try to improve conditions on the ground in some of these countries. That always takes a backseat to the emergency at the border. I do know that the Biden-Harris administration is concerned that a border crisis would eclipse the broader needs in the region, but also would turn into an acute political crisis for the administration. They're very much I think alive to what this issue is going to look like.
One other thing to keep your eye on, I think, is that what the Trump administration has done ever since COVID broke out was they spuriously claimed the need to close the border in the name of public health. It since come out at the CDC was pressured into giving authorization for that order, that this was a politicized decision to close the border, that it was basically the long-standing fantasy of the Trump White House from the very beginning of Trump's days in office to close the border, but the fact is, now the border is closed.
The current administration has cited an authority that allows it to do so in the name of public health. The Biden-Harris administration, I'm sure wants to lift that border closure, and yet lifting that border closure is going to be extremely complicated, because you have the population of people in Northern Mexico who are stuck there as a result of MPP of Remain in Mexico. You're going to have continued flows of people coming to the US because that's always what happens when there's a change in administration and because of people's continued desperation in the region. You're not going to have all the resources in place to deal with all of it at once.
One thing that I think people should prepare to see is for a Biden-Harris administration to be a little slower than we might want or expect them to be in lifting some of these Trump-era policies at the border. For example, closing the border in the name of public health, that might not immediately be lifted when Biden takes office. I really think that they're trying to make various policy calculations, and quite honestly, those calculations aren't entirely clear to me. I think it's a genuinely complicated situation.
Tanzina: We're going to have to see whether or not that plays out. Jonathan Blitzer is a staff writer for The New Yorker. Jonathan thanks for being back on the show.
Jonathan: Thanks for having me.
Copyright © 2020 New York Public Radio. All rights reserved. Visit our website terms of use at www.wnyc.org for further information.
New York Public Radio transcripts are created on a rush deadline, often by contractors. This text may not be in its final form and may be updated or revised in the future. Accuracy and availability may vary. The authoritative record of New York Public Radio's programming is the audio record.