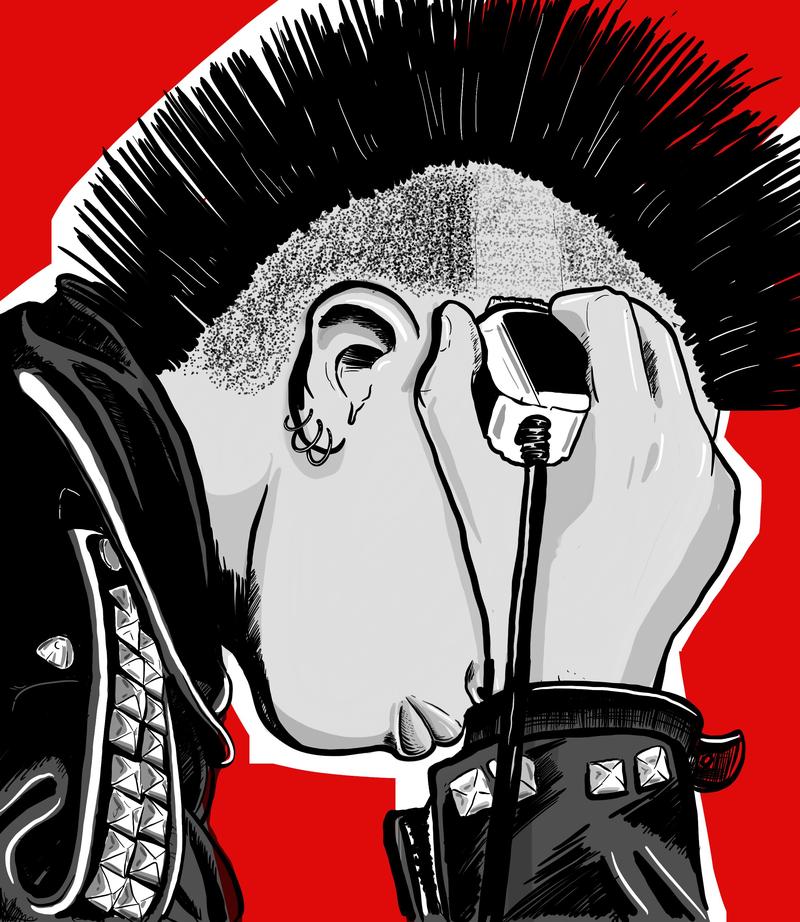 Transcript
Melissa Harris-Perry: You're listening to The Takeaway, with Melissa Harris-Perry.
[music]
Melissa Harris-Perry: From WNYC and PRX in collaboration with WGBH Radio in Boston. This is Rise Above by Black Flag, released in 1981. While mainstream audiences at the time mostly covered their ears, punk found an audience in many young adults who wanted to reject commercialization and capitalism.
[music]
Melissa Harris-Perry: For a long time, punk bands and audiences appeared to be overwhelmingly white, but Black people were always part of the scene. The 2003 documentary Afro-Punk, followed four Black punks and showcased what being punk meant to them, challenging racism, just as much as it meant challenging the mainstream.
Female Speaker: It's not just a trend or a style, there's a cultural validity in it for me.
Melissa Harris-Perry: The documentary was directed by James Spooner, a Black punk musician and artist. He went on to co-launch the Afropunk Music Festival in 2005, which has become a global event. Spooner grew up in a very small, very white town in California. His new graphic memoir is called The High Desert: Black. Punk. Nowhere, and he joins me now. Thanks for coming on The Takeaway, James.
James Spooner: Thanks for having me.
Melissa Harris-Perry: All right. Let's just get some terms together here. First of all, what is punk?
James Spooner: Oh jeez, it's a fighting question. To me, punk is obviously a music genre, but it's also a community and culture. Within that community and culture, which is now over 40 years old, there are many, many factions, and varieties, and subgenres. We're going to use punk I guess, as a umbrella term for this community.
Melissa Harris-Perry: Yet Afropunk, although, I think now, in parlance, it's enough of a phrase, but when it first emerges, when you first give us Afropunk, it feels initially like, wait a minute, can you be Afro and punk?
James Spooner: I think when I first heard the word Afropunk used as just in conversation, it resonated with me for obvious reasons, being Black and punk. Yes, I don't think there's a contradiction. It's not the same as saying white rap. We're saying Black rock and roll, this clearly comes from our legacy.
Melissa Harris-Perry: I love that it resonated with you and that you immediately felt the Afro and the punk. Tell me what it was about punk, both as a musical genre, but more broadly, as you've defined it here, as community and culture, that really appealed to you as a teen in the '80s.
James Spooner: I think when I found punk I was 13, and I was a skateboarder. In the '80s, punk was the soundtrack for skateboarding. It was just part of that community, but I think being a kid and hearing the anger and the angst that these other kids in these bands were singing/screaming about, it resonated with a part of me that I didn't even know was there. I can look back as an adult and see like, my parents were divorced, my father wasn't around much. I lost a sibling due to the divorce and her moving back with her mother. There's just all of these things that I had anger about that I wasn't talking with anyone about or anything.
There was probably a desire to be heard, acknowledged, probably at friction with authority, that I just didn't have the words to be able to articulate, but punk did that for me.
Melissa Harris-Perry: We recently had a conversation with Ebro Darden. He said to me that so often the music tells us what our young people are thinking, how they're hurting, what gives them joy, why they're angry, and that we get into a position of judging the music because it's somehow not our music. I hear that resonating in what you're saying to me about being a kid who was feeling angry.
James Spooner: Yes, definitely. I think that there's something so tangible about punk rock, and in a lot of ways, hip hop as well, where the youth movement, when you find out that the kids on these records are actually teenagers, it's like, "Oh, I can do this too. They're speaking for me, not from the past. They aren't these well-honed pop stars that have been doing it since they were eight and now they're in their late 20s, or whatever. These are kids just like me, and they're talking about things that I am experiencing as well, and it feels authentic."
Melissa Harris-Perry: Let's talk about the memoir. Why a graphic novel?
James Spooner: I came from film, and so I had a understanding of script writing and understanding of blocking and framing. I've been a tattoo artist for 13 years now, and over those years, I've really honed my illustration skills. I was also a DJ for many years, so I even have a understanding of pacing, that I feel all of those things combined created this perfect storm for this kind of project, something that I didn't really anticipate that I would ever do but having-- Like when I first heard The Ramones, I was like, "Oh, I could do that." When I first read a memoir graphic novel, it immediately clicked, "Oh, this is a way that I can tell my story, and I can do it myself.
I don't have to rely on the film industry or get a green light from anybody. I can just do this. Why wouldn't I?"?
Melissa Harris-Perry: Black. Punk. Nowhere, that's the subtitle, but it's not nowhere, it's Apple Valley. Why is Apple Valley feeling so nowhere?
James Spooner: If you had ever been to Apple Valley--
[laughter]
James Spooner: Apple Valley is a small town. It's the kind of place that you would only know if you were driving from Los Angeles to Las Vegas and you needed to get gas. People live in those towns where you just stopped to get gas, and there's even punk rockers there. It is something that comes up when I stop at a gas station or something. There's a clerk there that has to live somewhere near here. What is out here? Because so many of those places are just a gas station on the side of the freeway, and then you keep going. Apple Valley is that place. It's not even that place, it's the place next to that place.
[music]
Melissa Harris-Perry: Let's pause here. More with James Spooner on The Takeaway in just a moment.
[music]
Melissa Harris-Perry: It's The Takeaway. I'm Melissa Harris-Perry. I'm talking with James Spooner, the creator of the documentary Afro-Punk, about his new memoir, The High Desert: Black. Punk. Nowhere. There's a fellow Apple Valley punk in the book, Ethan, and you actually know Ethan a bit, but then it turns out you maybe don't know him so well. Can you tell that story a bit?
James Spooner: Yes. When I first found punk, I met another Black punk so I felt like this is a place where I could be. The first punk I met was Black, but his best friend since he was in kindergarten was part of a white power family. They have Nazi flags on the walls, and they're white supremacists in the most extreme sense of the word, but he was just a kid. He was 13 years old, 14 years old, or whatever, and he's just trying to figure himself out. When I met him, I was already a little weary because he was a racist skinhead, but he was cool with my friend, and he was very nice to me.
What I watched him go through over the months that we hung out, was this kind of grappling with how you square having now two Black friends, but also espousing these white power beliefs even if it's just in dress, or the unfortunate house that he lived in. In the book, I didn't want to just have these mustache-twirling villains, but I wanted to make them real humans and give the reader a sense of what might be going through the mind of a 14-year-old Nazi skinhead.
Melissa Harris-Perry: Yes. It's a pause on it a bit because obviously, we're in a moment where, because we've made it possible to arm an 18-year-old with an AR-15, all that teen angst, and your failure to make good sense as a teenager, now suddenly has these deadly implications. It is a reminder that it doesn't have to, right? We could just let young people make mistakes in a young people kind of way, and have time to grow up and be different.
James Spooner: I think it's all about exposure, and for Ethan, he had a experience where he was cornered by another skinhead, and said, "Look, you can be down with us, but you can't be down with them." Meaning me and my friend, Ty. He had to look at himself and realize that actually, these Black kids are my best friends, not some rando who also is wearing a swastika. I think that, for so many people who are prejudiced in various ways, it's because they haven't humanized the people that they are prejudiced against. If they have the opportunity to meet those people as humans, it's like, "Oh, you're gay, but you also have these same issues that I do.
You're a person of color, but you are also struggling with the same things I am," or whatever, or you also like the same things to relate to beyond our differences of race, or sex, or gender, or whatever.
Melissa Harris-Perry: You have a mother who is white, but you really write about this in some ways that I don't know that I've always read, but you write, "Love is not enough for a white woman raising a Black son on her own." Maybe reflect on this a bit with us.
James Spooner: My mom's character in this book is something that I think touches a lot of people because she obviously is doing her best. She's trying, she's loving, she's not neglectful in this, in any kind of abusive way or whatever, but she came from a different generation. I think that she came from the All You Need is Love generation.
Now that there have been so many mixed-race kids who have grown up and had the opportunity to talk about the successes and failures of their parents, we as a generation of parents ourselves now, I think we're better suited to say that if you were to be in a interracial relationship and have a mixed-race kid, that it's the responsibility of the white person to make sure that that mixed-race child has access to the people of color beyond your just immediate family because there have been no shortage of books, no shortage of talk shows, no shortage of whatever to discuss this.
I think it was just my mom's failings, were in that she was part of a generation that thought that all you have to do is love your child, and they'll be fine.
Melissa Harris-Perry: I even get why that's radical. To say that, the ways in which that seems to push against racism, but also allows a certain lack of awareness about what it takes to be fully strong enough to be our full selves, right?
James Spooner: My father is a immigrant. He comes from the Caribbean. Most of my life, I knew him living in the United States. When I was in my 20s, he was living back in the islands. I went to go visit, and we were walking around, and he was just talking, speaking in French to everybody, like in Patois. My mind was blown. I had no idea that he spoke another language. I'm like, "I took high school French. You never helped me with that. Never came up." I know that there are different kinds of French, but still, you know what I'm saying?
My partner is Korean. She's half Korean, and she was not raised to speak her language. Her mom was embarrassed to have her learn the language. It's this very American thing of where white is the gold standard of normal, and everything else is subpar, right?
Melissa Harris-Perry: Right.
James Spooner: In both mine and my partner's situation around language, it's like, wow, we missed out on a part of our culture that connects us to our culture.
Melissa Harris-Perry: I have a final question for you, James. Today with the growth, with talking about growing and changing collectively and individually, but for you now, what does Afropunk mean?
James Spooner: That's a loaded question I think because, Afropunk, when I started it, was a film about being a Black person in a white community, namely punk rock. As I started doing events and stuff around it, it was still very underground. It was still very punk rock, and it was just centering the Black experience, but now, Afropunk is a brand owned by a billionaire and run by the Essence corporation. It's very mainstream. I don't mean to say that Afropunk, the brand, doesn't have value, it does have value, but it doesn't have punk values.
It's really important to know the difference. Just like everything in the mainstream, its best value, or the reason that it is valuable to the underground is that it gives it something to reject and to resist against. Now there is a fantastic Black and brown underground that's thriving within the punk scene, in a way that had it existed when I made Afropunk, I wouldn't have had to make Afropunk. I accidentally created this thing that gave the kids something to reject and create their own thing because that's what the underground does. The underground and mainstream, they need each other. They feed off each other, and it's a constant cycle.
Melissa Harris-Perry: It is a sign of adulthood when you accidentally give the kids something to reject, Basically, [unintelligible 00:17:07] that should be one life goal is to make something that the kids will then reject so that they can make their own thing.
James Spooner: Yes. It's definitely been a long process for me to accept that, but I'm also blessed that I'm not wrapped up in their rejection. Most of those kids who are rejecting Afropunk are embracing me and The High Desert is another one of our stories.
Melissa Harris-Perry: James Spooner, tattoo artist, film director, graphic novelist with a graphic memoir, The High Desert: Black. Punk. Nowhere, thanks for joining The Takeaway.
James Spooner: Yes, my pleasure. Thank you.
Copyright © 2022 New York Public Radio. All rights reserved. Visit our website terms of use at www.wnyc.org for further information.
New York Public Radio transcripts are created on a rush deadline, often by contractors. This text may not be in its final form and may be updated or revised in the future. Accuracy and availability may vary. The authoritative record of New York Public Radio's programming is the audio record.