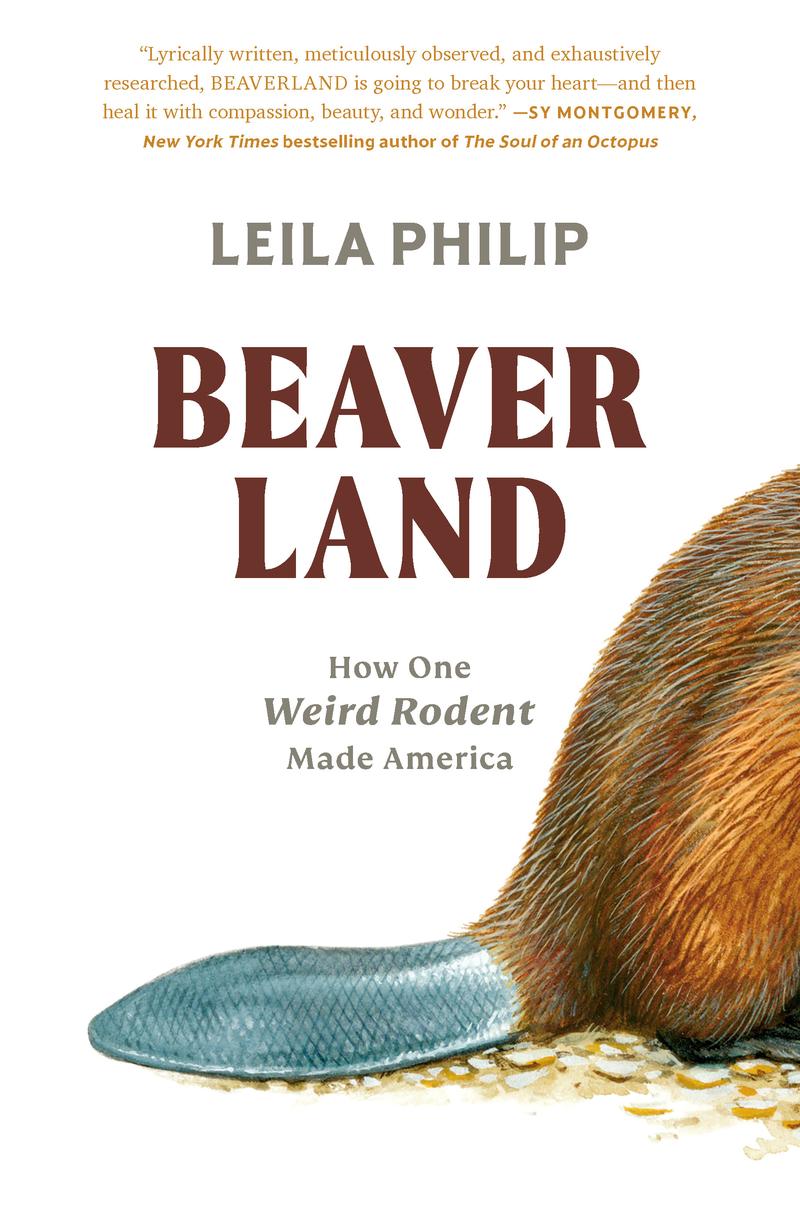 Transcript
[music]
Melissa Harris-Perry: Welcome back to The Takeaway. I'm Melissa Harris-Perry. This is the story of an animal that helped shape America.
Leila Philip: When they dive, they seem more like marine mammals than terrestrial species. Their dexterous forepaws look startlingly human, the feet are followed by a reptilian tail, which, it has been observed, looks like the result of some terrible accident, run over by a tractor tire. I am Leila Philip, the author of Beaverland: How One Weird Rodent Made America.
Melissa Harris-Perry: That's right. The humble beaver is actually the author of our landscape and parent of our nation. Leila Philip explained the important role these weird rodents have in shaping America as we know it.
Leila Philip: I've always been interested in the way humans interface with the natural world, but one day, I witnessed beavers making a pond near my house, where I live, in the woods, and it was one of the most incredible things I'd ever seen. That was the start. Beavers are brilliant. They literally construct their world. They're one of the only animals that do that, apart from us.
Melissa Harris-Perry: Help us to fathom the intelligence, the brilliance of the beaver.
Leila Philip: Beavers have fueled the human imagination in every continent that they've been found, partly because they look so strange with these quizzical bear faces and these weird paddle tails, but while we studied what they do, what they can construct, people didn't pay a lot of attention to the animal itself. There were a lot of reasons for that and a lot of misunderstandings about the beaver.
One of the fun things that I chase down in the book is this question, and I find a researcher at Harvard who's actually, I think, beginning to crack the code of beaver intelligence by framing it in a different way because, from one set of statistics or standards, the beaver is not smart at all, their intelligence rates lower than that of a squirrel, but then how can they do what they do, which is so adaptive?
They are able to make on-site decisions about how to engineer the flow of water that are very sophisticated. What she started looking at was, if you think about beavers not so much from the point of view of an individual but more framing it as a collective, similar to the way termites or ants and bees do, which is that they follow simple rules initiated by environmental cues. It's a form of behavior called stigmergy.
Melissa Harris-Perry: This idea of beavers as animal people, walk folks through that.
Leila Philip: Basically, I'd done all this work on the impact of colonization on the landscape and on the beaver, and then I realized I really needed to learn a lot more about what predated that. That's Algonquian culture, and that is the story of Great Beaver that opens the book.
There's tremendous ecological knowledge that is imparted in that story that I want to get into. The reason is that beavers will move into an area, and they will create a wetland. They'll move to a creek, build a dam or a stream, and that water will swell.
Over time, it will look almost like a string of beads on a chain because they'll build a dam, swell the water, move down the creek, do it again and again. Pretty soon, you have an area of tremendous water being held in the land. That's a body of water that we have for times of drought, and it's a sponge we have that can absorb flood water should we get torrential rain.
To go back to the deep time teaching story of Great Beaver that I open the book with is about a beaver being mischievous because he floods too much, and he creates the Connecticut River Valley.
What's really subversive and brilliant about this story is that it is, on one hand, a teaching story about how the land was formed, how the Connecticut River Valley was formed, and Native scholars now believe that it may actually be conveying some paleo memories of finding fossils of the great beavers, the bear-sized beavers that lived in North America in the Pleistocene, but also, it's a parable.
What the Great Beaver does is he hoards resources. There are many Algonquian stories about the dangers of hoarding resources, that you cannot ignore your obligations to others and expect to survive, and others include humans, the animal peoples, the tree people.
Melissa Harris-Perry: I really do want you to talk about the giant beavers. [chuckles] Talk to me about beavers the size of bears because I did have a pause moment on that one.
Leila Philip: Yes, well, wouldn't we all? I mean, they were big. I have a lot of fun in the book. I collected images of beavers throughout the ages from ancient Iran and 13th-century Europe, and also, there's a picture of a skeleton of a giant beaver, and it's big. It's a little mini dinosaur.
They were the megafauna that lived in the Pleistocene, so along with sabertooth tigers and mammoths, those animals that we know from storybooks. There were beavers doing what beavers do. One of the great mysteries of the beaver that's fun and weird is, why did they start building the first dam?
To go back to this researcher at Harvard, her theory is that it possibly has to do with log jams, which are created after floods, because log jams happen at exactly 250 liters per second, when the water is at that current, at least in the Rocky Mountains.
Out there, beavers might have started putting the first twig. They saw, "Oh, this is handy. A pond is growing up that I like around this log jam. Maybe I just add a stick to it," and maybe that was the start.
[music]
Melissa Harris-Perry: More on how beavers can help us tackle climate change, next on The Takeaway.
[music]
Melissa Harris-Perry: It's The Takeaway. I'm Melissa Harris-Perry. More now of my conversation with Leila Philip, the author of Beaverland: How One Weird Rodent Made America. Leila explained that beavers have left an indelible mark on the American landscape and the American economy.
Leila Philip: The conversion of natural resources into power has always been the propelling force of empires. Asia had spices and salt and silk, North America had the beaver. Europe came rushing over to get these very valuable beaver pelts. These 19th-century businessmen, like John Jacob Astor, really made fortunes on the backs of the beaver, but it wasn't long before the beaver was almost wiped out because you can't extract resources at infinitum.
What's, I think, really heartening about the story of the beaver is a pretty powerful movement at the beginning of the 19th century to restore wildlife. New York was first. In 1904-1905, they brought beavers back to the Adirondacks, released them. There was enough forest that had regrown because, with farms declining and, actually, the reforestation of the East, there was habitat for beavers.
They started quickly adapting and repopulating. Perhaps the most fun and interesting was a program in Idaho in 1948, they literally parachute-dropped beavers into the wilderness areas. The first one was named Geronimo. People went to great efforts to bring beavers back.
Now, they were bringing them back fueled by a thinking that they wanted to return wildlife for hunting and trapping. We weren't yet at an awareness of the true value they have for us in our moment.
Melissa Harris-Perry: Tell us about the White Mountains.
Leila Philip: I follow a geomorphologist, a really wonderful scientist up into the White Mountains. I actually follow her a lot of places. She's taking me up into the White Mountains to look at the Hubbard Brook Experimental Forest, which is a 7,800-acre experimental forest that was set aside in 1955.
That means that, by the time we're trumping around there, it's almost 70 years later. This is an entire watershed that has been left alone, and the beavers have been allowed to be there and do what they do for 70 years.
What she's excited about and what I'm excited about and what I write about is that we trump through, and we start to observe a river system, which is made up of creeks and streams that are starting to look like beaverland, and it is amazing. Within 70 years, they have started to return the rivers back to the shape of paleo rivers.
What we found with these streams that were multi-threaded and braided through the trees, they were just spreading out in great fans of water. These threads of water then will overspill the banks and then recede in rhythm with the seasons, arteries of water that are pulsing life through the land. That's beaverland. If we can restore even some of that, we will be in so much better shape.
Melissa Harris-Perry: How is it that following the beavers, allowing them to create beaverland is one of the answers to this generational existential threat that we face?
Leila Philip: Underneath a beaver wetland is a whole reservoir of water that's being held that we can't see. They store water for drought. They also are there as a sponge to help absorb water if there's a flood. The other thing that happens with a beaver wetland is that they're like huge coffee filters. They're cleansing the water.
If you can imagine that water, once it's slowed down, it's being cleansed of sediment, but it's also being cleansed of pollutants like nitrogen and phosphorus, which we desperately need to get out of the water. Maybe the most surprising thing is that beavers can help prevent wildfire. Out West, there've been very compelling studies that have dramatically shown that after some of the big fires, there are green areas, green refugia, and that's where beavers are.
Some of it is common sense. Water doesn't burn. Those beaver places also cleanse the water of ash afterwards. I spoke to a eco-hydrologist and fire specialist last week and there's a new pilot study funded by US Fish and Wildlife Service, which I think is interesting because it's no longer can beavers help, but how many beavers do we need, where?
Melissa Harris-Perry: In all of your observing, exploring, studying, researching, did you meet any particular beavers?
Leila Phillip: The book begins with my watching beavers build this pond and there was I think it was one beaver. They look a lot alike, but I'm pretty sure it was one beaver. I decided it was a she and I would go down and watch and I just felt this beaver was watching me.
Spoiler alert, the beavers disappear, she disappears, and I am so bereft by that loss. In fact, the pond shrinks down to a beaver meadow again because beaver ponds have a cycle being a pond and then a meadow, and the meadow is actually just as valuable and holds a lot of water as well, but I didn't know that then. I just thought, "Oh, I've lost my beavers, I've lost my pond."
I was writing this book during the pandemic and I just was so bereft. It really set me on a quest to find out what had happened. Watching her tenacity and if I was down there and she didn't want me walking across the bridge, she'd slam her tail and basically just tell me to go away. It was her dam, her pond, and I just loved that.
Melissa Harris-Perry: That feeling of being bereft when there is change and then learning all of the ways that beavers are meant to bring precisely that change feels like exactly the kind of story, the kind of lesson that you are telling and that you are telling us, beavers have been telling us.
Leila Phillip: It's also in the Great Beaver story. It's about interconnectedness. It's about observing, paying close attention. What I came to realize writing this book that was so exciting was that this weird rodent now has this important new role to play that can help us deal with the greatest crisis of our generation, which is climate change.
Watching these weird animals make this amazing pond was magic because it wasn't just the pond, the whole area was soon teaming with life because beavers bring biodiversity. It showed me how resilient the natural world is, and I think we need stories of hope and resiliency to face this moment, our collective futures.
Melissa Harris-Perry: Leila Phillip is author of Beaverland: How One Weird Rodent Made America. Thank you so much for sharing your enthusiasm with us today.
Leila Phillip: Oh, thank you so much.
[music]
Copyright © 2022 New York Public Radio. All rights reserved. Visit our website terms of use at www.wnyc.org for further information.
New York Public Radio transcripts are created on a rush deadline, often by contractors. This text may not be in its final form and may be updated or revised in the future. Accuracy and availability may vary. The authoritative record of New York Public Radio's programming is the audio record.