Banning Trans Kids' Futures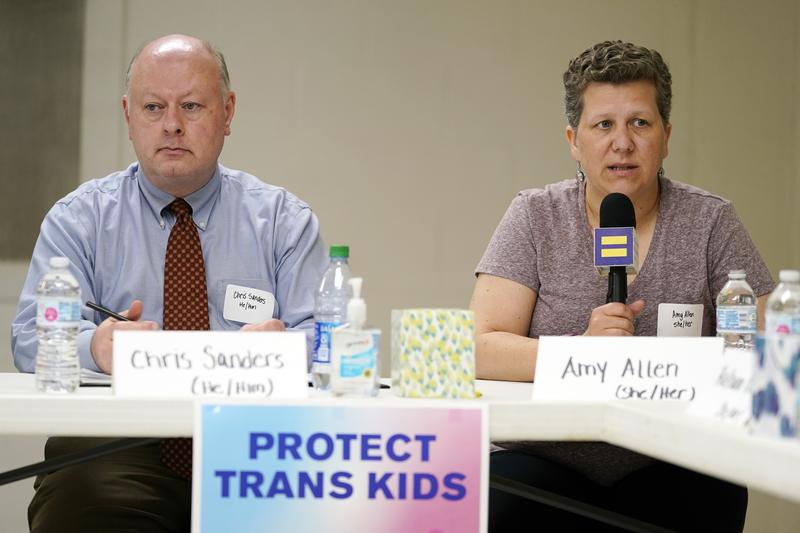 Transcript
[music]
Melissa Harris-Perry: This is The Takeaway. I'm Melissa Harris-Perry.
Right now, HB 359 is making its way through the Montana state legislature. The measure would ban drag performances in schools, libraries, and some businesses. The ban defines drag in terms that are quite broad. It states, in part, that a person is performing drag if their presentation "is different than the performer's gender assigned at birth using clothing, makeup, or other physical markers and sings, lip syncs, dances, or otherwise performs for entertainment to appeal to a prurient interest."
Zooey Zephyr is Montana's first openly trans elected lawmaker, and she spoke out against the Montana bill that's been approved by the House.
Zooey Zephyr: There's questions as to why are children coming to them now? I'll tell you what happened. We lived. We lived through the AIDS epidemic. We lived through people trying to disallow our marriage, we adopted children, we grew up. Now we're taking some of our children and sharing an art form that's valuable to our community in a way that is age-appropriate to them. That's why if you would have come to the drag show on Saturday, what you would have seen is people in full-length dresses, in beautiful gowns, celebrating our art, our history, and the fact that we're alive today.
Melissa Harris-Perry: Even as the Montana bill continues its way toward becoming law, in Tennessee, Governor Bill Lee recently signed an anti-drag bill into law in his state, making Tennessee the first of what could ultimately be more than 14 Republican-led states, including Kentucky, Montana, and Texas, seeking to place severe restrictions on drag performances. The Tennessee ban on drag goes into effect on April 1st.
These anti-drag measures are part of a larger wave of anti-LGBTQ legislative efforts in American states, including more than 400 measures introduced by Republican lawmakers that target trans people under the guise of protecting children. This is more than double the number of bills introduced in the last two years. Of course, by targeting LGBTQ folks, these laws actually mark one of the most vulnerable groups in our nation.
According to data from the US Transgender Survey, nearly half of trans folk have experienced verbal harassment. 1 in 10 have been physically attacked, and nearly half have survived sexual assault. According to the Prison Policy Initiative, queer and trans folk are more heavily policed, more frequently arrested, more likely to be incarcerated, and are subjected to brutal and inhumane conditions and treatment during incarceration. These inequities are particularly acute for queer and trans folk of color. What all that means is that rather than protecting a vulnerable population, children, these anti-drag and anti-trans measures actually target and further criminalize a vulnerable population, queer folk.
[music]
Nicole Narea: Advocates of drag would say that drag is a form of self-expression, that it is an artistic performance that has value, and is therefore distinct from, as Tennessee Republicans have said, outside the bounds of decorum. My name is Nicole Narea, I'm a politics reporter for Vox.
[music]
To label performances like this as those that should only be enjoyed by adults and making drag out to be something that it isn't, and also making it part of this Republican talking points about sexualization or grooming of children, when that's just clearly not the case. It's deliberately misunderstanding it.
Melissa Harris-Perry: Now, Nicole stopped by The Takeaway to discuss the recent legislative efforts to ban drag shows and to restrict health care for trans youth.
Nicole Narea: This is a first-of-its-kind ban on what these lawmakers are calling adults cabaret entertainment in public or in the presence of children. That includes shows that feature what the bill calls male or female impersonators, and obviously, it's designed to target drag shows. Critics of the bill say it deliberately misunderstands what drag is. Pride parades, where drag is often performed, draw huge crowds including families. Drag queens have been known to host events, even reading aloud children's books, but there's this effort with bills like this one in Tennessee to label drag as sexually explicit performance.
[music]
Melissa Harris-Perry: Drag has a storied history in queer communities. Drag shows are not presentations of explicit sexual material, they're entertainment. They test, bend, and challenge rigid gender roles. Earlier this year here on The Takeaway, we got a bit of a crash course in drag performance from Domenick Scudera, Professor of Theatre at Ursinus College, who specializes in the history of drag performance, and who is a drag performer.
Domenick Scudera: If we look through many different cultures and times, the reasons why somebody is performing as another gender shifts and changes. Today, we are able to have any gender on stage without it being improper. Somebody then to take on a drag role or to perform in drag, when you get to the last, say, 20 or 30 years, it's become something that is its own art form, separate from theater, say, of Shakespeare's time or beyond that.
Now, drag is its own entity. RuPaul really did help to make the performance style explode in our culture. It became more of a tool for empowerment. Mainly gay men and trans women being able to put themselves out in the world in a proud way without feeling shame to say, "This is who I am. In fact, this is the best parts of who I am that is different than in times past." It's become something beyond a necessity. It's now a choice, and the choice is to be a performer who is impervious to criticism.
Melissa Harris-Perry: Impervious to criticism maybe, but certainly vulnerable to legislative restrictions. Republican Texas State Representative, Steve Toth, has proposed a measure that would allow drag performers and anyone who hosts a drag event where children are present to be sued. Echoing Texas's anti-abortion law, this proposal allows ordinary citizens like a neighbor, a disgruntled friend, someone who just doesn't like drag to sue drag performers and those who host drag events.
While, right now, these laws don't ban simply existing as transgender in public, members of the queer community are growing increasingly concerned. We spoke with Olivia Hunt from the National Center for Transgender Equality, who spoke to us about the concerns of what the Tennessee and other state anti-drag laws could mean.
Olivia Hunt: What we're going to see here is basically a broad chilling effect on queer people feeling comfortable expressing themselves in public for fear that they'll run afoul of this law. It doesn't even matter if somebody is actually convicted under this law. Just being arrested or cited under it could seriously impact their lives, especially for trans people of color, who rarely have good interactions with the police under the best of circumstances. They're likely to find themselves really having to balance being able to express themselves in any way that deviates from what somebody might consider the most gender-conforming for their gender assigned at birth role. They can come or just stay out of the public eye.
[music]
Melissa Harris-Perry: Now the same day that Tennessee Governor Lee signed the anti-drag bill, he also signed into law a bill blocking access to gender-affirming health care for trans minors in the state. This includes barring access to puberty blockers, hormones, and surgery. Despite the fact that according to Pew Research data, a majority of Americans support protecting trans communities from discrimination, these laws send a very different message to queer communities, even as they serve political purposes that Olivia describes as old rather than new.
Olivia Hunt: It is recycled bias because what we're seeing, the talking points about how trans women and girls in sports somehow pose a danger to cisgender women and girls in sports, that echoes the discourse from 30 to 40 years ago. The idea that, well, if you allow lesbian athletes to compete with straight women, they have an unfair advantage and it'll be dangerous. That echoes the rhetoric from decades even before that of if we allow Black children to play sports with white children, it could be dangerous for the white children. It is the same talking point, the same othering effect that's being reused again and again.
Melissa Harris-Perry: Now Olivia also suggests that trans kids and adults became the focal point of this political strategy, even as LGBTQ communities won important legal and legislative victories during the past decade.
Olivia Hunt: One of the things that we've seen over the past few years is a move from anti-LGBTQ politicians and media figures who built their brand on fighting against LGBTQ open military service, marriage equality, looking for a different tack to take to maintain their role as a person opposed to the LGBTQ community after the Supreme Court ruled in Obergefell that marriage equality was not the law of the land.
We saw, in 2016, the first round of bathroom bills coming on that were trying to restrict trans people's rights to use the correct bathrooms. The most famous of those was in North Carolina. We didn't see a lot of traction with those, though, until later about 2020, 2021, when lawmakers hit on the idea of going after trans youth, in particular, with sports bans, singling them out as outsiders who are an acceptable target to set aside and treat differently.
Melissa Harris-Perry: Sure, the desire to protect kids is powerful, but Olivia cautions is currently being misused by Republicans who are pushing anti-trans laws.
Olivia Hunt: We all want children to be safe and happy, and using that language really can be powerful messaging. It can also be misused like we're seeing in this situation because doing this pits one group of children, trans children, non-binary children, and gender non-conforming children against all of their peers as if the former are in some way a threat to the latter. We know that's not true. All of the research, all the statistics shows that trans people and gender non-conforming people are far more likely to be victims of violence, victims of abuse than to perpetrate it.
When we have lawmakers who are setting up this dichotomy, who are saying that, "Well, trans children don't belong in sports, trans children don't belong in school programs, trans people don't belong." That's sending a clear message to the other children, but also to their parents that there's something wrong with those children. There is nothing wrong with being a trans child.
Melissa Harris-Perry: Late last year, The Takeaway talked with Dr. Meredithe McNamara, adolescent medicine physician and assistant professor of pediatrics at the Yale School of Medicine. She offered a perspective on gender-affirming care for young people, but it's pretty different from what is advanced by conservative lawmakers.
Dr. Meredithe McNamara: Gender-affirming care describes a wide spectrum of ways to support people of all gender identities and people of all ages. For those who experience a gender identity that is not concordant with their sex assigned at birth, they may benefit from affirmation of their gender identity socially. With certain hairstyles that reflect their gender identity, clothing, perhaps a name change, even those things alone have been shown to be quite beneficial to young people experiencing gender dysphoria or having a gender-diverse identity. For teens and older patients, gender-affirming care may include medication like puberty blockers to forestall distressing change, or exogenous sex hormones like testosterone or estrogen.
Melissa Harris-Perry: Research shows that this access to healthcare reduces distress for trans young people, and that along with gender-affirming social support, like using preferred names and pronouns, this is the care that can save lives. Here again, is Vox reporter Nicole Narea.
Nicole Narea: The Trevor Project, which is a suicide prevention group that's focused on LGBTQ youth, found that 86% of trans or non-binary youth had reported negative effects on their mental health, stemming from this political debate around their rights, and nearly half had also seriously considered suicide in the past year. The impacts of this are real and trans youth are particularly vulnerable.
[music]
Melissa Harris-Perry: If the goal of state legislation is to protect young people, it makes sense to begin with the most vulnerable young people. Trans kids are vulnerable not because of who they are, but because of trying to be who they are in a world telling them it's wrong to just be. Maybe the protection should start there. Stay with us. We've got more on trans youth and state law in just a moment. It's The Takeaway.
[music]
This is The Takeaway. I'm Melissa Harris-Perry. In 21 states, Republican lawmakers are seeking to advance laws that eliminate access to lifesaving, gender-affirming healthcare for trans youth. This year, Tennessee, Mississippi, Florida, South Dakota, and Utah have already enacted bans preventing minors from getting this care. Here again, is Dr. Meredithe McNamara, adolescent medicine physician and assistant professor of pediatrics at Yale School of Medicine. We talked with Dr. Mcnamara back in November.
Dr. Meredithe McNamara: It seems as if legislative bans on gender-affirming care for youth are accompanied by droves of disinformation, which portray this care as harmful, portray gender identity in trans and gender-expansive youth as unstable, and really mischaracterize the way that this care is delivered. When we talk about irreversibility, there are some treatments that are irreversible, like surgeries and certain types of gender-affirming hormones, but that's one very small part of the pie. Using that terminology obscures reality, it stokes fear, and it fuels anti-transgender hate.
Melissa Harris-Perry: The American Academy of Pediatrics, the American Psychological Association, and the American Medical Association have all released statements acknowledging the importance of gender-affirming healthcare for trans youth and adults. This gender-affirming care is the accepted appropriate course of treatment throughout the medical establishment. Tennessee's new law banning access overrides this medical community consensus on providing care to trans teens and kids.
Republican lawmakers are also targeting medical practitioners and the parents and families of trans youth with these laws that block access to healthcare. Some doctors are learning that they can be sued for malpractice for providing medically sanctioned care to trans young people. If they do their jobs, they risk losing their jobs. Here is Vox reporter, Nicole Narea.
Nicole Narea: There's an Alabama law that was passed but temporarily blocked in federal court last year that would hit doctors, parents, and basically anyone else who aids trans youth in getting care with up to 10 years in prison and a fine of up to $15,000. Right now, we're waiting to see whether that might be reinstated by an appeals court, but that remains a very real threat there. It really is discouraging medical providers from trying to offer this life-saving care. Also, there are states like Texas that are trying to go after parents as well. Last year, we saw Governor Greg Abbott trying to investigate parents who had helped their children get this care for child abuse. Now there are efforts to codify that in the law here.
Melissa Harris-Perry: In Tennessee, the law banning trans kids from accessing healthcare goes into effect on July 1st for any minors who've yet to start hormone replacement therapy or puberty blockers. Now, remember, puberty blockers are like pressing pause on puberty. They prevent the appearance of secondary sex characteristics. While some young people still have access to their healthcare for now, on April 1st of next year, 2024, the law will ban all trans youth in the state from seeking gender-affirming care. Dr. Meredithe McNamara has testified on behalf of providing the medical community's standard of care for trans youth, and she talked with us back in November about this troubling trend.
Dr. Meredithe McNamara: I see themes of pathologizing adolescence in gender-affirming care bans. It seemed as if the adults in the room had no idea what they were talking about, had no idea whose lives they were actually going to be harming. Couldn't imagine that there was a form of healthcare that could affirm a trans person and positively benefit them. I want to practice medicine where my patients who are cisgender and transgender are treated as people beyond their gender identity and the young people who are affected by these bans, not just in the jurisdictions where they're active, but everywhere because everyone feels threatened. The harms that happen now are going to wreak havoc on these people for the rest of their lives if we don't do something and intervene.
Melissa Harris-Perry: Five states have put forth measures that would ban gender-affirming care for adults as well. Oklahoma, Kansas, Mississippi, South Carolina, and Tennessee. If made law, the Tennessee bill from Republican state senator Jack Johnson would make it unlawful for Tennessee's Medicaid program to work with insurance companies that provide gender-affirming healthcare for trans adults. As the anti-drag and anti-trans laws and bans go into effect around the country, advocates and those who support trans youth and trans people are pushing back, including White House Press Secretary Karine Jean-Pierre.
Karine Jean-Pierre: Right now, you have a governor from Tennessee who has decided to go after drag shows. What sense does that make to go after drag shows? How is that going to help people's lives who are thinking about the economy, who are thinking about making sure their kids are going to be safe when they go to school, their communities are safe, but that's what he wants to focus on. It's part of a larger pattern from elected officials who espouse freedom and liberty, but apparently think that freedom of speech only extends to people who agree with them. That's what we're seeing from what's happening in Tennessee and other places as well.
Melissa Harris-Perry: We asked Olivia Hunt, Policy Director for the National Center for Transgender Equality, how she thinks communities can provide support in this moment.
Olivia Hunt: People have the ability to go in and petition their lawmakers. They can join lobby days, they can call or write and show that they don't support these bills and don't want their lawmakers to vote for them. They can pressure their governors to veto these bills. They can help provide funding to efforts to overturn them in the courts.
Melissa Harris-Perry: Our thanks to Olivia Hunt, Policy Director for the National Center for Transgender Equality, and to Vox political reporter, Nicole Narea, and to our former guests here on The Takeaway as well.
[music]
Copyright © 2023 New York Public Radio. All rights reserved. Visit our website terms of use at www.wnyc.org for further information.
New York Public Radio transcripts are created on a rush deadline, often by contractors. This text may not be in its final form and may be updated or revised in the future. Accuracy and availability may vary. The authoritative record of New York Public Radio's programming is the audio record.