Asian American Histories of the United States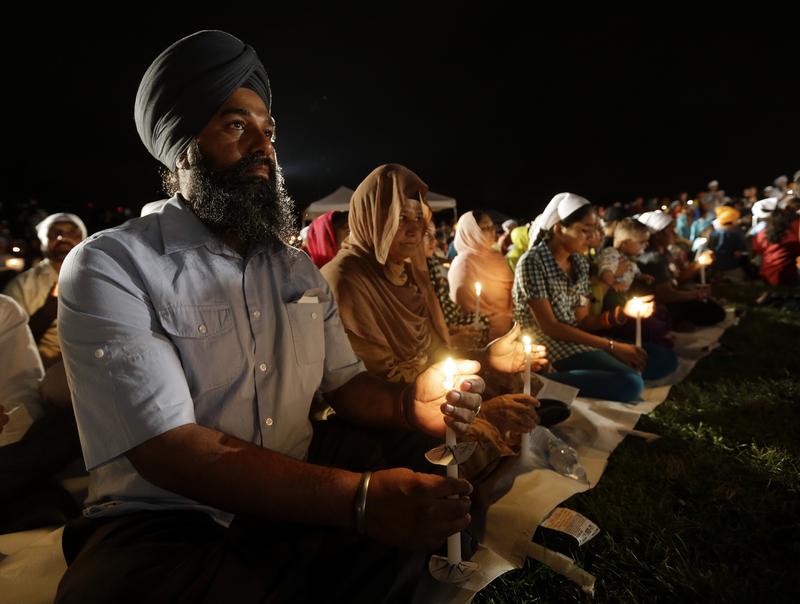 Transcript
[music]
Melissa Harris-Perry: Welcome to The Takeaway. I'm Melissa Harris-Perry. We begin today marking a national tragedy that took place 10 years ago this week.
[music]
Valarie Kaur: A gunman opened fire in a Sikh gurdwara in Oak Creek, Wisconsin on a Sunday morning in 2012. It was the deadliest massacre of Sikhs on US soil ever.
Melissa Harris-Perry: You're listening to the voice of author, filmmaker and social justice advocate, Valarie Kaur. She's speaking here as part of a short film commemorating the Oak Creek Massacre. On August 5th 2012, a white supremacist gunman entered a holy place of Sikh worship and shot 10 people, six were killed and the seventh person was paralyzed by the shooting and passed away in 2020.
Valarie Kaur: Too many Americans don't remember Oak Creek, but we do.
Melissa Harris-Perry: Those killed at Oak Creek were part of Wisconsin's Indian immigrant community.
[foreign language]
This was not a random act of violence. The shooter took his own life and authority said they could not know his motive. For the Sikh community, this was a hate crime. Many Sikh men wear turbans as a sign of their faith, a visible symbol that can make them targets. Following 9/11, targeted acts of hate, brutality and violence directed at Sikhs increased significantly. The FBI did not begin to collect data on anti-Sikh hate crimes until 2015. In part because of Senate testimony offered by the son of the only woman fatally shot in the Oak Creek Massacre, Paramjit Kaur. She's no relation to Valarie Kaur.
Paramjit Kaur: Senators, I came here today to ask the government to give my mother the dignity of being a statistic. The FBI does not track hate crimes against Sikhs. I want to tell the gunman who took her away from me, you may have been full of hate, but my mother was full of love. She was an American.
[music]
Melissa Harris-Perry: A massacre largely forgotten amid other national tragedies, more than a decade of heightened vulnerability unmarked by federal data. This is one powerful example that's detailed in the new book about Asian American communities.
Catherine Ceniza Choy: My name is Catherine Ceniza Choy, I'm the author of Asian American Histories of the United States and professor of Asian American and Asian Diaspora Studies and comparative Ethnic Studies at the University of California, Berkeley.
Melissa Harris-Perry: In her new book, professor Choy says the slayings at Oak Creek were themselves a violent appropriation of a celebratory day.
Catherine Ceniza Choy: That moment back in 2012 was meant to be a celebratory commemorative year marking the building of the first Sikh temple in California. Rather than celebrate that, it was overshadowed by this horrific act of white supremacist violence.
Melissa Harris-Perry: The Oak Creek Massacre was 10 years ago. We continue to live in a time of anti-Asian erasure and violence. According to a national survey by AAPI Data and Momentive, one in six Asian American adults reported experiencing a hate crime or hate incident in 2021, as part of a pattern of rising anti-Asian hate, initiated during the COVID-19 pandemic.
Catherine Ceniza Choy: Writing in these years of great hatred, I greeted each chapter of this book with a heavy heart. The uncertainty of these pandemic times is so stressful and exhausting. In the most difficult moments, despair creeps in.
[music]
Melissa Harris-Perry: You begin in these most recent years of great hatred, then walk us backward in time, which is a convention I've actually never seen in a book written by a historian before, where the chapters are actually ordered in reverse order. In each chapter, you move across time.
Catherine Ceniza Choy: I decided to use a non-linear approach and a backwards history to emphasize a couple of points that I wanted to make regarding Asian American history. The first is that it's a long history, and it's relevant now. It's relevant in 2020, which is the year and the title of the first substantive chapter of the book. It's relevant in 1975, 1968, 1965, and all the way back to 1869. There's a way that history is traditionally written from a point back in time and moving forward. I wanted to make the point that with Asian American history, so many of us are unaware of these histories. We should begin with our present moment and confront that not knowing of Asian American history.
The second point I wanted to make was that each of the chapters as you pointed out, they move backward, then forward in time. My point was that each year because each of the chapters focuses on a specific year, each year serves as a touchstone for the past and the present and is connected to so many different moments, so many different people across time. Rather than think of history as a linear progression that perhaps, thinking of it as a constellation that particular years could bring up can be very powerful in terms of illuminating connections we might not have seen previously.
Melissa Harris-Perry: You choose three key ways to tell these histories and to bring these histories to us, issues of violence, erasure, and resistance. Can you talk about these particular facets violence, erasure and resistance?
Catherine Ceniza Choy: I chose violence because, in part since 2020, so many Asian Americans have been experiencing anti-Asian sentiment, anti-Asian hate and violence at a level of intensity that many of us may not have necessarily experienced before. I chose violence not solely to reflect on the present moment, but to make the point that violence is a prominent theme in Asian American histories, that goes back to as early as the second half of the 19th century and that it appears in so many different forms. Expulsion, beating, looting, arson, bullying in schools, name calling. I
n many ways the violence that we have been observing, experiencing today is not new. Erasure speaks to this point I was making earlier about how so many of us are unaware of Asian American history. That comes from various forms of erasure. Sometimes it can be a benign neglect, at specific historical times, it has been the erasure of documentary evidence. One example is the impounding of the famous photographers, Dorothea Lange's photographs of Japanese American internment during World War Two were tucked away in an archive or the labeling of the participation of Hmong people and Laos during the Vietnam War, labeling them as a secret army.
Our presence there as a secret war is another form of erasure. So much of this is unknown because it's not taught in many of our schools, K through 12, and even at the college and university level. The theme of resistance is to emphasize that Asian American history and Asian Americans are not solely victims of histories of violence. They have also stood up for themselves and have spoken out and used a creative energy against their omission from the overall American experience.
Those are why I chose the three themes because we are such Asian Americans are such a diverse growing and heterogeneous group. It becomes difficult to find points of unity when there are so many different histories. I try to do my best in terms of honoring that diversity, that growth and that dynamic of Asian Americans as a people and as a history that is a living history while at the same time having an overarching way to approach there and our experiences.
Melissa Harris-Perry: The plural in your title histories, Asian American histories of the United States. Are Asian Americans a people?
Catherine Ceniza Choy: My answer is yes. They are a people, but to understand why that is one needs to know the history of Asian Americans and that even the term, the category or label of identification, Asian American comes out of a history from 1968. It's a term that we might take for granted today as a pan-ethnic umbrella term, but it really comes out of a time period of political struggle. Two UC Berkeley graduate students, Emma Gee and Yuji Ichioka created the term when they helped found the Asian American Political Alliance, which was an anti-imperialist anti-racist organization in Berkeley.
It was a term that was quite meaningful for them to mark a group that had similar experiences of harassment and bullying, employment discrimination of not having their histories and experiences well known in the United States, even though by that point so many Asian Americans had been born in the US and the US was their home. It is a people and then it's peoples and to understand this nuance and complexity, it really helps to understand that particular moment in time. I also think it's a term that continues to change and to grow.
Melissa Harris-Perry: Let's take a quick pause back in a moment on The Takeaway. Let's turn back to professor Catherine Ceniza Choy author of the new book, Asian American histories of the United States. Professor Choy's book is more than a catalog of harm. It's also a narrative of resistance. She writes.
Catherine Ceniza Choy: For so many Asian Americans over time, knowing what has been omitted has sparked something else. A question can transform into an idea an, an idea can inspire the courage to make change. These actions present multiple ways forward, illuminating a path toward healing.
Melissa Harris-Perry: American Sikh communities responded to the August 5th massacre at Oak Creek by doing just that, since 2013, hundreds of volunteers have prepared meals for the homeless, built homes, clean neighborhood parks and organized charity drives in honor of those who were killed in Oak Creek. Here again is Sikh American author and activist, Valarie Kaur.
Valarie Kaur: Our elders rolled up their sleeves saying our ancestors' prayers and cleaned the gurwada with their own hands. We saw our elders rise, so we rose too.
Melissa Harris-Perry: I wondered how writing about such difficult and personally relevant histories affected professor Choy's voice as a writer.
Catherine Ceniza Choy: One of the things that's different about it aside from the non-linear approach is that I write in the first person as well as the second person, as well as in the more traditional third person in scholarly history books. I share some personal experiences as well. I did this in so many ways because I wanted to create this feeling that you're describing from telling that beautiful story. I wanted to create this feeling that history is not solely about the past. It's about now. It's what we choose to remember and reflect upon. This is about not solely memorizing particular years and dates and events, but it's also about you and me and our families and our communities. My husband is Korean American on his father's side and Chinese American on his mother's side, and so our children are this multiple generation of Chinese, Korean, and Filipino American. We do not have Japanese ancestry, but Japanese Americans on the US West Coast without due process. Two-thirds of them were US-born.
I wanted my children to know about this history and since it's not taught in many of our schools, K-12, my husband and I, we brought our son to a Japanese American Memorial Garden. It was once a horse racing track, and then it was converted into an assembly center where Japanese Americans were forcibly relocated first before going to internment camps. In this garden, we have this moment where we read the Memorial plaque about remembering and reflecting in the hope to turn towards justice. That to me is part of our Asian American histories, the many different experiences that we share, but also the commonalities of themes and experiences in our lives.
Melissa Harris-Perry: When we think about these years of rising violence, hate crimes both physical and discursive over and against Asian and Asian American folk in this country. There is a form of violence maybe less discussed and it appears in the bodies and the persons and then as you give us the histories of Filipino nurses who were almost a third of nursing deaths from COVID.
Catherine Ceniza Choy: I'm a second-generation Filipino American. One of my earliest observations from my childhood growing up in New York City was that so much of the Filipino immigrant community around me were Filipino nurses working in the cluster of hospitals around my neighborhood, and because of their concentration in bedside nursing, both in acute and long-term patient care, they suffered this disproportionate toll that in 2020, 2021 was around 30% of nurse deaths due to COVID-19. This is an outcome of their caring and their contributions, but it's also an outcome of a longer Asian American history of US colonialism in the Philippines, the implementation of an Americanized training hospital system there that trained Filipino nurses in a US nursing curriculum and the English language, and inadvertently prepared them to work in the United States.
We have this stereotype of the perpetual foreigner that so many Asian Americans have experienced so that when you're asked, "Where are you from?" I'll say, "New York City," and that's not the "right answer." They want to know where I'm really from. In this case, these are nurses who have grown up and have trained many of them in the Philippines, but who have been in this country now for six decades. They're now multiple generations of Filipino American nurses in this country. To learn about their history is so important in terms of understanding their contributions to really the health of our nation.
Melissa Harris-Perry: What are you thinking these days about Asian American futures?
Catherine Ceniza Choy: I'm thinking that Asian American futures involve the well-being of Asian Americans and that ultimately the well-being of Asian Americans is not solely or about them, but it's really about all of us. We cannot survive this pandemic and other existential crises without Asian American participation without their creativity and ingenuity is really the point that we, all of us need one another now more than ever.
Melissa Harris-Perry: Dr. Catherine Ceniza Choy, author of Asian American histories of the United States. Thank you.
Catherine Ceniza Choy: Thank you for having me.
Copyright © 2022 New York Public Radio. All rights reserved. Visit our website terms of use at www.wnyc.org for further information.
New York Public Radio transcripts are created on a rush deadline, often by contractors. This text may not be in its final form and may be updated or revised in the future. Accuracy and availability may vary. The authoritative record of New York Public Radio's programming is the audio record.