Arkansas Becomes First State to Ban Gender-Affirming Treatment for Transgender Youth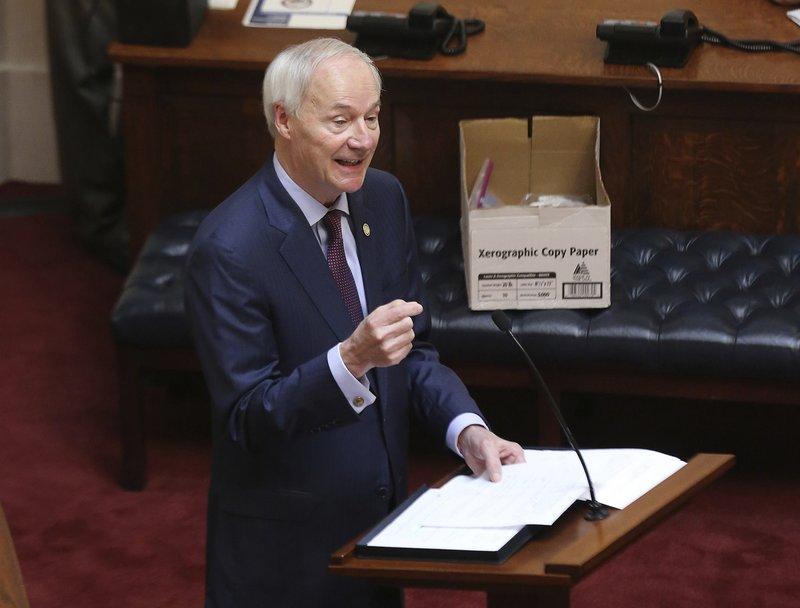 Transcript
[music]
Nancy Solomon: This is The Takeaway. I'm Nancy Solomon, a reporter in the WNYC newsroom, in for Tanzina Vega all week.
Kate Sosin: This year is on track to be what LGBTQ advocates say is the worst year in terms of bills filed against LGBTQ people.
Nancy Solomon: That was Kate Sosin, a reporter for The 19th, speaking on The Takeaway at the beginning of March. In the week since that interview, multiple states have taken steps to limit the rights of their transgender residents, particularly trans youth. Earlier this week, the Arkansas state legislature overrode a veto by Republican Governor Asa Hutchinson on House Bill 1570. The bill makes Arkansas the first state in the nation to criminalize gender-affirming procedures for transgender minors.
Governor Asa Hutchinson: I wanted to express my own personal view that this is too extreme, it was too broad.
Nancy Solomon: Following the final passage of the bill, Governor Hutchinson explained his veto on NPR.
Governor Asa Hutchinson: It did not grandfather in those young people who are currently under hormone treatment, and so this really puts a very vulnerable population in a more difficult position, it sends a wrong signal to them.
Nancy Solomon: The bill is one of more than 90 anti-transgender rights bills that have been put forward by Republicans in state legislatures this year. Health care for trans youth is one of the central issues of a number of these laws. Many others prohibit trans children from playing on sports teams that align with their gender identities. Governor Hutchinson himself signed off on an anti-trans sports bill last month. Now, LGBTQ advocates are turning to legal challenges and increased pressure on business leaders to push back on this wave of legislation. In the meantime, trans youth in these states are being left in an increasingly vulnerable position.
Here with me now is Evelyn Rios Stafford, Justice of the Peace for District 12 in Washington County, Arkansas. She's also the only openly transgender elected official in the state of Arkansas. Evelyn, thanks so much for being here.
Evelyn Rios Stafford: Thanks for having me.
Nancy Solomon: Also with us is Sasha Buchert, Senior Attorney for Lambda Legal in Washington, DC. Sasha, great to have you with us as well.
Sasha Buchert: Thanks, Nancy. Thanks for having me on the show.
Nancy Solomon: Evelyn, let's start with you. You met with Governor Hutchinson prior to his veto of HB 1570. How did that meeting come about, and what did you talk with him about?
Evelyn Rios Stafford: When I started the week last week, I really didn't expect to be meeting with the governor. It was set up by one of our local state legislators here in Northwest Arkansas. Nicole Clowney set it up because she felt that the governor, before he made a decision, should hear from the actual voices of trans people because in the debate leading up to the bill, the voices of trans people and their families had really been sidelined in the whole debate. His office agreed to a meeting, but I also knew, I'm 48. I'm not a trans youth, I was in high school 30 years ago.
I talked my way into bringing a young adult, a young trans person with me, her name is Willow Preshears. She is 18 years old. She came out at 13, and went through the very process that this bill now bans.
Nancy Solomon: Well, it must have felt incredibly good to have that access to the governor, and then he actually vetoed the bill. That must have been wonderful, but he hasn't been exactly reliable on trans issues, has he?
Evelyn Rios Stafford: No, he hasn't. We talked about that a little bit in the meeting. One of the things that I really have to give him credit for is he wasn't trying to rush us out of the room or anything. He scheduled a 30-minute meeting, which was longer than we were expecting, and we actually went 10 minutes over because he had so many questions. I could tell in the meeting that this wasn't a topic that he was very familiar with at all, but I feel that he was taking an honest effort to educate himself about trans issues. Some of his questions were very specific medical questions that I don't have the medical background to be able to answer, but we did talk about some of the other bills he signed.
He asked at one point in the meeting, how the trans community is reacting to all this. I think he started to see the pattern now that this legislature has been sitting in bill after bill after bill, there's even more bills on the way. I think there's nine in all. He didn't back down from signing the bills, but he did take my criticism of them into consideration. I told him, for example with the sports bill, that I knew that the proponents of it were arguing that it was about fairness in sports. What I told the governor, I said, "If that's the case, why did that bill cover kindergarteners?" Between kindergarten and puberty, for example, there really is no athletic difference between boys and girls. To me, that put the light of what that bill was all about.
Nancy Solomon: What were the two of you able to tell him about the what impact it's going to have on trans youth, particular in Arkansas?
Evelyn Rios Stafford: I think the governor learned that some of the talking points that the proponents of this bill have been putting forward are really distortions of what's actually happening. They're fear-mongering that people are performing surgeries on young children and things like that. That's really not happening in any way, shape, or form, and never would happen. In fact, there are no surgeons who do anything like that in Arkansas. I guess he fact checked that and found that to be true because he talked about that in his news conference.
I think it was gratifying that he actually listened because we found that when people actually listen to the real stories of trans people, and you sit down with one of these young people, they're not a talking point anymore. They're a real living, breathing, human being with a real story, and you can really start to understand the situation. I think that's some of what happened.
Nancy Solomon: I'm reminded, I can't help but be reminded of Harvey Milk, who said in the 1970s, if gay people started coming out to the people they knew, life would change. This is now the next iteration of that. That's really terrific to hear. Let's zoom out to the rest of the country now. Sasha, how does this latest anti-trans bill out of Arkansas compare to what we're seeing in other states?
Sasha Buchert: Thanks, Nancy. First, I want to just thank Evelyn and all and the families in Arkansas that have been doing this amazing work to humanize trans people. There's such a need to humanize that we're human beings and that we want to participate in our school systems, and we should be able to receive the same care that other people receive. We were paying attention, obviously, to the bills that have passed, but I think it's really important to remember that a lot of these bills are not passing, thanks to the tireless advocacy of folks in the States.
Unfortunately, this is a year we've seen more and more anti-trans bills being introduced across state legislatures across the country, and there's a tremendous amount of work being done to defeat them. Most of them are being defeated, but it's just a very, very concerning moment for our community, for sure.
Nancy Solomon: When conservative governors like governor Hutchinson veto some of these laws, what's driving those decisions? Where are activists having success with some of these conservative Republican governors around the country?
Sasha Buchert: First of all, repeating what you said, I think it's really important to underscore the importance of the work being done on the state level from people like Evelyn and the families there that are doing that work in talking with the governor's office and having those person-to-person conversations is so important. I think another aspect of this is the law. It's really important to highlight a couple of things about this bill specifically.
That it's completely inconsistent with medicine, first. The American Academy of Pediatrics, which is an organization of 67,000 pediatricians, support this care for trans youth, as well as the endocrine society and so many other health organs. In fact, there's 18 states now that prohibit the kinds of exclusions that they want to implement, so it's completely inconsistent with actual science and medicine. It's stigma and not science, but it also violates the law. You can't treat transgender people differently. These same treatments are provided for non-transgender people, and this clearly provides an unequal protection.
I think that the governors that are vetoing this are firstly doing it because of their concern about the community, our community, after the dehumanization process. I also think that they are concerned about litigation and they should be, absolutely, because this is this completely violates medicine and law. I will say that they rightfully should be concerned about the impact that this is going to have with their business relationships. We've seen this in the past with HB two in North Carolina, when PayPal pulled out of the state because of the anti-trans bill there, and that's right.
A, there's a lot of LGBTQ people at work of these companies, but we're also consumers and have business relationships so I think should, they should be deeply concerned about what's going to happen. I would love to see some response to the legislation, the slate of hate being introduced in Arkansas, specifically from Walmart and other companies that do business there, because this is going to cause serious harm. We'll litigate it, this will prevail, but it's going to cause serious harm to trans youth and trans people in the interim while this moves through the courts.
It's just deeply concerning and reprehensible that they would focus on this issue when Arkansas and so many other States that are introducing these bills are almost last in the nation with regard to the health care they provide to their citizens and the economic wellbeing and other disparities.
Nancy Solomon: Evelyn, what have been some of the responses from the business community so far there.
Evelyn Rios Stafford: Definitely some folks have started putting out, when the governor put out his veto, there was a statement put out by Tom Walton of the Walton Family Foundation, who's part of the Walton family, urging the governor to sustain the veto. We heard from the Northwest Arkansas council basically saying the same thing. We've heard from Experience Fayetteville, which is focused on tourism in this area, saying how bad this was going to be. I think there is the consensus that this legislature is a little out of control with this, and other issues as well, that's going to be bad for Arkansas in terms of business recruitment and tourism.
Nancy Solomon: Sasha, give us a sense of what are some of the legal challenges that you folks are mounting against this legislation?
Sasha Buchert: Well, a similar bill was passed, an athletics bill, a bill that would prohibit trans girls from participating in sports K through 12 sports, was passed in the middle of the pandemic last June in Idaho. It's not our case, the SCLU is litigating that in Idaho. They were able to secure a preliminary injunction preventing that law from going into effect. I thought the decision, if you'd take a minute to read it, it was really powerful in some ways in that it clarified that trans girls are our girls and they're not going to participate on a boys team. Barring them from playing sports and bonding with their peers and learning all of those really important things you learn in athletics robs them of the ability to participate altogether.
That's one important case that is being appealed to the ninth circuit and there's also a case that was brought in Connecticut, not in response to an anti-trans bill, but a bill trying to prohibit trans athletes from participating. That's still moving its way through. We haven't seen challenges filed in response to the bills that have been passed now. There's a bill that was passed in Tennessee as well, or Arkansas or Mississippi. It's very likely that we'll see litigation soon on a variety of different legal causes of action that are going to be determined soon. It's just unfortunate. Again, I just want to underscore the harm that this is going to cause in the interim. Trans students and trans kids face extremely high rates of bullying and abuse.
There was a study done just a couple of years ago that showed that over 80% of trans kids experienced bullying. Every time there's a bill introduced or this kind of activity in the media, we see the calls spike with the trans lifeline. That's just as deeply concerning, the impact this is going to have on youth. The litigation is preparing to move forward in many different places and we stand ready, we will continue to protect trans students and trans people generally.
Nancy Solomon: It's really striking that even the political fight over these issues has negative impact. The Supreme Court is a lot more conservative of course, with the three Trump appointments and the 200 new appointments to the federal bench. How might this affect whether you're able to get federal courts to strike down these anti-trans laws?
Sasha Buchert: That's a really great question. We've opposed so many of the Trump administration's judicial nominees over the last four years because they were clearly ideologically driven to the far right and so many of them had made statements about trans people specifically in the past. The courts have been stacked, and especially the circuit courts, with a lot of these folks, especially the fifth circuit. We have to be judicious about where we bring claims and how we bring claims for sure. That's part of why we're pleased to see the Biden Harris administration move so quickly to begin the nomination process of fair-minded constitutionalists that are going to provide impartial justice under the law.
That is deeply concerning for sure. That's definitely on the top of our minds when we're thinking about moving forward with these challenges.
Nancy Solomon: Evelyn, we were just listening to Sasha talk about the impact, the negative impact that even the debate can have on trans folks and particularly young ones. Have you heard from people in Arkansas who are considering leaving the state because of what's going on with these laws?
Evelyn Rios Stafford: Unfortunately I have. Because of the profile that I have as being the only openly trans elected official in the state, even though I'm a local official, I have started hearing from trans people and some families of trans youth especially, who are really worried about all this. They don't really know what they're going to do. As we heard at the beginning, there's nothing in this law that grandfathers them in. The care that their children are receiving now is going to be cut off if there's no legal challenge. They're in a very difficult situation.
As you heard from Sasha, young people, we've already heard, face bullying. We heard from Willow who spoke to the governor about her battle over being able to use the correct restroom in her Arkansas public school. They're facing issues with access to competent healthcare. In some cases, people live in rural areas, it's a pretty rural state. Now the legislature is piling another burden on top of all of that. They're forcing these families now to, in some cases, decide whether to join a legal battle on top of everything else they're facing and it's not fair to them.
It's totally wrong and we know that, as with everything else, this is going to affect you trans people of color more profoundly because they're already in a more vulnerable situation to begin with. Here in Arkansas, we've had the murders of two young trans people of color just in the last year. One of them was 17 years old. We know that there's folks that are already facing a variety of issues and this just makes it even worse. I have heard from people who are wondering whether they are still welcome here in Arkansas, because of this string of bills.
Nancy Solomon: Evelyn Rios Stafford is the justice of the peace for district 12 in Washington County, Arkansas. Evelyn, thanks so much for joining us.
Evelyn Rios Stafford: Thank you.
Nancy Solomon: Sasha Buchert is a senior attorney for Lambda Legal. Thanks, Sasha.
Sasha Buchert: Thank you.
Copyright © 2021 New York Public Radio. All rights reserved. Visit our website terms of use at www.wnyc.org for further information.
New York Public Radio transcripts are created on a rush deadline, often by contractors. This text may not be in its final form and may be updated or revised in the future. Accuracy and availability may vary. The authoritative record of New York Public Radio's programming is the audio record.