Arizona Expected to Go Blue as Both Parties Await Results in Pennsylvania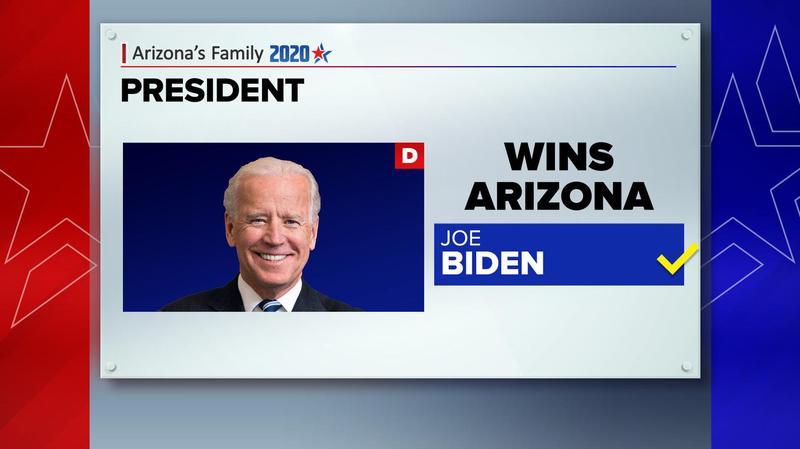 Transcript
Tanzina Vega: Back with you on The Takeaway, I'm Tanzina Vega. It's election week, and among the states where votes are still being counted is Pennsylvania, a state with 20 electoral college votes that could tip the scales for either candidate in the days to come. More than a million ballots are left to be counted there, and that could present some challenges. Here's Lisa Deeley, the chairwoman of the Philadelphia City Commissioners.
Lisa Deeley: We've never had to count this large number of mail-in ballots and have an in-person election. We thought that we had timed it right, but truthfully, we've never done it before in this large number.
Tanzina: Julia Terruso is a reporter for the Philadelphia Inquirer, and she joins me now, Julia, welcome to The Takeaway.
Julia Terruso: Thank you so much for having me.
Tanzina: As we mentioned, there are more than a million ballots left to be counted in Pennsylvania that could potentially decide the winner. What's the holdup? How have those ballots not been counted yet?
Julia: Sure. This is the first presidential election in Pennsylvania where anyone can vote by absentee or mail-in ballots. As we just heard the commissioner say, the state is not used to having to count so many mail-in ballots. There are some counties, not the majority, but some counties in the state that actually only started opening their mail-in ballots Wednesday morning. That's due to a number of reasons. Some cited staffing issues, some cited space issues. These counts have to let people watch them happen, Philadelphia's actually being live-streamed. There's a number of different pressures on the system, but we knew that it was going to be a bit of a slow return here.
Tanzina: Governor Tom Wolf tweeted that there were still over 1 million mail ballots to count, and he said, "I promised Pennsylvanians that we would count every vote, and that's what we're going to do." That's Governor Tom Wolf of Pennsylvania there, but Julia, Pennsylvania is one of the states that had been in the news last week because of a Supreme Court ruling that basically left the decision on whether to count ballots after Election Day in the hands of the state. If Governor Tom Wolf is saying that every vote is going to be counted, is that actually going to happen?
Julia: Well, there's a number of legal challenges small and large pending in Pennsylvania. What the governor is referring to is that the rules on the books to vote in Pennsylvania, currently and on Election Day, is that balance can be received through Friday, if they are postmarked by Election Day, or don't have a postmark on them. They can be received through Friday. The governor there is saying that the state's going to follow that.
The Secretary of State has said those ballots will be counted but will be segregated in case of a further legal challenge. It's a question mark, how many ballots we're talking about in that three-day window, that 1.4 million number might not even include that three-day window. That's outstanding current votes in the state.
Tanzina: Remind us again how important Pennsylvania is in the overall election tally, Julia. We mentioned they have 20 electoral college votes. Why else is Pennsylvania so critical?
Julia: We've known for a while that Pennsylvania is the center of the political universe right now. I think, last night, we saw that Biden's hopes are really pinned to it. Frankly, the blue wall states, Michigan, Wisconsin, Pennsylvania. Pennsylvania looks a lot like the rest of the country. It's an area where you have a lot of more rural areas, where we're already seeing in the returns that it appears President Trump has grown his base.
Then there's also some really heavily Democratic suburbs in Pennsylvania. That's where a lot of these outstanding mail-in ballots are. It'll be interesting to see what happens in the suburbs of Philadelphia, in Philadelphia, in Pittsburgh. To answer your question, I think it's because we have such a representation of the country within our borders.
Tanzina: Do we know what turnout was like in Pennsylvania, or is it too early to say whether or not there was a split among how Democrats and Republicans voted? When I mean, how I don't mean for which candidate? I just mean, how? Was there a split in terms of people who showed up in person versus people who sent mail-in ballots? There's been a lot made about different people voting different ways because, for example, folks are saying a lot of Republicans showed up at the polls yesterday because they didn't want to put their faith in mail-in ballots. Is it too early to say how that played out in Pennsylvania?
Julia: We know two things so far, it's looking like turnout was extremely high in the state across the board, no matter how you voted, but going into this, we knew that the Democrats cast ballots more by mail than Republicans. We expected what we were calling a red mirage that could potentially lead to a blue shift in the state. The returns we're seeing right now, as high as 77% of those mail-in ballots are cast by Democrats. If those high numbers hold, then that's why you could see things really tighten or even Biden pull ahead in the state because just of the way, we know, voters in both parties tend to be voting this year.
Tanzina: The President has made some pretty dangerous statements and claims about what could happen. He wants all voting to end and we should be clear that voting itself has ended. What is at issue here is the counting of the ballots. I'm wondering whether or not Pennsylvania could find itself in the middle of a Supreme Court battle once again. The President has indicated that while he has no basis or legal claim to stand on right now, that he would, in fact, want to take the next remaining days and what happens with counting ballots after Election Day that issue up to the High Courts.
Julia: I think it's something we're all watching. From the moment the US Supreme Court decided not to weigh in on the three-day extension to return ballots in Pennsylvania, we saw the President just lambaste in that decision, and he's continually brought this up again and again. It's very likely I would say that legal challenges will be a part of the picture here.
Tanzina: This could really draw out this process even more. I mean, we should remind folks that ballots are counted by hand, is that right? We still don't know how long it will take for people to count in additional million or so ballots.
Julia: Yes, that's right. Again, this is a state that isn't used to having such an influx of mail-in ballots, both it being the first presidential election where anyone can vote absentee, and the pandemic causing a lot of people to opt to vote that way. In some counties, that process starts Wednesday morning. It involves opening multiple envelopes, in some cases, cross-checking ballots with the certified list from the polls. There's a lot of steps to do it, right. All of the election officials across the state have really been urging patience. They say we're going to count all the votes, and it's going to take as long as it takes.
Tanzina: Julia Terruso, is a reporter for the Philadelphia Inquirer. Julia, thanks so much.
Julia: Thank you.
Tanzina: Now we had to Arizona where the Associated Press and Fox have called the state for Joe Biden. What we also know is that former astronaut Mark Kelly flipped a Senate seat against Republican Martha McSally. I'm joined now by Michel Marizco senior editor with KJZZ's Fronteras Desk. Michel, welcome to The Takeaway.
Michel Marizco: Thank you. It's good to be here.
Tanzina: We just mentioned that Arizona has gone for Joe Biden, at least according to the Associated Press and Fox. A Democrat has not won Arizona since Bill Clinton. This is a clear flip, Michel. How did we get here?
Michel: I would go back to 10 years ago, and this was when we had a sheriff in Maricopa County, who was profiling Latinos illegally. This is a Sheriff Joe Arpaio, who was later pardoned by President Donald Trump, and Senate Bill 1070, which required police to profile Latinos throughout the state. Both of those really serve as catalysts for the past 2018 election and apparently, the 2020 election, that drove a lot of young people here, a lot of Latinos to voting blue in this turnaround. There was a tremendous get out the vote effort. That really rode on those two principal incidents from 2010 and 2009 that led us here.
Tanzina: Jeff Flake was interviewed about a week ago and basically predicted that Arizona would go blue. Some of the things that he said was also that Arizonians generally did not take to President Trump's overall approach to politics. They didn't like a lot of things that his base essentially like about him. Did you find that as well, that people were sort of turned off by the President?
Michel: No, with respect to the former Senator, I would disagree. I mean, he carried 47.5% of the popular vote in Arizona. I was out working on polls from the moment they opened yesterday, and I predominantly kept running into people who were very keen on re-electing President Donald Trump. He had a fair share of support here in the state.
Tanzina: Over in the Senate one of the interesting things we're seeing there is that Democrat Mark Kelly won over the incumbent Republican Martha McSally and I'm wondering how that seat turned, because we should mention that Mark Kelly is married to the former representative Gabby Giffords who was shot in Arizona.
Michel: Yes. January 8, 2011. When the seat opened up after Senator John McCain passed away, the governor here, Governor Doug Ducey appointed Senator McSally to that seat. It's interesting because there are still a few months left in that position that now sensibly Mark Kelly will be absorbing. That leads to a lot of tenuous other facets of this whole race that are still going to play out. If you recall Senator McSally had actually faced off against Kyrsten Sinema for Jeff Flake seat and lost in that race. This is the first time in several decades that we've had two sitting Democratic senators in Arizona.
Tanzina: How do we expect that to play out? That is a significant also considering that the state itself flipped for the Democrats.
Michel: The state is really grown just in terms of population, but in terms of that population we have, like I said, a lot more Latinos here than there were even 10 years ago, and they're active, they're voting and they're out. We also have a growing preponderance of people from outside Arizona who have moved here in recent years. People looking to avoid a wildfires on the West Coast for example. Arizona has become a key market-- Arizona's real estate market is key. It's been drawing a lot of people and many of those are coming in from blue states.
The demographics of Arizona are changing and the demographics of interestingly enough, Maricopa County are changing to the point where now we have a Democratic sheriff there. We have a Democrat as mayor for the city of Phoenix. We have the two US senators now. The times have literally changed in Arizona.
Tanzina: We're going to see how that plays out long-term. Michel Marizco is a senior editor with KJZZ's Fronteras Desk. Michel, thanks for joining us.
Michel: Thank you.
Copyright © 2020 New York Public Radio. All rights reserved. Visit our website terms of use at www.wnyc.org for further information.
New York Public Radio transcripts are created on a rush deadline, often by contractors. This text may not be in its final form and may be updated or revised in the future. Accuracy and availability may vary. The authoritative record of New York Public Radio's programming is the audio record.